Wedgemount Lake itself is a magnificent destination for a day hike or spectacular overnight beneath the dazzling mountain peaks and stars. Many sleep under the stars on one of the many beautiful tent platforms that dot the landscape.  Solidly built, wooden tent platforms are everywhere you look at Wedgemount Lake.  Strategically positioned, these platforms manage to maintain an amazingly secluded feel despite their numbers.
Tough, steep, yet relatively short trail to hike
Extraordinary turquoise coloured water
Amazing little hut free to use by anyone
Several peaks around the lake are climbable
Wedge Mountain is the highest peak in the range
Cute hoary marmots surround you frequently
Easily walk up to the impressive Wedge Glacier
Boulder field by the lake is dramatically beautiful
Extraordinary array of alpine terrain to explore

Trail is steep, hard & not very scenic
Whistler & Garibaldi Park

Alexander Falls  

Ancient Cedars  

Black Tusk  

Blackcomb Mountain  

Brandywine Falls  

Brandywine Meadows  

Brew Lake  

Callaghan Lake  

Cheakamus Lake  

Cheakamus River  

Cirque Lake  

Garibaldi Lake 

Garibaldi Park 

Helm Creek 

Joffre Lakes  

Keyhole Hot Springs  

Logger's Lake  

Madeley Lake  

Meager Hot Springs 

Nairn Falls  

Newt Lake 

Panorama Ridge  

Parkhurst Ghost Town  

Rainbow Falls  

Rainbow Lake  

Ring Lake  

Russet Lake  

Sea to Sky Trail 

Skookumchuck Hot Springs  

Sloquet Hot Springs  

Sproatt  

Taylor Meadows  

Train Wreck  

Wedgemount Lake  

Whistler Mountain

January 

February 

March 

April 

May 

June 

July 

August 

September 

October 

November 

December
Hiking Gear Rental

Complete Kits 

Backpacks 

MSR Tents 

Sleeping Bags 

Sleeping Pads 

Camp Stoves 

Snowshoes
In all Wedgemount Lake has 20 of these tent areas. Most are wooden, but several down by the lake shore are gravel, yet every bit as nice.  Wedgemount Lake is one of the most spectacular hikes in Garibaldi Park. Though it is a relentlessly exhausting, steep hike, it is mercifully short at only 7 kilometres (one way). The elevation gain in that short distance is over 1200 metres which makes it a much steeper hike than all the other Whistler area hiking trails. Compared with other Whistler hikes, Wedgemount Lake is half the roundtrip distance of either Black Tusk or Panorama Ridge, for example, at 13.5 kilometres and 15 kilometres respectively (one way).
At a fast hiking pace you can reach Wedgemount Lake from the trailhead in just an hour and a half but at a leisurely or backpack laden pace you will likely take over two hours. The trail is well marked and well used.  The steepness of the trail doesn't require any technical skill, however that last kilometre before the lake you will be scrambling on all fours quite a bit. The elevation gain makes a tremendous difference when carrying a heavy backpack and unprepared for the exertion.  There is hardly a section of the trail that is not steeply uphill. The first 15 minutes takes you into the deep forest as you run along Wedgemount Creek. This crashing creek can be heard from quite a distance and gives you a hint of the steepness of the trail to come. The source of Wedgemount Creek is of course Wedgemount Lake which tumbles down almost 300 metres in the spectacular Wedgemount Falls. You will be able to see Wedgemount Falls around the 5 kilometre mark along the trail.  Unfortunately, it is far off to the right in the distance. Despite the distance, you will hear it loud and clear and occasionally get a great, though distant, view of it.
One of the defining features of Garibaldi Park, and Wedgemount Lake in particular, is the staggering number of branching hikes from the main destination of the lake itself. For many, Wedgemount Lake and the Wedge Hut is the base for hikes to Wedge Mountain, Mount Cook, Mount Weart, Mount Moe, Mount James Turner and Mount Currie in Pemberton, crossing glaciers such as Wedgemount Glacier, Weart Glacier, Armchair Glacier, Mystery Glacier and the Needles and Chaos Glacier to name a few. Dozens of unforgettable peaks can be reached from this quiet little hut overlooking this perfect, turquoise lake.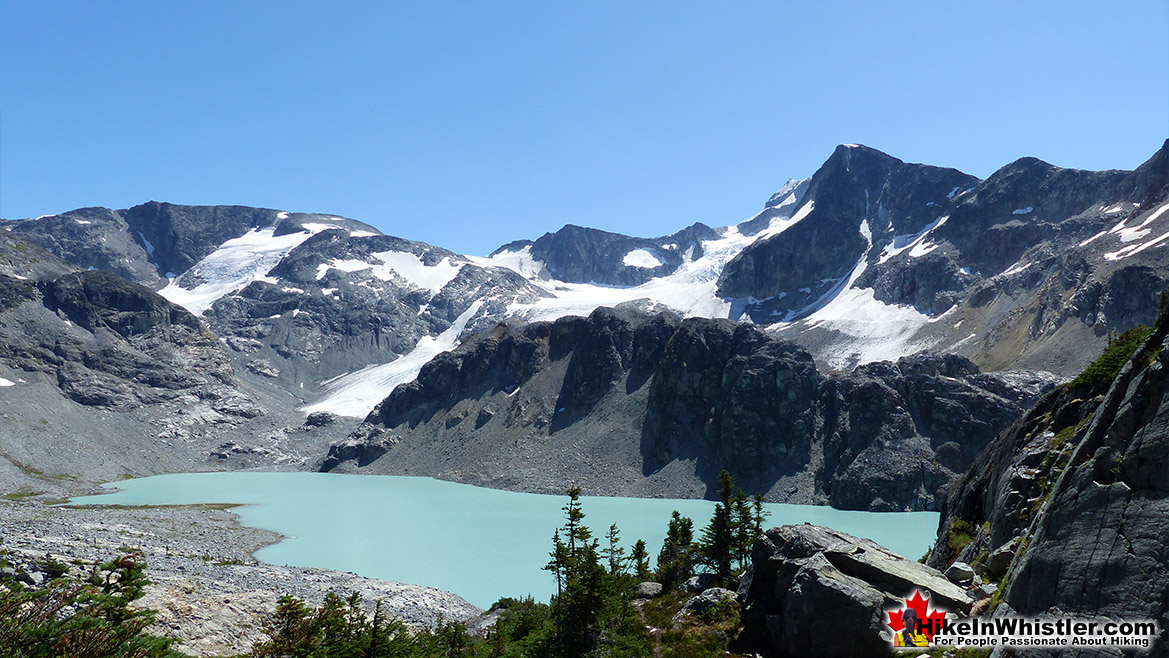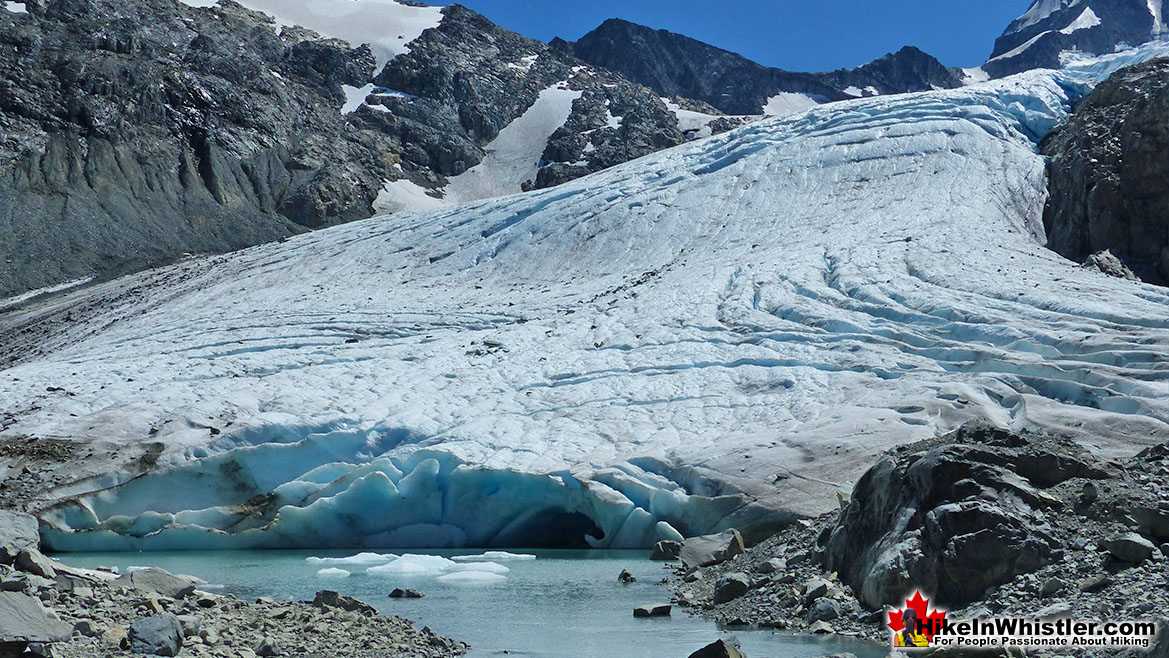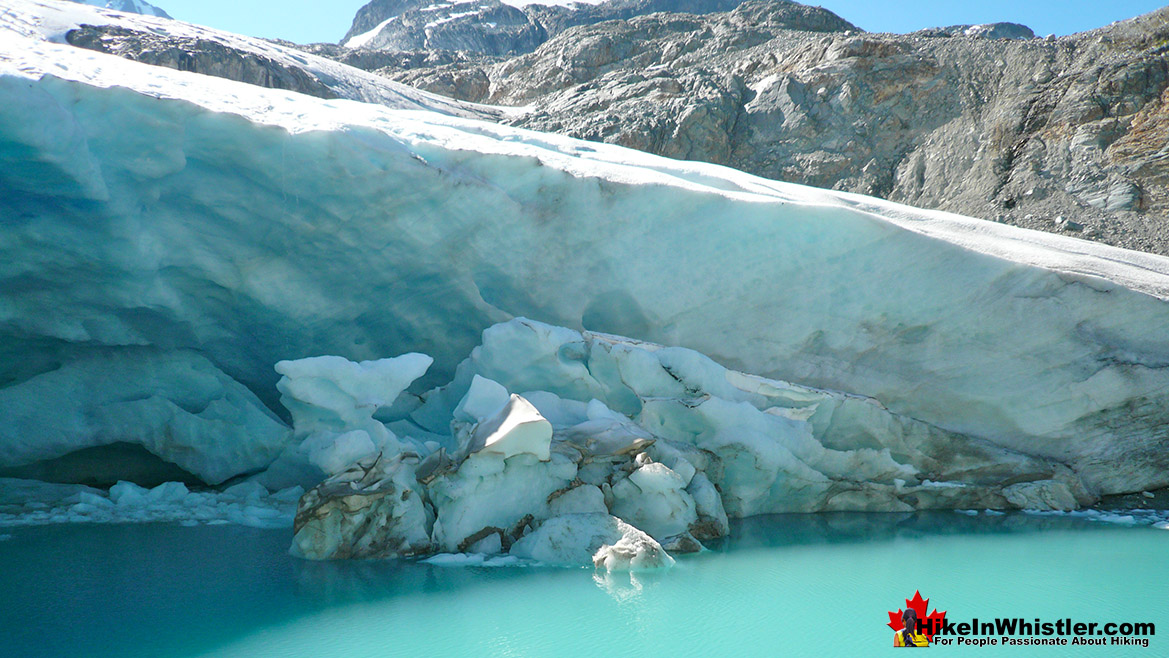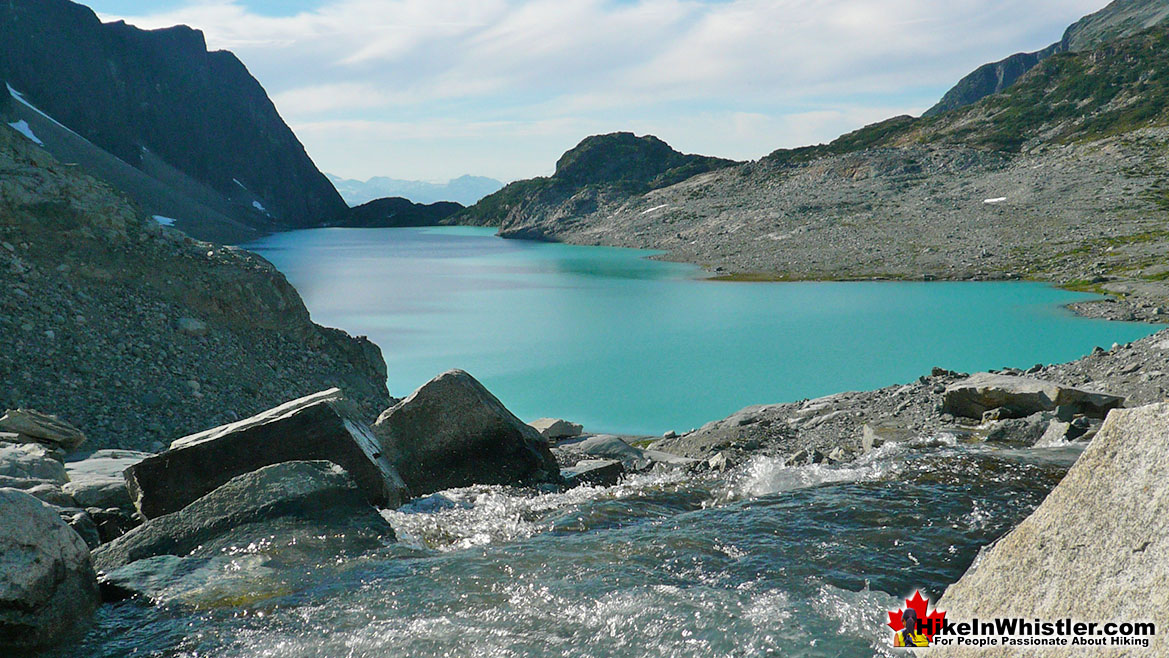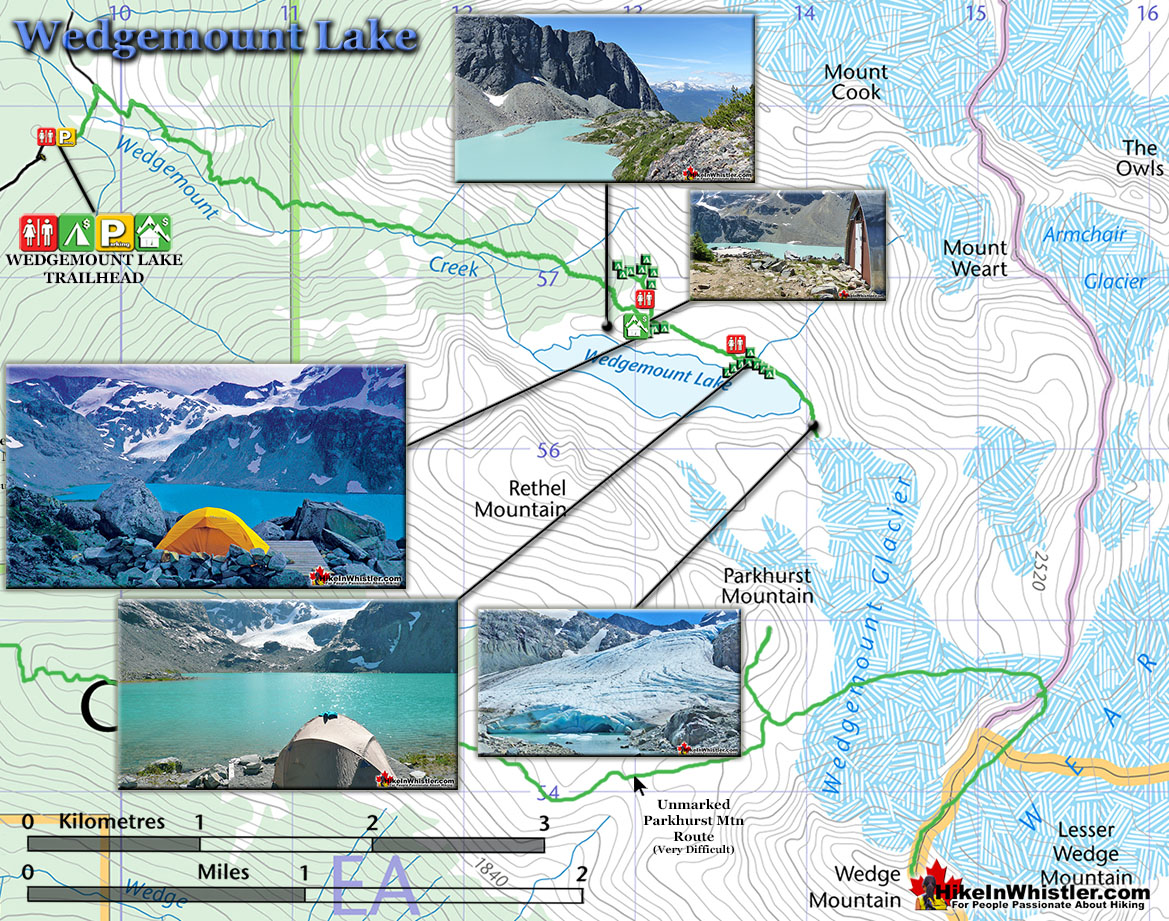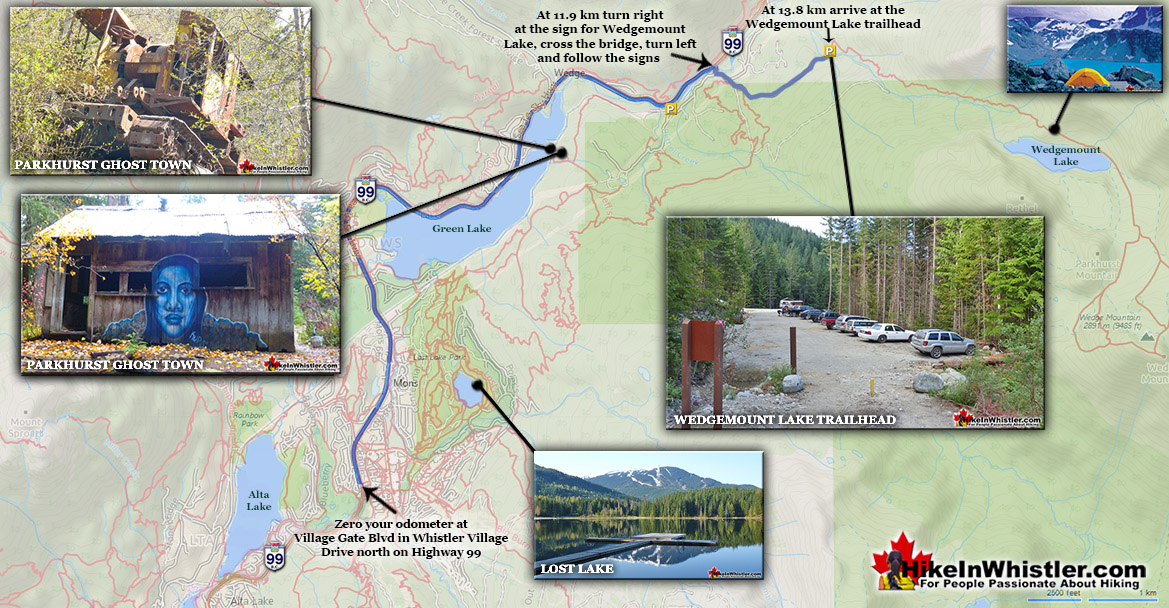 In short, if you were to design a paradise in the mountains, Wedgemount Lake would be the standard to which all others would pale.  The sheltered valley, beautiful turquoise lake, wonderfully huge glacier across the valley and brutally jagged mountains all around all contribute to making Wedgemount Lake something special.  It's challenging and exhausting to hike to and an absolute paradise to relax in. Down by the lakeside you can actually find two recliner chairs, built out of the rocks by the lake.  Such a perfect way to enjoy the sun rising over the not-so-distant glacier across the lake.  More hiking information for Wedgemount Lake click here..

Whistler & Garibaldi Park Hiking Gear Rental

Buying hiking gear is expensive, time consuming and confusing. Let us do the work for you. We have the best quality and highest rated hiking gear on the market, and bring it to you at unbeatable prices. We rent individual items or complete hiking and camping kits. Our complete kits for one or two people consist of everything you need to hike in Whistler except clothes, food and water! Reserve today and hike into paradise! Whether you are short one backpack for your group or need to fully outfit everyone, we have you covered. We rent all the best, highest rated hiking gear you will need to enjoy hiking in and around Whistler and Garibaldi Provincial Park. We are proud to offer the best gear at the best prices. Fully equip yourself with backpack, tent, sleeping bag, sleeping pad, sleeping pillow, complete MSR Windburner cooking stove system(stove, fuel, pot, cup, fork, spoon and coffee press), first aid kit, camp towel, knife and trekking poles. All you have to bring is food, water and clothes! We put all the fun back into hiking and remove the boring and expensive parts. We will deliver your full set of hiking gear, packed and ready to hike. You then hit the trail into paradise for a night.. or two.. or more, call us when you get home and we will pick up everything. You don't have to worry about figuring out what to pack or buying expensive equipment.

We bring the best to you and at bargain prices. Why? Because we love Whistler, love hiking, love camping and we are passionate about hiking in Whistler. We will do everything in our power to make you have the most amazing hiking and camping trip of your life. And it starts with getting you the best gear, prepacked and delivered to you, without you having to spend a fortune buying gear. You can rent individual items or entire hiking/camping kits. Whatever your need, we have what you need to get you on the trail! Have a look at what we have to rent here!

We Rent Complete Kits 

We Rent Backpacks 

We Rent MSR Tents 

We Rent Sleeping Bags 

We Rent Sleeping Pads 

We Rent Camp Stoves 

We Rent Snowshoes
Hike in Whistler & Garibaldi Park

Alexander Falls  

Ancient Cedars  

Black Tusk  

Blackcomb Mountain  

Brandywine Falls  

Brandywine Meadows  

Brew Lake  

Callaghan Lake  

Cheakamus Lake  

Cheakamus River  

Cirque Lake  

Garibaldi Lake 

Garibaldi Park 

Helm Creek 

Joffre Lakes  

Keyhole Hot Springs  

Logger's Lake  

Madeley Lake  

Meager Hot Springs 

Nairn Falls  

Newt Lake 

Panorama Ridge  

Parkhurst Ghost Town  

Rainbow Falls  

Rainbow Lake  

Ring Lake  

Russet Lake  

Sea to Sky Trail 

Skookumchuck Hot Springs  

Sloquet Hot Springs  

Sproatt  

Taylor Meadows  

Train Wreck  

Wedgemount Lake  

Whistler Mountain

January  

February  

March  

April  

May  

June  

July  

August  

September  

October  

November  

December
Whistler Hiking Glossary

Ablation Zone 

Accumulation Zone  

Adit Lakes 

Aiguille 

Alpine Zone  

Arête  

ARRTI 

Armchair Glacier 

The Barrier  

Battleship Islands 

Bears  

Bench  

Bergschrund 

Bivouac  

Bungee Bridge 

Cairn/Inukshuk  

Carter,Neal 

Chimney 

Cirque 

Cloudraker  

Coast Douglas-fir 

Coast Mountains  

Col  

Columnar Jointing 

Cordilleran 

Cornice  

Corrie Lake 

Crevasse  

Dalgleish,Alec 

Deadfall  

Emerald Forest 

Erratic 

The Fissile  

Fitzsimmons Creek 

Fitzsimmons Range  

Fyles,Tom 

Garibaldi Ranges 

Garibaldi Volcanic Belt 

Gemel  

Glacier Window 

Green Lake 

Hoary Marmot 

Krummholz  

Lithophyte  

Lodgepole Pine 

Moraine 

Mt Garibaldi 

Mt James Turner  

Mountain Hemlock 

Northair Mine  

North Arm 

Nunatuk  

Nurse Stump 

Overlord  

Pacific Yew 

Paper Birch 

Peak 2 Peak  

Rainbow Lodge 

Roundhouse 

Rubble Creek  

Scree 

Spearhead Range 

Tarn 

The Table  

Townsend,Charles 

Usnea  

Waterbar  

Western Hemlock 

Western Redcedar  

Whistler Spruce 

Winram,Mills