We carry the best hiking gear.  Our rental prices are the lowest guaranteed.  If you find a lower hiking gear rental rate in Whistler, Squamish or Vancouver, we'll beat it by 15%.  We deliver for free and pickup for free, anywhere in Whistler 24 hours a day, 7 days a week, 365 days a year.  We have the biggest and best selection of hiking rental gear Whistler to Vancouver!


With us you will get the best service, the best prices and best hiking gear.  We love hiking and love to help you get into the beautiful mountains around Whistler.  We also rent complete hiking gear kits.  We can equip one person, couples or large groups with everything needed to hike in the beautiful hiking trails around Whistler and in Garibaldi Provincial Park.  We even deliver to Whistler area trailheads!  All you need to bring is food, water and clothing!  We take care of you with the best quality gear, ready to go and pick it up when you are done.  We deliver it to you perfectly clean and don't mind if you return it a mess.  We have a precise and methodical cleaning and maintenance process and we go to great lengths to ensure the gear you get is like new.  We do not have a retail location in Whistler and because of that we can offer hiking rental gear to you at bargain prices, where you want it and when you want it.  If you need to equip 25 people tomorrow morning at 5am at the Rubble Creek trailhead, book with us and we will do all the work and preparation for you.  All you have to do is show up at the trailhead with your food, water and clothing and you will be on the trail five minutes later.  When you return after hiking in paradise, we will pick up everything and you avoid the messy clean up and maintenance process.  We are proud to be Whistler's best source for hiking gear, best prices and best quality.
We Provide the Best Service
We get the best hiking gear to you when you want it and where you want it.  We deliver and pick up anywhere in Whistler and we also deliver and pick up at the Rubble Creek trailhead to Garibaldi Park!  You need hiking gear Tuesday morning at 4am at the Rubble Creek trailhead?  No problem.  If you are just passing through Whistler we have a very convenient 24 hour pick up and drop off location just down from Whistler Village.  We will have your gear ready for you any time you want and you won't have to waste time finding parking, waiting in line at a rental store, etc.  If you are staying at a hotel in Whistler, we can deliver your gear to your hotel so it is waiting for you when you arrive.  When you are finished hiking you can leave the gear with your hotel's Front Desk or Bell Desk and not have to worry about waiting for us to pick it up.
We Have the Best Gear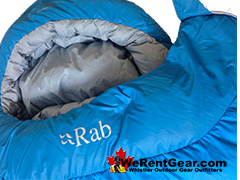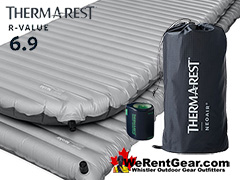 Our hiking gear is high end, very expensive, yet our rental prices are lower than other rental companies that have cheaper, heavier, poorly rated, bulky and worn out gear. Take our Therm-a-Rest NeoAir XTherm MAX sleeping pads, for example. They retail for over $300 and we rent them for a lower price than other companies that rent cheap, thin, cold, bulky, heavy and very mediocre sleeping pads. So, with us you get better, warmer, more comfortable, ultralight, ultra compact, and at a lower price than any other rental company. Also, we include with every Xtherm Sleeping Pad a Therm-a-Rest NeoAir Micro Pump. This is an extremely small, yet powerful air pump that fills the sleeping pad without any effort or wasted time on your part! These retail for $50 and we include them for free.  Why? Because we our only concern is getting you the best hiking gear to you so your trip can be as enjoyable as possible.  For our sleeping bags we rent Rab Ascent 700's. The Rab Ascent 700 is a down filled performance sleeping bag that is very light and compact and weighs just 1.29kg or 2.8 pounds. They are ultralight, ultra compact and warm enough for cold mountain camping in Whistler! Included with every sleeping bag is a sleeping bag liner and an ultralight, ultra compact MEC sleeping pillow!
We Have the Best No Hassle Policies
We know plans change and we don't want to lock you in with your booking.  Need to cancel?  As long as you are not within 24 hours of delivery you can cancel your reservation and get a full refund on your deposit.  Need to change dates?  We don't mind altering your rental dates to suit your modified plans and as many times as you want.
We Have the Best Prices
Our costs are drastically reduced by not having a retail shop and we pass the savings on to you.  This is how we can bring you the best gear at the best prices and with the best service!
Why Rent With Us? 
We provide insanely great service.
We have the best, highest quality and newest gear.
We have the best, no hassle policies. No fee cancellation up to 24 hours before delivery!
We have unbeatable prices. Our gear is the best and our prices are better than the rest!
We are very flexible. Need to change your delivery time, location, or even day of delivery? No problem!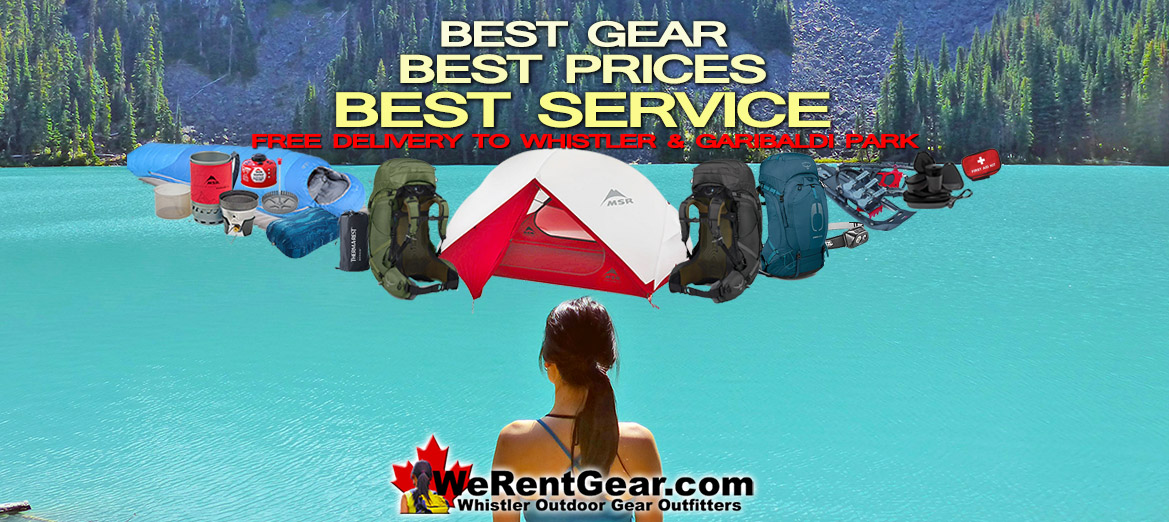 Explore Whistler Hiking Trails!
Explore BC Hiking Trails!