The Rainbow Trail is a convenient and popular trail near Whistler Village that takes you to Rainbow Lake as well as the Flank Trail, Rainbow Falls, Hanging Lake, Madeley Lake, Beverly Lake, Rainbow Mountain... and even Whistler Olympic Park if you are determined.  It is a consistently uphill and very beautiful trail with several water crossings and waterfalls on the way to the picture-perfect lake. 
Quiet trail compared to other Whistler trails
Trails continue past the lake to other lakes
Stunning views of Blackcomb & Whistler mountains
Continuing trail/route to Rainbow Mountain
The alpine hiking options(eg: Sproatt) are incredible
The huge erratics at the lake are perfect for suntanning
No camping, fishing or swimming allowed
Trail is sometimes scenic, but often in deep forest
Tour companies often fly over spoiling the serenity
Dogs not allowed due to being Whistler's water source

Whistler & Garibaldi Park

Alexander Falls  

Ancient Cedars  

Black Tusk  

Blackcomb Mountain  

Brandywine Falls  

Brandywine Meadows  

Brew Lake  

Callaghan Lake  

Cheakamus Lake  

Cheakamus River  

Cirque Lake  

Garibaldi Lake 

Garibaldi Park 

Helm Creek 

Joffre Lakes  

Keyhole Hot Springs  

Logger's Lake  

Madeley Lake  

Meager Hot Springs 

Nairn Falls  

Newt Lake 

Panorama Ridge  

Parkhurst Ghost Town  

Rainbow Falls  

Rainbow Lake  

Ring Lake  

Russet Lake  

Sea to Sky Trail 

Skookumchuck Hot Springs  

Sloquet Hot Springs  

Sproatt  

Taylor Meadows  

Train Wreck  

Wedgemount Lake  

Whistler Mountain

January 

February 

March 

April 

May 

June 

July 

August 

September 

October 

November 

December
Hiking Gear Rental

Complete Kits 

Backpacks 

MSR Tents 

Sleeping Bags 

Sleeping Pads 

Camp Stoves 

Snowshoes
There are a few views of the valley across to Whistler Mountain, Blackcomb Mountain, and Wedge Mountain.  Few views, though fantastic.  Rainbow Lake itself is in a gorgeous alpine valley with branching trails that extend further beyond the lake in at least three directions.  Along with the waterfalls, bridge crossings and valley views, the Rainbow Trail passes through deep forest with some impressively huge trees.  Plenty of birds can be heard and seen along the trail and though black bears frequent the area, they are infrequently spotted due to their migration down into the valley.  Cougars are also known to roam around this area, though also rarely spotted.  As recently as 2014 signs of cougar activity were identified on the Flank Trail near where it branches off from the Rainbow Trail. The Rainbow Trail has a small side trail that takes you to Rainbow Falls. Not far from the trailhead, the small Rainbow Falls sign is easily missed.  It is located about five minutes into the Rainbow Trail and your best bet to find it is to keep bearing right along the first couple trail branches. Don't worry about getting lost here though as all the trails reconnect further along the trail when you briefly exit the forest at the water treatment building. Unfortunately, Rainbow Lake is the water supply for Whistler, so you cannot swim, fish or camp near the lake. There is decent camping available nearby at Hanging Lake as well as Beverly Lake in the direction of Rainbow Mountain.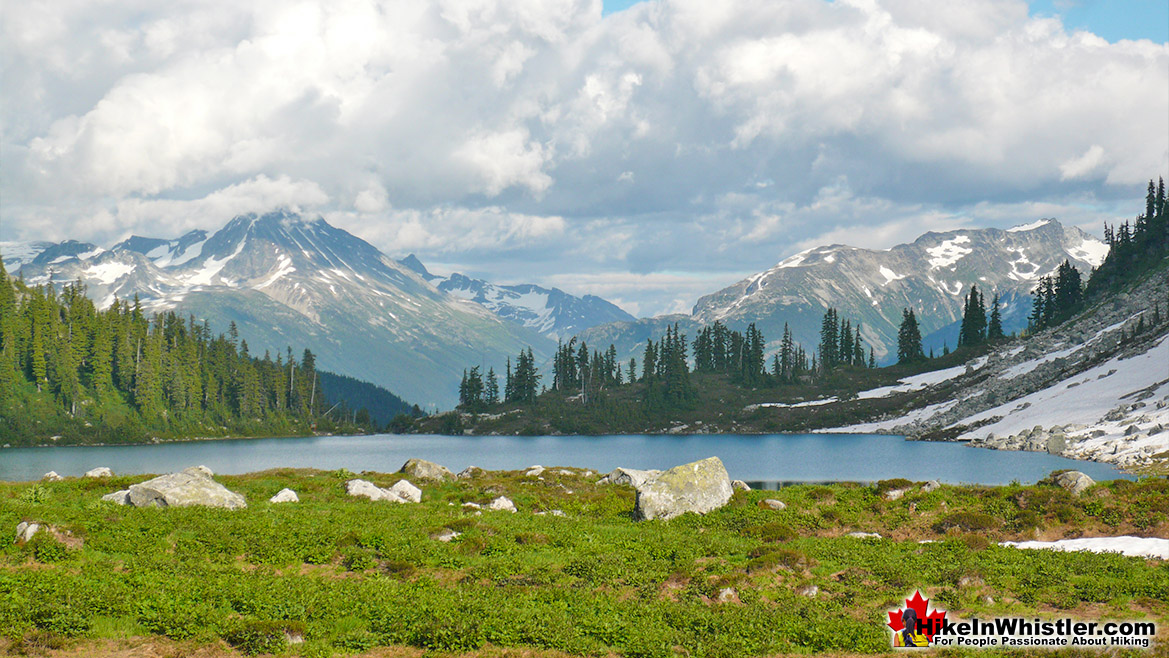 Hanging lake is a bit dark and swampy as compared to the spectacular camping at Beverly Lake which is a tough but rewarding hike beyond Rainbow Lake.  See the trail maps below for the routes to each of these lakes.  Beverly Lake is reached by following the trail toward Rainbow Mountain.  About 40 minutes into this trail the trail markers will stop as it ascends up into an extensive boulder field towards Rainbow Mountain.  To reach Beverly, bear left of the route to Rainbow Mountain and follow the valley.  Beverly Lake is about an hours hike from Rainbow Lake.  To get even further from the world, hike the partly marked trail to Beverly Lake.  The first kilometre is well worn and easy to follow as this is also a somewhat popular trail to reach the summit of Rainbow Mountain.  The Rainbow Mountain trail veers right and quickly ascends through massive boulders.  If you instead bear left and stay in the valley you will reach this fantastically remote lake.  You will be a bit disheartened, however, when you arrive at the lake and see a picnic table.  It's very out of place, evidently put there by some helicopter tour company.  Other than the weird picnic table there are no signs of humanity, and no restrictions on camping as you have at Rainbow Lake.  More info and maps for Rainbow Lake in Whistler...

Whistler & Garibaldi Park Hiking Gear Rental

Buying hiking gear is expensive, time consuming and confusing. Let us do the work for you. We have the best quality and highest rated hiking gear on the market, and bring it to you at unbeatable prices. We rent individual items or complete hiking and camping kits. Our complete kits for one or two people consist of everything you need to hike in Whistler except clothes, food and water! Reserve today and hike into paradise! Whether you are short one backpack for your group or need to fully outfit everyone, we have you covered. We rent all the best, highest rated hiking gear you will need to enjoy hiking in and around Whistler and Garibaldi Provincial Park. We are proud to offer the best gear at the best prices. Fully equip yourself with backpack, tent, sleeping bag, sleeping pad, sleeping pillow, complete MSR Windburner cooking stove system(stove, fuel, pot, cup, fork, spoon and coffee press), first aid kit, camp towel, knife and trekking poles. All you have to bring is food, water and clothes! We put all the fun back into hiking and remove the boring and expensive parts. We will deliver your full set of hiking gear, packed and ready to hike. You then hit the trail into paradise for a night.. or two.. or more, call us when you get home and we will pick up everything. You don't have to worry about figuring out what to pack or buying expensive equipment.

We bring the best to you and at bargain prices. Why? Because we love Whistler, love hiking, love camping and we are passionate about hiking in Whistler. We will do everything in our power to make you have the most amazing hiking and camping trip of your life. And it starts with getting you the best gear, prepacked and delivered to you, without you having to spend a fortune buying gear. You can rent individual items or entire hiking/camping kits. Whatever your need, we have what you need to get you on the trail! Have a look at what we have to rent here!

We Rent Complete Kits 

We Rent Backpacks 

We Rent MSR Tents 

We Rent Sleeping Bags 

We Rent Sleeping Pads 

We Rent Camp Stoves 

We Rent Snowshoes
Hike in Whistler & Garibaldi Park

Alexander Falls  

Ancient Cedars  

Black Tusk  

Blackcomb Mountain  

Brandywine Falls  

Brandywine Meadows  

Brew Lake  

Callaghan Lake  

Cheakamus Lake  

Cheakamus River  

Cirque Lake  

Garibaldi Lake 

Garibaldi Park 

Helm Creek 

Joffre Lakes  

Keyhole Hot Springs  

Logger's Lake  

Madeley Lake  

Meager Hot Springs 

Nairn Falls  

Newt Lake 

Panorama Ridge  

Parkhurst Ghost Town  

Rainbow Falls  

Rainbow Lake  

Ring Lake  

Russet Lake  

Sea to Sky Trail 

Skookumchuck Hot Springs  

Sloquet Hot Springs  

Sproatt  

Taylor Meadows  

Train Wreck  

Wedgemount Lake  

Whistler Mountain

January  

February  

March  

April  

May  

June  

July  

August  

September  

October  

November  

December

The Barrier 

Bears  

Cloudraker Skybridge 

Coast Mountains 

Erratic 

The Fissile 

Fitzsimmons Range 

Garibaldi Ranges  

Garibaldi Volcanic Belt 

Green Lake  

Hoary Marmot 

Krummholz 

Mount Garibaldi  

Northair Mine 

Overlord  

Peak2Peak 

Roundhouse 

Rubble Creek 

Spearhead Range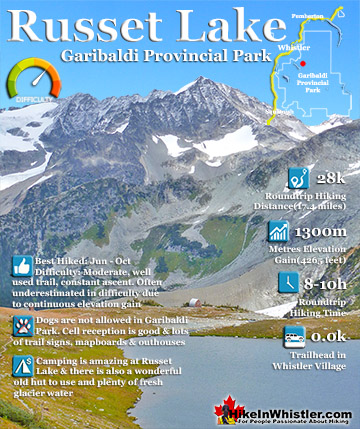 Russet Lake is a surreal little paradise that lays at the base of

The Fissile

.

The Fissile

is the strikingly bronze mountain visible from Whistler Village.  From the Village look ...

Read more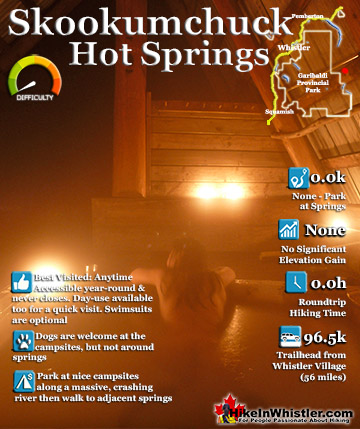 Skookumchuck Hot Springs

, located two hours north of Whistler along the edge of the huge Lillooet River. The name Skookumchuck means "strong water" in the language of the ...

Read more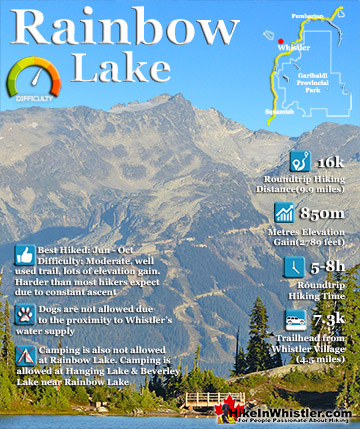 Read more