Brandywine Meadows is a nice, relatively short hike to a massive flower filled valley high up in Callaghan Valley. Located 40 minutes south of Whistler, this tough and sometimes muddy trail gains a huge 550 metres of elevation in just 3 kilometres(1.9 miles), trailhead to meadows.  The trailhead is tricky to find and involves a fairly long gravel road journey that is passable without a 4x4, but barely.
Far quieter than Whistler & Garibaldi Park hikes
Short, though steep trail is dog friendly
On a sunny day the valley is impossibly beautiful
Alpine beyond the meadows is endless & amazing
Brandywine Mountain is fairly easy to hike to
4x4ing to the hut is an adventure & shortens the hike
Views of far off Mount Garibaldi are amazing

Awful gravel access road and no direction signs
Mosquitoes are horrible in July & August
Noisy ATV's use the access roads

Whistler & Garibaldi Hiking

Alexander Falls  

Ancient Cedars  

Black Tusk  

Blackcomb Mountain  

Brandywine Falls  

Brandywine Meadows  

Brew Lake  

Callaghan Lake  

Cheakamus Lake  

Cheakamus River  

Cirque Lake 

Flank Trail 

Garibaldi Lake 

Garibaldi Park 

Helm Creek  

Jane Lakes 

Joffre Lakes  

Keyhole Hot Springs  

Logger's Lake  

Madeley Lake  

Meager Hot Springs 

Nairn Falls  

Newt Lake 

Panorama Ridge  

Parkhurst Ghost Town  

Rainbow Falls  

Rainbow Lake 

Ring Lake  

Russet Lake  

Sea to Sky Trail 

Skookumchuck Hot Springs  

Sloquet Hot Springs  

Mount Sproatt  

Taylor Meadows  

Train Wreck  

Wedgemount Lake  

Whistler Mountain

January 

February 

March 

April 

May 

June 

July 

August 

September 

October 

November 

December
The Brandywine Meadows access road is potholed and often very steep and strewn with loose boulders.  The area is largely maintained for snowmobiling in the winter and atv's in the summer, so the road is pretty bad.  Also, there are almost no direction signs along the way to help you.  Even when you reach the main Brandywine Meadows parking area, the trailhead is barely visible.  If you write down some basic instructions, you should be able to find the main trailhead. Take your first left and drive past the treatment plant and quickly come to an enormous gravel parking lot. This is the snowmobile parking lot and the toll booth will be there and manned if the season is still on. If not, and the parking lot is deserted and with no snow, you may be able to continue. Keep in mind that snow can persist well into May, sometimes June, on the Brandywine Meadows access road. So avoid Brandywine Meadows until June to avoid disappointment.  If you have a dog, you will find that Brandywine Meadows is one of the few really nice, dog friendly hiking trails in and around Whistler. Garibaldi Provincial Park prohibits dogs, as well as both Whistler Mountain and Blackcomb Mountain. Here you won't be bothered by anyone and find no signs of humanity beyond some leftover remnants of the snowmobile season.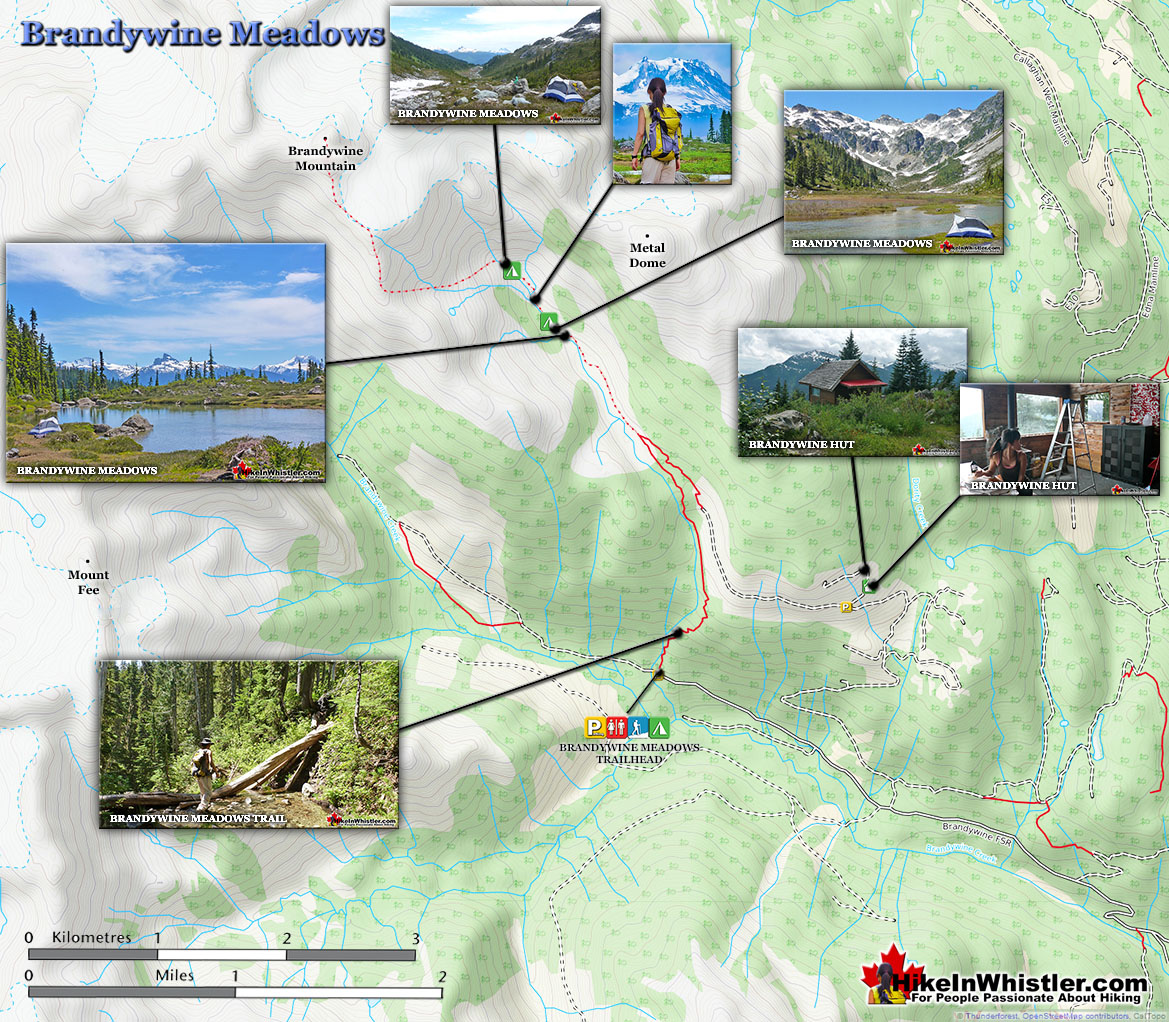 Bundles of orange poles for marking the snowmobile route are sometimes left behind or lost in the snow. Occasionally you stumble across a very out of place looking piece of snowmobile, l ost months before when the ground was below several metres of powder snow. The Brandywine Meadows hike is consistently very steep for the first two kilometres, but it occasionally scenic despite being in very deep forest. The trail runs parallel to Brandywine Creek, which is steeply flowing, very loud and quite beautiful at various vantage points. After two kilometres on the Brandywine Meadows trail the elevation gain levels off and you catch several alpine mountain peaks through the trees.  When you reach the meadows, the amazing valley stretches into the distance, ending at the formidable mountains.  In that grey and white mass of mountain peaks in the distance you will see Brandywine Mountain.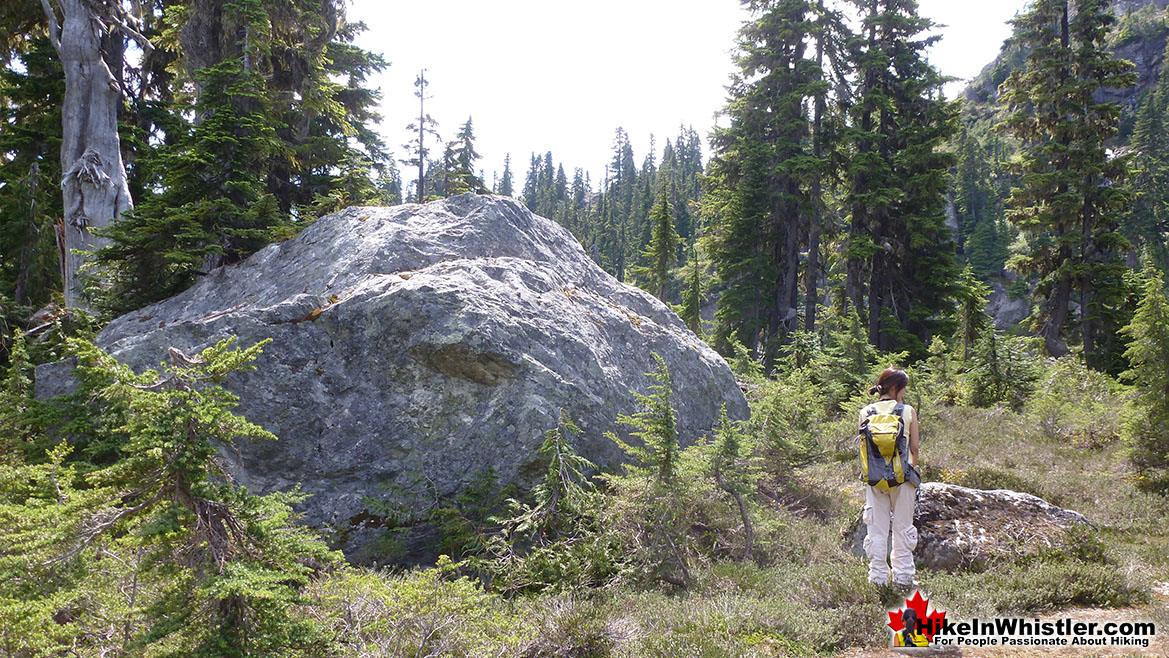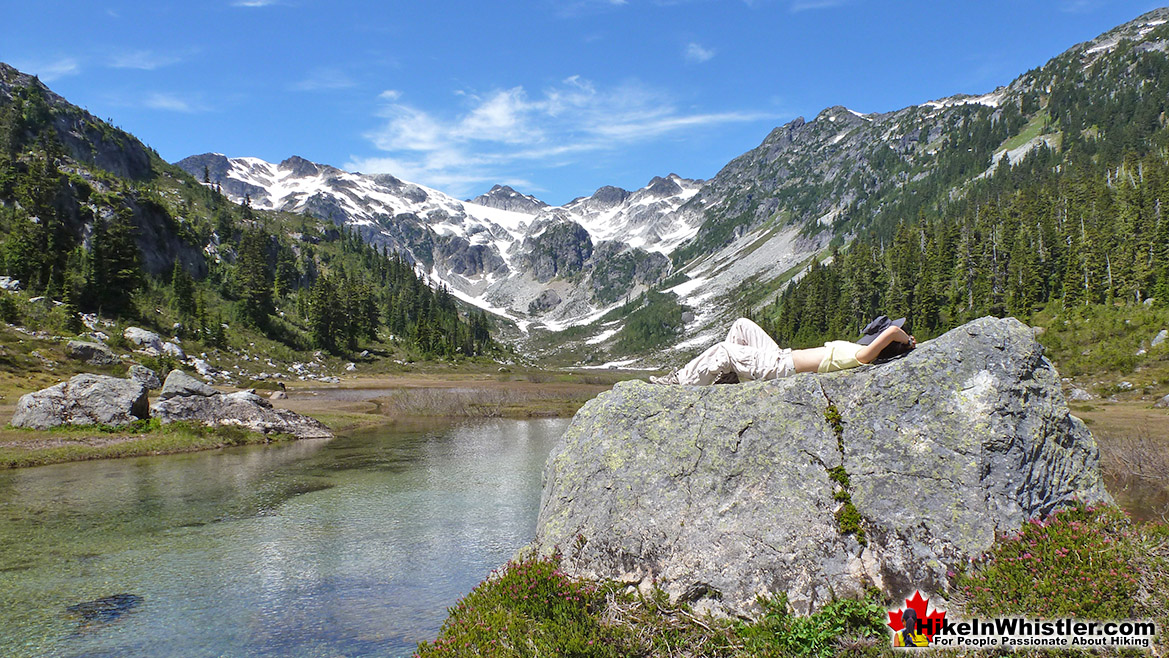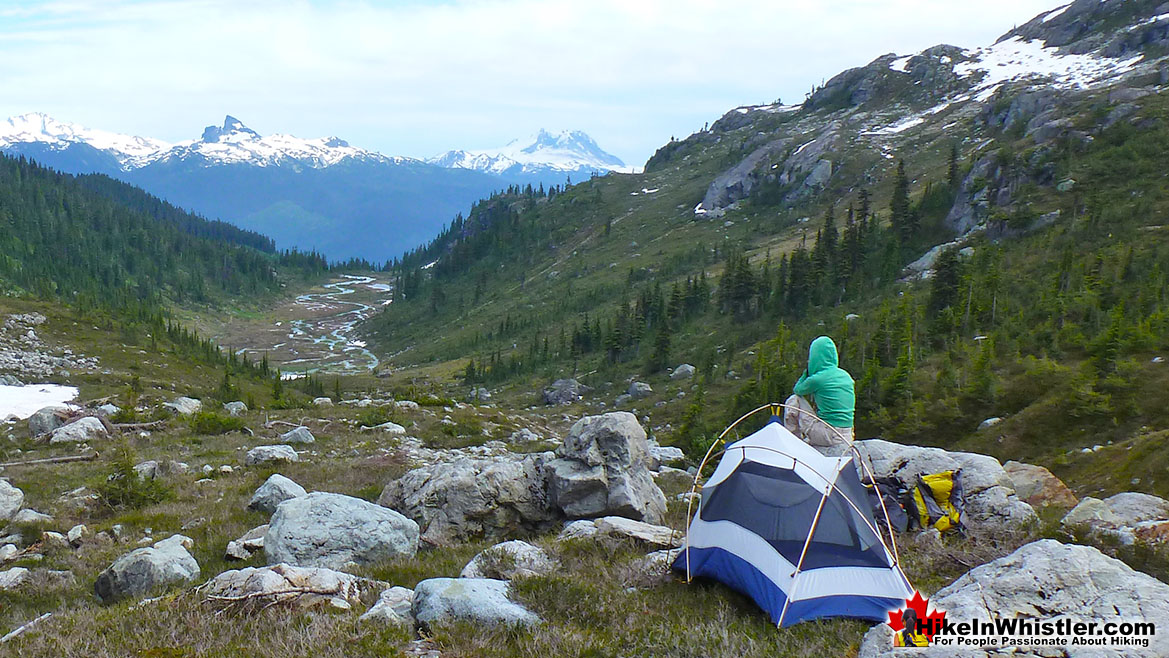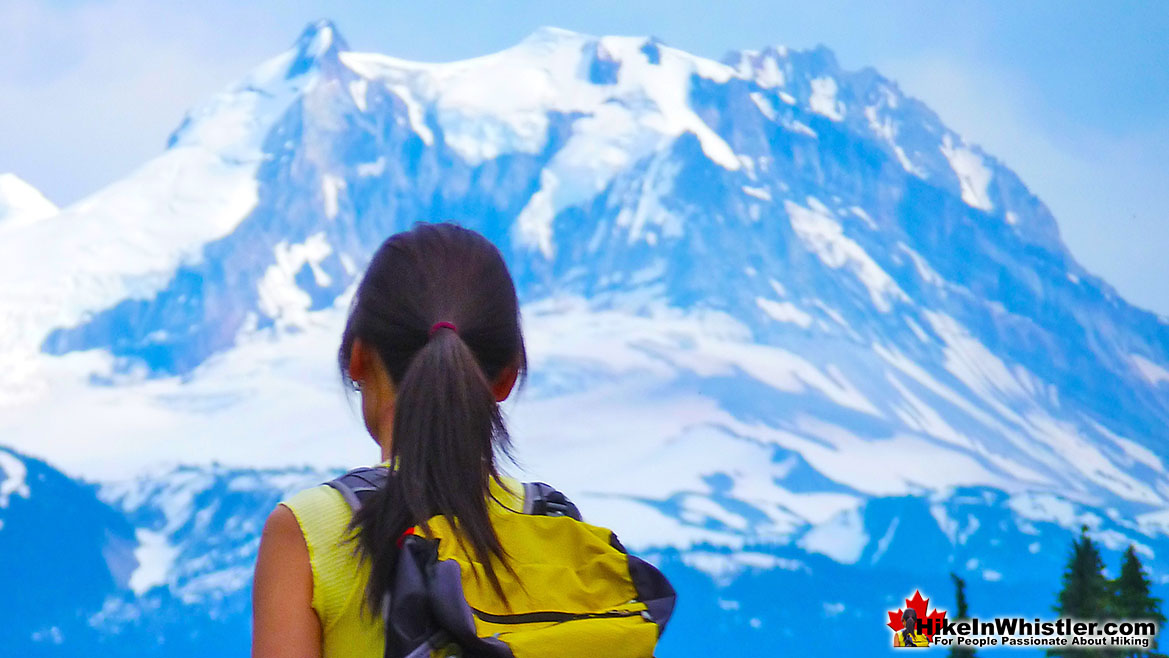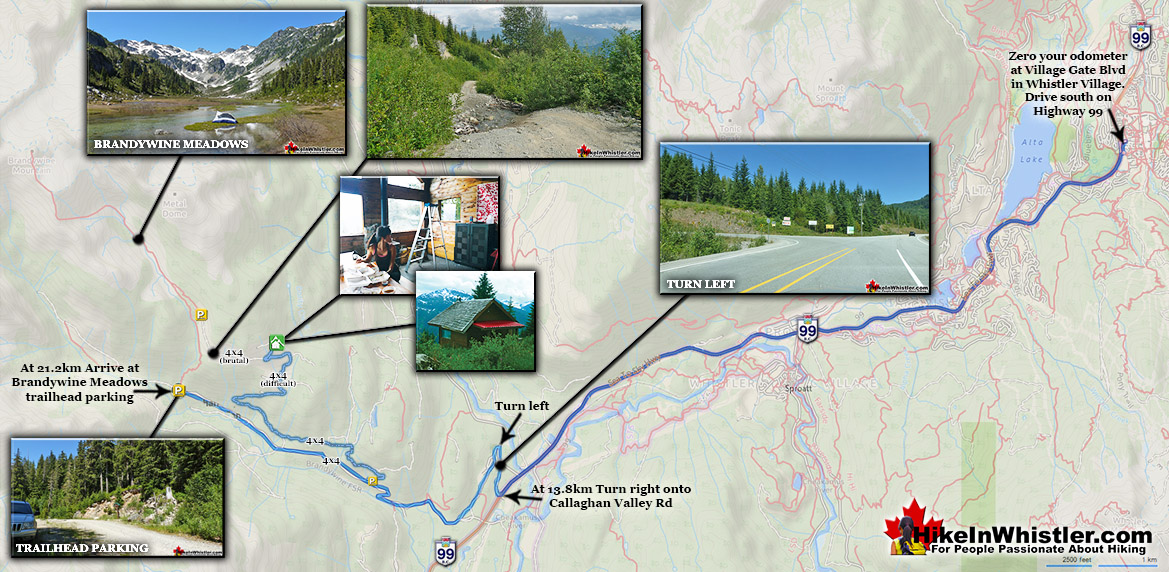 More info for Brandywine Meadows...

Whistler & Garibaldi Park Hiking Gear Rental

Buying hiking gear is expensive, time consuming and confusing. Let us do the work for you. We have the best quality and highest rated hiking gear on the market, and bring it to you at unbeatable prices. We rent individual items or complete hiking and camping kits. Our complete kits for one or two people consist of everything you need to hike in Whistler except clothes, food and water! Reserve today and hike into paradise! Whether you are short one backpack for your group or need to fully outfit everyone, we have you covered. We rent all the best, highest rated hiking gear you will need to enjoy hiking in and around Whistler and Garibaldi Provincial Park. We are proud to offer the best gear at the best prices. Fully equip yourself with backpack, tent, sleeping bag, sleeping pad, sleeping pillow, complete MSR Windburner cooking stove system(stove, fuel, pot, cup, fork, spoon and coffee press), first aid kit, camp towel, knife and trekking poles. All you have to bring is food, water and clothes! We put all the fun back into hiking and remove the boring and expensive parts. We will deliver your full set of hiking gear, packed and ready to hike. You then hit the trail into paradise for a night.. or two.. or more, call us when you get home and we will pick up everything. You don't have to worry about figuring out what to pack or buying expensive equipment.

We bring the best to you and at bargain prices. Why? Because we love Whistler, love hiking, love camping and we are passionate about hiking in Whistler. We will do everything in our power to make you have the most amazing hiking and camping trip of your life. And it starts with getting you the best gear, prepacked and delivered to you, without you having to spend a fortune buying gear. You can rent individual items or entire hiking/camping kits. Whatever your need, we have what you need to get you on the trail! Have a look at what we have to rent here!
Searching Availability...