Meager Hot Springs(aka: Meager Creek Hot Springs) is located 93 kilometres northwest of Whistler, was beautifully developed into gorgeous pools, with a caretaker and usage charge.  At its height of popularity, Meager Hot Springs had 30,000 yearly visitors. Unfortunately, due to two recent avalanches it seems unlikely to ever officially reopen.  After several years of being closed, access reopened on 2009 with a nice, expensive, new bridge.
Amazing large pool & several small pools
Visible geological history surrounds Meager
Hard to get to, so few people go there
Lots of great places for a tent
Trail looks across to the 2010 slide path
The main pool is huge
You will likely have the place to yourself
Trail goes through a beautiful forest 
Once a busy, pay to use place, now serene! 
Accessible only by a long 9k hike
Whistler & Garibaldi Park

Alexander Falls  

Ancient Cedars  

Black Tusk  

Blackcomb Mountain  

Brandywine Falls  

Brandywine Meadows  

Brew Lake  

Callaghan Lake  

Cheakamus Lake  

Cheakamus River  

Cirque Lake  

Garibaldi Lake 

Garibaldi Park 

Helm Creek 

Joffre Lakes  

Keyhole Hot Springs  

Logger's Lake  

Madeley Lake  

Meager Hot Springs 

Nairn Falls  

Newt Lake 

Panorama Ridge  

Parkhurst Ghost Town  

Rainbow Falls  

Rainbow Lake  

Ring Lake  

Russet Lake  

Sea to Sky Trail 

Skookumchuck Hot Springs  

Sloquet Hot Springs  

Sproatt  

Taylor Meadows  

Train Wreck  

Wedgemount Lake  

Whistler Mountain

January 

February 

March 

April 

May 

June 

July 

August 

September 

October 

November 

December
Hiking Gear Rental

Complete Kits 

Backpacks 

MSR Tents 

Sleeping Bags 

Sleeping Pads 

Camp Stoves 

Snowshoes
Only to be dramatically obliterated from another slide in 2010. In 2014 the new VOC Harrison Hut Trail was mostly completed, allowing access to Meager Hot Springs once again. Currently this access road is in a bit of a construction zone, so don't be surprised if the road is blocked by a rock slide or road construction.  The old access bridge over the Upper Lillooet River which cost nearly a million dollars was wrecked in seconds in 2010.  There was considerable wrangling and negotiating to get it built in in 2009, but now it will almost certainly never be rebuilt.  The area is far too active.  Access to the springs is now via the new Harrison Trail via the south side of the the Upper Lillooet River, above and beyond the still visible, still awe inspiring, mudslide carnage.  With the catastrophic mud and debris slide let loose from Devastator Peak in 2010, the nice new (in 2009) million dollar bridge to the Meager Creek Hot Springs was destroyed.  Though destroyed doesn't even begin to describe it. Looking on the now, dead end road, where the bridge once stood, the place still looks a mess. "Meager Creek FSR is closed indefinitely; no access to the hot springs." This is from the BCParks Upper Lillooet Provincial Park site, and evidently quite accurate.
Dead and still dying grey ghosts of trees still stand as they did in piles of forest wreckage.  Even the road in looks bizarre. The road was simply bulldozed back to life.  On either side, hemmed in by piles of dirt and dead trees.  The mudslide that did this seems beyond belief. This river valley in the midst of a beautiful, green forest, is a sea of brown.  Mud, dirt, and dead trees. At its peak of popularity in 1994, Meager Creek Hot Springs had 30,000 visitors a year. With the unrestrained numbers, vandalism and violence broke out at the springs often so the BC Forest Service stepped in. They hired an on-site supervisor, limited vehicle access and charged a usage fee. Then the big slide of 2010 happened and now of course it only gets a few, very motivated visitors.
In 2014 a new route was built to Meager Creek Hot Springs by the UBC Varsity Outdoor Club. The new VOC Harrison Hut Trail regains access to the much prized Harrison Hut, but also opens up an excellent access trail to Meager. The trail is long and not too easy, however, and getting to the trailhead is quite an adventure. The logging road deteriorates quickly on the last couple kilometres and you find yourself dodging basketball sized boulders strewn across the road. The old access route to Meager ran along the far(north side) of the Lillooet Forest Service Rd. This new trailhead is located on the near(left or south) side of the Upper Lillooet River and you simply continue along the Pemberton Meadows Road (almost) until you can't go any further.  From the middle of Pemberton to the trailhead is 64 kilometres. The easy to miss trailhead is marked with a small trailhead sign for "VOC Harrison Hut Trail" No mention of Meager Creek Hot Springs on it.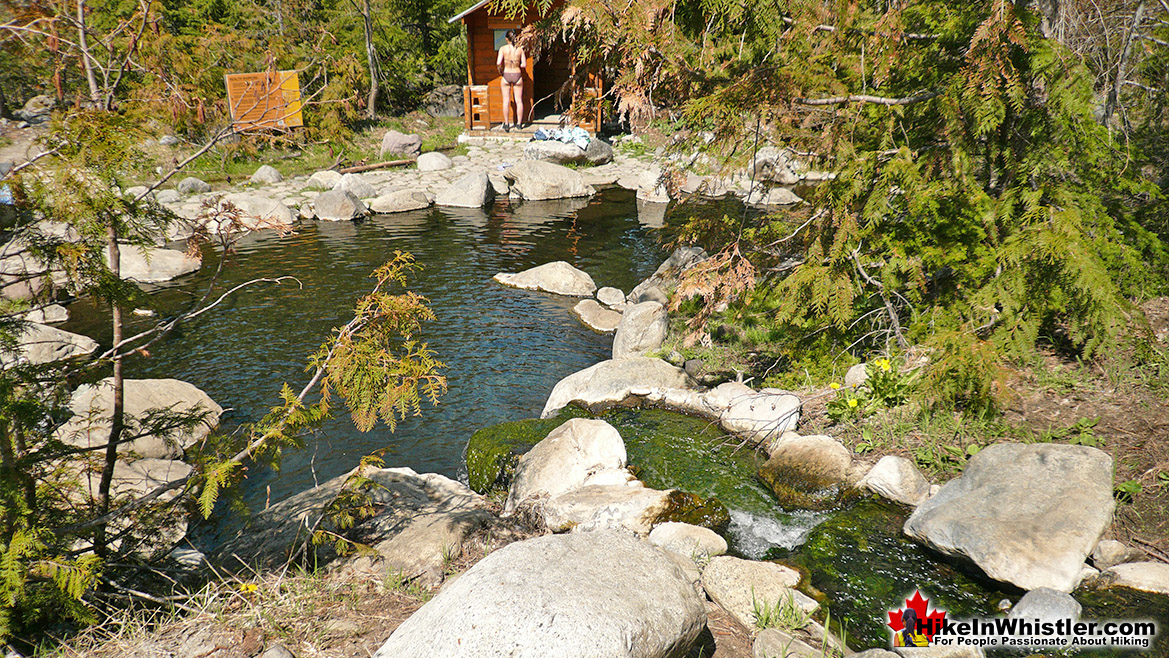 More info for Meager Hot Springs...

Whistler & Garibaldi Park Hiking Gear Rental

Buying hiking gear is expensive, time consuming and confusing. Let us do the work for you. We have the best quality and highest rated hiking gear on the market, and bring it to you at unbeatable prices. We rent individual items or complete hiking and camping kits. Our complete kits for one or two people consist of everything you need to hike in Whistler except clothes, food and water! Reserve today and hike into paradise! Whether you are short one backpack for your group or need to fully outfit everyone, we have you covered. We rent all the best, highest rated hiking gear you will need to enjoy hiking in and around Whistler and Garibaldi Provincial Park. We are proud to offer the best gear at the best prices. Fully equip yourself with backpack, tent, sleeping bag, sleeping pad, sleeping pillow, complete MSR Windburner cooking stove system(stove, fuel, pot, cup, fork, spoon and coffee press), first aid kit, camp towel, knife and trekking poles. All you have to bring is food, water and clothes! We put all the fun back into hiking and remove the boring and expensive parts. We will deliver your full set of hiking gear, packed and ready to hike. You then hit the trail into paradise for a night.. or two.. or more, call us when you get home and we will pick up everything. You don't have to worry about figuring out what to pack or buying expensive equipment.

We bring the best to you and at bargain prices. Why? Because we love Whistler, love hiking, love camping and we are passionate about hiking in Whistler. We will do everything in our power to make you have the most amazing hiking and camping trip of your life. And it starts with getting you the best gear, prepacked and delivered to you, without you having to spend a fortune buying gear. You can rent individual items or entire hiking/camping kits. Whatever your need, we have what you need to get you on the trail! Have a look at what we have to rent here!

We Rent Complete Kits 

We Rent Backpacks 

We Rent MSR Tents 

We Rent Sleeping Bags 

We Rent Sleeping Pads 

We Rent Camp Stoves 

We Rent Snowshoes
Hike in Whistler & Garibaldi Park

Alexander Falls  

Ancient Cedars  

Black Tusk  

Blackcomb Mountain  

Brandywine Falls  

Brandywine Meadows  

Brew Lake  

Callaghan Lake  

Cheakamus Lake  

Cheakamus River  

Cirque Lake  

Garibaldi Lake 

Garibaldi Park 

Helm Creek 

Joffre Lakes  

Keyhole Hot Springs  

Logger's Lake  

Madeley Lake  

Meager Hot Springs 

Nairn Falls  

Newt Lake 

Panorama Ridge  

Parkhurst Ghost Town  

Rainbow Falls  

Rainbow Lake  

Ring Lake  

Russet Lake  

Sea to Sky Trail 

Skookumchuck Hot Springs  

Sloquet Hot Springs  

Sproatt  

Taylor Meadows  

Train Wreck  

Wedgemount Lake  

Whistler Mountain

January  

February  

March  

April  

May  

June  

July  

August  

September  

October  

November  

December

The Barrier 

Bears  

Cloudraker Skybridge 

Coast Mountains 

Erratic 

The Fissile 

Fitzsimmons Range 

Garibaldi Ranges  

Garibaldi Volcanic Belt 

Green Lake  

Hoary Marmot 

Krummholz 

Mount Garibaldi  

Northair Mine 

Overlord  

Peak2Peak 

Roundhouse 

Rubble Creek 

Spearhead Range