We rent MSR Access 3, four season ski touring tents. The Access 3 excels in the harsh winter backcountry of Whistler without the usual weight and bulk found in most four season tents. 
MSR Access 3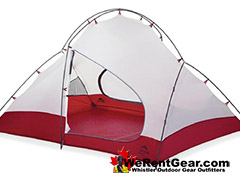 Warm, light and strong, this innovative tent provides the protection needed for winter camping in the mountains around Whistler. The robust frame withstands overnight snow loading, and is quick to set up in the cold. Whether your party is base camping to access powder lines or completing a multiday traverse, the Access 3 is warm enough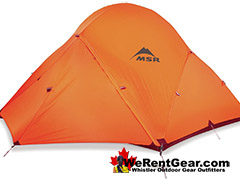 for cold winter nights, yet light enough to keep you nimble while on the move. Ultralight Warmth: Limited mesh on the tent body keeps in all that hard-earned warmth on cold nights, while the light design keeps you nimble while skiing, riding or hiking. Easton Syclone Poles: Advanced composite materials resist breaking in challenging winter conditions. Robust Frame: Central-support frame optimizes interior space and resists snow loading. Quick Setup: Unified hubbed poles make tent quick to pitch in cold environments. Additional Features: Rainfly vents reduce condensation; Xtreme Shield waterproof coating for long-term durability; two doors; two internal pockets; multiple guy points.
MSR Access 3 on Mount Sproatt in Whistler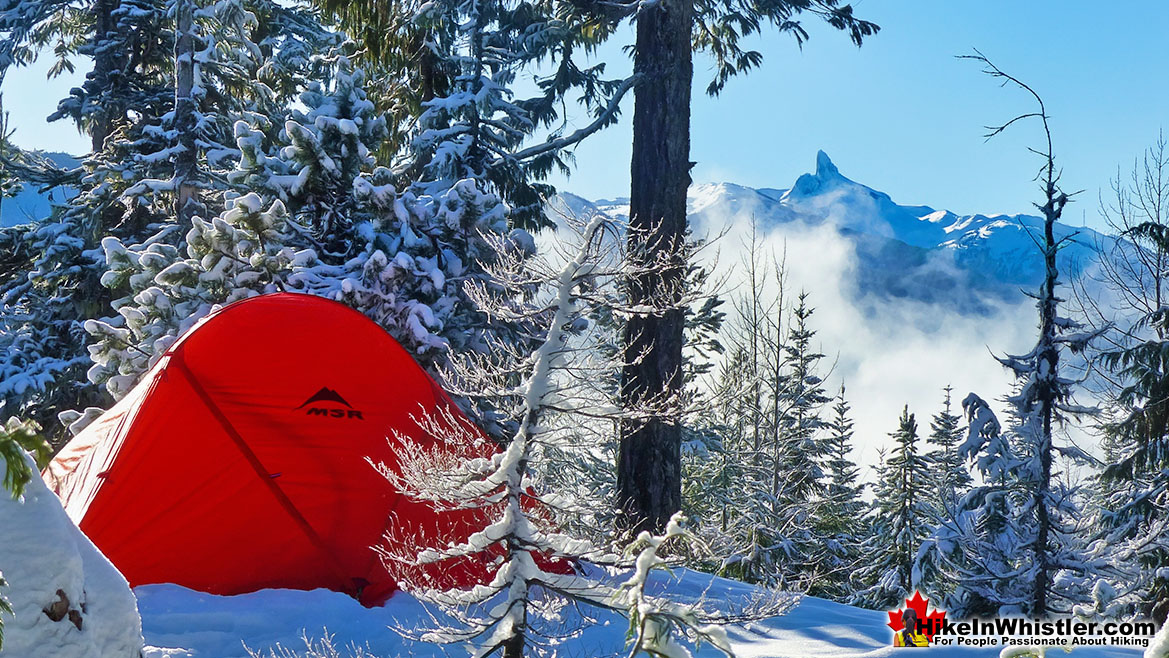 The Access 3 is Ultralight and Spacious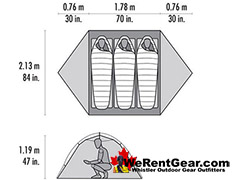 The Access 3 is impressively light at just slightly over 5 pounds or 2.3 kilograms. This is reduced to 4 lbs 6 oz or 1.99 kg by removing non essential things like the compression bag, etc. Even compared to other 2 person, four season tents, the Access 3 is considerably lighter and packs far smaller. Which is why the Access 3 is often the preferred tent for two, instead of the Access 2 which is only .8 of a pound lighter. The Access 3 for two people is luxuriously roomy, especially considering the usual expectation for winter camping to be minimalistic and claustrophobic. The 41 square feet or 3.8 square metres of floor space and an interior height of 47 inches or 119 centimetres gives you lots of room two or three people and gear.  Added to that you have roomy vestibules extending outside both doors which add another 17.5 square feet of shelter for gear.
The Access 3 is Easy to Set Up and Solid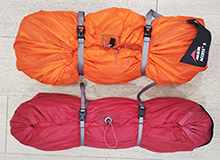 The Access 3 is extremely easy to set up, with poles that snap together effortlessly, and mostly by themselves the instant you bring them out. Snapping together into one interconnected skeleton, raising the tent in the dark on a freezing night is incredibly easy and fast. The Easton Syclone poles are impervious to the cold and touted as unbreakable. The days of broken tent poles is evidently a thing of the past. Another remarkably innovative surprise with the Access 3 is the ultra thin tent walls and rainfly. You would expect this would make the tent flimsy and susceptible to tears, however the Access 3 is not. It performs spectacularly in the alpine in tough winter conditions while taking up much less room in your pack, which is a huge consideration when trekking up snowy mountains. The picture here shows the packed size of the Access 3 compared to the Hubba Hubba NX. You would expect a 3 person winter tent to be vastly larger than a 2 person, three season tent, however they are surprisingly similar.  Probably the biggest complaint about the MSR Access 3 is the hefty price. Retailing for just under $1200 these days is a strong motivating factor to avoid buying and rent from us instead! Reserve here..
MSR Access Tents - Built for the Backcountry
MSR Access Tents - Overview
We Rent Four Types of Tents
We Make Renting Easy!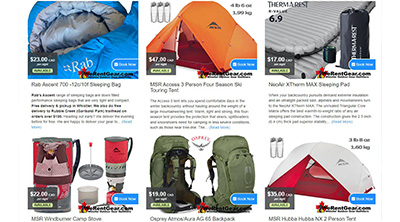 1. Reserve Online
Figure out the gear you would like and book through our reservation system. We will send you a confirmation of the booking and make sure we know where to deliver your gear for you when you get to Whistler. We have the largest inventory of high quality rental hiking and camping gear from Vancouver to Whistler. Our booking page is easy to use and our cancellation policy is amazing. Free cancellations anytime for any reason as long as you let us know more than 24 hours before delivery. If you need to change your delivery or pick up time or location, we don't mind. 
2. Gear Arrives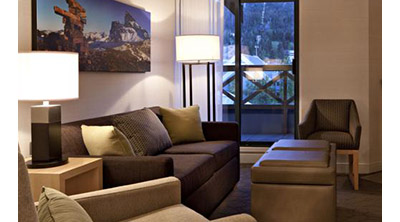 We deliver right to your door anywhere in Whistler and to all Garibaldi Park trailheads except Diamond Head in Squamish. We will be waiting for you at the trailhead when you arrive or if you are already in Whistler at a house, hotel, condo, etc we will deliver and pick up right to your door. We are happy to deliver to your hotel's Front Desk or Bell Desk before your arrival to make your vacation even more worry free! If you would like the gear delivered the day before so you can pack and prepare, let us know when you book and we will make it happen! Prefer to pick up? We have a 24 hour pick up and drop off location 3 minutes from Whistler Village!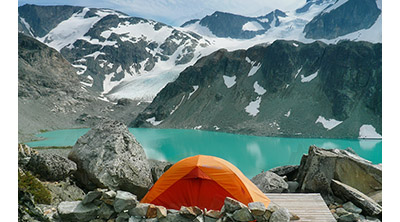 3. Camp in Paradise
 Hike into paradise and camp in beautiful Whistler and incredible Garibaldi Park. With the best quality and highest rated hiking gear money can buy, you will have the trip of a lifetime. We do all the work and you have all the fun!  We rent the best quality and highest rated gear on the market. MSR tents, Osprey backpacks, MSR WindBurner Stove Systems, Rab Ascent 700 sleeping bags, Therm-a-Rest XTherm MAX sleeping pads, MSR Evo Ascent snowshoes and more. We also rent complete hiking gear kits. We can equip one person, couples or large groups with everything you need except food and water! We are proud to be Whistler's best source for rental hiking gear. We have the best gear, the best prices and best service!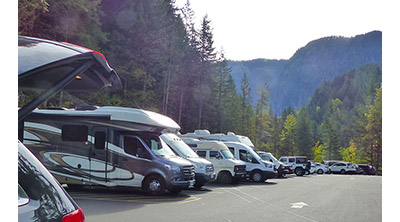 4. Easy Returns
 When you return from your hike, let us know where and when you'd like us to drop by and pick up the gear. Staying at a hotel? Leave the gear with the Bell Desk or Front Desk. Living in Whistler or staying in an AirBnB, just leave the gear outside your door and text us. We will pick it up and you don't need to wait around. We deliver it to you perfectly clean and don't mind if you return it a mess. We have a precise and methodical cleaning and maintenance process and we go to great lengths to ensure the gear you get is like new. Though we don't have a retail location in Whistler, we do have a convenient 24 hour pick up and drop off location near Whistler Village!

Explore Whistler Hiking Trails!
Explore BC Hiking Trails!