Cirque Lake is a wild and beautiful lake that hides high above and beyond Callaghan Lake in Callaghan Lake Provincial Park.  What makes Cirque Lake special among the other sensationally beautiful lakes in the Whistler area is both its location and geologically formed shape.  It sits high above Callaghan Lake, which itself is a gorgeous, mountain lake.  The remoteness of Callaghan Lake is a bit of a mirage due to the fact that you can drive right to it!
Infrequently hiked & mostly untouched

Stunning lake created by glaciation
Endless alpine terrain beyond the lake
The cirque shields you from windy weather

The side of the cirque you will be on is always sunny
Located in a mountain paradise

Starting your hike from a canoe is fun

Callaghan Lake is a destination on its own

The drive to Callaghan is beautifully scenic

Few flat areas to put up a tent & cold swimming!

Whistler & Garibaldi Hiking

Alexander Falls  

Ancient Cedars  

Black Tusk  

Blackcomb Mountain  

Brandywine Falls  

Brandywine Meadows  

Brew Lake  

Callaghan Lake  

Cheakamus Lake  

Cheakamus River  

Cirque Lake  

Flank Trail  

Garibaldi Lake  

Garibaldi Park  

Helm Creek  

Jane Lakes  

Joffre Lakes  

Keyhole Hot Springs  

Logger's Lake  

Madeley Lake  

Meager Hot Springs 

Nairn Falls  

Newt Lake  

Panorama Ridge  

Parkhurst Ghost Town  

Rainbow Falls  

Rainbow Lake  

Ring Lake  

Russet Lake  

Sea to Sky Trail  

Skookumchuck Hot Springs  

Sloquet Hot Springs  

Sproatt East  

Sproatt West  

Taylor Meadows  

Train Wreck  

Wedgemount Lake  

Whistler Mountain
Callaghan Lake is accessible via an 8 kilometre weather battered and very potholed forest service road. The entire road is cratered with deep potholes, cut by frequent waterbars(aka: cross-ditches), and more recently a small section collapsing into the valley below. This logging road begins high up in the Callaghan Valley, which itself is largely overlooked by travellers to Whistler.  The Callaghan Valley is home to quite a few natural and man-made attractions. Brandywine Meadows, Alexander Falls, Northair Mine and Mount Sproatt are all found in the valley. Recently, the 2010 Olympic Games produced the largest man-made attraction in Callaghan Valley, Whistler Olympic Park. Though Cirque Lake is tremendously far into the wilderness, the amount of hiking required to reach it is effectively less than two kilometres.  Another two kilometres of canoeing is required to reach the trailhead at the far end of Callaghan Lake. But for such an enchantingly beautiful, mountain lake, the exertion to reach it is remarkably little.  The other attribute of Cirque Lake that makes it special, is its cirque structure. From the moment you catch sight of Cirque Lake, the abruptly steep sides all around give you the humbling feeling that you are inside a volcano. A volcano filled with emerald water and ringed by grassy meadows and crumbling, near vertical cliffs. Where you stand, at the entrance to the cirque, is not far from the only water channel out of the cirque. An ever narrowing gap in the cliffs spills water down one cliff after another until reaching Callaghan Lake just 1.4 kilometres away.
Owing to the fact that you have to reach the trailhead to Cirque Lake by boat ensures that it almost always remains deserted. Even in the middle of summer, your tent will almost certainly be the only one that resides in this magical cirque. You sometimes get hikers venturing up from their campsites at Callaghan Lake for a couple hours, otherwise nobody.  One feature of the Cirque Lake trail that no doubt scares hikers away is its steepness and ruggedness. It is mostly very steep, and due to the obliterating effects of winter snow, the trail markers are sporadic at best. One consolation is of course the length of the trail. Under two kilometres, makes the steepness much easier to tackle. With a heavy pack you can easily hike the Cirque Lake trail in a little over an hour.  Or an hour and a half or two if you linger at the frequent viewpoints looking back on Callaghan Lake. The eruption of blueberry bushes in August is cause for some delays as well as it is surprisingly hard to pass up feasting on every bush you see.. and you will see a lot. The trail, for the most part is quite scenic and enjoyable. The first 15 minutes of the trail winds through a cute forest along and over some small streams. The next 15 minutes takes you up some steeper and more challenging terrain that require pulling yourself up with tree roots and at one section a knotted rope.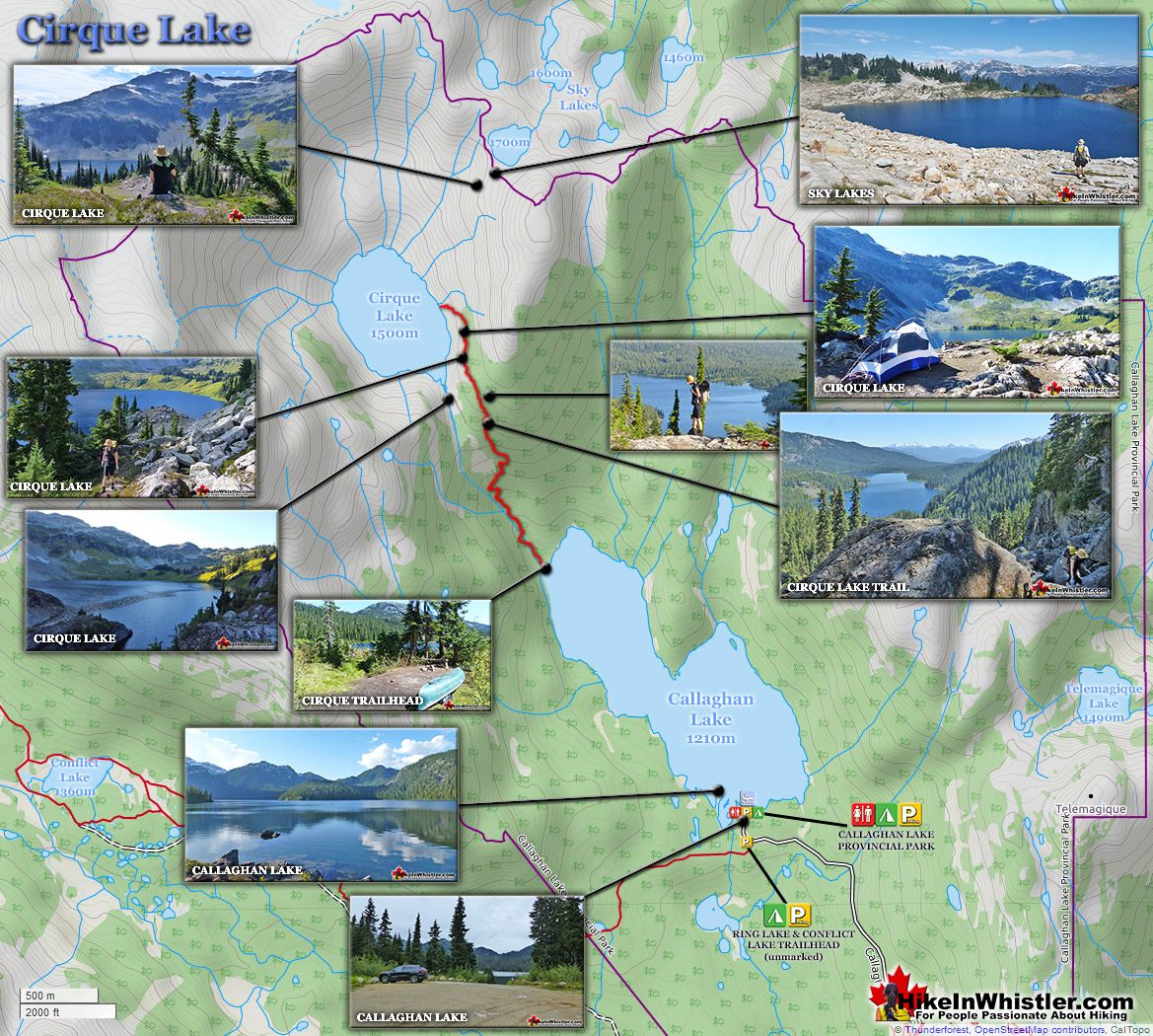 Cirque Lake Trail View of Callaghan Lake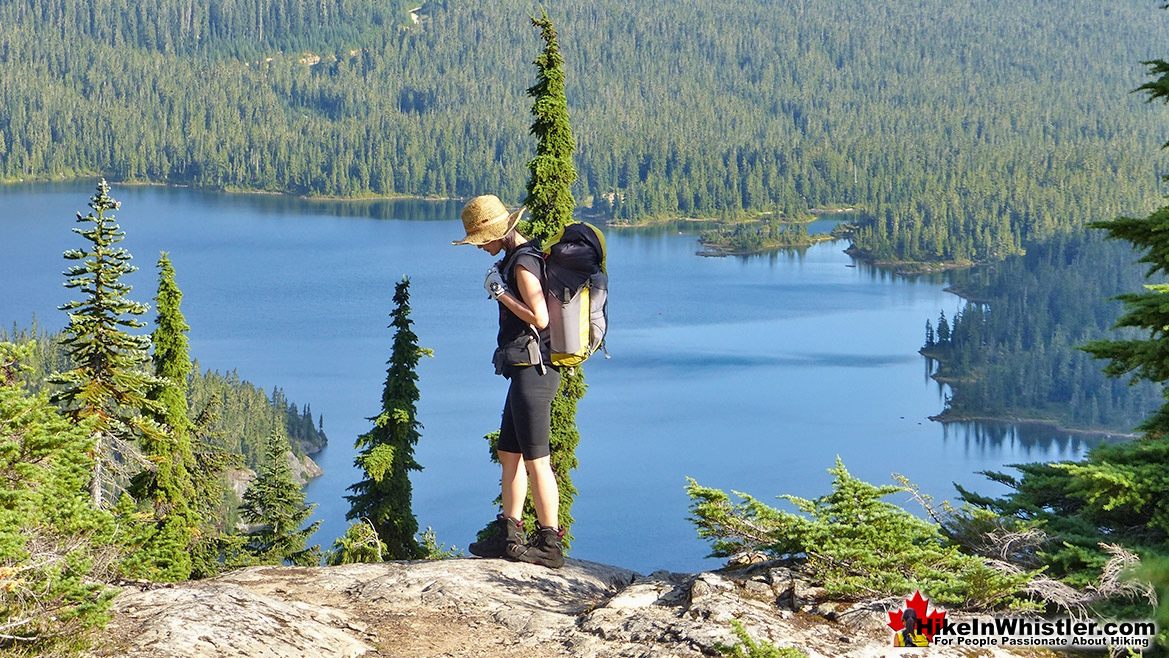 Arriving at Cirque Lake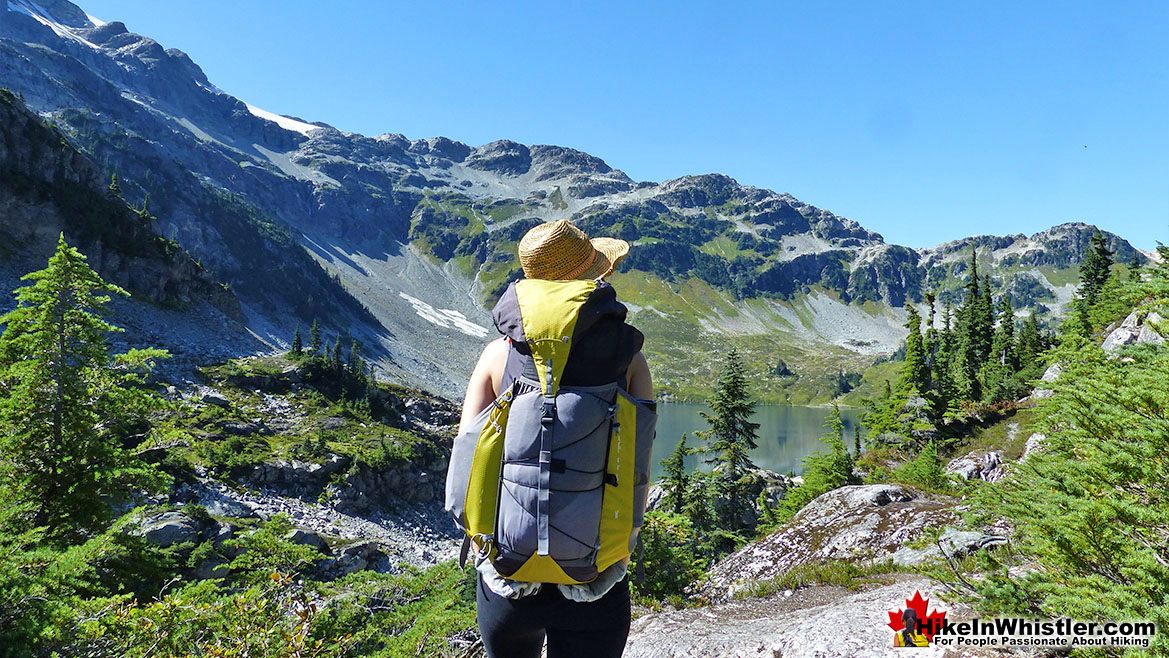 Beautiful Cirque Lake Partly Frozen!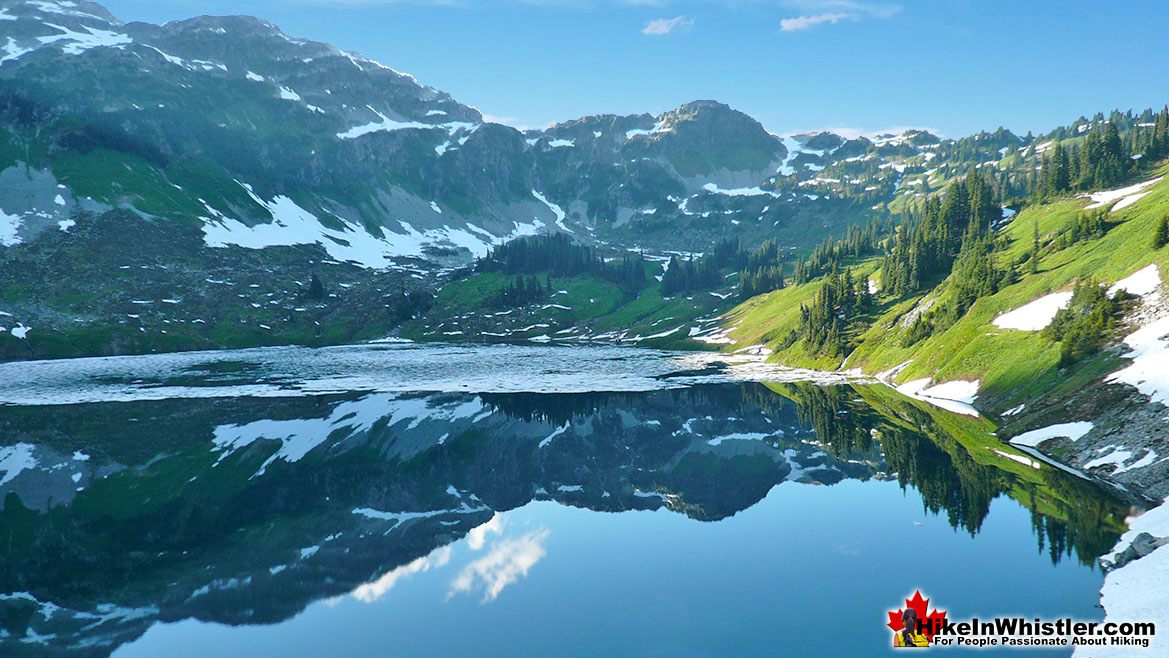 Amazing Cirque Lake Campsite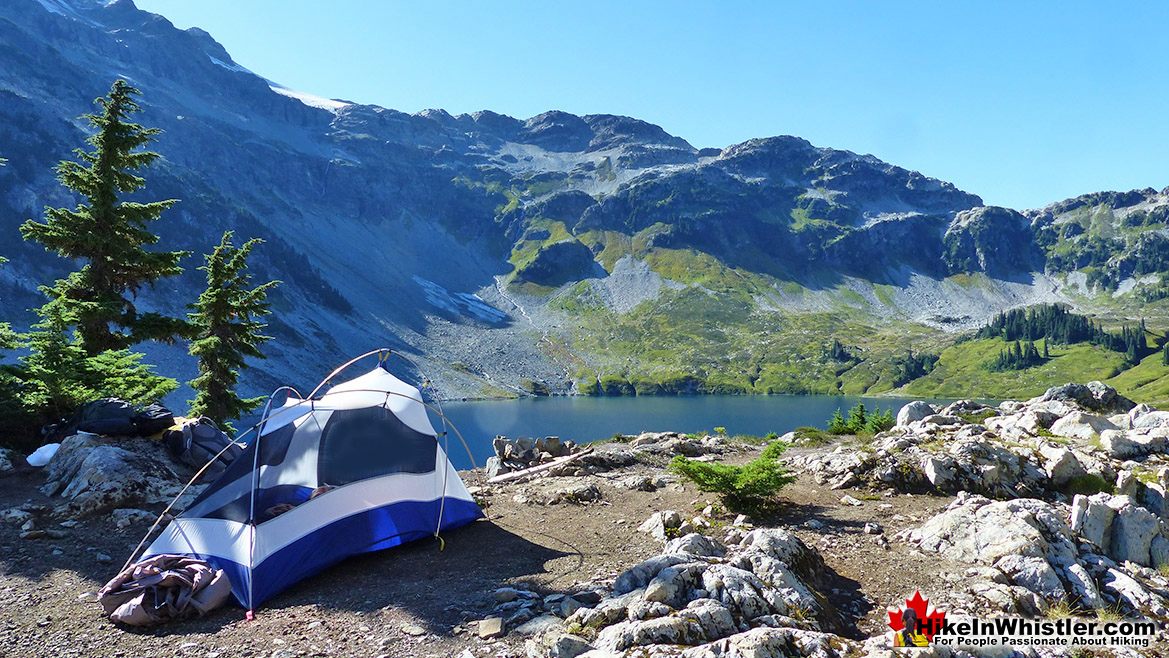 Cirque Lake Swimming View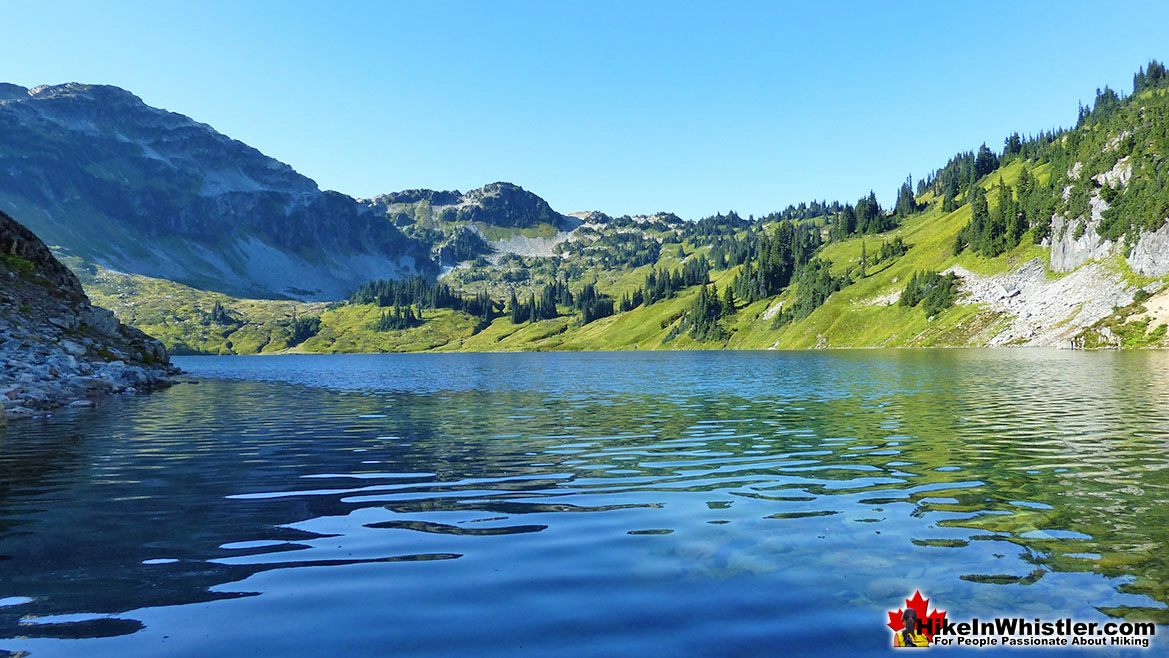 Cirque Lake and Mt Callaghan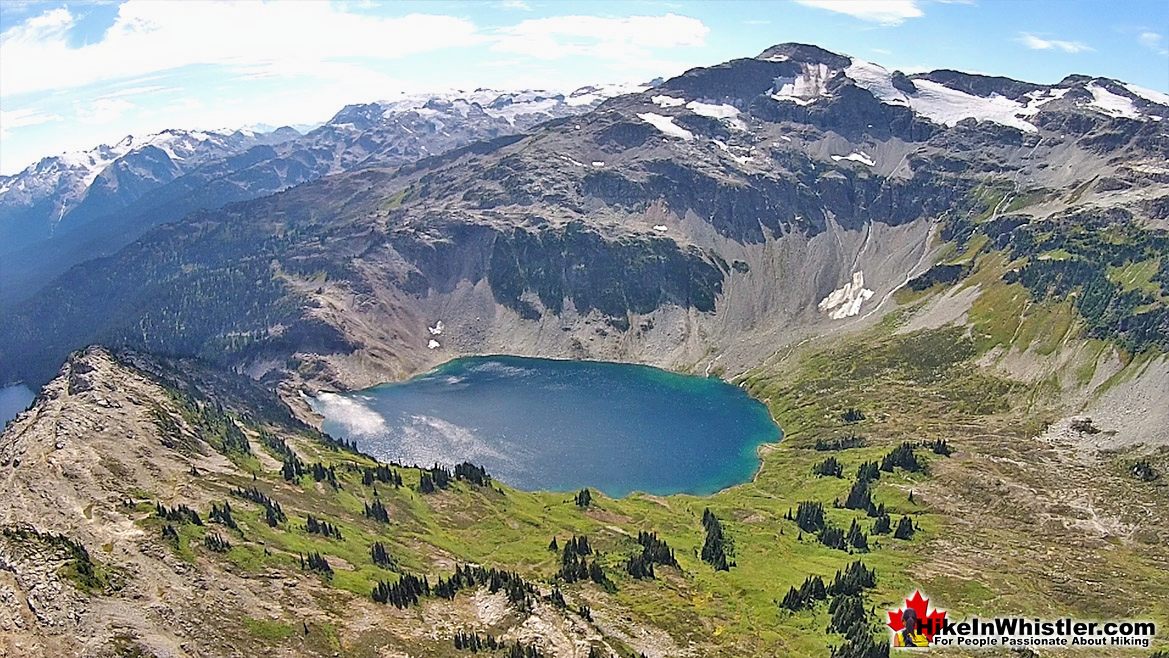 Cirque Lake Campsite at Sunset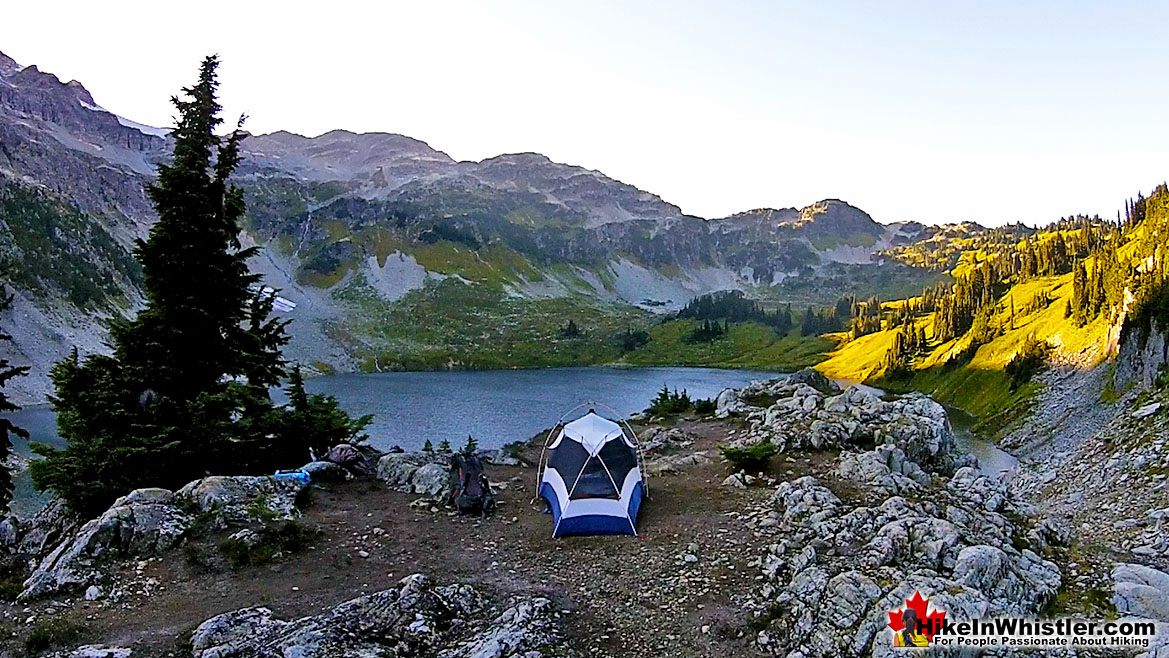 Cirque Lake Aerial View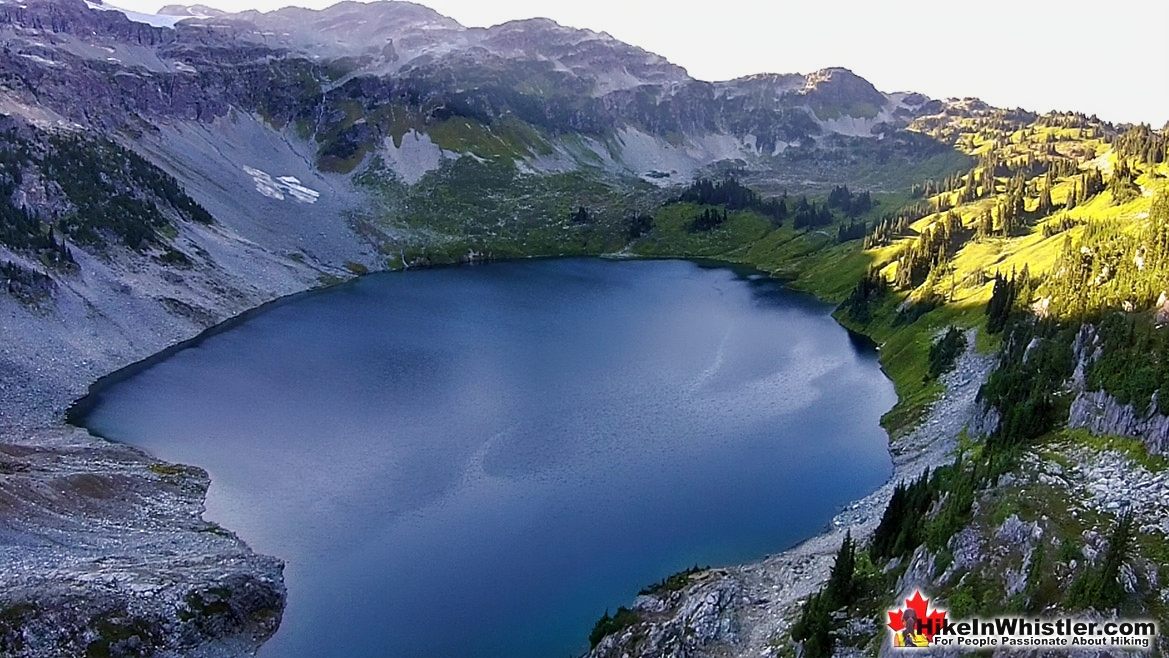 Explore Whistler Hiking Trails!

Explore BC Hiking Trails!