Black Tusk is the extraordinarily iconic and appropriately named mountain that can be seen from almost everywhere in Whistler.  The massive black spire of crumbling rock juts out of the earth in an incredibly distinct way that appears like an enormous black tusk plunging out of the ground.  Whether you spot it in the distance from the top of Whistler Mountain or from vantage points along the Sea to Sky Highway, its appearance is breathtaking.
Stunning icon in Garibaldi Park
Challenging and rewarding hike
Wonderful look at an ancient volcano
Always changing scenery on the hike in
Great campsite options and further hiking options
Multiple access routes

Towering & surreal view from the summit

The final chute is exhilarating!

You can skip the summit & still be amazed

Trails often crowded with hikers

Whistler & Garibaldi Hiking

Alexander Falls  

Ancient Cedars  

Black Tusk  

Blackcomb Mountain  

Brandywine Falls  

Brandywine Meadows  

Brew Lake  

Callaghan Lake  

Cheakamus Lake  

Cheakamus River  

Cirque Lake  

Flank Trail  

Garibaldi Lake  

Garibaldi Park  

Helm Creek  

Jane Lakes  

Joffre Lakes  

Keyhole Hot Springs  

Logger's Lake  

Madeley Lake  

Meager Hot Springs 

Nairn Falls  

Newt Lake  

Panorama Ridge  

Parkhurst Ghost Town  

Rainbow Falls  

Rainbow Lake  

Ring Lake  

Russet Lake  

Sea to Sky Trail  

Skookumchuck Hot Springs  

Sloquet Hot Springs  

Sproatt East  

Sproatt West  

Taylor Meadows  

Train Wreck  

Wedgemount Lake  

Whistler Mountain

January  

February  

March  

April  

May  

June  

July  

August  

September  

October  

November  

December
Whether you see it from the highway or from closer vantage points such as Taylor Meadows, Helm Creek, Panorama Ridge or Garibaldi Lake, all views make climbing to the top look impossible.  In fact, Black Tusk seems to look more impossible to climb the closer you get to it.  Even when you are close enough to touch its vertical, black and crumbling sides, you wonder in amazement how anyone can ever reach the top.  Black Tusk is accessible from three different trailheads, all accessible via old access roads. From the nearby microwave tower(also visible from the Sea to Sky Highway), from the Garibaldi Park, Cheakamus Lake trailhead, and from the Garibaldi Park, Rubble Creek trailhead.  Of the three routes, only the Cheakamus Lake trailhead and the Rubble Creek trailhead are officially used for access to Black Tusk.  These two have large and free parking lots equipped with an outhouse at each as well as big map and information boards.  Along both trails you will find good signs indicating where to hike as well as kilometre markings.  Most hikers use the more direct and popular Rubble Creek trailhead. The microwave tower access road takes you very close to Black Tusk, and has a fairly good gravel 4x4 road to it, however is blocked several kilometres away by a vehicle gate. This is potentially a good way to hike to Black Tusk, however this annoying gate makes what should be a short hike, a long and tedious one. Also, there are of course no signs indicating where to go once you reach the microwave tower.  This route is currently being considered to be opened to allow vehicles to park at or near the microwave tower, however, little progress has been made so far.  Occasionally you will find this gate open, however driving past this point may get you in trouble.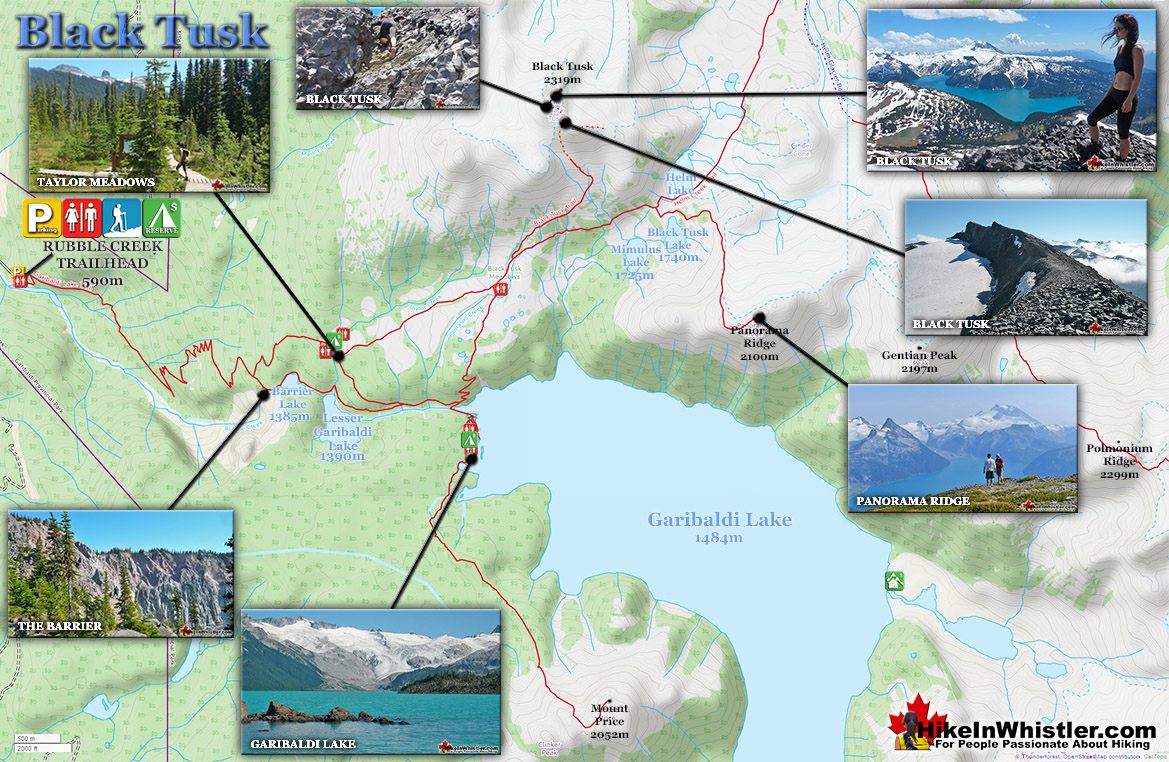 Black Tusk and Microwave Towers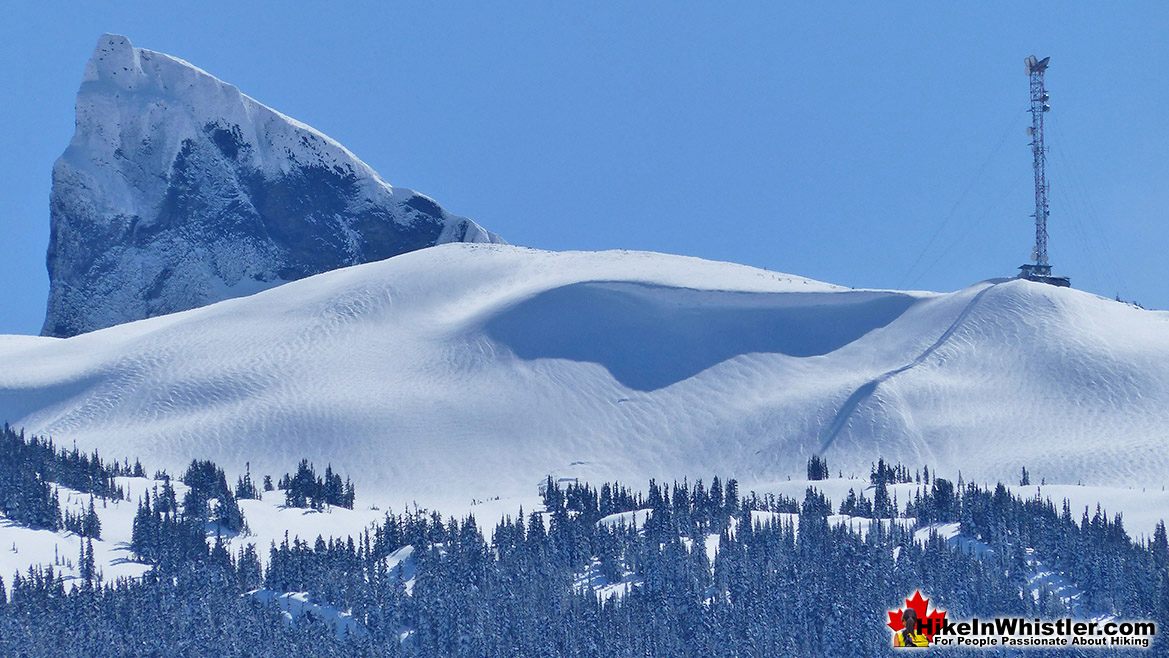 Black Tusk from Mount Sproatt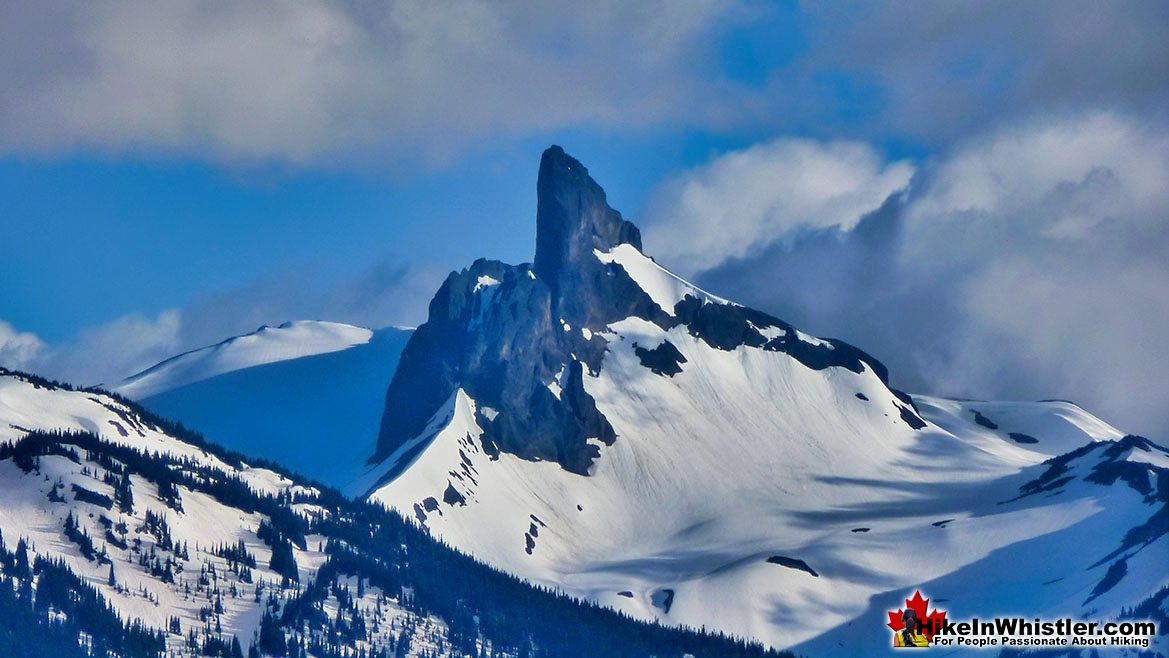 Cheakamus Lake Trailhead to Black Tusk
The Cheakamus Lake trailhead route to get to Black Tusk is a good option as it is quiet, serene and takes you over the beautiful Cheakamus River via suspension bridge and through the wonderfully remote Helm Creek campground.  It is, however, quite long at over 15 kilometres each way to the summit of Black Tusk and part of this route is unmarked, requires some route-finding, and a wet crossing of Helm Creek.  It is a good option if you are keen on avoiding crowds as the beautiful Helm Creek campground has only about a dozen tent platforms and more often than not, are mostly deserted. Helm Creek is also the gateway to quite a few other great hikes.  A quick look at a map indicates several accessible mountains close by as well as the elusive Corrie Lake.
Black Tusk from Whistler Mountain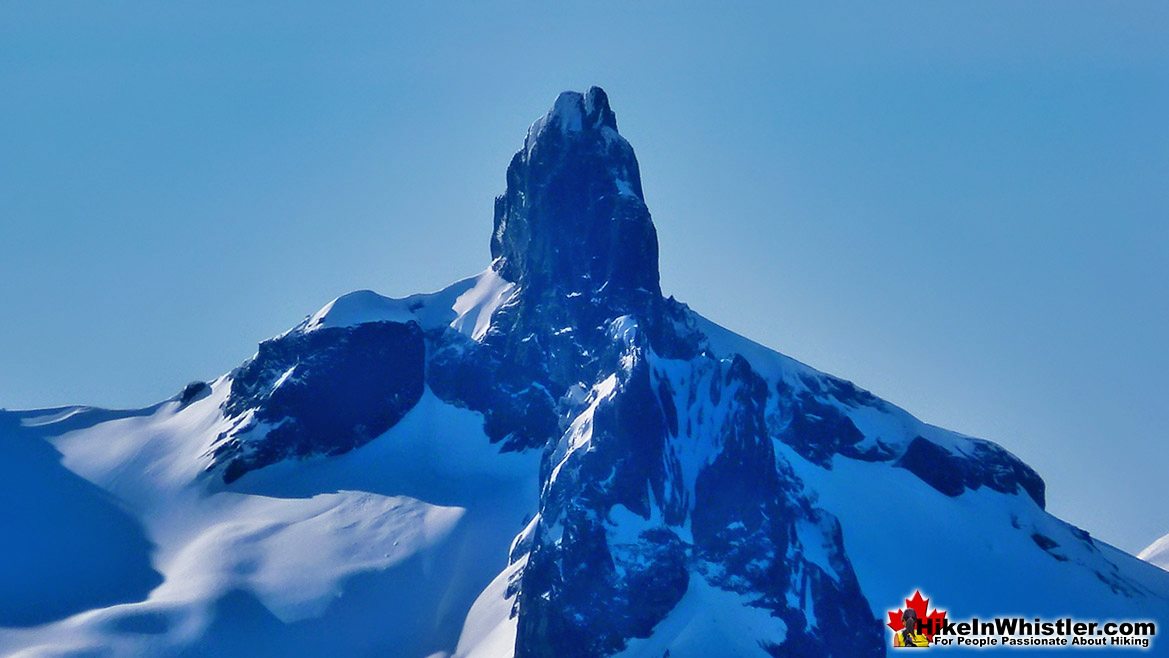 Rubble Creek Trailhead to Black Tusk
The Rubble Creek trailhead is, for most hikers, the best trailhead option for Black Tusk. It is easy to find, clearly marked and the most direct route.  The Cheakamus Lake trailhead is a bit longer and you have to leave the marked trail to ascend to Black Tusk.  Though this unmarked route is straightforward and surprisingly easy, as it is unmarked it requires a bit of guesswork that may be intimidating.  The Cheakamus Lake trailhead route also lacks one other wonderful attribute that the Rubble Creek route has, a pit-stop at Garibaldi Lake.  This less than 30 minute detour(one way) allows for a spectacular place to cool off in an always frigid, glacier fed lake!
Black Tusk Trail View
Black Tusk Towering View Over Garibaldi Park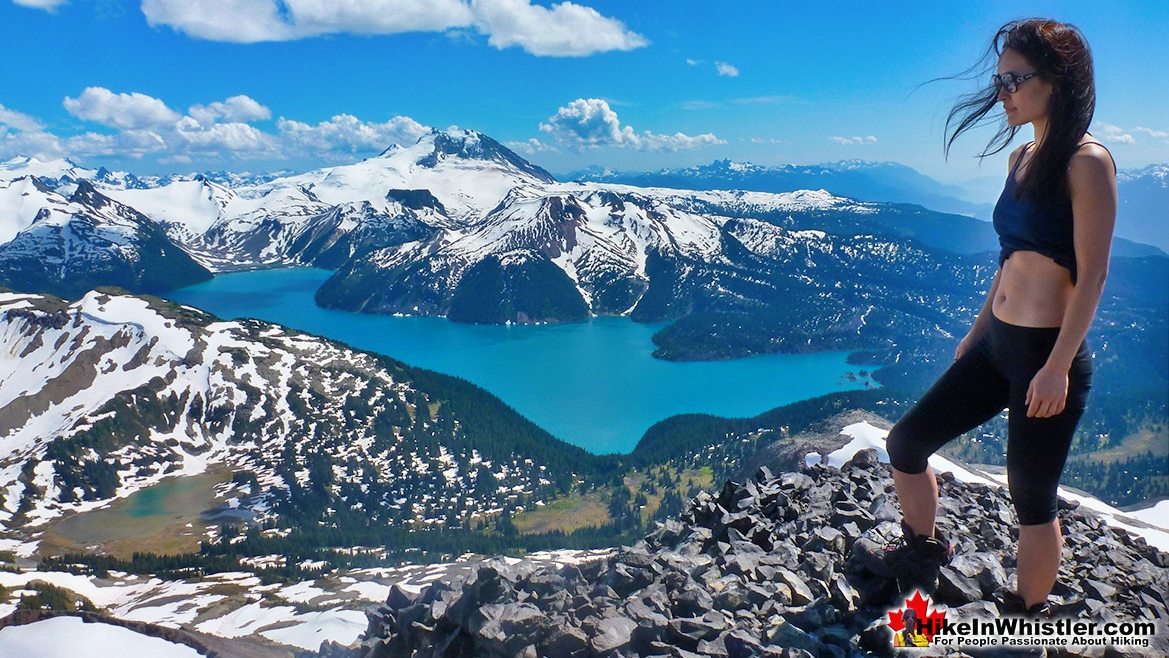 The Crumbling Top of Black Tusk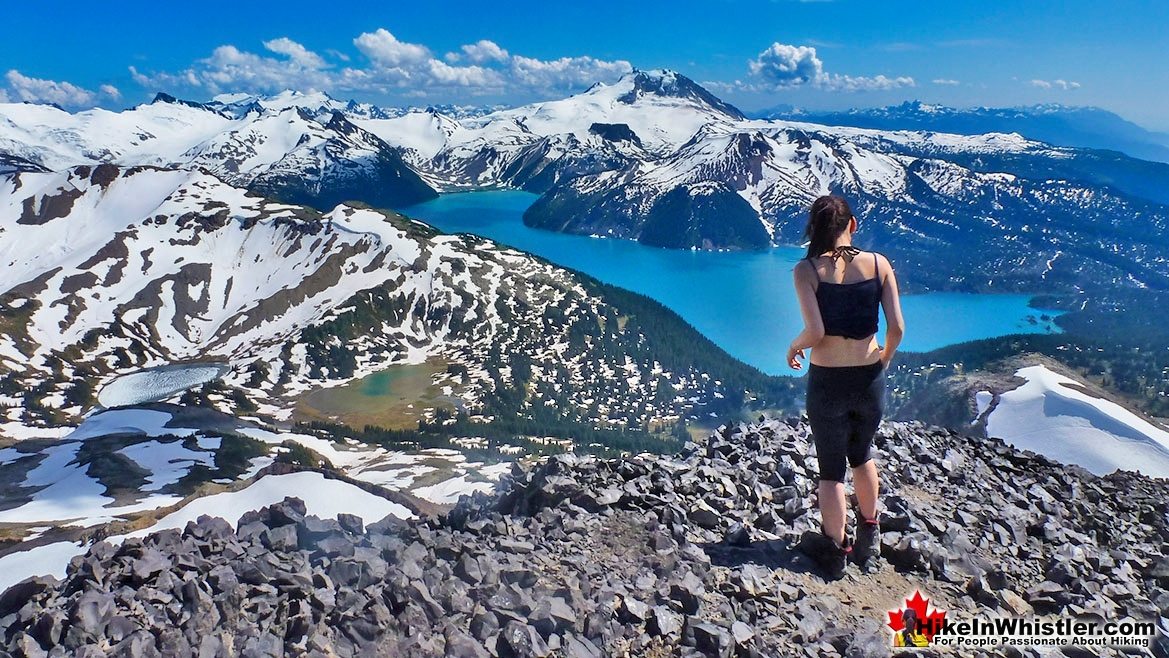 Descending Black Tusk's Chute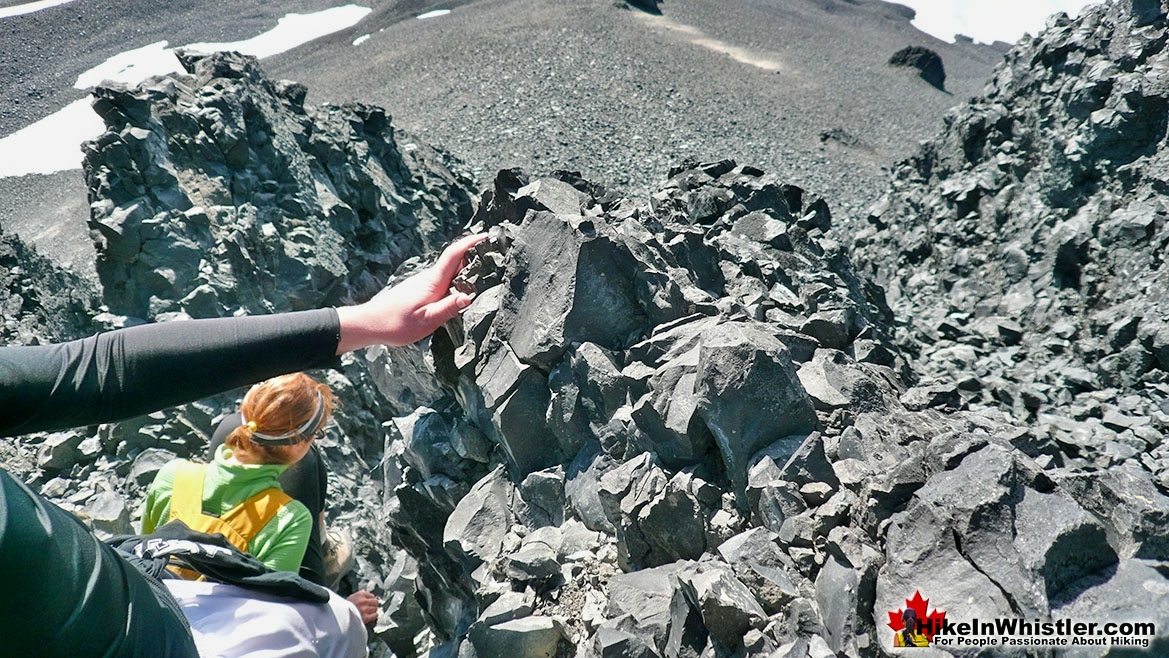 More Great Hiking Around Black Tusk

The hiking options around and beyond Black Tusk are quite good. Most hike to Garibaldi Lake to camp on the way to Black Tusk. Taylor Meadows is another route to Black Tusk and another campground. If you are hiking in a day, you can hike Rubble Creek to Taylor Meadows, then Black Tusk, returning via Garibaldi Lake. Garibaldi Lake barely adds any hiking distance to the overall journey with just a couple extra kilometres. Panorama Ridge, Helm Creek and Cheakamus Lake are found beyond Black Tusk if hiking from the Rubble Creek side. Added to this you will find a wealth of alpine terrain leading to various mountain peaks and even the wonderful Helm Glacier.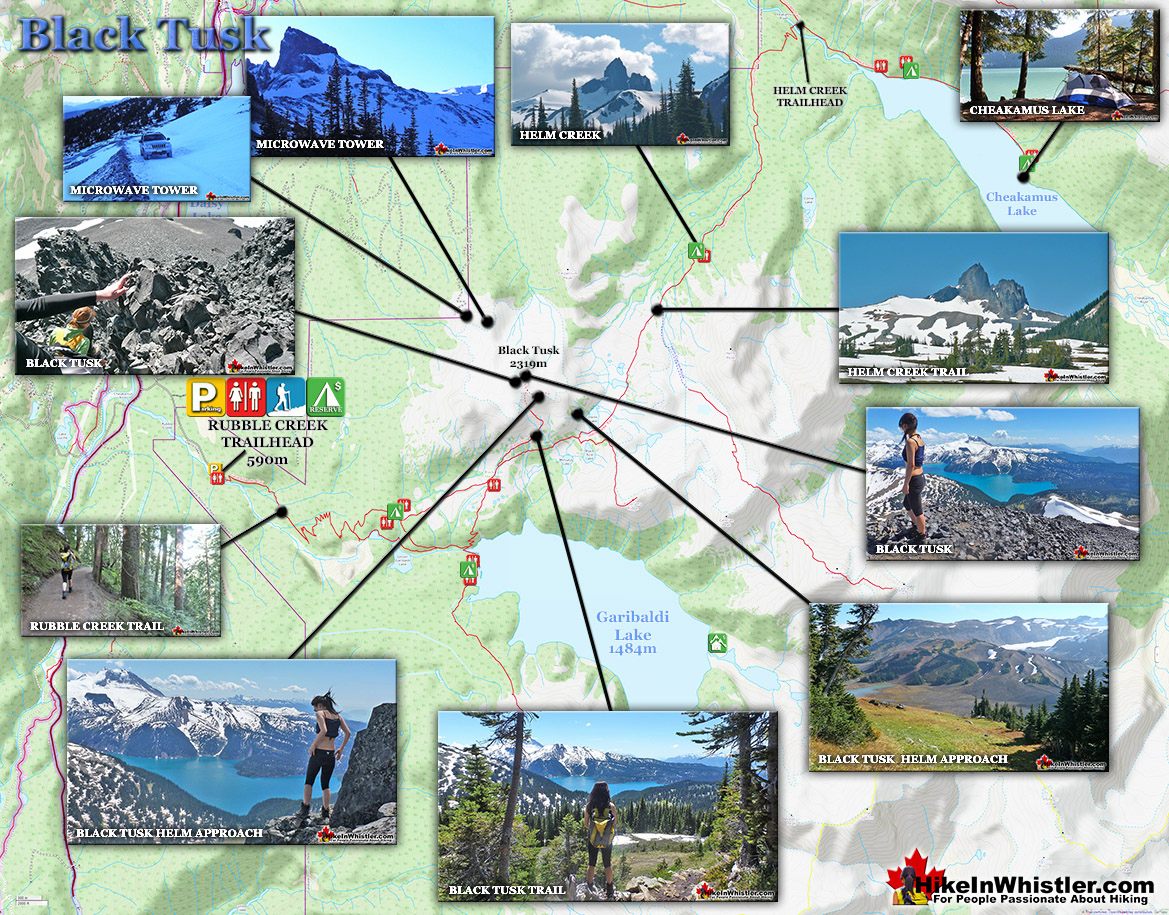 Explore Whistler Hiking Trails!

Explore BC Hiking Trails!