Keyhole Hot Springs (aka Pebble Creek Hot Springs) is located 100 kilometres from Whistler(Village Gate Blvd). Closed from Apr 1- Nov 15 due to Grizzly Bears habituated to humans in the area. Though most of the 100 kilometres is on logging roads, it is driveable by most cars without any trouble. The massive Innergex hydroelectric project has turned this once quiet wilderness into a war-zone. On the plus side, the old logging roads near Keyhole Hot Springs are now well maintained and smooth.
Beautiful drive to get there with lots of sights
Pools at the edge of Upper Lillooet River
Evidence of Mt Meager's eruption 2400 years ago
Wild & free place in a gorgeous setting
Campsite is large, spread out & scenic

Drive through the debris field from 2010

Trail is packed with geological curiosities

The impressive Keyhole Falls is nearby

Upper Lillooet River is beautiful!

Often crowded or closed by park wardens

Whistler & Garibaldi Park

Alexander Falls  

Ancient Cedars  

Black Tusk  

Blackcomb Mountain  

Brandywine Falls  

Brandywine Meadows  

Brew Lake  

Callaghan Lake  

Cheakamus Lake  

Cheakamus River  

Cirque Lake  

Garibaldi Lake 

Garibaldi Park 

Helm Creek 

Joffre Lakes  

Keyhole Hot Springs  

Logger's Lake  

Madeley Lake  

Meager Hot Springs 

Nairn Falls  

Newt Lake 

Panorama Ridge  

Parkhurst Ghost Town  

Rainbow Falls  

Rainbow Lake  

Ring Lake  

Russet Lake  

Sea to Sky Trail 

Skookumchuck Hot Springs  

Sloquet Hot Springs  

Sproatt  

Taylor Meadows  

Train Wreck  

Wedgemount Lake  

Whistler Mountain

January 

February 

March 

April 

May 

June 

July 

August 

September 

October 

November 

December
Hiking Gear Rental

Complete Kits 

Backpacks 

MSR Tents 

Sleeping Bags 

Sleeping Pads 

Camp Stoves 

Snowshoes
The hot springs at Keyhole flow out of the ground adjacent to the swirling, crashing and wonderfully glacier coloured water of the Lillooet River.  The colour varies with the season, but for the most part it is a wonderful, deep, milky turquoise.  When the sunlight penetrates the deep valley, the milky turquoise changes to an unnaturally bizarre, emerald green colour as it swirls all around you. Sitting in the springs you look across to the vertical rock face and the massive, truck sized chunks of it that lay in the river next to you. The Lillooet is fed from various glaciers and snowy mountains visible all the way to Pemberton. At the Lillooet River crossing in Pemberton Meadows take a look in the distance and you will make out the spectacularly jagged and violent looking peak of Mount Meager. It is also a good place to reflect on the fact that Mount Meager produced the larges volcanic eruption in Canada, in the last ten thousand years. It occurred about 2400 years ago and Keyhole and Meager Hot Springs are symptoms of current volcanic activity and another major eruption is possible.  For such a remote place, Keyhole Hot Springs have a pretty elaborate hot springs layout as well as a very large(unmaintained) camping area in the deep forest, high above the hot springs about a 10 minute walk away. Signs of semi-permanent tarp dwellings can be seen in stages of ruin, but overall the campsite area is amazing.  With the exception of being dark due to the thick forest and fresh water a steep, 5 minute walk away, it is perched on a wonderful cliff with great views of the river below and cliff and mountains and waterfalls across.  If the campsite had a dozen tents within it, you could space them out enough to not see or hear each other fairly easily.
Further down the river, in the opposite direction of the Keyhole Hot Springs is a beautiful and easily hiked stretch of the river, passing waterfalls on both sides of the river as well as some wonderful, potential campsites on sandy and grassy plateaus next to the river(about 15 minutes away).  Across from Keyhole Hot Springs and campsite there is a abrupt and massive opposing rock face created from the eruption of Plinth Peak on Mount Meager in 410BCE. Plinth is one of six main summits on Meager, hidden beyond this rock face that looks both impressively huge and wonderfully close. You can actually see trees frozen in time from the last eruption in the face of this cliff. Sticking out, black eroding away with the cliff.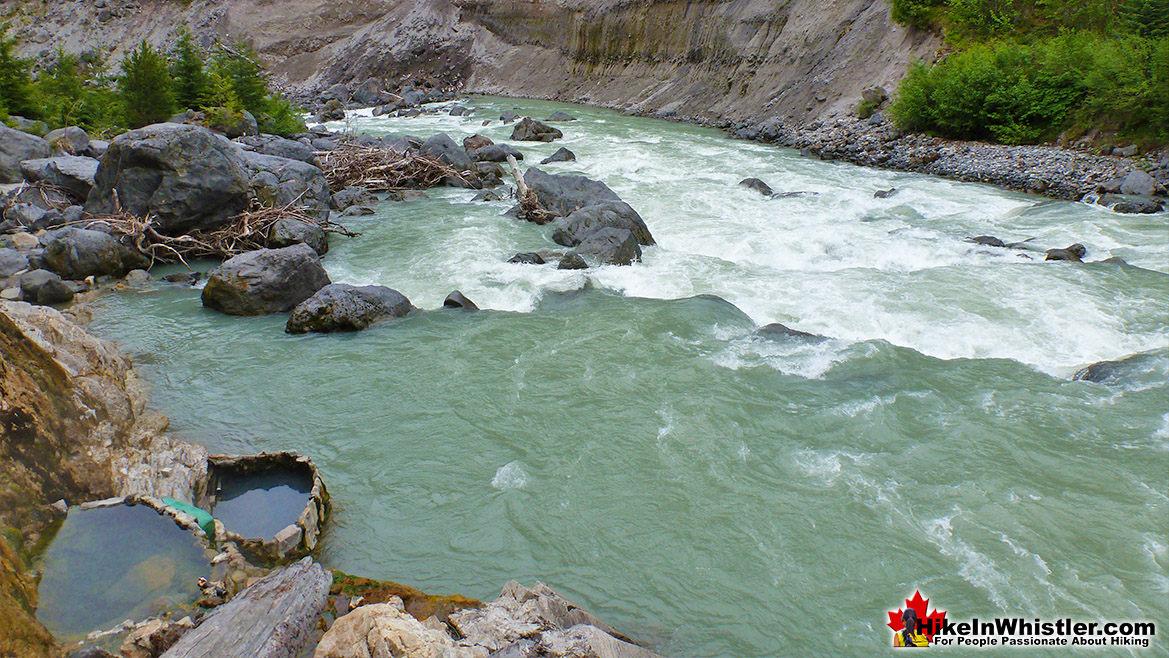 If you find Keyhole Hot Springs closed, Keyhole Falls is just a couple kilometres further on the same road.  Just continue driving past the Lillooet River Trail. You will see a large, unmarked parking area and hard to find trail just before the km 50(just before the bridge).  If you have doubts that you are parking in the right spot, just get out of your vehicle and listen for a moment. The deep rumbling of Keyhole Falls can be faintly heard from where you park.  Climb the gravel embankment(don't cross the vehicle bridge) and look for the faint trail, then follow the faint rumbling from the falls as it soon becomes a thundering echo far below. The trail is just a couple hundred metres long from the parking area. The reason you have to be brave to get to Keyhole Falls is because of the colossal war zone you have to drive through to get to it.  It is a bit daunting, however, access to the area is still allowed.  You just have to be very aware of being considerate to the massive construction vehicles scrambling to get the job done.  There are large signs indicated where you cannot go, which makes navigating to the falls more manageable.
More info on Keyhole Hot Springs...

Whistler & Garibaldi Park Hiking Gear Rental

Buying hiking gear is expensive, time consuming and confusing. Let us do the work for you. We have the best quality and highest rated hiking gear on the market, and bring it to you at unbeatable prices. We rent individual items or complete hiking and camping kits. Our complete kits for one or two people consist of everything you need to hike in Whistler except clothes, food and water! Reserve today and hike into paradise! Whether you are short one backpack for your group or need to fully outfit everyone, we have you covered. We rent all the best, highest rated hiking gear you will need to enjoy hiking in and around Whistler and Garibaldi Provincial Park. We are proud to offer the best gear at the best prices. Fully equip yourself with backpack, tent, sleeping bag, sleeping pad, sleeping pillow, complete MSR Windburner cooking stove system(stove, fuel, pot, cup, fork, spoon and coffee press), first aid kit, camp towel, knife and trekking poles. All you have to bring is food, water and clothes! We put all the fun back into hiking and remove the boring and expensive parts. We will deliver your full set of hiking gear, packed and ready to hike. You then hit the trail into paradise for a night.. or two.. or more, call us when you get home and we will pick up everything. You don't have to worry about figuring out what to pack or buying expensive equipment.

We bring the best to you and at bargain prices. Why? Because we love Whistler, love hiking, love camping and we are passionate about hiking in Whistler. We will do everything in our power to make you have the most amazing hiking and camping trip of your life. And it starts with getting you the best gear, prepacked and delivered to you, without you having to spend a fortune buying gear. You can rent individual items or entire hiking/camping kits. Whatever your need, we have what you need to get you on the trail! Have a look at what we have to rent here!

We Rent Complete Kits 

We Rent Backpacks 

We Rent MSR Tents 

We Rent Sleeping Bags 

We Rent Sleeping Pads 

We Rent Camp Stoves 

We Rent Snowshoes
Hike in Whistler & Garibaldi Park

Alexander Falls  

Ancient Cedars  

Black Tusk  

Blackcomb Mountain  

Brandywine Falls  

Brandywine Meadows  

Brew Lake  

Callaghan Lake  

Cheakamus Lake  

Cheakamus River  

Cirque Lake  

Garibaldi Lake 

Garibaldi Park 

Helm Creek 

Joffre Lakes  

Keyhole Hot Springs  

Logger's Lake  

Madeley Lake  

Meager Hot Springs 

Nairn Falls  

Newt Lake 

Panorama Ridge  

Parkhurst Ghost Town  

Rainbow Falls  

Rainbow Lake  

Ring Lake  

Russet Lake  

Sea to Sky Trail 

Skookumchuck Hot Springs  

Sloquet Hot Springs  

Sproatt  

Taylor Meadows  

Train Wreck  

Wedgemount Lake  

Whistler Mountain

January  

February  

March  

April  

May  

June  

July  

August  

September  

October  

November  

December

The Barrier 

Bears  

Cloudraker Skybridge 

Coast Mountains 

Erratic 

The Fissile 

Fitzsimmons Range 

Garibaldi Ranges  

Garibaldi Volcanic Belt 

Green Lake  

Hoary Marmot 

Krummholz 

Mount Garibaldi  

Northair Mine 

Overlord  

Peak2Peak 

Roundhouse 

Rubble Creek 

Spearhead Range