Save money and get the latest and best gear!  With us you get expensive, top quality hiking gear at bargain prices.  Hassle free, no wasted time.  Try the newest and best gear on the market.  No tedious cleanup and maintenance for you.  We will even drop off and pick up for free anywhere in Whistler.  All our rental hiking gear is ultra-compact and ultralight.

We also rent complete hiking gear kits.  We can equip one person, couples or large groups with everything needed to hike in the beautiful hiking trails around Whistler and in Garibaldi Provincial Park.  We even deliver to Whistler area trailheads!  All you need to bring is food, water and clothing!  We take care of you with the best quality gear, ready to go and pick it up when you are done.  We deliver it to you perfectly clean and don't mind if you return it a mess.  We have a precise and methodical cleaning and maintenance process and we go to great lengths to ensure the gear you get is like new.   We do not have a retail location in Whistler and because of that we can offer hiking rental gear to you at bargain prices, where you want it and when you want it.  If you need to equip 25 people tomorrow morning at 5am at the Rubble Creek trailhead, book with us and we will do all the work and preparation for you.  All you have to do is show up at the trailhead with your food, water and clothing and you will be on the trail five minutes later.  When you return after hiking in paradise, we will pick up everything and you avoid the messy clean up and maintenance process.  We are proud to be Whistler's best source for hiking gear, best prices and best quality.
Why Rent Hiking/Camping Gear?
Hiking gear is absurdly expensive to buy and just use a couple times.
You can test the newest and best hiking gear on the market.
Our packs are comfortable and our gear is compact and lightweight.
Save time and hassle and let us deal with all cleaning and maintenance.
We can equip you with everything you need. All you need to bring is food, water and clothing!
We think of everything, so you don't have to worry. Coming from the airport? We can store your luggage securely while you hike!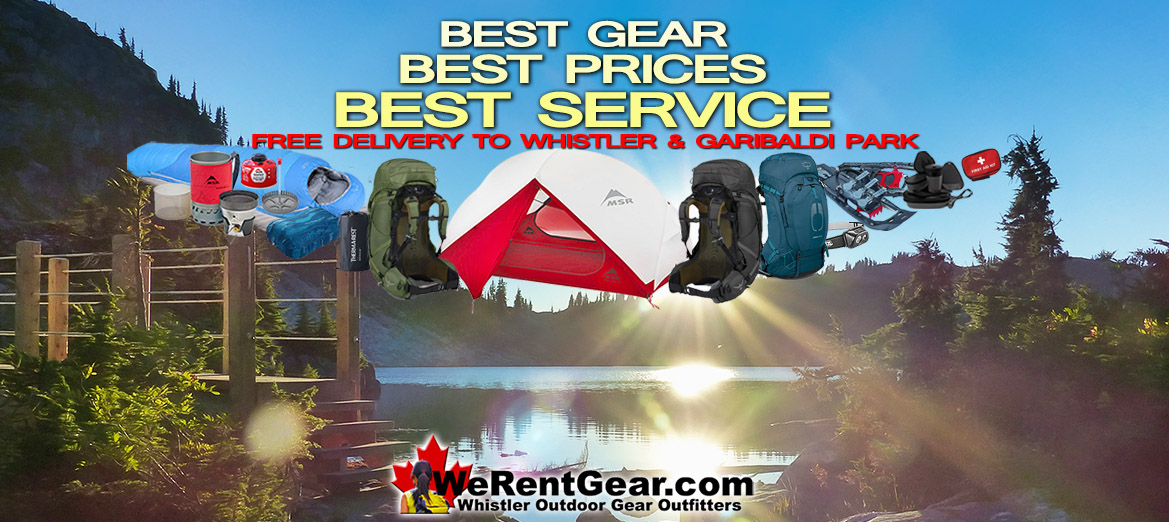 Explore Whistler Hiking Trails!
Explore BC Hiking Trails!