We rent three types of three season tents, MSR Hubba Hubba NX 2 person, MSR Mutha Hubba NX 3 person and MSR Zoic 4 person. We also rent MSR Access 3 four season ski touring tents. The MSR Hubba Hubba NX 2 is a tremendously popular tent and you encounter them often at campsites around Whistler.
MSR Hubba Hubba NX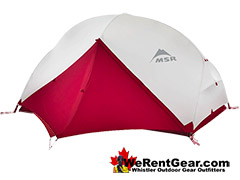 One of the highest rated, lightweight, compact and versatile tents on the market. Perfect for overnight expeditions in Whistler and Garibaldi Provincial Park. Designed for backpackers who need a tent that can do it all while still being compact and lightweight, MSR Hubba Hubba 2 person tent feels as light and efficient to use as it does to carry.  From its optimized, symmetrical geometry and non-tapered floor that maximize space, down to its integrated, adjustable stake-out loops that speed setup, this tent redefines lightweight liveability.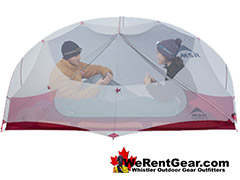 Ultralight: Very lightweight at just 1.60 kg or 3 lb 8 oz. Maximum Space: Head and elbow room throughout tent; two large side-entry vestibules to store gear. Liveable: Two large StayDry doors with built-in rain gutters; adaptable, cross-ventilating rainfly. Easy Setup & Packing: Unified hub-and-pole system with color-coded clips; ultra-compact compression stuff sack. The MSR Hubba Hubba NX is one of the most liveable tents for its weight. The two door design and airy ventilation make it feel like you have tons of space. Reserve here..
We Rent MSR Mutha Hubba NX Tents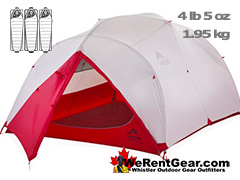 We rent MSR Mutha Hubba NX 3 person tents. With a floorplan that offers each occupant easy access to doors and gear, the MSR Mutha Hubba NX tent is the ideal tent for a trio backpacking deep into the mountains around Whistler. The Mutha Hubba comes with virtually indestructible Easton® Syclone™ poles and MSR's durable Xtreme Shield™ waterproof coating, this tent is built to last like never before. Easy-to-assemble and with plenty of interior volume for three, the Mutha Hubba NX offers the most livable accommodations for 3-season conditions. FEATURES: Ultralight: Minimum Weight: is 1.95 kg / 4 lb 5 oz. Maximum Space: Head and elbow room throughout tent; two large vestibules to store gear. Xtreme Shield™ Waterproof Coating: Ultra-durable coating is formulated to resist fabric stickiness (hydrolysis), lasting up to 3 times longer than standard waterproof coatings. Livable: Two large StayDry™ doors with built-in rain gutters; adaptable, cross-ventilating rainfly. Easy Setup & Packing: Unified hub-and-pole system; ultra-compact compression stuff sack. Optimized symmetrical geometry and non-tapered floor. Large, easy-entry D-shaped StayDry™ door and vestibule. Reserve here..
We Rent MSR Zoic 4 Tents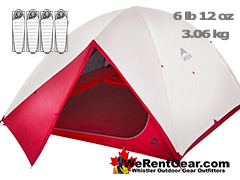 We rent MSR Zoic 4 person tents. The Zoic 4 is a spacious, ultra-breathable and light backpacking tent designed for families and groups of four for a wide range of outdoor pursuits. A full micromesh canopy allows for maximum breathability, moisture control, views and bug-free protection. The backpacking tent's wide floor plan and steep sidewalls create a roomy interior that accommodates four 25-inch wide mattresses. The 2-door tent includes built-in gear lofts and two vestibules providing an additional 9.25 square feet each (18.5 square feet total) for boots, packs, and gear storage, and its long-lasting Xtreme Shield waterproof coating lasts up to three times longer than standard coatings. An easy-pitch design and hubbed poles allow for quick and easy setup to leave more time to enjoy the scenery. For fast and light travel, a minimalist shelter can be constructed using a footprint (sold separately), poles, and rainfly. Set up, the main interior floorspace measures 90 inches long, 90 inches wide (56 square feet) with an interior peak height of 50 inches. The complete setup weighs 6.75 pounds and packs down to 22x6 inches. The minimum weight (body, rainfly, poles) is 5.88 pounds. Includes tent body, rainfly, poles, guy cords, stakes, and stuff sack. Reserve here..
We Rent MSR Access 3 Four Season Tents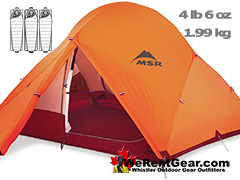 The MSR Access 3 tent lets you spend comfortable days in the winter backcountry without hauling around the weight of a large mountaineering tent. Warm, light and strong, this four-season tent provides the protection that skiers, splitboaders and snowshoers need for camping in less severe conditions, such as those near tree-line. The robust frame withstands overnight snow loading, and is quick to set up in the cold. Whether your party is base camping to access powder lines or completing a multiday traverse, the Access 3 tent is warm enough for cold winter nights, yet light enough to keep you nimble while on the move. Ultralight Warmth: Limited mesh on the tent body keeps in all that hard-earned warmth on cold nights, while the light design keeps you nimble while skiing, riding or hiking. Easton® Syclone™ Poles: Advanced composite materials resist breaking in challenging winter conditions. Robust Frame: Central-support frame optimizes interior space and resists snow loading. Quick Setup:Unified hubbed poles make tent quick to pitch in cold environments. Additional Features: Rainfly vents reduce condensation; Xtreme Shield™ waterproof coating for long-term durability; two doors; two internal pockets; multiple guy points. Reserve here..
MSR Access 3 on Mount Sproatt in Whistler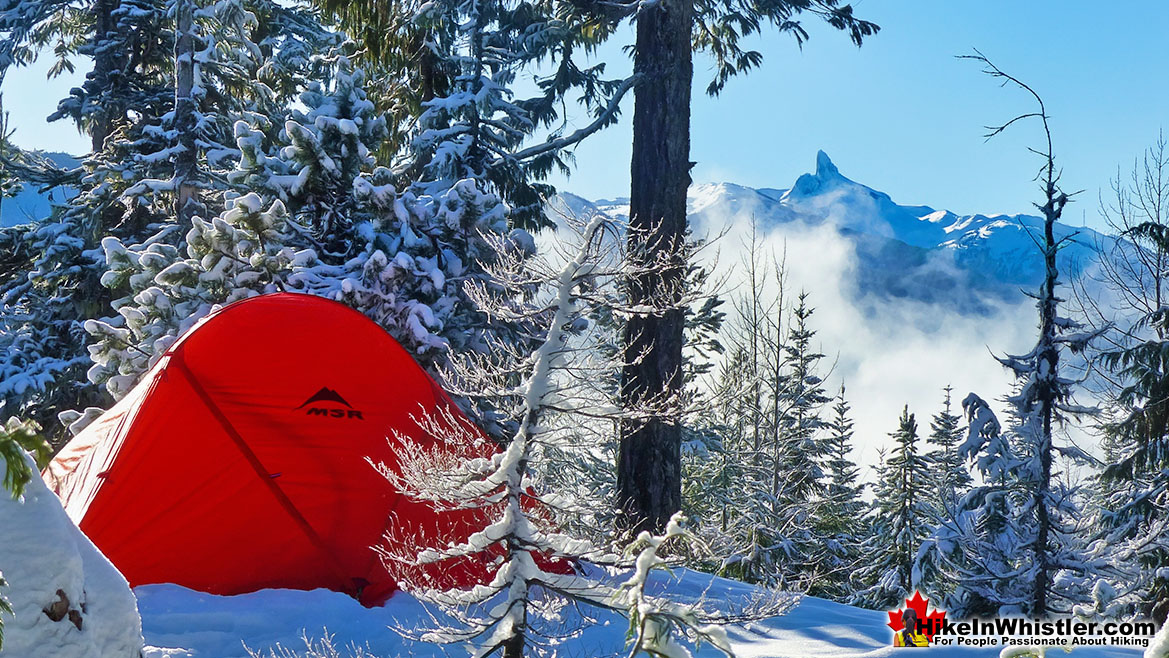 We Make Renting Easy!
1. Reserve Online
Figure out the gear you would like and book through our reservation system. We will send you a confirmation of the booking and make sure we know where to deliver your gear for you when you get to Whistler. We have the largest inventory of high quality rental hiking and camping gear from Vancouver to Whistler. Our booking page is easy to use and our cancellation policy is amazing. Free cancellations anytime for any reason as long as you let us know more than 24 hours before delivery. If you need to change your delivery or pick up time or location, we don't mind. 
2. Gear Arrives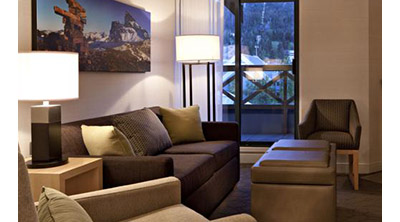 We deliver right to your door anywhere in Whistler and to all Garibaldi Park trailheads except Diamond Head in Squamish. We will be waiting for you at the trailhead when you arrive or if you are already in Whistler at a house, hotel, condo, etc we will deliver and pick up right to your door. We are happy to deliver to your hotel's Front Desk or Bell Desk before your arrival to make your vacation even more worry free! If you would like the gear delivered the day before so you can pack and prepare, let us know when you book and we will make it happen! Prefer to pick up? We have a 24 hour pick up and drop off location 3 minutes from Whistler Village!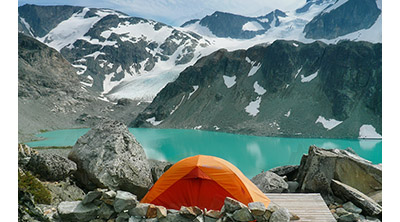 3. Camp in Paradise
 Hike into paradise and camp in beautiful Whistler and incredible Garibaldi Park. With the best quality and highest rated hiking gear money can buy, you will have the trip of a lifetime. We do all the work and you have all the fun!  We rent the best quality and highest rated gear on the market. MSR tents, Osprey backpacks, MSR WindBurner Stove Systems, Rab Ascent 700 sleeping bags, Therm-a-Rest XTherm MAX sleeping pads, MSR Evo Ascent snowshoes and more. We also rent complete hiking gear kits. We can equip one person, couples or large groups with everything you need except food and water! We are proud to be Whistler's best source for rental hiking gear. We have the best gear, the best prices and best service!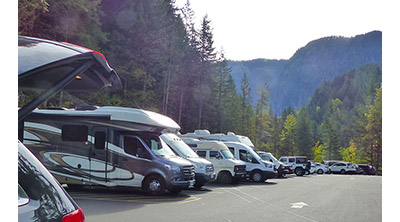 4. Easy Returns
 When you return from your hike, let us know where and when you'd like us to drop by and pick up the gear. Staying at a hotel? Leave the gear with the Bell Desk or Front Desk. Living in Whistler or staying in an AirBnB, just leave the gear outside your door and text us. We will pick it up and you don't need to wait around. We deliver it to you perfectly clean and don't mind if you return it a mess. We have a precise and methodical cleaning and maintenance process and we go to great lengths to ensure the gear you get is like new. Though we don't have a retail location in Whistler, we do have a convenient 24 hour pick up and drop off location near Whistler Village!

Explore Whistler Hiking Trails!
Explore BC Hiking Trails!