Logger's Lake is an amazing little lake hidden up in the deep forest above the more well known Cheakamus River. The lake, almost unbelievably exists in a long extinct volcano. However, as soon as you see the lake up close, you quickly come to believe it. The lake sits in an almost cartoonish looking, volcano-shaped bowl, with one side of the bowl a crumbling array of truck sized boulders leading down to the lake.
Incredible place to escape from the world

Surreal look at the inside of an ancient volcano

Great for swimming & warmer than other lakes

Located in Whistler's Interpretive Forest 
Park just 5 minutes from the lake
More trails beyond the lake
Cheakamus River trails nearby
Camping is not permitted
Located in a forest recently logged
Fires not allowed in the Interpretive Forest
Whistler & Garibaldi Hiking

Alexander Falls  

Ancient Cedars  

Black Tusk  

Blackcomb Mountain  

Brandywine Falls  

Brandywine Meadows  

Brew Lake  

Callaghan Lake  

Cheakamus Lake  

Cheakamus River  

Cirque Lake 

Flank Trail 

Garibaldi Lake 

Garibaldi Park 

Helm Creek  

Jane Lakes 

Joffre Lakes  

Keyhole Hot Springs  

Logger's Lake  

Madeley Lake  

Meager Hot Springs 

Nairn Falls  

Newt Lake 

Panorama Ridge  

Parkhurst Ghost Town  

Rainbow Falls  

Rainbow Lake 

Ring Lake  

Russet Lake  

Sea to Sky Trail 

Skookumchuck Hot Springs  

Sloquet Hot Springs  

Mount Sproatt  

Taylor Meadows  

Train Wreck  

Wedgemount Lake  

Whistler Mountain

January 

February 

March 

April 

May 

June 

July 

August 

September 

October 

November 

December
The crater that Logger's Lake sits in was a volcano that pushed through the glacial ice in this valley about 10000 years ago.  As the lava cooled it formed the wonderful basalt ridge that is crumbling into valley. As Logger's Lake sits deep in this ancient volcano's vent, it is sheltered from the wind and soaks up the suns rays into the dark boulders all around.  As a result makes it the warmest lake in Whistler, though most other lakes around are glacier fed(via rivers and creeks), so the comparison is not entirely fair.  The surrounding cliffs and forest also add to the tranquility of the lake.  Located a bit off the radar for most and requiring a short logging road drive and then a very steep, but short hike to get to also contributes to its serenity.  This serenity is broken at least once a year, however, when a new tradition formed in 2012.  A yearly "Flash Mob Floatie Party" began, where hundreds congregate at Logger's Lake, most with rubber boats for an outdoor party, DJ an all.  But aside from that one hilarious day, Logger's Lake is a secret-feeling oasis.  Another, though unexpected draw to Logger's Lake, is its good fishing. Occasionally the lake is stocked with rainbow trout and because of the steep shoreline, casting from almost anywhere along the shore is easy and effective.  There is also an ancient and disintegrating log that is a pier of sorts that leads to a tiny wooden platform out in the lake.  A good spot to cast from as well, though you will be standing in a centimetre of water as the platform partially sinks under your weight. Logger's Lake has a surprisingly large network of hiking trails around it. As the area was logged quite extensively in past decades, you often hike along trails near the lake that are in fact overgrown logging roads.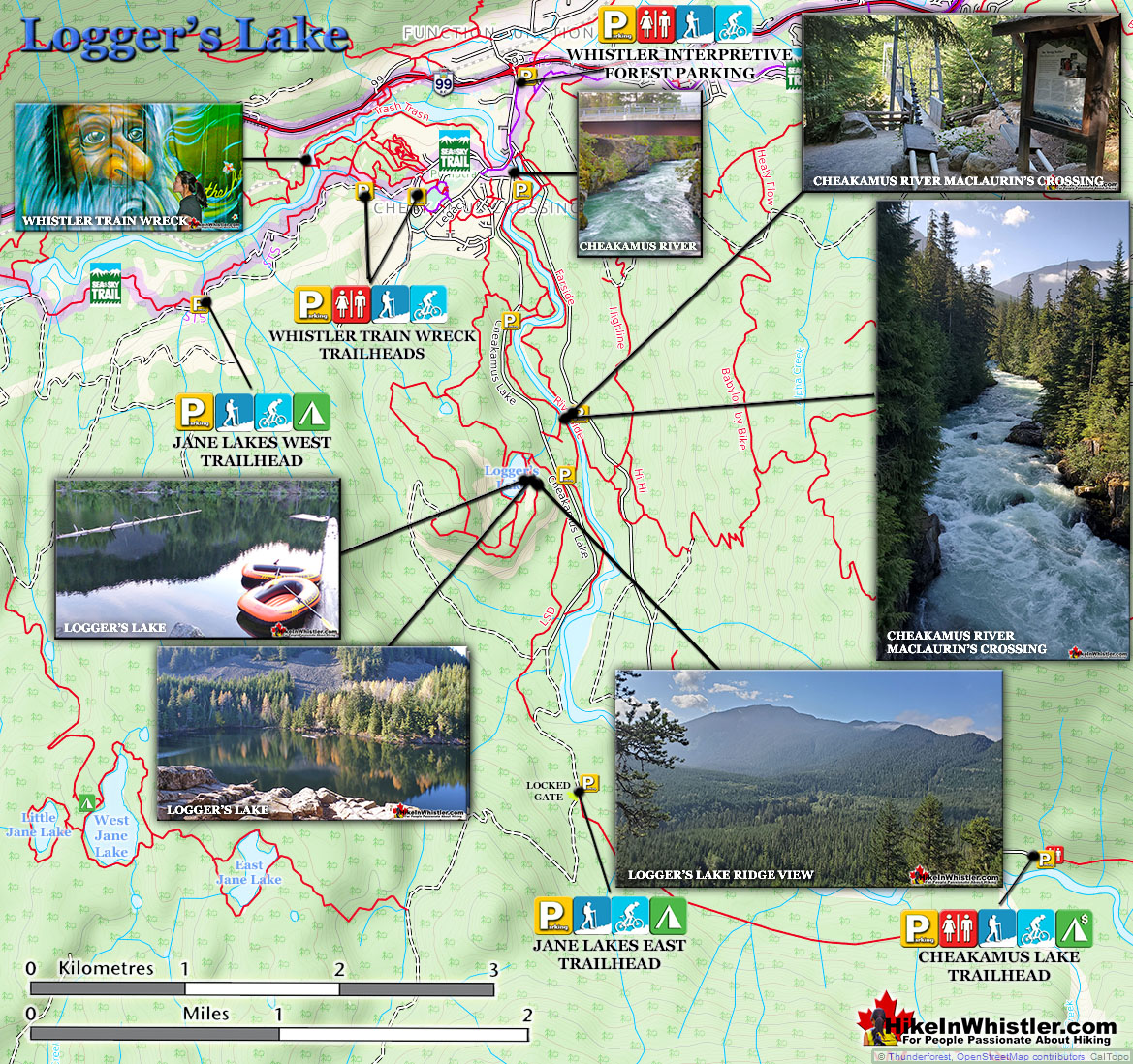 The ridge directly behind you, if you are facing Logger's Lake and the log pier is an excellent place to hike.  Appropriately named the Crater Rim Trail, this trail takes you quickly up to a tremendous vantage point over the lake. Further along and up the ridge you reach the outer edge of the volcano vent and can look outward across the valley in the direction of Cheakamus Lake.  The trail then bends to the right and ascends back towards Logger's Lake.  Bearing left at the next junction takes you further along the Crater Rim Trail, while bearing right takes you back down to Logger's Lake.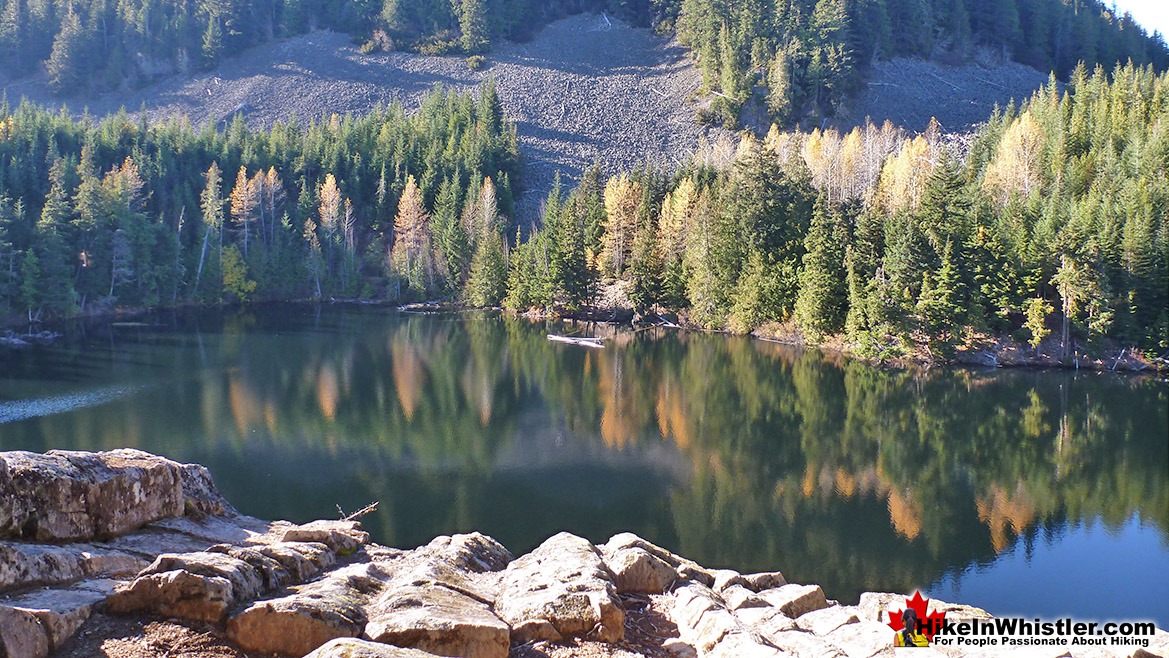 More info for Logger's Lake....

Whistler & Garibaldi Park Hiking Gear Rental

Buying hiking gear is expensive, time consuming and confusing. Let us do the work for you. We have the best quality and highest rated hiking gear on the market, and bring it to you at unbeatable prices. We rent individual items or complete hiking and camping kits. Our complete kits for one or two people consist of everything you need to hike in Whistler except clothes, food and water! Reserve today and hike into paradise! Whether you are short one backpack for your group or need to fully outfit everyone, we have you covered. We rent all the best, highest rated hiking gear you will need to enjoy hiking in and around Whistler and Garibaldi Provincial Park. We are proud to offer the best gear at the best prices. Fully equip yourself with backpack, tent, sleeping bag, sleeping pad, sleeping pillow, complete MSR Windburner cooking stove system(stove, fuel, pot, cup, fork, spoon and coffee press), first aid kit, camp towel, knife and trekking poles. All you have to bring is food, water and clothes! We put all the fun back into hiking and remove the boring and expensive parts. We will deliver your full set of hiking gear, packed and ready to hike. You then hit the trail into paradise for a night.. or two.. or more, call us when you get home and we will pick up everything. You don't have to worry about figuring out what to pack or buying expensive equipment.

We bring the best to you and at bargain prices. Why? Because we love Whistler, love hiking, love camping and we are passionate about hiking in Whistler. We will do everything in our power to make you have the most amazing hiking and camping trip of your life. And it starts with getting you the best gear, prepacked and delivered to you, without you having to spend a fortune buying gear. You can rent individual items or entire hiking/camping kits. Whatever your need, we have what you need to get you on the trail! Have a look at what we have to rent here!
Searching Availability...