The Sea to Sky Trail is a 180 kilometre multi-use trail that runs from Squamish to D'Arcy. The trail is still under construction in many parts, however, the amazing route through Whistler is finally in place. The Whistler section of the Sea to Sky Trail is 33 kilometres long between Brandywine Falls Provincial Park and WedgeWoods Estates just north of Green Lake (north of Whistler Village).
Clearly defined trail with clear directions
Wonderful variety of views with lots of highlights
Can be done in sections, all of them amazing
Passes close to and along numerous lakes
Crosses several beautiful bridges

Family friendly & relaxing terrain

Many access points with free parking

Escape the crowds easily into deep forest!

South of Brandywine is along the highway

North of Wedge is along the highway

Whistler & Garibaldi Hiking

Alexander Falls  

Ancient Cedars  

Black Tusk  

Blackcomb Mountain  

Brandywine Falls  

Brandywine Meadows  

Brew Lake  

Callaghan Lake  

Cheakamus Lake  

Cheakamus River  

Cirque Lake 

Flank Trail 

Garibaldi Lake 

Garibaldi Park 

Helm Creek  

Jane Lakes 

Joffre Lakes  

Keyhole Hot Springs  

Logger's Lake  

Madeley Lake  

Meager Hot Springs 

Nairn Falls  

Newt Lake 

Panorama Ridge  

Parkhurst Ghost Town  

Rainbow Falls  

Rainbow Lake 

Ring Lake  

Russet Lake  

Sea to Sky Trail 

Skookumchuck Hot Springs  

Sloquet Hot Springs  

Mount Sproatt  

Taylor Meadows  

Train Wreck  

Wedgemount Lake  

Whistler Mountain
The 33 kilometre Whistler section of the Sea to Sky Trail is either paved, dirt or crushed rock and often very wide. Much of the trail just north and south of Whistler Village is wide, two lanes and paved with plenty of signs and occasional mapboards.  North of Whistler Village the trail can be challenging with several hills as it rises above and beyond Parkhurst Ghost Town.  South of Whistler, the paved trail ends at Cheakamus Crossing and becomes a narrow at times dirt trail with some wider sections of crushed rock. This beautiful section follows Cheakamus River making four dramatically beautiful river crossings. The Cal-Cheak area south of Cheakamus Crossing is more challenging and sometimes narrow and hilly, dirt trails. South of Cal-Cheak the forest opens up and the trail widens to the luxurious feeling, wide and hard packed gravel all the way to Brandywine Falls Provincial Park where the trail joins with the Sea to Sky Highway. The Whistler section of the Sea to Sky Trail passes near and through an amazing array of whistler sights. The always impressive Brandywine Falls Provincial Park at the southern end of the 33 kilometre area shown here. Heading north from Brandywine Falls you cross the huge bungee jumping bridge that spans the enormous chasm over the Cheakamus River. Soon after you cross the suspension Bridge at the Cal-Cheak Recreation area.  At Cheakamus Crossing there are some scenic viewpoints of Cheakamus River and a short detour takes you to the extraordinary Whistler Train Wreck. Back on the Sea to Sky Trail heading towards Whistler Village you pass by three of Whistler's beautiful Lakes each with nice parks.  Alpha Lake Park, Nita Lake Park and then on Alta Lake you pass Wayside Park and Lakeside Park.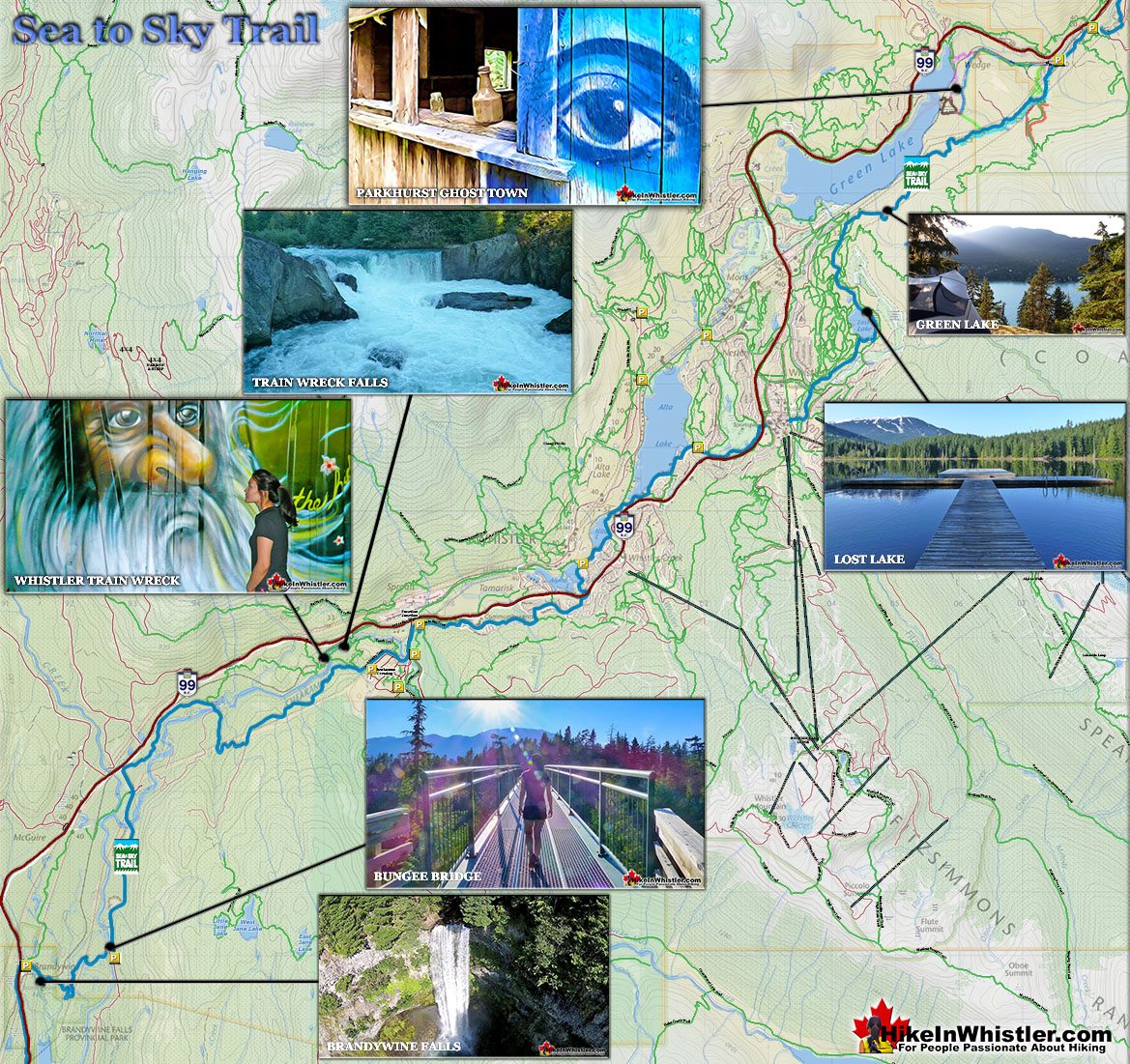 Sea to Sky Trail Bungee Bridge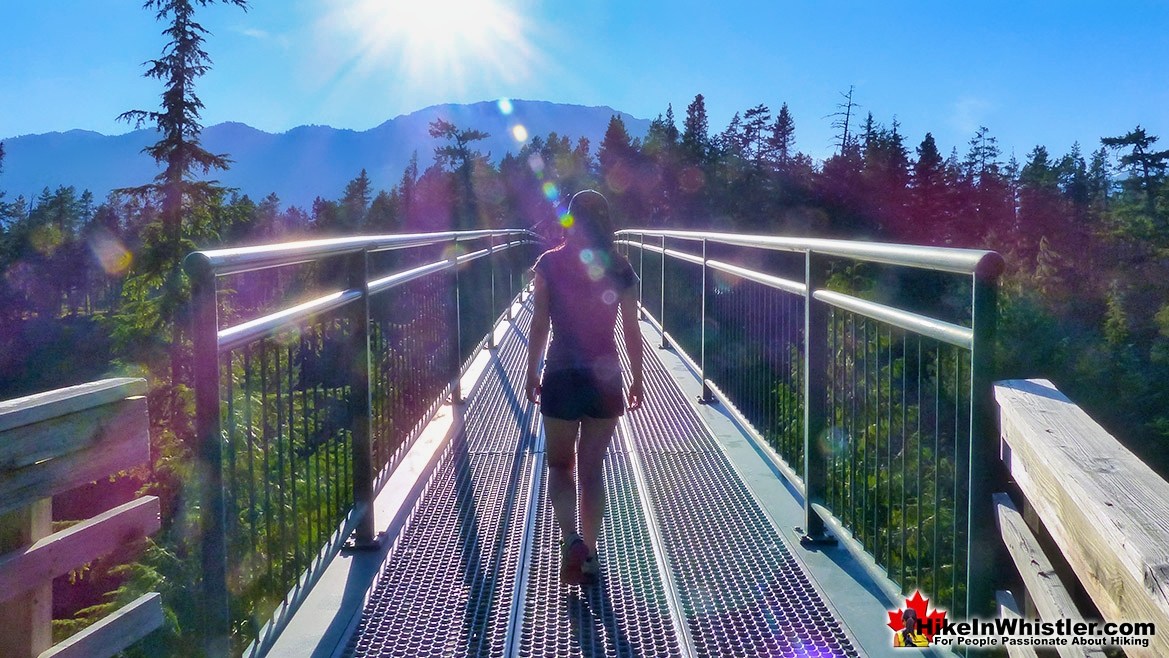 Sea to Sky Trail Green Lake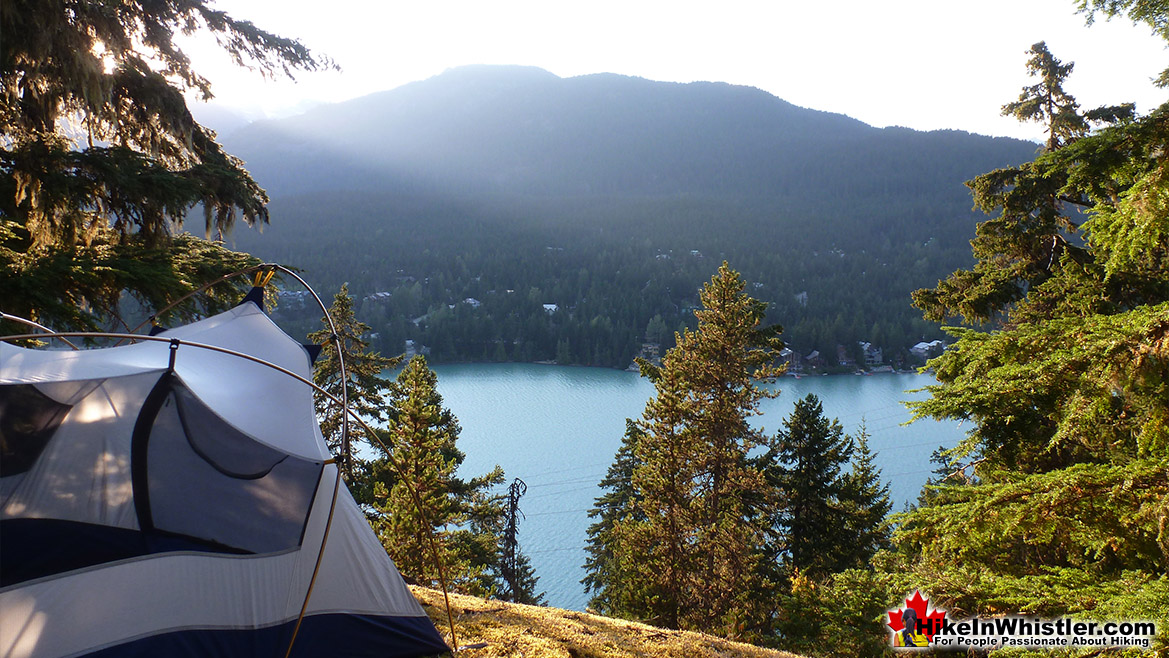 Sea to Sky Trail Whistler Train Wreck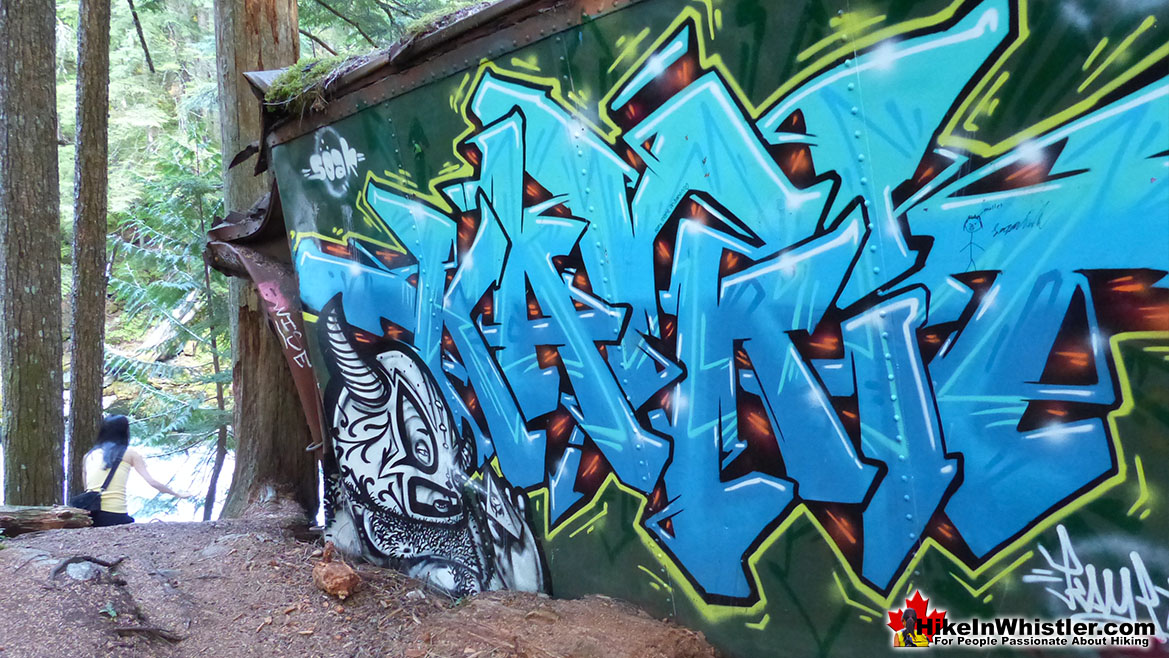 Sea to Sky Trail Brandywine Falls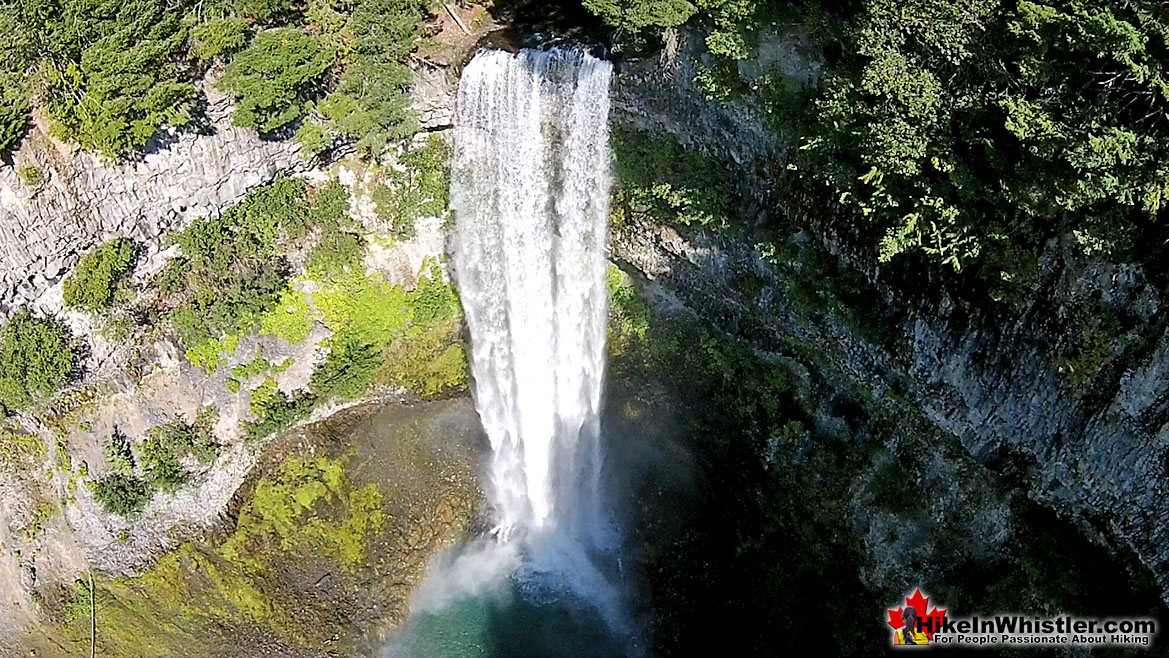 Sea to Sky Trail Parkhurst Ghost Town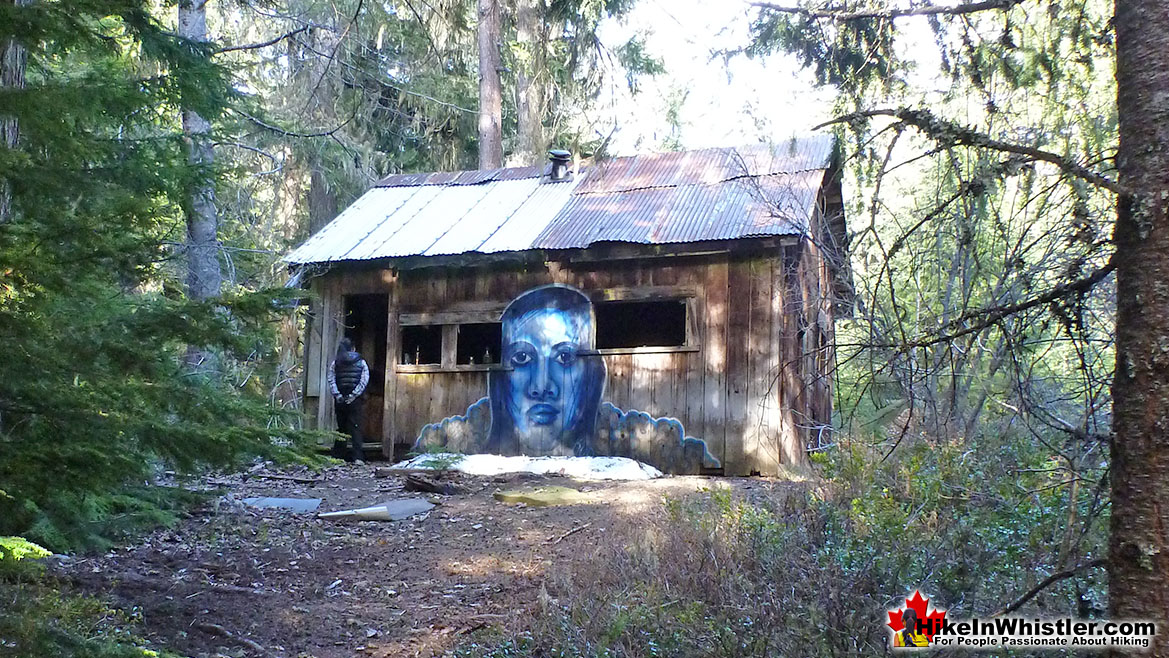 Explore Whistler Hiking Trails!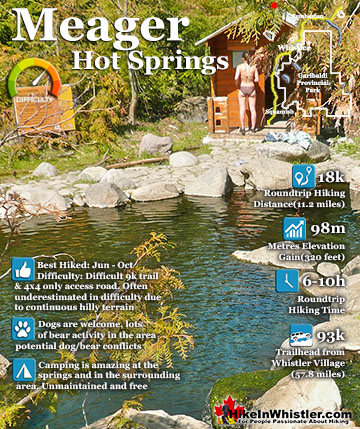 Read more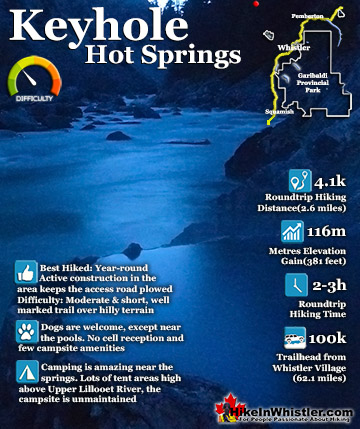 Keyhole Hot Springs
(aka Pebble Creek Hot Springs) is located 100 kilometres from Whistler(Village Gate Blvd). Though most of the 100 kilometres is on logging roads, it is ...
Read more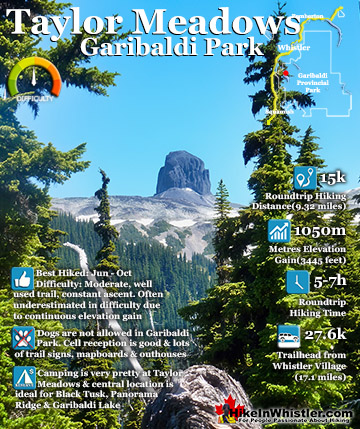 Read more

Explore BC Hiking Trails!