Cheakamus Lake is a wonderfully relaxing way to get in the wilderness easily and quickly from Whistler Village. The trail begins on the far side of Whistler Mountain, 8 kilometres from the Sea to Sky Highway at Cheakamus Crossing across from Function Junction.  This 8 kilometre stretch of logging road is fairly bumpy and potholed, but does have the benefit of allowing you to drive the elevation gain instead of hiking it.
Easy trail with minimal elevation change
Colour of the water is extraordinarily beautiful
Several area along the trail with amazing views
Exceptionally nice campsites in a natural setting
An unmarked trail extends further along the lake
Fishing is reliably very good for trout
Huge trees along the trail & lots of bear sightings
Unmarked route to Russet Lake from Singing Creek
Swimming is a bitterly cold experience
Campsites are crowded much of the summer
Whistler & Garibaldi Park

Alexander Falls  

Ancient Cedars  

Black Tusk  

Blackcomb Mountain  

Brandywine Falls  

Brandywine Meadows  

Brew Lake  

Callaghan Lake  

Cheakamus Lake  

Cheakamus River  

Cirque Lake  

Garibaldi Lake 

Garibaldi Park 

Helm Creek 

Joffre Lakes  

Keyhole Hot Springs  

Logger's Lake  

Madeley Lake  

Meager Hot Springs 

Nairn Falls  

Newt Lake 

Panorama Ridge  

Parkhurst Ghost Town  

Rainbow Falls  

Rainbow Lake  

Ring Lake  

Russet Lake  

Sea to Sky Trail 

Skookumchuck Hot Springs  

Sloquet Hot Springs  

Sproatt  

Taylor Meadows  

Train Wreck  

Wedgemount Lake  

Whistler Mountain

January 

February 

March 

April 

May 

June 

July 

August 

September 

October 

November 

December
Hiking Gear Rental

Complete Kits 

Backpacks 

MSR Tents 

Sleeping Bags 

Sleeping Pads 

Camp Stoves 

Snowshoes
You can easily manage this road in a car, however carefully and very slowly in parts. Once you reach the trailhead/parking the entire 7 kilometre hiking trail to the end of the maintained Cheakamus Lake trail has barely any elevation gain. Just plenty of gradual inclines and declines along the winding route. In fact, this makes it one of the few trails in Whistler and Garibaldi Park that can boast that.  The nearby Garibaldi Lake trail and the Wedgemount Lake trail make you work for the views, however, the Cheakamus Lake trail hardly makes you work at all.  The trail to Cheakamus Lake takes you through an amazing forest of giant cedars that fill the forest with their amazing aroma.  This forest is so packed with ancient giants that year to year the trail is adjusted by a monster of a tree fallen across the trail during some winter storm.  Sometimes the trail bends around these behemoths, but more often they are laboriously chainsawed by BC Parks staff.  The more enormous of these remain as fixtures of the trail.  Either edging the trail or as a mighty obstacle to climb over. One monster of a cedar remained sprawled across, actually along a section of the Cheakamus Lake trail for much of 2012.  It surely surprised every hiker to come to an abrupt end of the trail with a tree across the trail too big to even see over. The bypass route was a hilarious, yet dangerous looking scramble underneath and along the edge of the trail for about 20 metres to get back on the trail at the other side.  Look for it when you pass by.  Though it has been mostly moved the tell-tale wreckage is hard to miss and captivatingly beautiful.  What a sound it must have made, exhibited now by giant cedar spears still menacingly pointing from a break in the massive trunk.
There are a considerable number of highlights to the Cheakamus Lake trail and Cheakamus Lake. The forest is amazing. There are lots of bear encounters. The campsites are very beautiful, much nicer than Taylor Meadows or Garibaldi Lake's overcrowded and packed in campsites. Cheakamus River along the trail is an impressive river with a nice suspension bridge to see at the start of the Helm Creek trail, 1.5 kilometres from the Cheakamus Lake parking lot. Cheakamus Lake itself is magnificent. You could hike there 100 days in a row and always be impressed by the varying colours. The lake is an extraordinary shade of green caused by glacial till suspended in the water. This surreal colour is surrounded by the bright green of the untouched wilderness across the lake. And above and beyond the forest you see majestic mountain peaks.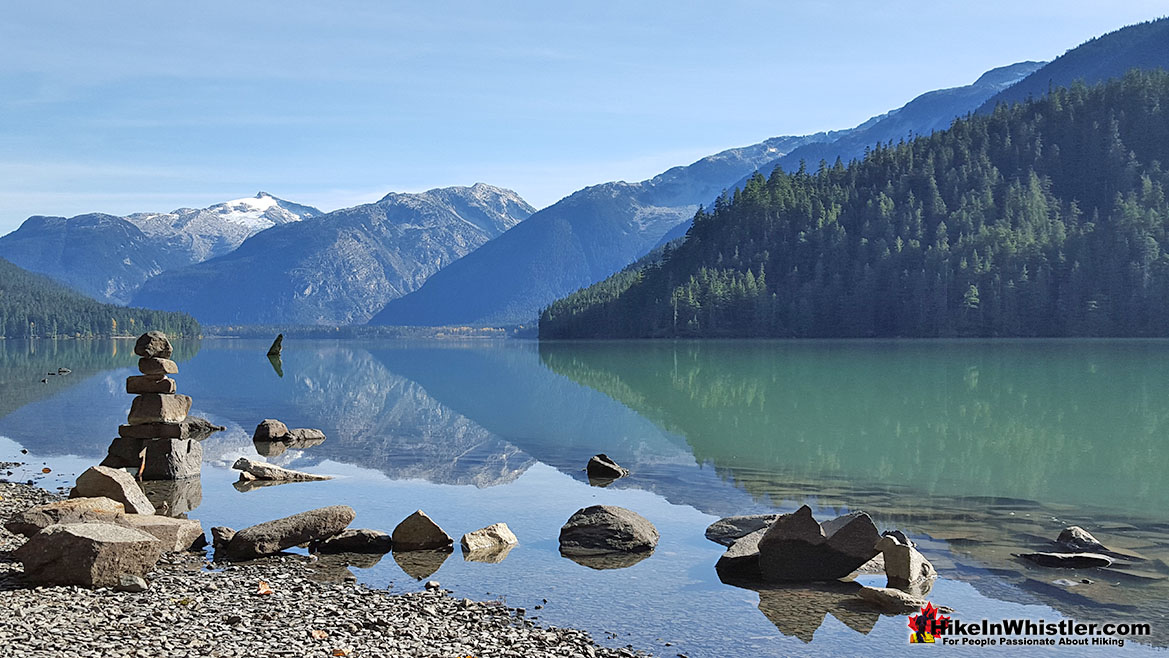 More information on Cheakamus Lake click here...

Whistler & Garibaldi Park Hiking Gear Rental

Buying hiking gear is expensive, time consuming and confusing. Let us do the work for you. We have the best quality and highest rated hiking gear on the market, and bring it to you at unbeatable prices. We rent individual items or complete hiking and camping kits. Our complete kits for one or two people consist of everything you need to hike in Whistler except clothes, food and water! Reserve today and hike into paradise! Whether you are short one backpack for your group or need to fully outfit everyone, we have you covered. We rent all the best, highest rated hiking gear you will need to enjoy hiking in and around Whistler and Garibaldi Provincial Park. We are proud to offer the best gear at the best prices. Fully equip yourself with backpack, tent, sleeping bag, sleeping pad, sleeping pillow, complete MSR Windburner cooking stove system(stove, fuel, pot, cup, fork, spoon and coffee press), first aid kit, camp towel, knife and trekking poles. All you have to bring is food, water and clothes! We put all the fun back into hiking and remove the boring and expensive parts. We will deliver your full set of hiking gear, packed and ready to hike. You then hit the trail into paradise for a night.. or two.. or more, call us when you get home and we will pick up everything. You don't have to worry about figuring out what to pack or buying expensive equipment.

We bring the best to you and at bargain prices. Why? Because we love Whistler, love hiking, love camping and we are passionate about hiking in Whistler. We will do everything in our power to make you have the most amazing hiking and camping trip of your life. And it starts with getting you the best gear, prepacked and delivered to you, without you having to spend a fortune buying gear. You can rent individual items or entire hiking/camping kits. Whatever your need, we have what you need to get you on the trail! Have a look at what we have to rent here!

We Rent Complete Kits 

We Rent Backpacks 

We Rent MSR Tents 

We Rent Sleeping Bags 

We Rent Sleeping Pads 

We Rent Camp Stoves 

We Rent Snowshoes
Hike in Whistler & Garibaldi Park

Alexander Falls  

Ancient Cedars  

Black Tusk  

Blackcomb Mountain  

Brandywine Falls  

Brandywine Meadows  

Brew Lake  

Callaghan Lake  

Cheakamus Lake  

Cheakamus River  

Cirque Lake  

Garibaldi Lake 

Garibaldi Park 

Helm Creek 

Joffre Lakes  

Keyhole Hot Springs  

Logger's Lake  

Madeley Lake  

Meager Hot Springs 

Nairn Falls  

Newt Lake 

Panorama Ridge  

Parkhurst Ghost Town  

Rainbow Falls  

Rainbow Lake  

Ring Lake  

Russet Lake  

Sea to Sky Trail 

Skookumchuck Hot Springs  

Sloquet Hot Springs  

Sproatt  

Taylor Meadows  

Train Wreck  

Wedgemount Lake  

Whistler Mountain

January  

February  

March  

April  

May  

June  

July  

August  

September  

October  

November  

December

The Barrier 

Bears  

Cloudraker Skybridge 

Coast Mountains 

Erratic 

The Fissile 

Fitzsimmons Range 

Garibaldi Ranges  

Garibaldi Volcanic Belt 

Green Lake  

Hoary Marmot 

Krummholz 

Mount Garibaldi  

Northair Mine 

Overlord  

Peak2Peak 

Roundhouse 

Rubble Creek 

Spearhead Range