We are proud to be Whistler's best source for snowshoeing information and snowshoe rentals. Whether you want to get out for an afternoon or several days, we will equip you properly for Whistler's amazing snowshoe trails. Perfect for Whistler, our snowshoes come in a variety of sizes  and styles.  From the hard core mountain hikers we have MSR Evo Ascent snowhoes perfect for steep and long treks through the mountains.  For the more relaxing, day-trips we have Bigfoot snowshoes in a variety of sizes.
Whistler Snowshoeing

Blueberry Trail 

Brandywine Falls 

Cheakamus River 

Elfin Lakes 

Flank Trail 

Joffre Lakes 

Nairn Falls 

Parkhurst Ghost Town 

Rainbow Falls 

Rainbow Lake 

Rainbow Park 

Taylor Meadows 

Train Wreck 

Wedgemount Lake
Whistler Hiking

Alexander Falls  

Ancient Cedars  

Black Tusk  

Blackcomb Mountain  

Brandywine Falls  

Brandywine Meadows  

Brew Lake  

Callaghan Lake  

Cheakamus Lake  

Cheakamus River  

Cirque Lake  

Garibaldi Lake 

Garibaldi Park 

Helm Creek  

Joffre Lakes  

Keyhole Hot Springs  

Logger's Lake  

Madeley Lake  

Meager Hot Springs 

Nairn Falls  

Panorama Ridge  

Parkhurst Ghost Town 

Rainbow Falls  

Rainbow Lake  

Ring Lake  

Russet Lake  

Sea to Sky Trail 

Skookumchuck Hot Springs  

Sloquet Hot Springs  

Sproatt  

Taylor Meadows  

Train Wreck  

Wedgemount Lake  

Whistler Mountain
We proudly rent the best gear, at the best prices, and with the best service!  Our prices include free delivery & pickup anywhere in Whistler! What type or size of footwear will work with snowshoes? Whatever you're most comfortable wearing should work just fine! Our snowshoes are equipped with a dual-ratchet binding system, as well as a fully adjustable heel strap. The lengths of the binding straps are proportional to the size of the snowshoes, so larger snowshoes are designed to accommodate larger footwear. This makes it very easy to use your snowshoes with virtually any style of footwear.  Why do we have so many different sizes? Each size of snowshoe is designed to support a specific weight range. The surface area of the snowshoe platform provides the flotation you need across a broad range of snow conditions. Selecting a size that is too small for you will mean that you'll sink more deeply into the snow than you would in the right size snowshoe. As well, larger sizes are made with thicker tubing to handle the stresses of heavier weights.  The Bigfoot Elite Series offers a lightweight, high performance snowshoe. The combination of top quality materials and sleek ergonomic design improve stability and maneuverability while providing all day comfort you expect from a snowshoe. The tapered design permits a more natural stride under any winter condition allowing for longer hikes. The Hypalon decking provides energetic rebounding while the two extra Snow-Trac side crampons allow you to tackle a wide range of terrain.
Snowshoes in Whistler are just a click away..
Instantly check our snowshoe availability online and reserve.  You will get an automatic confirmation email immediately and a human sent email shortly thereafter.
We will arrive at your door promptly at your requested delivery time.  We deliver on your schedule, not ours.  So 24 hours a day, 7 days per week we deliver anywhere in Whistler.
When you are ready for pick up, text, call or email us.  You don't even need to wait around for us.  Just set the snowshoes outside your door and let us know.
Searching Availability...
Free Delivery and Pick Up in Whistler!
Whether you are short one backpack for your group or need to fully equip everyone, we have you covered. We rent all the best, highest rated hiking gear you will need to enjoy hiking in and around Whistler and Garibaldi Provincial Park. We are proud to offer the best gear at the best prices. Fully equip yourself with backpack, tent, sleeping bag, sleeping pad, sleeping pillow, complete cooking stove system(stove, fuel, pot, cup, fork, spoon and coffee press), first aid kit, camp towel, knife and trekking poles. All you have to bring is food, water and clothes!  We put all the fun back into hiking and remove the boring and expensive parts. We will deliver your full set of hiking gear, packed and ready to hike. You then hit the trail into paradise for a night.. or two.. or more, call us when you get home and we will pick up everything. You don't have to worry about figuring out what to pack or buying expensive equipment.  We bring the best to you and at bargain prices. Why? Because we love Whistler, love hiking, love camping and we are passionate about hiking in Whistler. We will do everything in our power to make you have the most amazing hiking and camping trip of your life. And it starts with getting you the best gear, prepacked and delivered to you, without you having to spend a fortune buying gear. You can rent individual items or entire hiking/camping kits. Whatever your need, we have what you need to get you on the trail!
How we work... and other frequently asked questions
Q: What else do I need to bring if I rent one of your complete camping kits?
A: Your clothes, food and water. We have thought of everything for you so you don't have to worry about anything but having the time of your life! Make sure you bring warm clothes for the cool alpine weather and a water bottle to fill from the glacier fed streams!
Q: How good is the quality of your rental gear?
A: Our gear is specially selected from the highest rated, best quality and newest gear on the market. The difference between a cheap backpack and our backpacks is astounding. Your comfort and enjoyment are drastically reduced by cheap, old and worn gear. Our gear is the best of the best on the market!
Q: What happens if I damage or lose something?
A: We are very forgiving on reasonable damage and wear and tear, however beyond that we will charge for replacement cost or repair cost. Our gear is very durable and high quality, so with normal use and care it is very difficult to damage. Just let us know what happened and can likely sort it out with a minimum cost.
Q: We want to hit the trail at 5am, do you deliver that early?
A: We deliver anytime and anywhere in Whistler. In most cases we can drop off your gear to your hotel the night before you go so you can play with and pack your gear beforehand.
Q: Your gear is pretty high-tech, will we have trouble using it?
A: We include user guides to any tricky-to-use gear. For example, when you open our compact stove system you will see the instruction for use. If you would like a preview of our gear check out the Youtube links above for user reviews and get excited!
Q: Do you offer a locals discount?
A: Of course! In our reservation system under Book Now, click Apply Promo or Voucher and enter: local. If you miss this step, don't worry as we will likely catch it and add it for you.

Please treat our gear well. If you keep it in great condition, we can keep renting it out at budget rates. If you bring it back on time, clean, and in good condition, you may find that you get a bigger and bigger discount every time you rent from us. Have fun in paradise!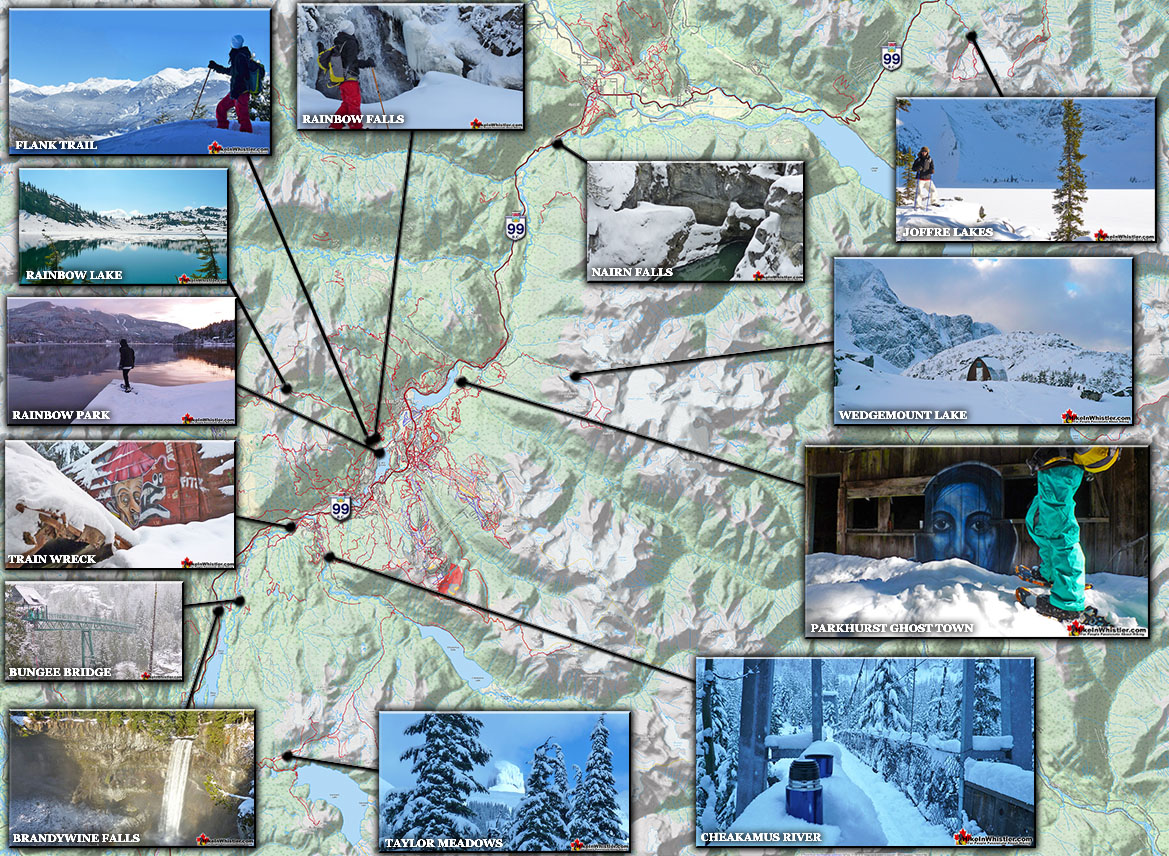 We Rent Complete Kits 

We Rent Backpacks 

We Rent MSR Tents 

We Rent Sleeping Bags 

We Rent Sleeping Pads 

We Rent Camp Stoves 

We Rent Snowshoes
Hike in Whistler & Garibaldi Park

Alexander Falls  

Ancient Cedars  

Black Tusk  

Blackcomb Mountain  

Brandywine Falls  

Brandywine Meadows  

Brew Lake  

Callaghan Lake  

Cheakamus Lake  

Cheakamus River  

Cirque Lake  

Garibaldi Lake  

Garibaldi Park  

Helm Creek  

Joffre Lakes  

Keyhole Hot Springs  

Logger's Lake  

Madeley Lake  

Meager Hot Springs 

Nairn Falls  

Panorama Ridge  

Parkhurst Ghost Town 

Rainbow Falls  

Rainbow Lake  

Ring Lake  

Russet Lake  

Sea to Sky Trail  

Skookumchuck Hot Springs  

Sloquet Hot Springs  

Sproatt  

Taylor Meadows  

Train Wreck  

Wedgemount Lake  

Whistler Mountain

January  

February  

March  

April  

May  

June  

July  

August  

September  

October  

November  

December
Whistler Hiking Glossary

Ablation Zone 

Accumulation Zone  

Adit Lakes 

Aiguille 

Alpine Zone  

Arête  

ARRTI 

Armchair Glacier 

The Barrier  

Battleship Islands 

Bears  

Bench  

Bergschrund 

Bivouac  

Bungee Bridge 

Cairn/Inukshuk  

Carter,Neal 

Chimney 

Cirque 

Cloudraker  

Coast Douglas-fir 

Coast Mountains  

Col  

Columnar Jointing 

Cordilleran 

Cornice  

Corrie Lake 

Crevasse  

Dalgleish,Alec 

Deadfall  

Emerald Forest 

Erratic 

The Fissile  

Fitzsimmons Creek 

Fitzsimmons Range  

Fyles,Tom 

Garibaldi Ranges 

Garibaldi Volcanic Belt 

Gemel  

Glacier Window 

Green Lake 

Hoary Marmot 

Krummholz  

Lithophyte  

Lodgepole Pine 

Moraine 

Mt Garibaldi 

Mt James Turner  

Mountain Hemlock 

Northair Mine  

North Arm 

Nunatuk  

Nurse Stump 

Overlord  

Pacific Yew 

Paper Birch 

Peak 2 Peak  

Rainbow Lodge 

Roundhouse 

Rubble Creek  

Scree 

Spearhead Range 

Tarn 

The Table  

Townsend,Charles 

Usnea  

Waterbar  

Western Hemlock 

Western Redcedar  

Whistler Spruce 

Winram,Mills