Blackcomb Mountain holds an impressive and ever growing array of hiking trails. From the moment you arrive at the Rendezvous Lodge, you see hiking trails ascend into the distance. The Rendezvous Lodge is home to a cafeteria style restaurant, a fine dining restaurant, gift shops, washrooms, and quite a lot else.  The Rendezvous Lodge is centre of activity on Blackcomb Mountain and the Roundhouse Lodge is the same on Whistler Mountain.
Little effort, amazing alpine scenery
Easily escape the crowds by hiking longer trails
Rendezvous Lodge is great for dining & drinking
Accessing alpine terrain beyond trails is easy

Unmarked route to Russet Lake lays beyond marked trails
Bivouacking beyond marked trails is amazing
Extraordinary views of Whistler Mountain & more

Distant Overlord Glacier is stunning

Very organized trails & route markers/maps

Access is restricted by snow to early June

Whistler & Garibaldi Park

Alexander Falls  

Ancient Cedars  

Black Tusk  

Blackcomb Mountain  

Brandywine Falls  

Brandywine Meadows  

Brew Lake  

Callaghan Lake  

Cheakamus Lake  

Cheakamus River  

Cirque Lake  

Garibaldi Lake 

Garibaldi Park 

Helm Creek 

Joffre Lakes  

Keyhole Hot Springs  

Logger's Lake  

Madeley Lake  

Meager Hot Springs 

Nairn Falls  

Newt Lake 

Panorama Ridge  

Parkhurst Ghost Town  

Rainbow Falls  

Rainbow Lake  

Ring Lake  

Russet Lake  

Sea to Sky Trail 

Skookumchuck Hot Springs  

Sloquet Hot Springs  

Sproatt  

Taylor Meadows  

Train Wreck  

Wedgemount Lake  

Whistler Mountain

January 

February 

March 

April 

May 

June 

July 

August 

September 

October 

November 

December
Hiking Gear Rental

Complete Kits 

Backpacks 

MSR Tents 

Sleeping Bags 

Sleeping Pads 

Camp Stoves 

Snowshoes
Whether you are doing a long hike or just one of the short ones, stopping here before and after for a meal and/or a beer is almost essential.  Blackcomb Mountain has come alive with beautiful hiking trails in recent years.  With the 2008 addition of the Peak2Peak gondola which connects Blackcomb Mountain to Whistler Mountain, the demand for mountain trails is higher than ever.  A dozen years ago, you would just have had some rough hiking trails to follow, and not many hikers to follow them.  Now you have mapboards, trail signs, viewpoint seating areas and six popular, named trails to hike. The majority of the Blackcomb Mountain trails are easy and relaxing, however the Decker Loop trail at the far end of Blackcomb Mountain is very challenging and spectacularly scenic. For the most part, you will find yourself winding through a nice alpine forest scattered with enormous fields of erratics leading to one great viewpoint after another.  You can hike for as little as 15 minutes or more than 3 hours, depending on the trail or trails you choose to follow.  Blackcomb Lake and Blackcomb Peak that looms far above it are the most popular destinations for hikers and getting there and back can be done in a couple hours. 
The trails begin at the Rendezvous Lodge at the heart of Blackcomb Mountain. You have two ways to get there and both require paying for access to Whistler Mountain and Blackcomb Mountain. An adult day pass is $90 and a pass good for the whole summer is just $120. These give you access to all the chair lifts and gondolas that access hiking trails as well as the Peak2Peak gondola.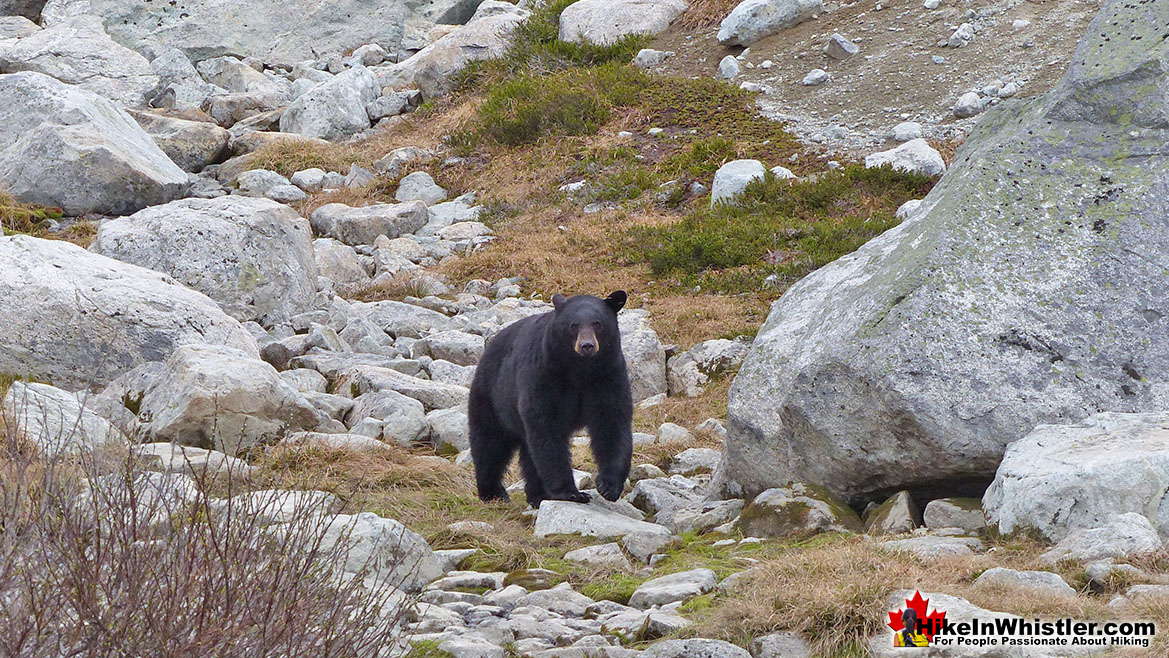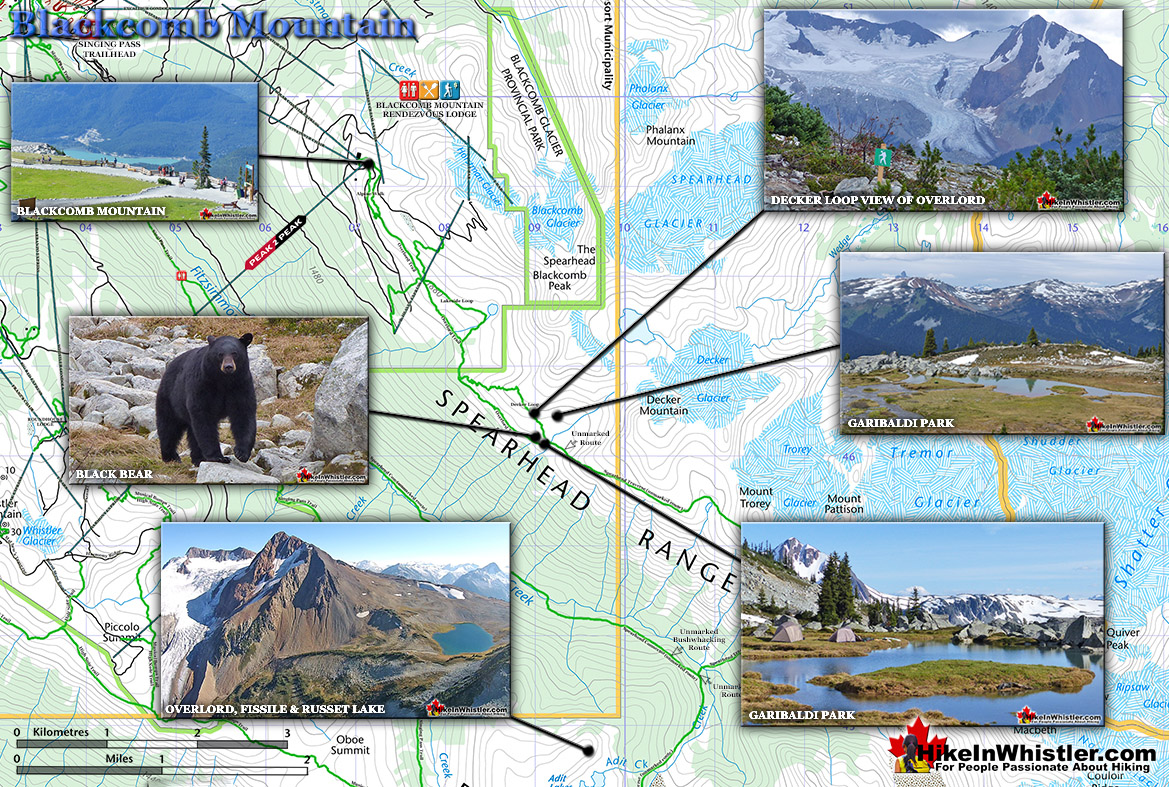 The Rendezvous Lodge is the main centre of activity for Blackcomb Mountain year-round.  A small pub, huge restaurant/cafeteria, gift shop and a up scale restaurant here ensure that you have lots to choose from. Christine's is a very nice restaurant perched on the edge of the building and with spectacular views from every table.  If you don't stop in this beautiful restaurant for a meal or just a drink, you are missing one of the most amazing and usually overlooked restaurants in Whistler.  Though the restaurant looks and feels very upscale, the prices are not... and the views are sensational.
More Blackcomb Mountain hiking information click here.
More Great Hiking Around Blackcomb

Blackcomb Mountain is a great place to hike surrounded by quite a lot of other great hiking opportunities. Whistler Mountain is accessible via the same lift pass you purchase for Blackcomb Mountain and you can ride the Peak2Peak gondola back and forth between mountain as much as you want. Whistler Mountain trails range from short to quite long, and you can even hike beyond Whistler Mountain for several kilometres into Garibaldi Provincial Park. Russet Lake is a nice alpine paradise that sits at the base of The Fissile, the unmistakable peak easily visible from Whistler Village. If you look up and see the Peak2Peak gondola in the distance, you will see a pyramid looking mountain. White in the winter and rust coloured the rest of the year. There is a great campground at Russet Lake and even a cute mountain hut, free to use, no reservations. The adventurous can hike beyond Russet Lake via an unmarked alpine route to connect to the Blackcomb Mountain trails. Many take the Singing Pass trail instead, which cuts down the valley between Whistler Mountain and Blackcomb Mountain, returning you to Whistler Village. If you are keen there is also an unmarked route that extends down from Russet Lake in a fairly direct heading down to Singing Creek on the shore of Cheakamus Lake.

Whistler & Garibaldi Park Hiking Gear Rental

Buying hiking gear is expensive, time consuming and confusing. Let us do the work for you. We have the best quality and highest rated hiking gear on the market, and bring it to you at unbeatable prices. We rent individual items or complete hiking and camping kits. Our complete kits for one or two people consist of everything you need to hike in Whistler except clothes, food and water! Reserve today and hike into paradise! Whether you are short one backpack for your group or need to fully outfit everyone, we have you covered. We rent all the best, highest rated hiking gear you will need to enjoy hiking in and around Whistler and Garibaldi Provincial Park. We are proud to offer the best gear at the best prices. Fully equip yourself with backpack, tent, sleeping bag, sleeping pad, sleeping pillow, complete MSR Windburner cooking stove system(stove, fuel, pot, cup, fork, spoon and coffee press), first aid kit, camp towel, knife and trekking poles. All you have to bring is food, water and clothes! We put all the fun back into hiking and remove the boring and expensive parts. We will deliver your full set of hiking gear, packed and ready to hike. You then hit the trail into paradise for a night.. or two.. or more, call us when you get home and we will pick up everything. You don't have to worry about figuring out what to pack or buying expensive equipment.

We bring the best to you and at bargain prices. Why? Because we love Whistler, love hiking, love camping and we are passionate about hiking in Whistler. We will do everything in our power to make you have the most amazing hiking and camping trip of your life. And it starts with getting you the best gear, prepacked and delivered to you, without you having to spend a fortune buying gear. You can rent individual items or entire hiking/camping kits. Whatever your need, we have what you need to get you on the trail! Have a look at what we have to rent here!

We Rent Complete Kits 

We Rent Backpacks 

We Rent MSR Tents 

We Rent Sleeping Bags 

We Rent Sleeping Pads 

We Rent Camp Stoves 

We Rent Snowshoes
Hike in Whistler & Garibaldi Park

Alexander Falls  

Ancient Cedars  

Black Tusk  

Blackcomb Mountain  

Brandywine Falls  

Brandywine Meadows  

Brew Lake  

Callaghan Lake  

Cheakamus Lake  

Cheakamus River  

Cirque Lake  

Garibaldi Lake 

Garibaldi Park 

Helm Creek 

Joffre Lakes  

Keyhole Hot Springs  

Logger's Lake  

Madeley Lake  

Meager Hot Springs 

Nairn Falls  

Newt Lake 

Panorama Ridge  

Parkhurst Ghost Town  

Rainbow Falls  

Rainbow Lake  

Ring Lake  

Russet Lake  

Sea to Sky Trail 

Skookumchuck Hot Springs  

Sloquet Hot Springs  

Sproatt  

Taylor Meadows  

Train Wreck  

Wedgemount Lake  

Whistler Mountain

January  

February  

March  

April  

May  

June  

July  

August  

September  

October  

November  

December

The Barrier 

Bears  

Cloudraker Skybridge 

Coast Mountains 

Erratic 

The Fissile 

Fitzsimmons Range 

Garibaldi Ranges  

Garibaldi Volcanic Belt 

Green Lake  

Hoary Marmot 

Krummholz 

Mount Garibaldi  

Northair Mine 

Overlord  

Peak2Peak 

Roundhouse 

Rubble Creek 

Spearhead Range