We rent XTherm MAX and ProLite, all-season, self inflating, ultralight, compact sleeping pads. XTherm MAX sleeping pads are one of the best and highest rated pads available today. They are the warmest and pack incredibly small. Also, ours come with Therm-a-Rest NeoAir Micro Pumps! 
XTherm MAX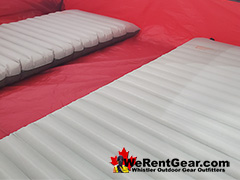 When your backcountry pursuits demand extreme insulation and an ultralight packed size, alpinists and mountaineers turn to the NeoAir XTherm MAX. The unrivalled Triangular Core Matrix offers the best warmth-to-weight ratio of any air sleeping pad construction. The construction gives the 2.5 inch (6.4 cm) thick pad superior stability, boasting the most inches of weld for maximum camp comfort. The packable pad boasts a 6.9 R-value,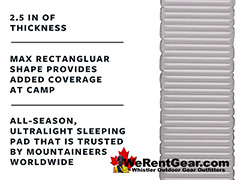 allowing users to take it into the most extreme conditions. With the classic XTherm construction in a rectangular shape, the XTherm MAX features the high-performance WingLock valve, allowing the pad to inflate three times faster thanks to a larger opening and one-way inflation. Our XTherm MAX sleeping pads come with the breath saving Therm-a-Rest NeoAir Micro Pump to make inflating it effortless! All this packs down into a very small and very lightweight bag that takes up little room in your pack. Most online reviews of the XTherm MAX have only one complaint, they are very expensive! Another great reason to rent them from us! Reserve here..
Therm-a-Rest NeoAir XTherm Series Review
NeoAir Micro Pump Included With Our XTherm MAX Sleeping Pads!
Why Do We Rent XTherm MAX Sleeping Pads?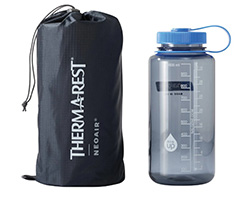 We rent the XTherm MAX because it is wonderfully comfortable, durable and packs down incredibly small and lightweight. With the NeoAir Micro Pump it inflates itself as well. The NeoAir Micro Pump is considerably better than the awkward and annoying pump sack that originally comes with the XTherm MAX. The XTherm MAX is the absolute best sleeping pad we could find on the market today. Whistler and Garibaldi Park campsites are mostly high up in the mountains and the temperatures can get low at night, even in the summer months. The XTherm MAX has a very high R-Value, which means it is an amazing temperature barrier when the ground under your tent is very cold. The XTherm MAX is the perfect sleeping pad year-round in Whistler and you won't believe how lightweight and compact it is in your pack! We rent the MAX version of the XTherm (rectangular) instead of the regular XTherm version (rounded) because they fit better alongside each other and don't move around under your sleeping bag. The uniform, rectangular shape also provides a complete barrier from the cold, whereas the rounded, tapered version leaves gaps near your feet. The weight difference is very small for this added comfort, with the XTherm weighing 0.43kg, while the XTherm MAX weighs 0.49kg. In terms of packed size, both these versions pack down incredibly small and both measure exactly the same at 23cm x 10cm or 9 inches x 4 inches.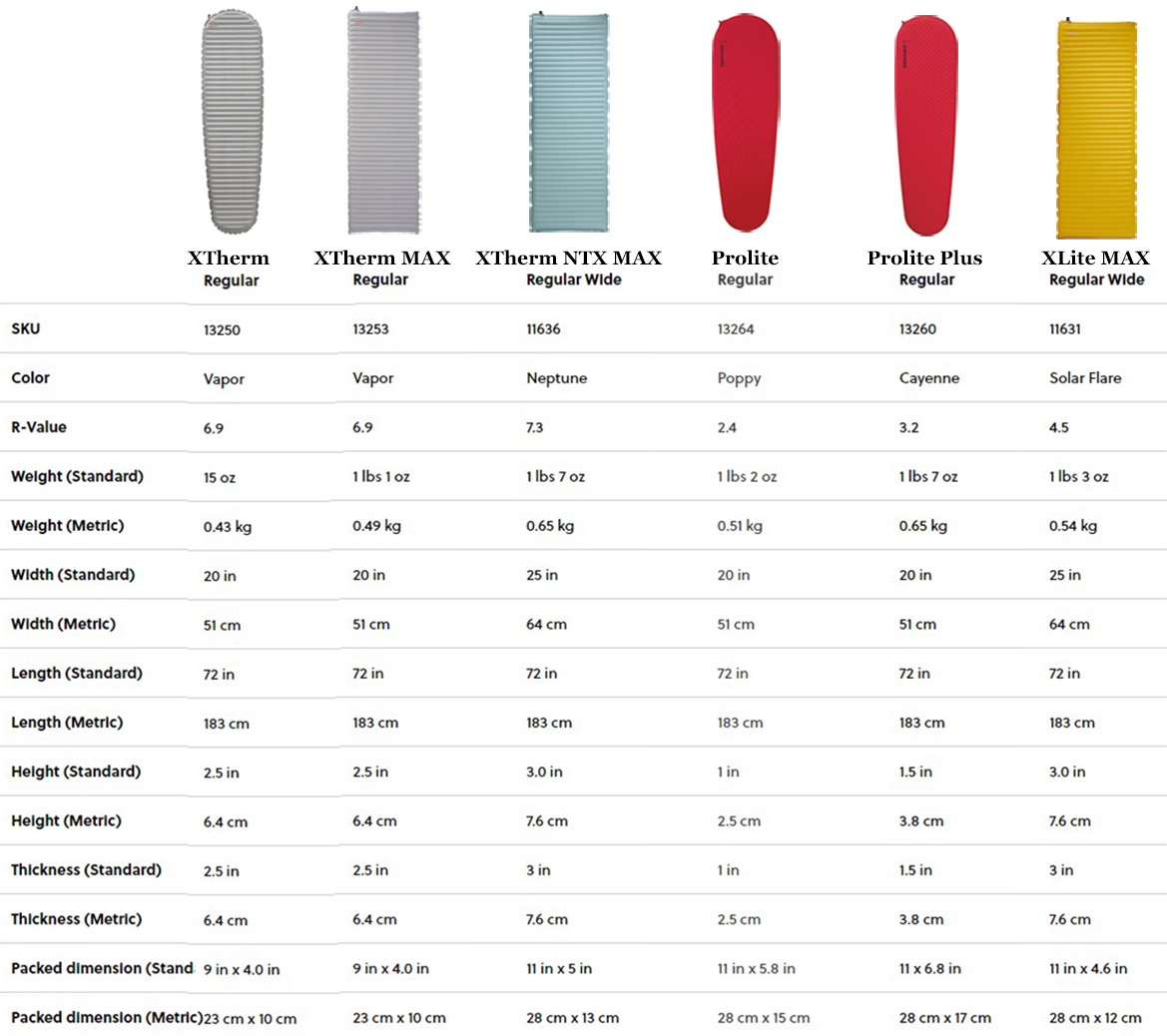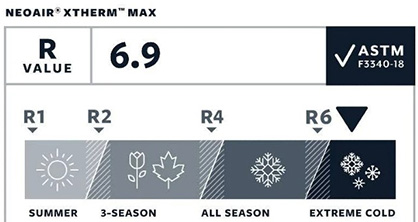 The stats above show how the XTherm MAX compares to other sleeping pads we could have chosen to rent. The comparison is slightly unfair, however, as the XTherm NTX MAX and the XLite MAX don't come in size Regular, so Regular Wide is the closest comparison to the XTherm MAX Regular size that we rent. Notice the weight of the XTherm Max is less than all the others except the XTherm on the far left. In terms of packed size, our XTherm MAX packs smaller than all the other, except the regular XTherm which packs down to the same size. The popular Prolite and Prolite Plus sleeping pads that we also rent, weigh more than our XTherm MAX's and even pack down much larger! R-Value is another very important reason we chose the XTherm MAX. R-Value is a measure of thermal resistance, showing how much insulation from the cold ground a sleeping pad will provide. The XTherm MAX has an incredible 6.9 R-Value, which puts it in the range of extreme cold protection. The Prolite has a 2.4 R-Value and the Prolite Plus 3.2 which puts them in the range of three season protection from the cold. The XLite MAX has a 4.5 R-Value which gives all season protection. We rent the XTherm MAX sleeping pads year-round because they are warm, lightweight and pack down small. Reserve here..
XTherm MAX Sleeping Pads in a Mutha Hubba Tent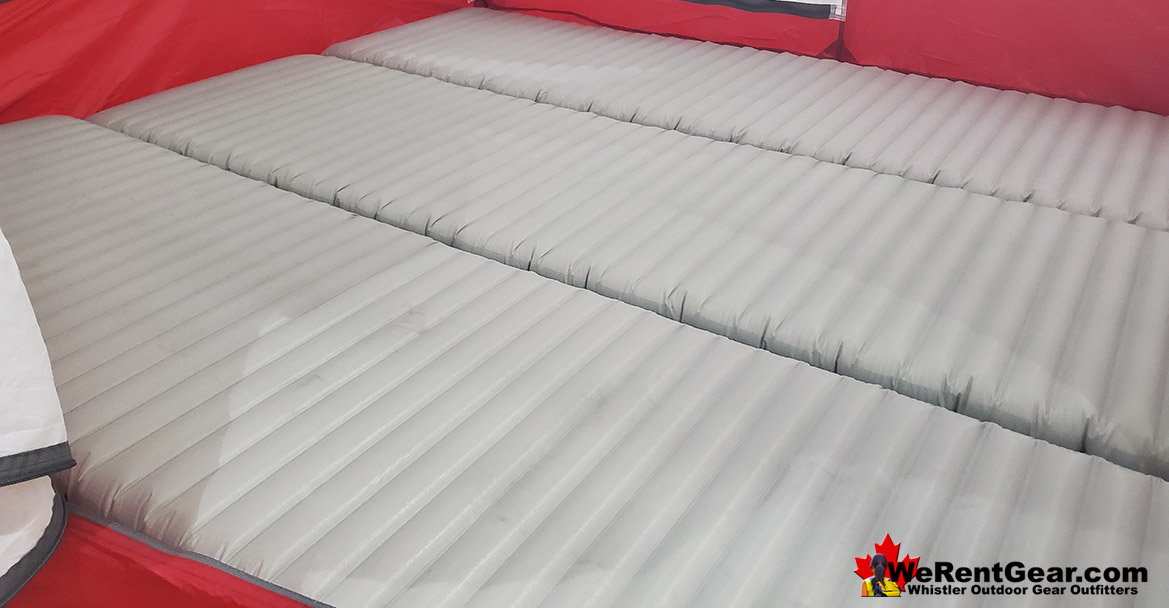 "The Therm-a-Rest NeoAir XTherm is an absolute beast; it balances remarkable warmth (6.9 R-value) with a packable and lightweight design. We can't find a single comparable pad on the market that balances warmth and comfort with versatile features. We're fans of the pad's newly improved valve system and had no hesitation crowning the NeoAir XTherm our favorite pad.." - OutdoorGearLab
We Also Rent Therm-a-Rest Prolite Sleeping Pads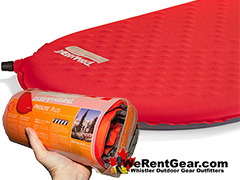 Prolite pads compress down to a small size in your pack. We rent the smallest and most compact, 3/4 length(head to knees) pads on the market. Perfect for overnight expeditions in Whistler and Garibaldi Provincial Park. All-season self-inflating comfort—now with even less weight and bulk. The ProLite mattress combines outstanding all-season warmth with the convenience of self-inflation. Diagonal-cut foam delivers more warmth than the more common vertical channels, making it the ideal choice for ski touring, cold weather expeditions and winter camping. Stuff sack included. Review from Cascade Designs, "I've used many many sleeping pads over the years as a guide. I've tried the gimmicky pads, the ultra light pads, basic pads. This pad is hands down the best option out there, if you are serious about having lightweight gear that will hold up to the real abuses of spending long amounts of time in the backcountry... I haven't had a single complaint, or even a single leak. Don't waste money on other brands or pads, Thermarest really is the best." Four-Season Warmth: Thick, patent-pending diagonal-cut foam offers efficient year-round comfort. Ultra-Compact: Lightweight foam boosts compressibility for easy packing. Self-Inflating: Expanding foam core self-inflates; top off with just a few breaths for personalized firmness. Reserve here..
We bring the best to you and at bargain prices. Why? Because we love Whistler, love hiking, love camping and we are passionate about hiking in Whistler. We will do everything in our power to make you have the most amazing hiking and camping trip of your life. And it starts with getting you the best gear, prepacked and delivered to you, without you having to spend a fortune buying gear. You can rent individual items or entire hiking/camping kits. Whatever your need, we have what you need to get you on the trail!
We Make Renting Easy!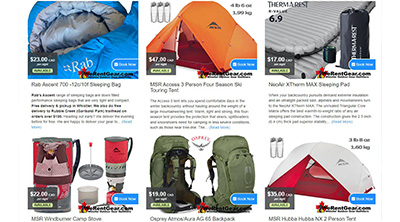 1. Reserve Online
Figure out the gear you would like and book through our reservation system. We will send you a confirmation of the booking and make sure we know where to deliver your gear for you when you get to Whistler. We have the largest inventory of high quality rental hiking and camping gear from Vancouver to Whistler. Our booking page is easy to use and our cancellation policy is amazing. Free cancellations anytime for any reason as long as you let us know more than 24 hours before delivery. If you need to change your delivery or pick up time or location, we don't mind. 
2. Gear Arrives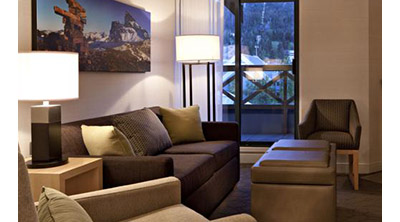 We deliver right to your door anywhere in Whistler and to all Garibaldi Park trailheads except Diamond Head in Squamish. We will be waiting for you at the trailhead when you arrive or if you are already in Whistler at a house, hotel, condo, etc we will deliver and pick up right to your door. We are happy to deliver to your hotel's Front Desk or Bell Desk before your arrival to make your vacation even more worry free! If you would like the gear delivered the day before so you can pack and prepare, let us know when you book and we will make it happen! Prefer to pick up? We have a 24 hour pick up and drop off location 3 minutes from Whistler Village!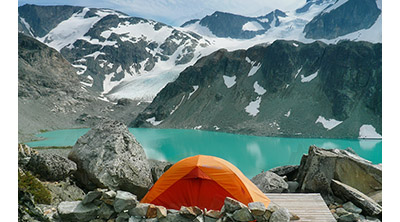 3. Camp in Paradise
 Hike into paradise and camp in beautiful Whistler and incredible Garibaldi Park. With the best quality and highest rated hiking gear money can buy, you will have the trip of a lifetime. We do all the work and you have all the fun!  We rent the best quality and highest rated gear on the market. MSR tents, Osprey backpacks, MSR WindBurner Stove Systems, Rab Ascent 700 sleeping bags, Therm-a-Rest XTherm MAX sleeping pads, MSR Evo Ascent snowshoes and more. We also rent complete hiking gear kits. We can equip one person, couples or large groups with everything you need except food and water! We are proud to be Whistler's best source for rental hiking gear. We have the best gear, the best prices and best service!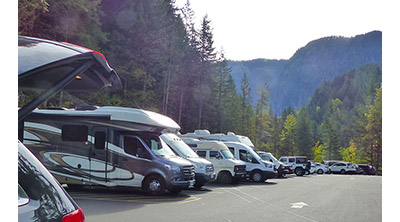 4. Easy Returns
 When you return from your hike, let us know where and when you'd like us to drop by and pick up the gear. Staying at a hotel? Leave the gear with the Bell Desk or Front Desk. Living in Whistler or staying in an AirBnB, just leave the gear outside your door and text us. We will pick it up and you don't need to wait around. We deliver it to you perfectly clean and don't mind if you return it a mess. We have a precise and methodical cleaning and maintenance process and we go to great lengths to ensure the gear you get is like new. Though we don't have a retail location in Whistler, we do have a convenient 24 hour pick up and drop off location near Whistler Village!

Explore Whistler Hiking Trails!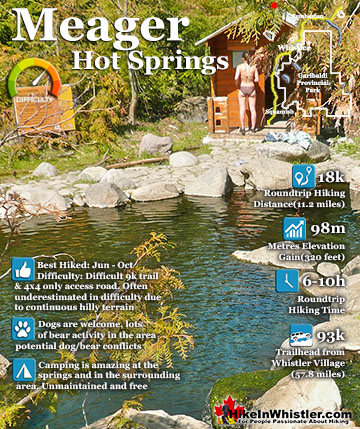 Read more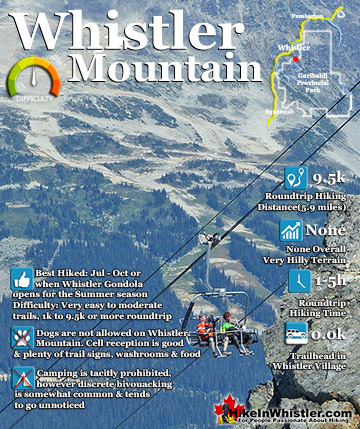 The alpine hiking trails on
Whistler Mountain
are the ultimate in luxurious hiking. Little hiking effort gets you amazing views of turquoise lakes, snowy mountain, valleys of ...
Read more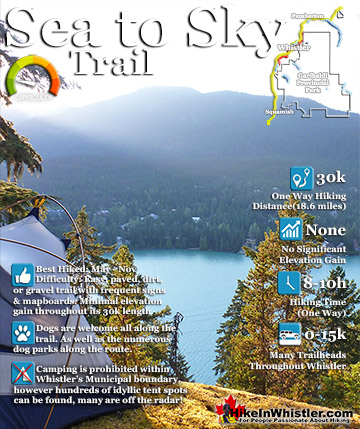 The
Sea to Sky Trail
is a 180 kilometre multi-use trail that runs from Squamish to D'Arcy. The trail is still under construction in many parts, however, the amazing route ...
Read more
Explore BC Hiking Trails!