Whistler has an absurd number of wonderful and free hiking trails and Parkhurst Ghost Town certainly ranks as one of the most unusual, exotic and interesting. Parkhurst was a little logging town perched on the edge of Green Lake way before Whistler was Whistler.  Up on the ridge where Parkhurst sits, the views are sensational.  Green Lake, with its extraordinary colour fills the view below.
Little hidden world with great things to see
Easily accessible by boat
Lots of amazing spots to put up a tent
Historical artifacts hidden everywhere
Famous Toad Hall house was here!

Stunning views of Green Lake

The trails are not well marked
Loud trains still run through the area

Access road blocked by snow in winter

Swimming is beautiful but brutally cold

Whistler & Garibaldi Park

Alexander Falls  

Ancient Cedars  

Black Tusk  

Blackcomb Mountain  

Brandywine Falls  

Brandywine Meadows  

Brew Lake  

Callaghan Lake  

Cheakamus Lake  

Cheakamus River  

Cirque Lake  

Garibaldi Lake 

Garibaldi Park 

Helm Creek 

Joffre Lakes  

Keyhole Hot Springs  

Logger's Lake  

Madeley Lake  

Meager Hot Springs 

Nairn Falls  

Newt Lake 

Panorama Ridge  

Parkhurst Ghost Town  

Rainbow Falls  

Rainbow Lake  

Ring Lake  

Russet Lake  

Sea to Sky Trail 

Skookumchuck Hot Springs  

Sloquet Hot Springs  

Sproatt  

Taylor Meadows  

Train Wreck  

Wedgemount Lake  

Whistler Mountain

January 

February 

March 

April 

May 

June 

July 

August 

September 

October 

November 

December
Hiking Gear Rental

Complete Kits 

Backpacks 

MSR Tents 

Sleeping Bags 

Sleeping Pads 

Camp Stoves 

Snowshoes
Blackcomb Mountain and Whistler Mountain out in the distance to the left and Rainbow Mountain across and beyond the lake.  If you have a good look around Parkhurst today, you can find remnants of its past almost everywhere you look.  From the old disintegrating truck from the 50's to the absurdly and improbably located car being consumed by the forest.  What makes Parkhurst Ghost Town such a great hiking trail and destination is where it is located and the trail to get to it.  One route, one of several ways to get to it, runs along the scenic Green River and next to the still active train tracks that run through Whistler.  There always seems to be something to see.  From the beautiful meadow along the train tracks, to the suddenly deep forest where you have to play a game of finding the next, pink tree marker or risk wandering off the trail.  The trail markers are numerous, and though getting lost is inevitable, you can only stray a few metres before, the river or steep terrain push you back onto the marked trail.  Once up on the ridge above Green Lake where Parkhurst is located, the forest takes on a spooky feel.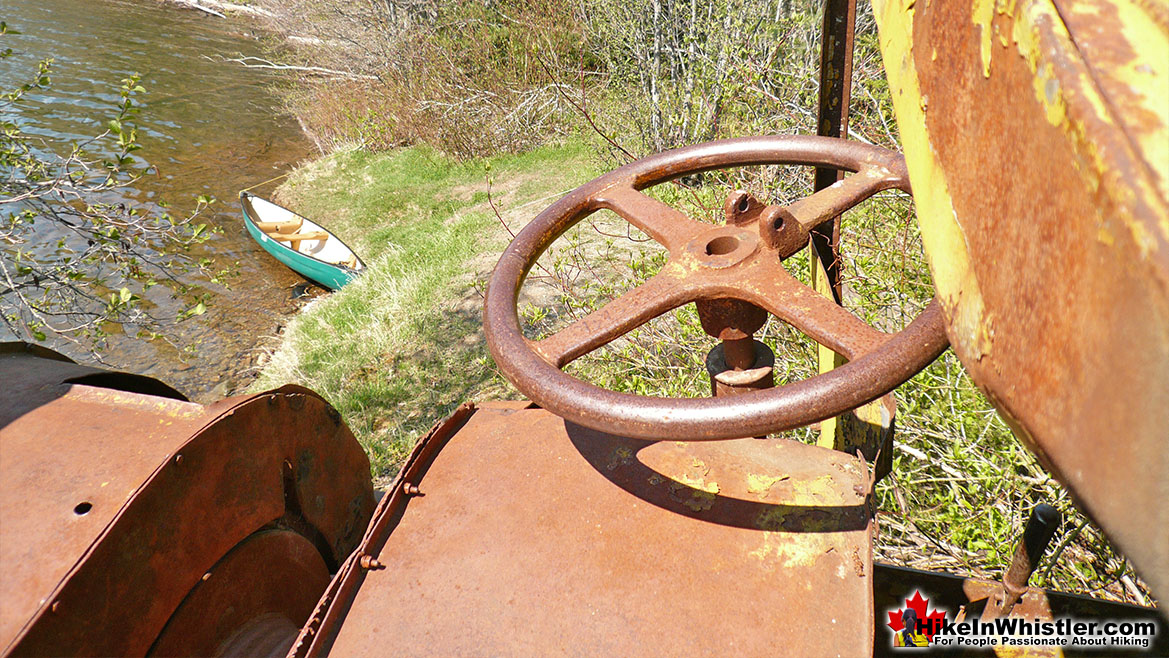 Trees are all far apart and with branches only high up give the forest a unnaturally lifeless look.  As recent as the late 90's a few houses remained standing, but the merciless winters with crushing snow has collapsed all but one house. There are a couple half collapsed relics, but for the most part the town has disintegrated.  Unexpectedly, even in the deep snow of winter, stumbling on remnants of the old town are frequent.  Countless half collapsed houses lay in the picturesque forest that has grown since the town was abandoned.  Finding the abandoned vehicles in the town is like a game as you wander around the maze of trails.  The old rusty car, the even older truck, and an ancient and enormous logging tractor perched as it was decades ago, on the edge of Green Lake.  Quite a marvel to see.  Like a giant museum exhibit that looks like it could still be there in a thousand years from now.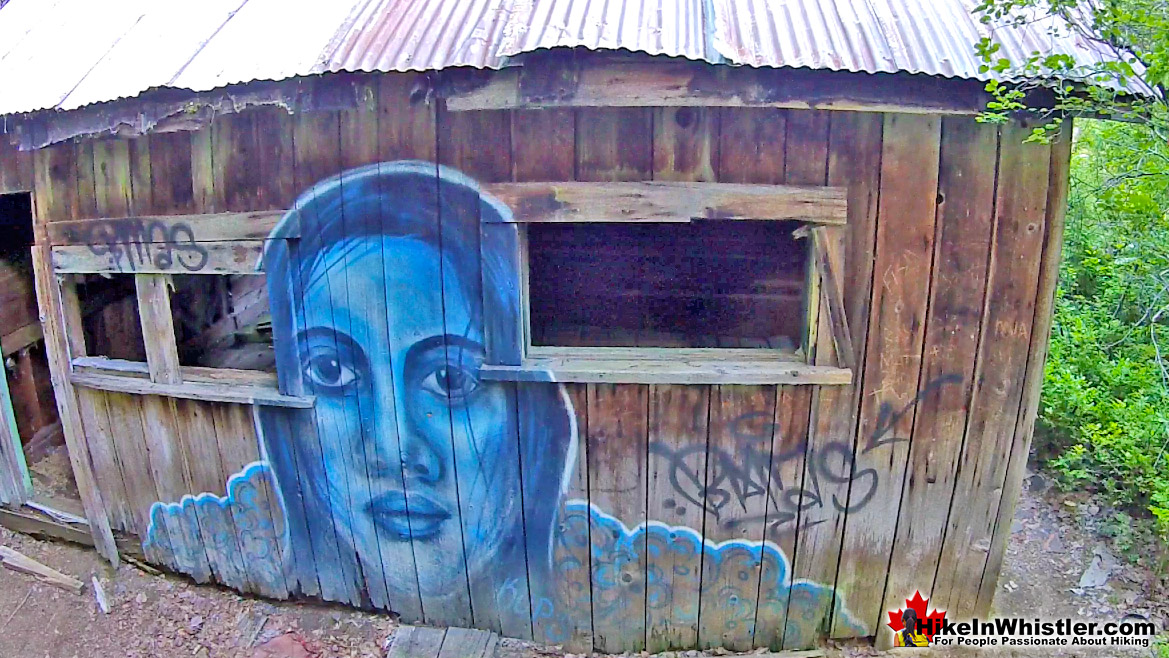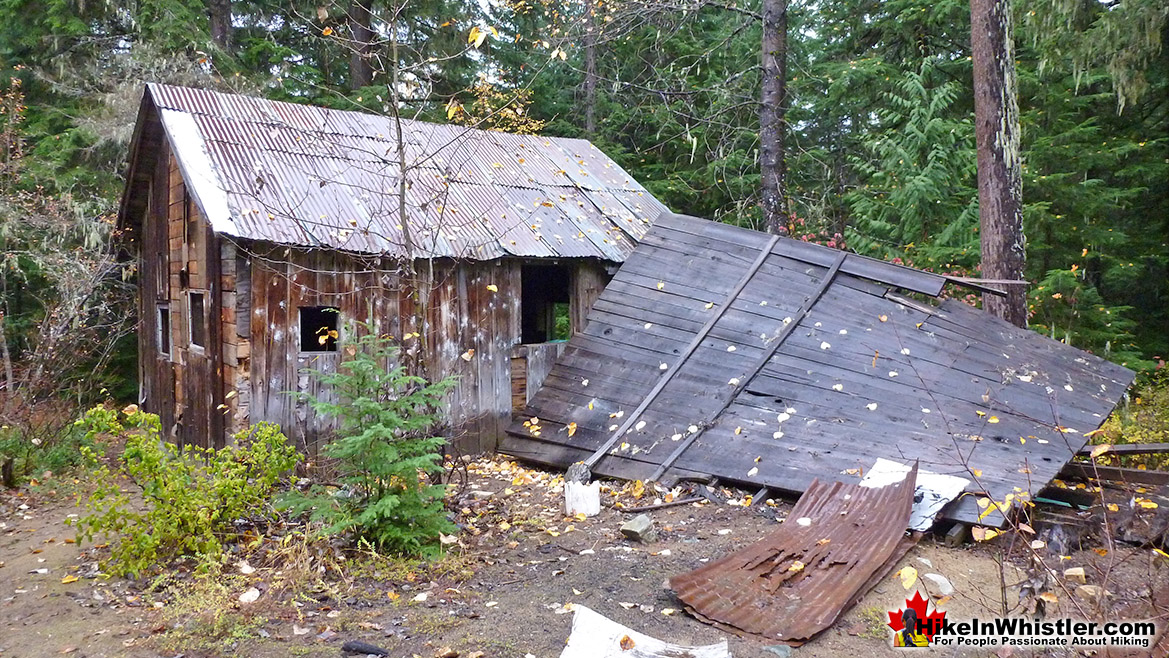 Just steps from the impressive tractor, if you are lucky and persistent, you can find another extraordinary part of abandoned tractor. This huge and solid piece of steel, left so long ago, has had trees grow in and around it.  A large tree, over 50 years old now grows in a triangle shape through this ancient machinery.  Squeezing into the only shape it could, but bewildering to see. If you do find it you will probably circle it over and over, trying to figure out how it managed to grown its way through.  If surreal and spooky camping, or just getting away from the noise of Whistler interests you, then Parkhurst Ghost Town will thrill you.  With a tent on the edge of the cliff above Green Lake and silence all around, the sunsets are wonderful.  There is a nice stream for water just a two minute walk, back from the cliff.  Also, there is a water pipe sticking out of the ground where a house once stood, with water still flowing out of it like a little fountain.  What a hilarious and great place Parkhurst is.  More hiking info and maps for Parkhurst Ghost Town...

Whistler & Garibaldi Park Hiking Gear Rental

Buying hiking gear is expensive, time consuming and confusing. Let us do the work for you. We have the best quality and highest rated hiking gear on the market, and bring it to you at unbeatable prices. We rent individual items or complete hiking and camping kits. Our complete kits for one or two people consist of everything you need to hike in Whistler except clothes, food and water! Reserve today and hike into paradise! Whether you are short one backpack for your group or need to fully outfit everyone, we have you covered. We rent all the best, highest rated hiking gear you will need to enjoy hiking in and around Whistler and Garibaldi Provincial Park. We are proud to offer the best gear at the best prices. Fully equip yourself with backpack, tent, sleeping bag, sleeping pad, sleeping pillow, complete MSR Windburner cooking stove system(stove, fuel, pot, cup, fork, spoon and coffee press), first aid kit, camp towel, knife and trekking poles. All you have to bring is food, water and clothes! We put all the fun back into hiking and remove the boring and expensive parts. We will deliver your full set of hiking gear, packed and ready to hike. You then hit the trail into paradise for a night.. or two.. or more, call us when you get home and we will pick up everything. You don't have to worry about figuring out what to pack or buying expensive equipment.

We bring the best to you and at bargain prices. Why? Because we love Whistler, love hiking, love camping and we are passionate about hiking in Whistler. We will do everything in our power to make you have the most amazing hiking and camping trip of your life. And it starts with getting you the best gear, prepacked and delivered to you, without you having to spend a fortune buying gear. You can rent individual items or entire hiking/camping kits. Whatever your need, we have what you need to get you on the trail! Have a look at what we have to rent here!

We Rent Complete Kits 

We Rent Backpacks 

We Rent MSR Tents 

We Rent Sleeping Bags 

We Rent Sleeping Pads 

We Rent Camp Stoves 

We Rent Snowshoes
Hike in Whistler & Garibaldi Park

Alexander Falls  

Ancient Cedars  

Black Tusk  

Blackcomb Mountain  

Brandywine Falls  

Brandywine Meadows  

Brew Lake  

Callaghan Lake  

Cheakamus Lake  

Cheakamus River  

Cirque Lake  

Garibaldi Lake 

Garibaldi Park 

Helm Creek 

Joffre Lakes  

Keyhole Hot Springs  

Logger's Lake  

Madeley Lake  

Meager Hot Springs 

Nairn Falls  

Newt Lake 

Panorama Ridge  

Parkhurst Ghost Town  

Rainbow Falls  

Rainbow Lake  

Ring Lake  

Russet Lake  

Sea to Sky Trail 

Skookumchuck Hot Springs  

Sloquet Hot Springs  

Sproatt  

Taylor Meadows  

Train Wreck  

Wedgemount Lake  

Whistler Mountain

January  

February  

March  

April  

May  

June  

July  

August  

September  

October  

November  

December

The Barrier 

Bears  

Cloudraker Skybridge 

Coast Mountains 

Erratic 

The Fissile 

Fitzsimmons Range 

Garibaldi Ranges  

Garibaldi Volcanic Belt 

Green Lake  

Hoary Marmot 

Krummholz 

Mount Garibaldi  

Northair Mine 

Overlord  

Peak2Peak 

Roundhouse 

Rubble Creek 

Spearhead Range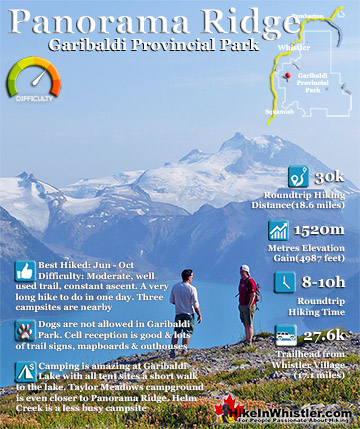 Read more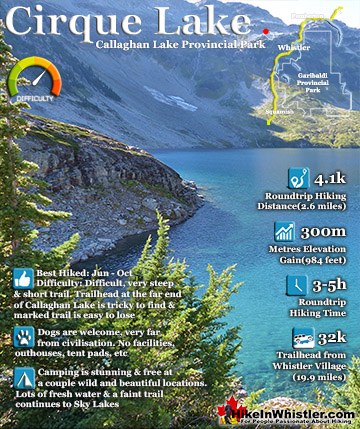 Read more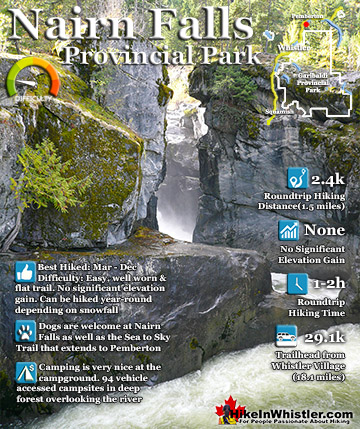 Nairn Falls

is a wonderful, crashing and chaotic waterfall that surrounds you from the deluxe viewing platform that allows you to safely watch it from above.  The beautiful, ...

Read more