Callaghan Lake Provincial Park is a relatively untouched wilderness of rugged mountainous terrain. The valley walls were formed by relatively recent glaciation. Evidence of this can be seen in the considerable glacial till and slide materials visible across the lake. Around the lake you will see talus slopes, flat rock benches, cirques, hanging valleys, tarns, waterfalls and upland plateaus with bogs.
Beautiful drive through Callaghan Valley
Drive right to free campsites & lake shore
Beautiful mountain lake in deep wilderness
Lots of secluded places to paddle to
Cirque Lake trail starts at the far end of the lake
The Callaghan Valley is relatively serene

Plenty of exploring if you have a boat

Snow often blocks access road into June
No marked hiking trails around the lake
Campground is notorious for loud parties
Whistler & Garibaldi Park

Alexander Falls  

Ancient Cedars  

Black Tusk  

Blackcomb Mountain  

Brandywine Falls  

Brandywine Meadows  

Brew Lake  

Callaghan Lake  

Cheakamus Lake  

Cheakamus River  

Cirque Lake  

Garibaldi Lake 

Garibaldi Park 

Helm Creek 

Joffre Lakes  

Keyhole Hot Springs  

Logger's Lake  

Madeley Lake  

Meager Hot Springs 

Nairn Falls  

Newt Lake 

Panorama Ridge  

Parkhurst Ghost Town  

Rainbow Falls  

Rainbow Lake  

Ring Lake  

Russet Lake  

Sea to Sky Trail 

Skookumchuck Hot Springs  

Sloquet Hot Springs  

Sproatt  

Taylor Meadows  

Train Wreck  

Wedgemount Lake  

Whistler Mountain

January 

February 

March 

April 

May 

June 

July 

August 

September 

October 

November 

December
Hiking Gear Rental

Complete Kits 

Backpacks 

MSR Tents 

Sleeping Bags 

Sleeping Pads 

Camp Stoves 

Snowshoes
The wildlife that reside in the area include bobcats, cougars, coyotes, minks, wolverines, wolves, bears, deer, mountain goats and occasionally moose and grizzly bears.  Callaghan Lake is not really a hiking destination but more of a drive to campsite on a beautiful lake, and gateway to some beautiful intermediate hikes.  The campsite is small and looks a bit like a parking lot with about a dozen spots to put up a tent near your vehicle. There is a small boat launch at the campsite and the lake is large and beautiful to paddle. Surrounded by snowy mountains and nice rock outcrops the lake is good for fishing.  The hiking trails are minimal here due to the steepness and deep forest surrounding the lake. From the main parking area some short trails extend in either direction.  The trails to the left go for just a few dozen metres before ending at the lake and river outflow. The trail in the other direction(right if facing the lake from the parking area), takes you around the bottom of the lake and quickly fades into a bit of a bushwhacking route. You can, if you are determined, follow this route around the right side of the lake to its top end and connect to the Cirque Lake trail. The bushwhacking is not that bad and you can stay within sight of the lake the entire time.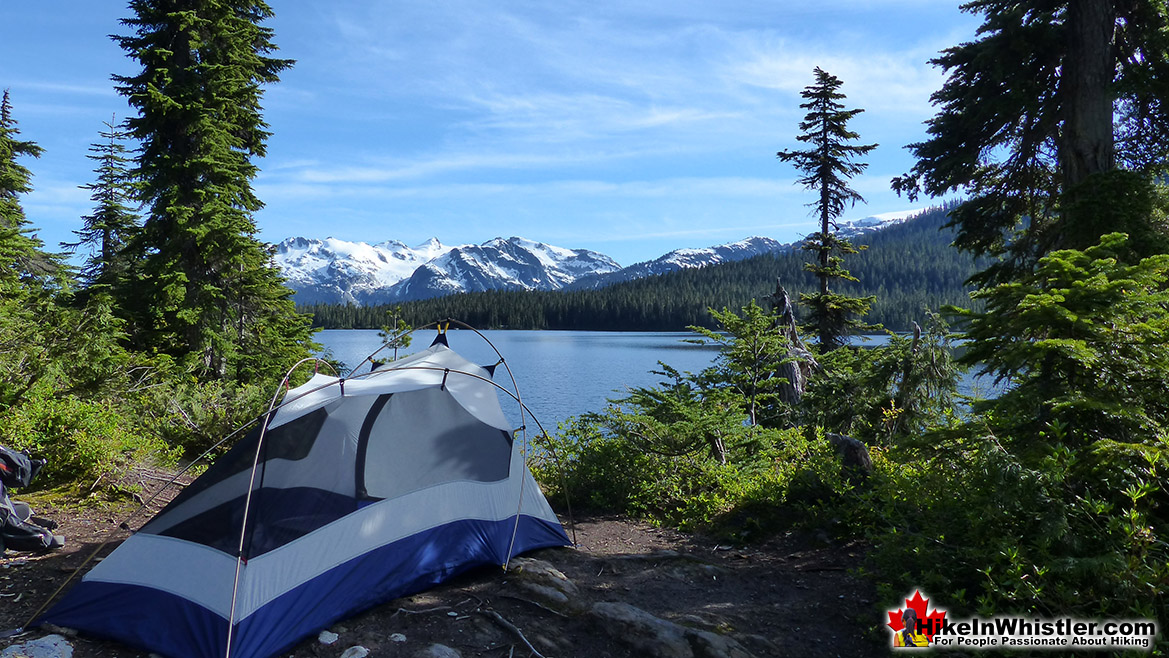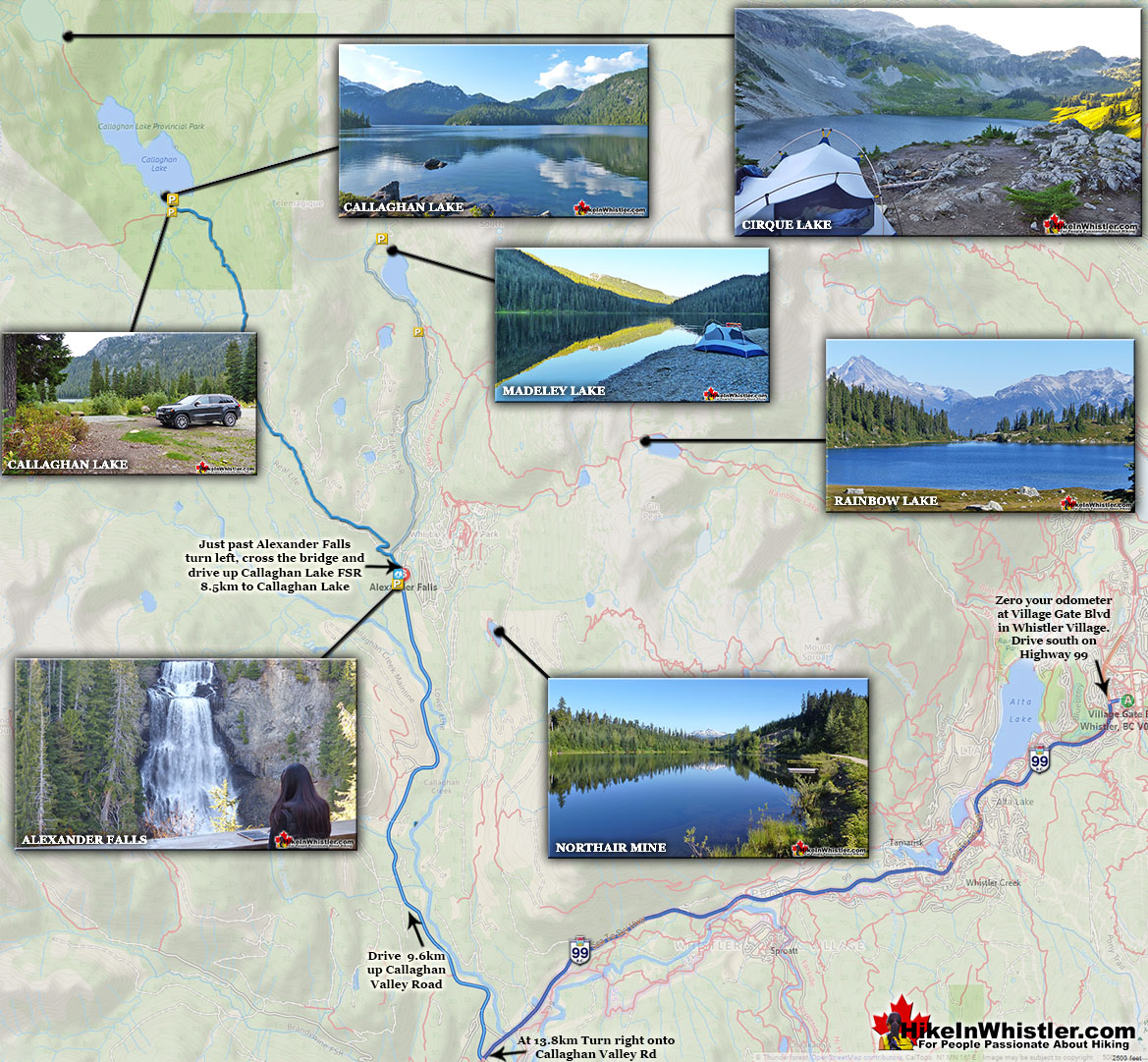 More info for Callaghan Lake Provincial Park.
More Great Hiking Around Callaghan Lake

The Callaghan Valley lays quietly across from Whistler despite being home to some incredible hikes. Ring & Conflict Lake and Cirque Lake are two phenomenal hiking destinations in the valley that few people have even heard of.  Cirque Lake resides high above Callaghan Lake at the end of a very steep, though very short hike that runs startlingly close to the almost vertical falls that empty Cirque Lake.  Ring & Conflict Lake sit high up in the mountains 10k west of Callaghan Lake.  You will never, or at least comparatively rarely see anyone on the trails to Cirque Lake, Ring & Conflict Lake for several reasons.  First is location.  Despite the Callaghan Valley being tremendously beautiful geographically.  The distant mountains are snow covered, even in September.  The lakes are emerald coloured and crystal clear.  The forests are an untouched blanket of beautiful green.  The creeks, rivers and waterfalls are everywhere in your view or if not in view, heard as distant sounds of running water.  Despite this beauty, it seems that the biggest reason for the Callaghan Valley's lack of use as a hiking destination is its location next to Garibaldi Park.  The beautiful and well known park focuses all the throngs of hikers in the justifiably popular areas of Garibaldi Lake, Black Tusk, Taylor Meadows, Wedgemount Lake and Elfin Lakes.  Laying outside this monstrously famous Provincial Park exists the relatively untouched and unknown Callaghan Valley.  The second big reason of course is that the hikes in the Callaghan Valley are unmaintained or at least rarely maintained.  The campsite at Callaghan Lake is maintained to a very high standard, however the trail to Cirque Lake evidently doesn't fall into any park jurisdiction and finding the unmarked trailhead is a challenge.  There are flagging tapes along the trail after the trailhead.  The third reason, at least for Cirque Lake, for being hardly hiked is the fact that the unmarked trailhead starts at the far end of Callaghan Lake.  So you need to canoe or otherwise, boat there.  This added impediment surely contributes to this wonderful trail, continuing to be infrequently hiked.  The fourth, more practical, yet inexplicable reason is that the road to Callaghan Lake Provincial Park is horribly unmaintained.  Obviously grading this poor logging road is expensive, however it is beyond neglected. Boulders, waterbars and potholes exist on this road to such a high degree that the neglect seems malicious. In fact, the moment you leave the deluxe road to the Olympic Nordic Centre the monstrous potholes begin, presumably scaring away any 4x4 lacking tourists Callaghan Lake Provincial Park bound.  The Callaghan Valley gets a lot of drive in traffic since the recent paving of the road and installation of the fabulous Whistler Olympic Park for the 2010 Olympics.  This road is open year-round and in the summer is frequented by bear watchers.  The grass along the road is a favourite for bears and in the summer months consistently ensures at least a couple bears along the route to the Callaghan Valley.  Whistler has quite a few beautiful waterfalls to see.  From Squamish there is Shannon Falls, then Brandywine Falls closer to Whistler. Rainbow Falls in Whistler and Nairn Falls twenty minutes north.  Out of these, Alexander Falls in the Callaghan Valley is both impressively huge and convenient to see.  It is located just before the turnoff to Callaghan Lake.  You can drive to the viewing platform and actually see the falls without leaving your car.

Whistler & Garibaldi Park Hiking Gear Rental

Buying hiking gear is expensive, time consuming and confusing. Let us do the work for you. We have the best quality and highest rated hiking gear on the market, and bring it to you at unbeatable prices. We rent individual items or complete hiking and camping kits. Our complete kits for one or two people consist of everything you need to hike in Whistler except clothes, food and water! Reserve today and hike into paradise! Whether you are short one backpack for your group or need to fully outfit everyone, we have you covered. We rent all the best, highest rated hiking gear you will need to enjoy hiking in and around Whistler and Garibaldi Provincial Park. We are proud to offer the best gear at the best prices. Fully equip yourself with backpack, tent, sleeping bag, sleeping pad, sleeping pillow, complete MSR Windburner cooking stove system(stove, fuel, pot, cup, fork, spoon and coffee press), first aid kit, camp towel, knife and trekking poles. All you have to bring is food, water and clothes! We put all the fun back into hiking and remove the boring and expensive parts. We will deliver your full set of hiking gear, packed and ready to hike. You then hit the trail into paradise for a night.. or two.. or more, call us when you get home and we will pick up everything. You don't have to worry about figuring out what to pack or buying expensive equipment.

We bring the best to you and at bargain prices. Why? Because we love Whistler, love hiking, love camping and we are passionate about hiking in Whistler. We will do everything in our power to make you have the most amazing hiking and camping trip of your life. And it starts with getting you the best gear, prepacked and delivered to you, without you having to spend a fortune buying gear. You can rent individual items or entire hiking/camping kits. Whatever your need, we have what you need to get you on the trail! Have a look at what we have to rent here!

We Rent Complete Kits 

We Rent Backpacks 

We Rent MSR Tents 

We Rent Sleeping Bags 

We Rent Sleeping Pads 

We Rent Camp Stoves 

We Rent Snowshoes
Hike in Whistler & Garibaldi Park

Alexander Falls  

Ancient Cedars  

Black Tusk  

Blackcomb Mountain  

Brandywine Falls  

Brandywine Meadows  

Brew Lake  

Callaghan Lake  

Cheakamus Lake  

Cheakamus River  

Cirque Lake  

Garibaldi Lake 

Garibaldi Park 

Helm Creek 

Joffre Lakes  

Keyhole Hot Springs  

Logger's Lake  

Madeley Lake  

Meager Hot Springs 

Nairn Falls  

Newt Lake 

Panorama Ridge  

Parkhurst Ghost Town  

Rainbow Falls  

Rainbow Lake  

Ring Lake  

Russet Lake  

Sea to Sky Trail 

Skookumchuck Hot Springs  

Sloquet Hot Springs  

Sproatt  

Taylor Meadows  

Train Wreck  

Wedgemount Lake  

Whistler Mountain

January  

February  

March  

April  

May  

June  

July  

August  

September  

October  

November  

December

The Barrier 

Bears  

Cloudraker Skybridge 

Coast Mountains 

Erratic 

The Fissile 

Fitzsimmons Range 

Garibaldi Ranges  

Garibaldi Volcanic Belt 

Green Lake  

Hoary Marmot 

Krummholz 

Mount Garibaldi  

Northair Mine 

Overlord  

Peak2Peak 

Roundhouse 

Rubble Creek 

Spearhead Range