Taylor Meadows is a beautiful campsite and alternative to the much busier and more well known, Garibaldi Lake campsite. Located in between Garibaldi Lake and Black Tusk itself. It is reached from the same trailhead to Garibaldi Lake. There are 40 very nice tent platforms, toilets, a good water source and a food cache, all in the lush forest of Taylor Meadows with the distant view of Black Tusk. 
Idyllic, flower filled valley below Black Tusk
Well organized campground in deep wilderness
Multiple hikes can be done from the meadows
Deluxe tent pads & frequent maintenance
Elevation gain flattens at the meadows
Black Tusk looms beautifully very near
More of a crossroads than a destination
No glacier views like you get at Garibaldi Lake
No convenient lake to swim in
Crowded campsite, fills up quickly
Whistler & Garibaldi Hiking

Alexander Falls  

Ancient Cedars  

Black Tusk  

Blackcomb Mountain  

Brandywine Falls  

Brandywine Meadows  

Brew Lake  

Callaghan Lake  

Cheakamus Lake  

Cheakamus River  

Cirque Lake 

Flank Trail 

Garibaldi Lake 

Garibaldi Park 

Helm Creek  

Jane Lakes 

Joffre Lakes  

Keyhole Hot Springs  

Logger's Lake  

Madeley Lake  

Meager Hot Springs 

Nairn Falls  

Newt Lake 

Panorama Ridge  

Parkhurst Ghost Town  

Rainbow Falls  

Rainbow Lake 

Ring Lake  

Russet Lake  

Sea to Sky Trail 

Skookumchuck Hot Springs  

Sloquet Hot Springs  

Mount Sproatt  

Taylor Meadows  

Train Wreck  

Wedgemount Lake  

Whistler Mountain
Reservations are required for camping at Garibaldi Lake campground and Taylor Meadows campground. Camping fees must be paid before entering the park. Generally Taylor Meadows is not a destination on its own, but part of a circle route.  For example, trailhead to Taylor Meadows, Taylor Meadows to Black Tusk or Panorama Ridge, then return via Garibaldi Lake. This makes for a long hike at 30 kilometres(19 miles), which is why tenting at this perfectly beautiful, and perfectly located Taylor Meadows campsite, is a great idea.  The trail to Taylor Meadows from Rubble Creek is well marked, well used and with plenty of signs and mapboards.  Expect to take two hours to reach Taylor Meadows from the trailhead/parking at Rubble Creek.  Taylor Meadows gets very busy at times as well with 40 campsites.. There are some small rivers close by but no swimming. The draw for Taylor Meadows camping is the wonderful location. It lays in a beautiful forested meadow full of hills and flowers and views of the towering Black Tusk. It has a less crowded feel than Garibaldi Lake does, though bear in mind that even when crowded these campsites don't feel crowded - they are just that organized and thick with trees and hills. Also, if you were to feel crowded, you could easily wander in any of several directions and become immersed in the wonderful forest and beautiful desolation in these vast meadows.  The Helm Creek campground across the valley from Taylor Meadows is smaller, however it is in a beautiful setting on the quiet side of Black Tusk, though 1.5 hours away from the approaches to Black Tusk. Helm Creek is another beautiful campground. Most of the 9 campsites are next to the idyllic and cute Helm Creek. The main draw of this campsite is that it is on the quieter side of this area and can be approached from Cheakamus Lake.  The trails through Garibaldi Park are in such a vast area that suitable places far into the wilderness away from anyone, to put up a tent are limitless. People bivouac on top of Black Tusk, put up a tent on the far slopes of Panorama Ridge, or tent in any number of other places. Being located in British Columbia means that you are never far from a creek, river or lake wherever you hike in Garibaldi Park.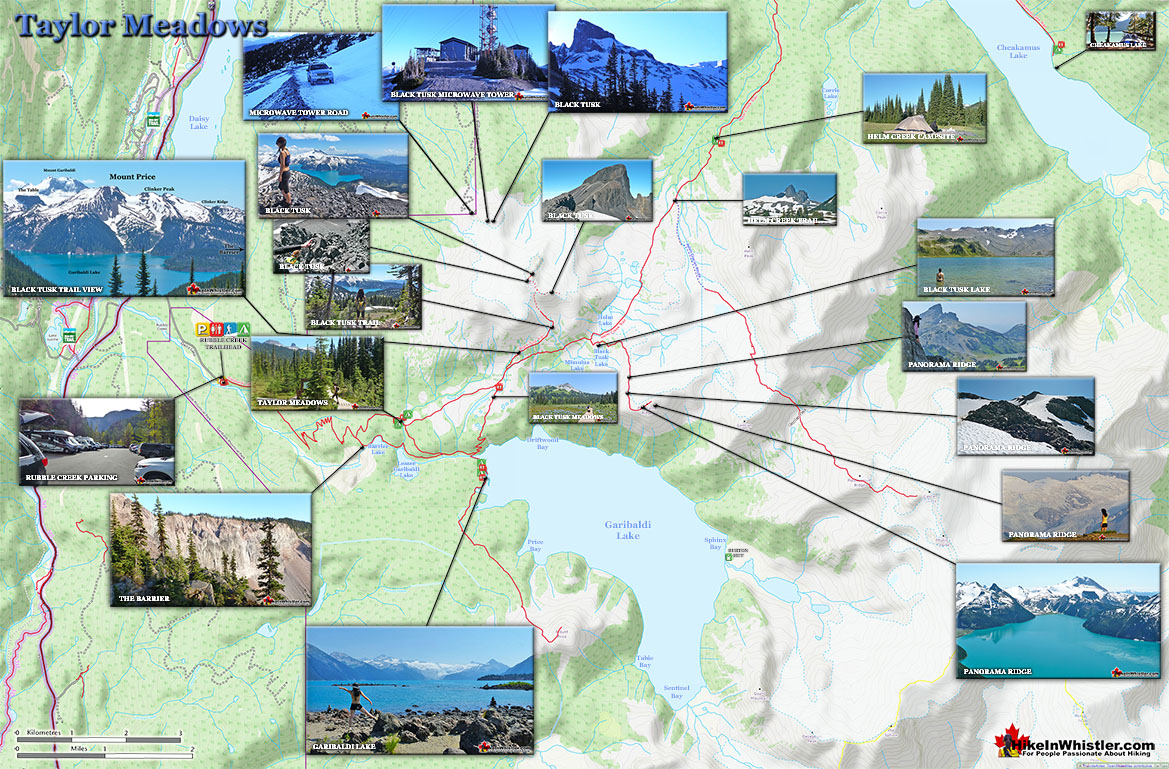 Beautiful Taylor Meadows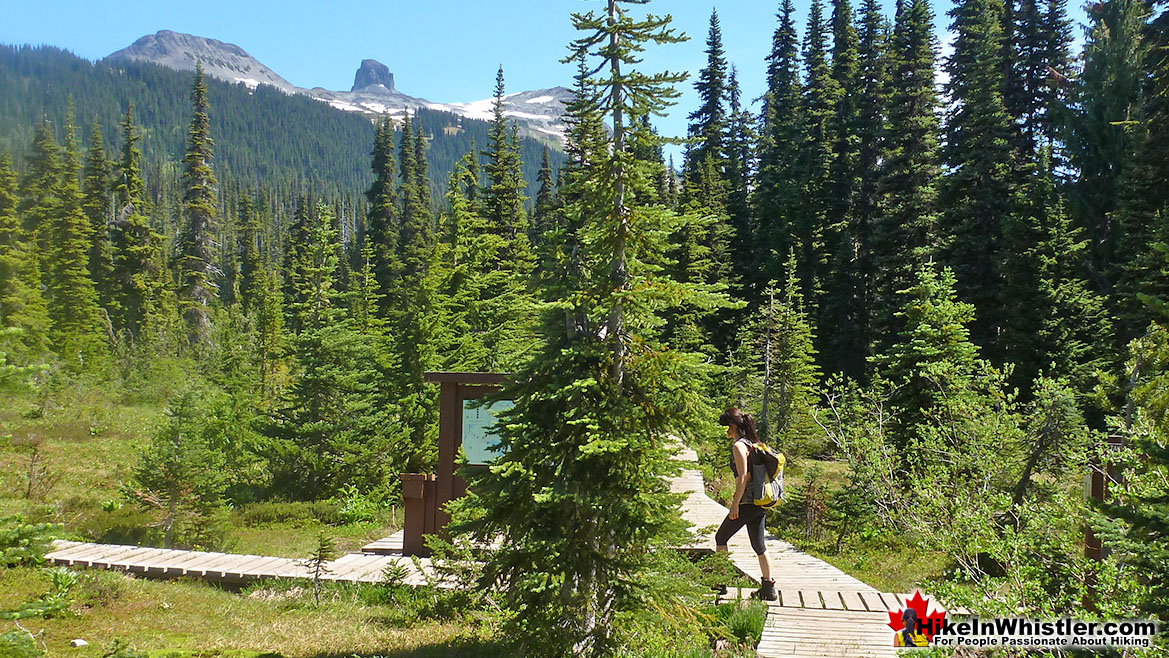 Taylor Meadows Black Tusk View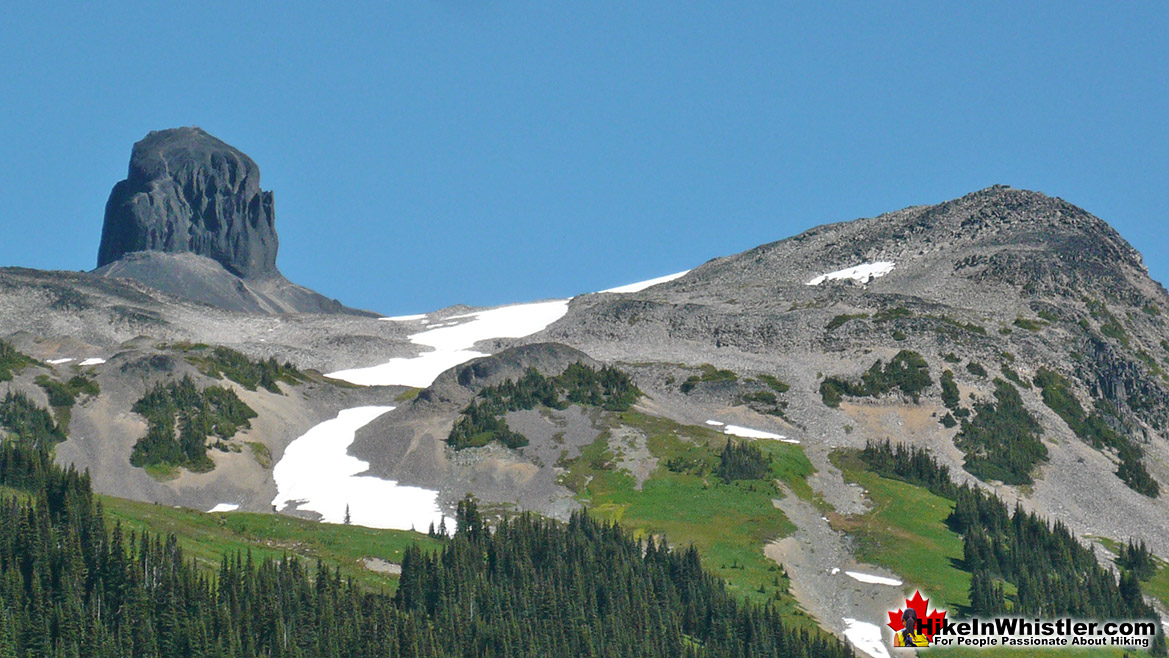 Explore Whistler Hiking Trails!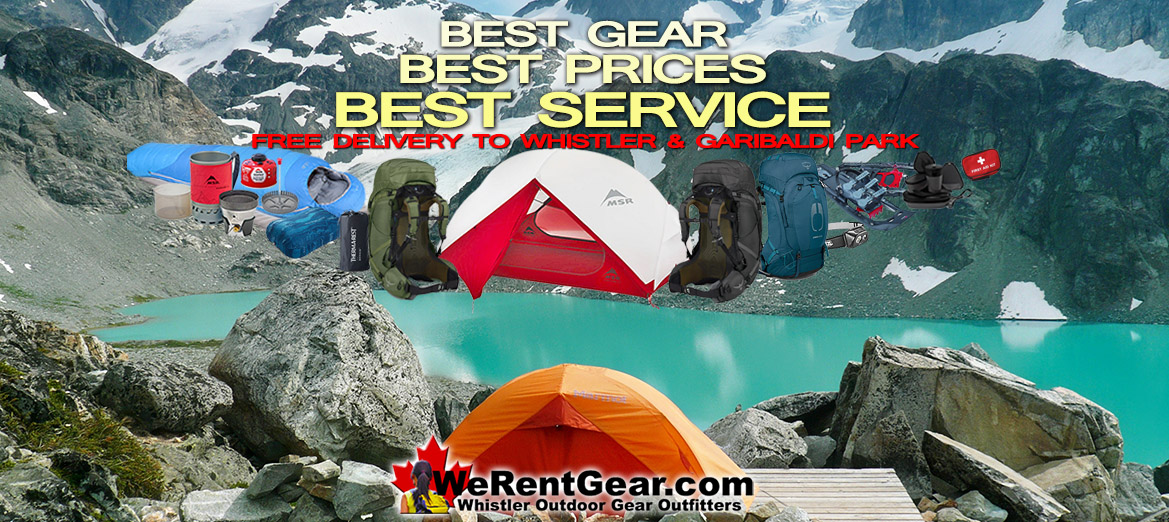 Explore BC Hiking Trails!