Ancient Cedars is a nice, easy/moderate 2.5 kilometre(1.6 mile) hiking trail on the far side of Cougar Mountain, just 13.1 kilometres north of Whistler Village. A small, untouched grove of huge western red-cedars hidden high up in the mountains. Often overlooked by hikers, certainly there are other groves of massive cedars found in other Whistler area hikes.
Easy & pretty trail to impressively huge & ancient trees

A quick, far feeling escape from civilisation
A relatively quiet hiking trail that is dog friendly!
Serene backcountry, drive-in camping for free
Lots of hidden & amazing tent sites

Newt Lake is wild, hidden & serene

Abandoned cabin at Showh Lakes

Lots of mosquitoes in June to August
ATV's tours in the area are noisy

The access logging road is brutally potholed

Whistler & Garibaldi Hiking

Alexander Falls  

Ancient Cedars  

Black Tusk  

Blackcomb Mountain  

Brandywine Falls  

Brandywine Meadows  

Brew Lake  

Callaghan Lake  

Cheakamus Lake  

Cheakamus River  

Cirque Lake 

Flank Trail 

Garibaldi Lake 

Garibaldi Park 

Helm Creek  

Jane Lakes 

Joffre Lakes  

Keyhole Hot Springs  

Logger's Lake  

Madeley Lake  

Meager Hot Springs 

Nairn Falls  

Newt Lake 

Panorama Ridge  

Parkhurst Ghost Town  

Rainbow Falls  

Rainbow Lake 

Ring Lake  

Russet Lake  

Sea to Sky Trail 

Skookumchuck Hot Springs  

Sloquet Hot Springs  

Mount Sproatt  

Taylor Meadows  

Train Wreck  

Wedgemount Lake  

Whistler Mountain
If you hike the short 3 kilometre trail to Cheakamus Lake and you will marvel at the size, frequency and wonderful aroma of these massive and numerous giant cedars.  The Wedgemount Lake trail also has some majestic cedars along the hike. You can even walk through an impressive grove of huge cedars on the Valley Trail at the north end of the Whistler Golf Club. None of them compare, however, to the giants at Ancient Cedars. They are extraordinarily huge and some are estimated to be a thousand years old.  Most of these giants stretch toward the sky, but some lay along the forest floor giving you an even closer grasp of their size. If you bring kids along, they will disappear into the endless, natural playground.  Ancient Cedars is great to visit in the spring and fall months as you rarely see people and never feel mosquitoes. The problem is the trailhead is up a long way into the mountains and snow at this elevation persists until April and sometimes May. Snow, along with the steep access road make driving to the trailhead impossible for most cars until it disappears. Summer is great for seeing Ancient Cedars and Showh Lakes in particular  If you have a 4x4, you can drive right to the shores of Showh Lakes and crack a beer with little chance of humanity disturbing you. If you don't have a 4x4, you can make it to a short walk to the lakes and if you have some sort of inflatable boat or canoe, you will find yourself in paradise. Floating in a mirror under a blue sky, surrounded by deep and wild forest. The trailhead to Ancient Cedars is just a short drive north of Whistler. Just past Green Lake on Highway 99, you turn left on Cougar Mountain Rd and drive 4.5 kilometres up a bumpy logging road. As logging roads go it is not bad.  If you are driving a car you should be OK as long as you take it slow. The Ancient Cedars trail is well marked and well worn and only gradually uphill for the 2.5 kilometre hike, trailhead to ancient forest. At the Ancient Cedars forest there is a short circle trail that takes you throughout the giants then leads you back to the main trail for the return journey.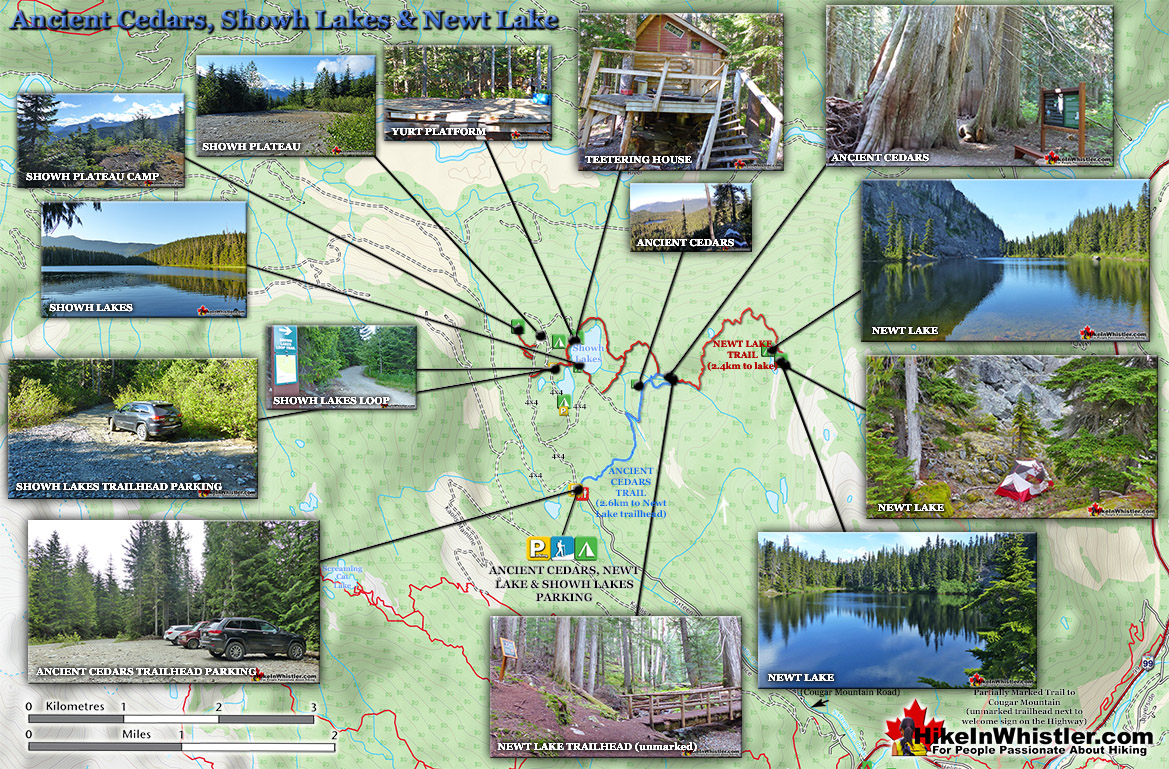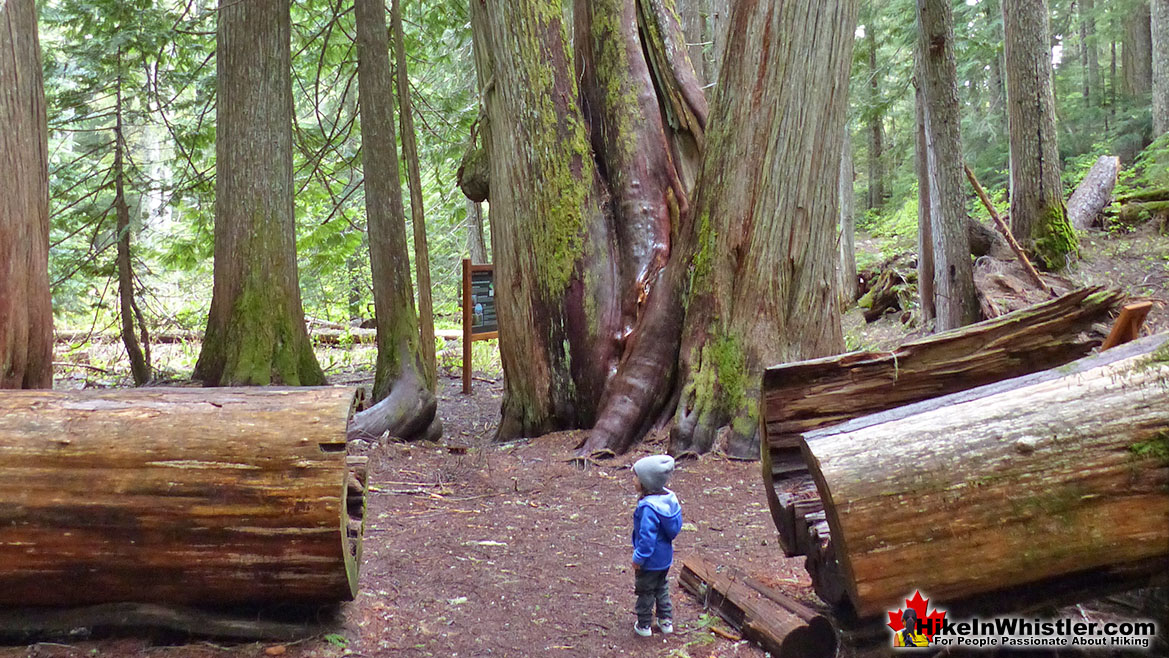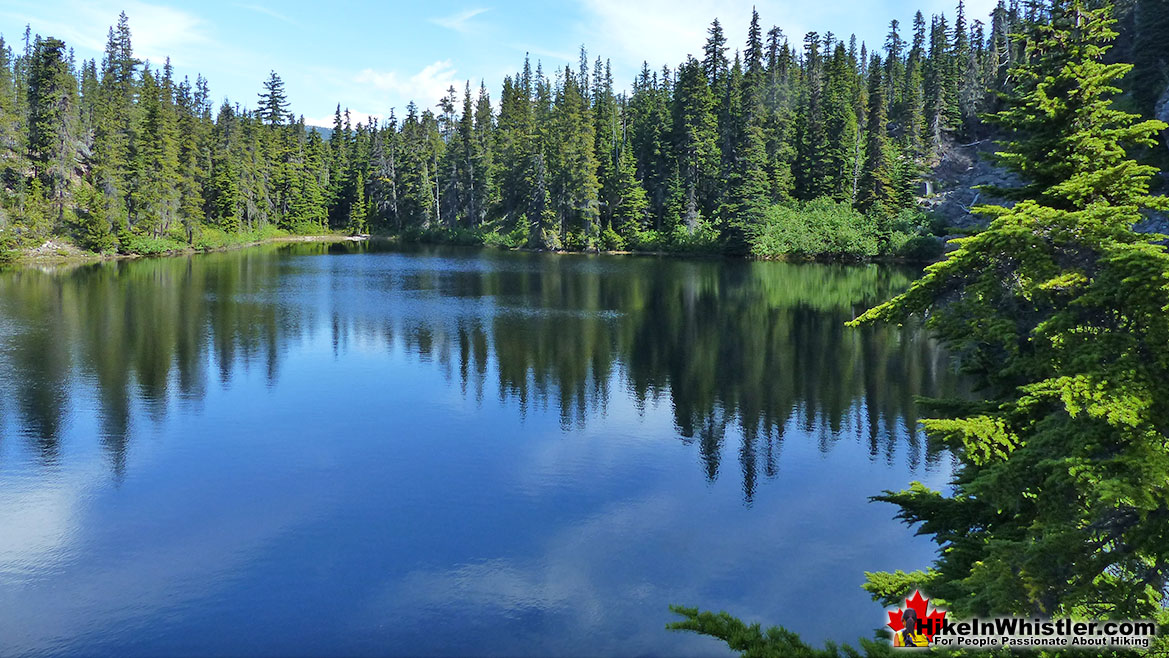 History of Ancient Cedars

Back in the late 1980's workers building a bike trail on the lower part of Cougar Mountain discovered a small grove of stunningly enormous Western Red Cedars.  Several noted at the time were over 10 feet in diameter.  Core samples were taken and indicated that the trees were likely close to 1000 years old. The Douglas Firs in the grove were similarly ancient and estimated to be no less than 650 years old.  Suddenly it became evident that word of these monsters would reach the logging companies and the magnificent ancient grove would be turned into lumber. On March 25th, 1988 a meeting was held in Squamish between the Forest Service(logging interests) and the Pocket Wilderness Coalition(a group dedicated to preserving this ancient forest).  The PWC came with two requests: to protect the Cougar Mountain and Rainbow Mountain areas and prevent logging activity, road building and other development on these two mountains.  Predictably the local Forest Service Operations Manager, Don Kinnear refused.  Kinnear went on to inform the PWC that logging permits have already been issued for Cougar Mountain and logging would commence as soon as weather permits.  Worried that Mr Kinnear would speed up logging in the area in order to destroy the ancient forest and therefore avoid further opposition, the PWC asked to be notified when new logging plans were submitted to the Forest Service.  Kinnear refused, and some argued that this went against his professed goal of keeping the public involved.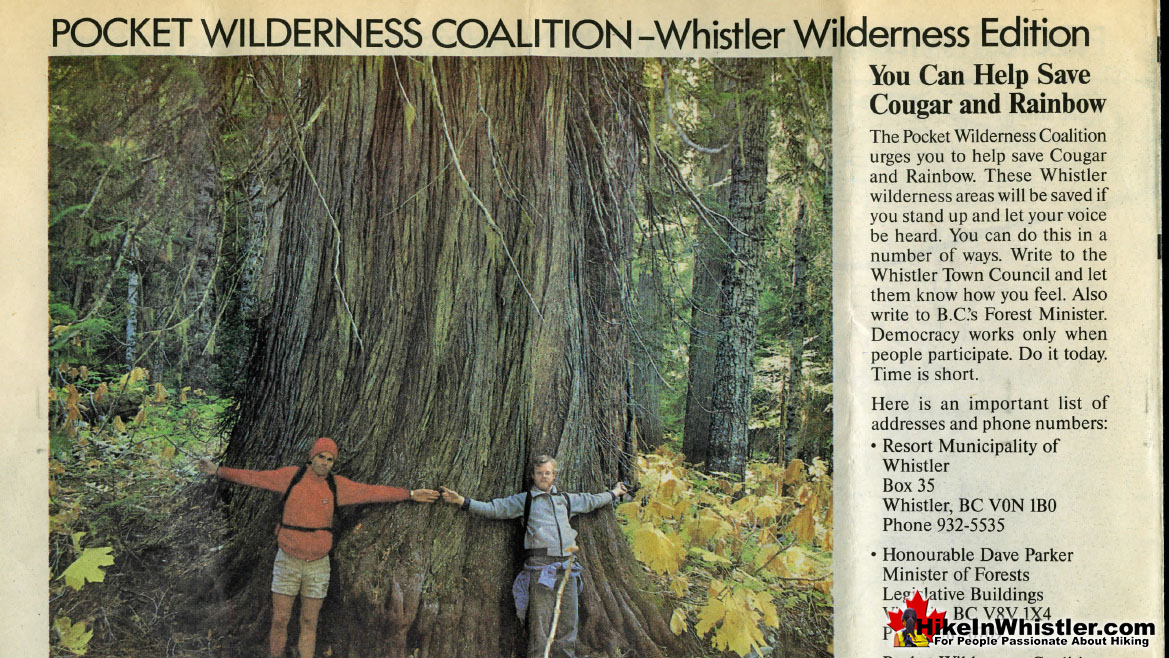 We can be grateful to the PWC's relentless effort.  Against all odds it seems, they prevailed.  Cougar Mountain, with Ancient Cedars nestled high up in the beautiful wilderness, remains today.  The victory was partly owing to public perceptions of usefulness and profitability from tourism from natural wonders, such as this forest.  Locals in Whistler recount the steady growth of tourism operators around Whistler's third mountain.  So much so, that today the area is home to Ziplines, tree-top adventures, ATVing, snowmobiling, as well as criss-crossed by dozens of hiking and biking trails.  All this development and Ancient Cedars has survived.  The bewilderingly huge ancient cedars are protected and we can watch these monsters continue to grow for generations to come.
Camping & Bivouacking at Ancient Cedars

There are no dedicated camping options in and around Ancient Cedars, however you can find some very rugged areas to put up a tent well away from the Ancient Cedars trail.  The tent shown here is just a few dozen metres off of the main trail and has an amazing view over Showh Lakes.  Down at Showh Lakes you will find several good spaces for a tent.. but it takes a little looking, and none are exceptional.  The terrain is too irregular and just not ideal for camping, however there is a good clearing in the forest just before you arrive at the far lake.  What the lakes lack in flat, tent-friendly ground, they more than make up for with amazing wilderness serenity.  With the exception of seasonal engine sounds from atv's or snowmobiles, you will rarely see or hear any hint of mankind.  If you are a fan of taking your 4x4 to your campsite, Showh Lakes will suit you as well.  Depending on your 4x4, you may be able to drive right to where you plan to camp.  If not, you will just have to park a 3 minute walk from where you camp.  Either way, it is a very convenient and unexpectedly remote feeling, wilderness setting to camp for free, so close to Whistler.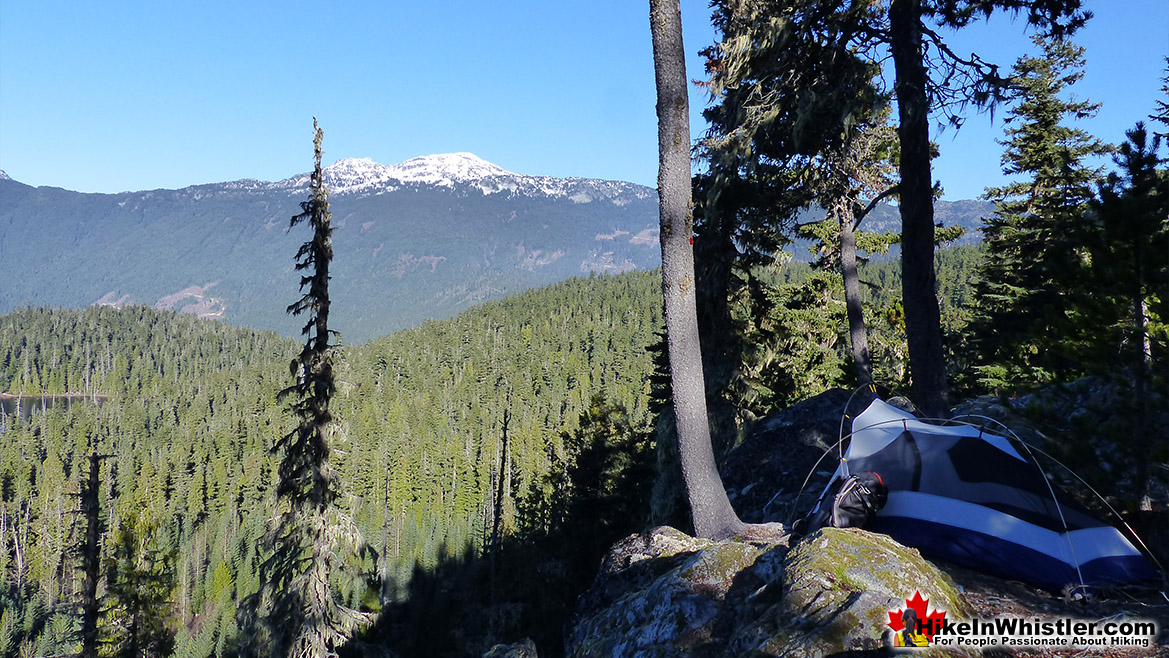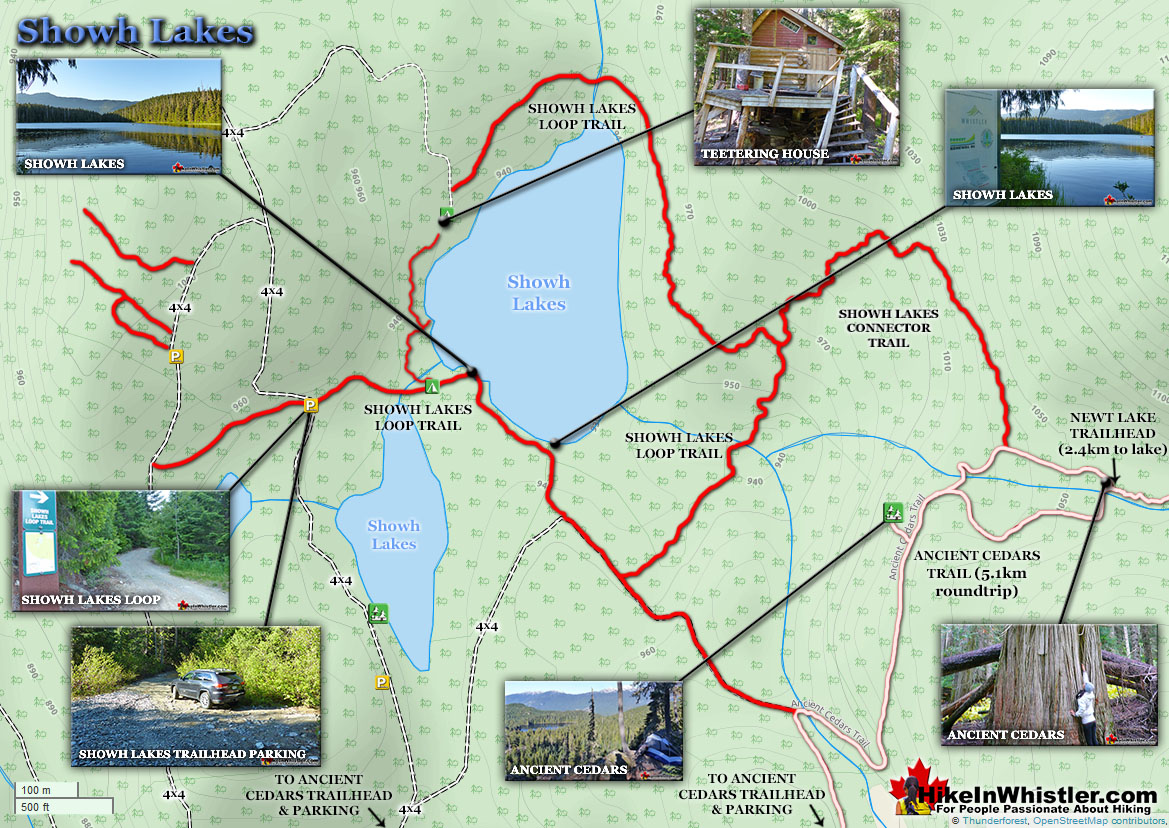 Newt Lake is an excellent option to camp for free near Ancient Cedars.  The unmarked trailhead is found at the end of the Ancient Cedars trail next to the far bridge.  The trail is tough, steep, wild, but short at just 2.4 kilometres.  Newt Lake is wild and beautiful, though finding a flat spot for a tent takes a bit of searching.  More info, details and directions to Newt Lake here...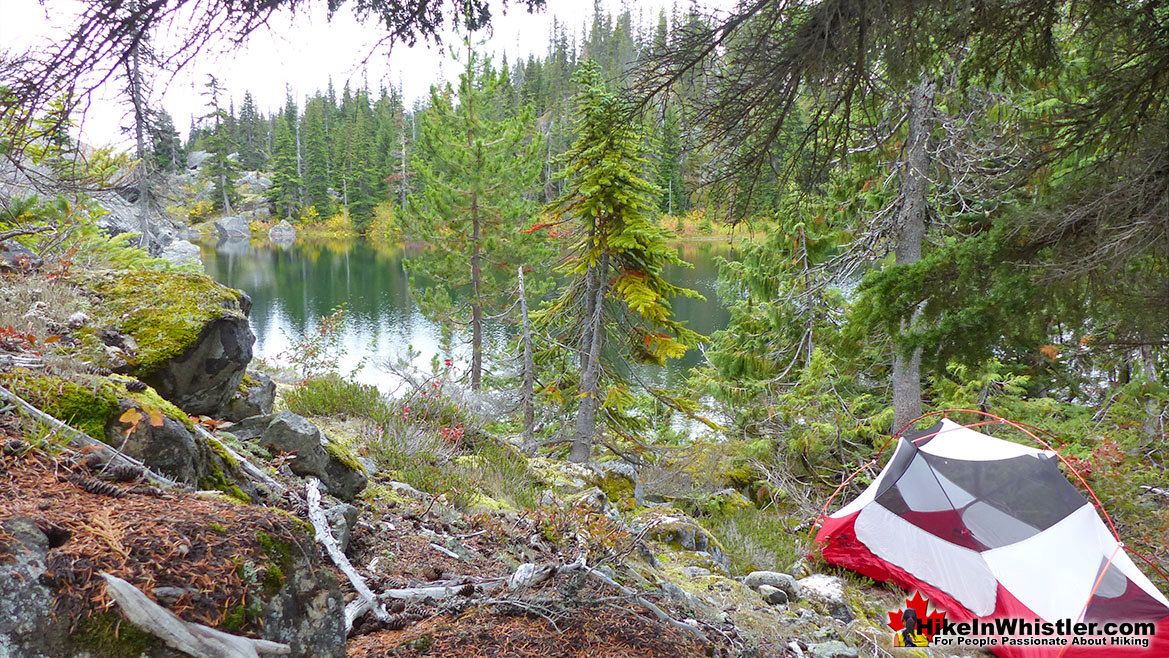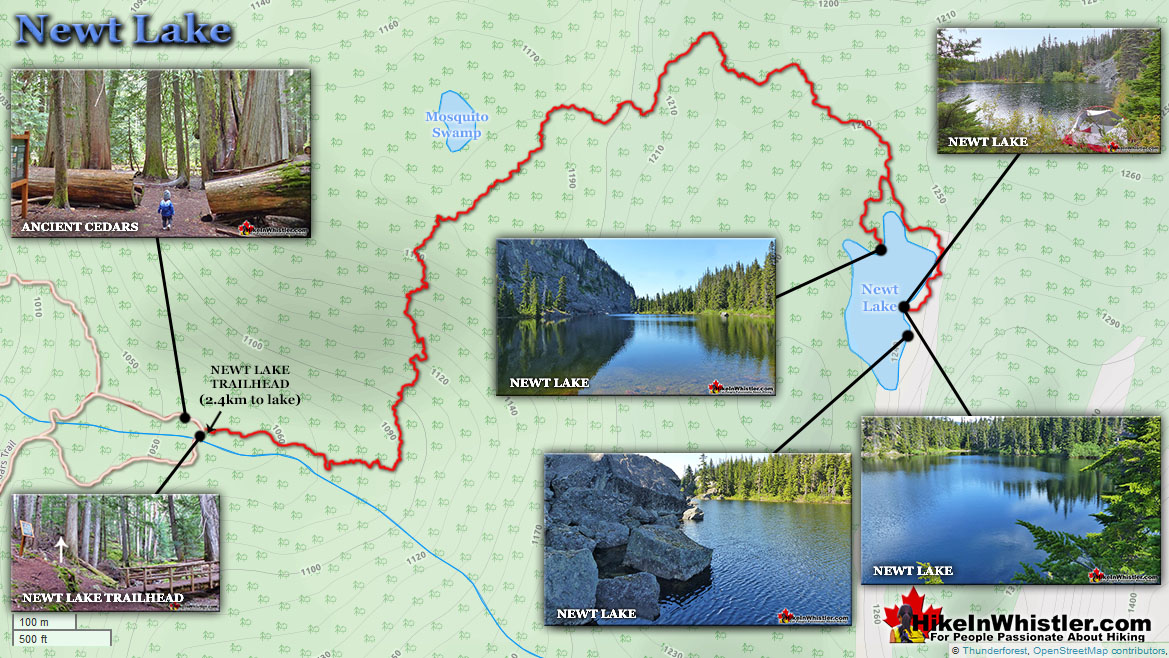 More Great Hiking Around Ancient Cedars

Ancient Cedars is north of Whistler Village and sits effectively at one end of the mighty Rainbow-Sproatt Flank Trail(aka the Flank Trail). This wonderful trail flanks Whistler Valley for several kilometres. On the Flank Trail you can hike or bike from Ancient Cedars all the way to Whistler Olympic Park in the Callaghan Valley. Along this route, you will see few signs of humanity, except far below and across the valley. Known for its amazing vantage point to see Whistler Mountain and Blackcomb Mountain, this wild and winding trail was once an access road for logging. Often the Flank Trail is a narrow and winding trail, and other parts are wide and flat as a road. The Flank Trail passes over the Rainbow Trail, which is another great trail that extends to the Callaghan Valley, emerging at the idyllic Madeley Lake. The Callaghan Valley is also home to one side of the Sproatt alpine trail network, Northair Mine, Alexander Falls, Ring Lake, Callaghan Lake, Cirque Lake. Further down the valley you will come to Brandywine Meadows and Brew Lake. The Callaghan Valley is the wild and untamed side of Whistler valley, compared with the busy and rule-driven Whistler Mountain, Blackcomb Mountain and Garibaldi Park trails.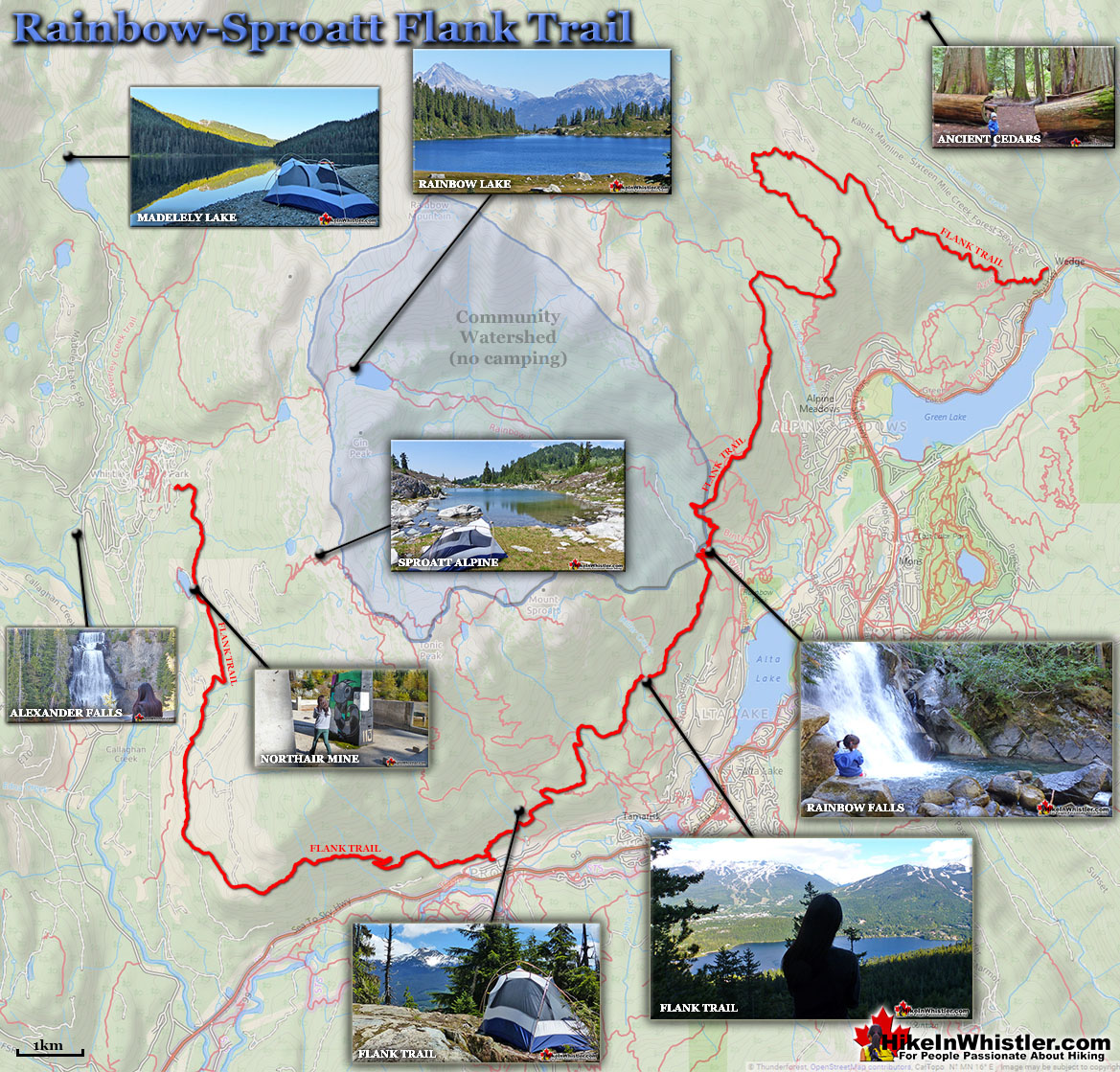 Click here for more Ancient Cedars hiking information.

Whistler & Garibaldi Park Hiking Gear Rental

Buying hiking gear is expensive, time consuming and confusing. Let us do the work for you. We have the best quality and highest rated hiking gear on the market, and bring it to you at unbeatable prices. We rent individual items or complete hiking and camping kits. Our complete kits for one or two people consist of everything you need to hike in Whistler except clothes, food and water! Reserve today and hike into paradise! Whether you are short one backpack for your group or need to fully outfit everyone, we have you covered. We rent all the best, highest rated hiking gear you will need to enjoy hiking in and around Whistler and Garibaldi Provincial Park. We are proud to offer the best gear at the best prices. Fully equip yourself with backpack, tent, sleeping bag, sleeping pad, sleeping pillow, complete MSR Windburner cooking stove system(stove, fuel, pot, cup, fork, spoon and coffee press), first aid kit, camp towel, knife and trekking poles. All you have to bring is food, water and clothes! We put all the fun back into hiking and remove the boring and expensive parts. We will deliver your full set of hiking gear, packed and ready to hike. You then hit the trail into paradise for a night.. or two.. or more, call us when you get home and we will pick up everything. You don't have to worry about figuring out what to pack or buying expensive equipment.

We bring the best to you and at bargain prices. Why? Because we love Whistler, love hiking, love camping and we are passionate about hiking in Whistler. We will do everything in our power to make you have the most amazing hiking and camping trip of your life. And it starts with getting you the best gear, prepacked and delivered to you, without you having to spend a fortune buying gear. You can rent individual items or entire hiking/camping kits. Whatever your need, we have what you need to get you on the trail! Have a look at what we have to rent here!
Searching Availability...