The three Joffre Lakes are some of the most stunning lakes you are likely to ever see. Each lake gets progressively more beautiful and impossibly turquoise from one to the next.  By the third lake the intense colour is breathtaking. The mighty Matier Glacier rises above and beyond the third lake, making the experience even more spectacular with such a looming presence.  
Very scenic drive to get there from Whistler
Shorter & less challenging than most other trails
Three amazing lakes to marvel at their colour
Dog friendly, unlike most Whistler area trails
The campsite is in a very natural setting, few signs
Becomes free of snow & hikeable as early as April
Alpine terrain extends in many directions

One tent site is on an island!

Stunning glacier looms above the campsite

Overcrowded much of the summer with hikers
Whistler & Garibaldi Park

Alexander Falls  

Ancient Cedars  

Black Tusk  

Blackcomb Mountain  

Brandywine Falls  

Brandywine Meadows  

Brew Lake  

Callaghan Lake  

Cheakamus Lake  

Cheakamus River  

Cirque Lake  

Garibaldi Lake 

Garibaldi Park 

Helm Creek 

Joffre Lakes  

Keyhole Hot Springs  

Logger's Lake  

Madeley Lake  

Meager Hot Springs 

Nairn Falls  

Newt Lake 

Panorama Ridge  

Parkhurst Ghost Town  

Rainbow Falls  

Rainbow Lake  

Ring Lake  

Russet Lake  

Sea to Sky Trail 

Skookumchuck Hot Springs  

Sloquet Hot Springs  

Sproatt  

Taylor Meadows  

Train Wreck  

Wedgemount Lake  

Whistler Mountain

January 

February 

March 

April 

May 

June 

July 

August 

September 

October 

November 

December
Hiking Gear Rental

Complete Kits 

Backpacks 

MSR Tents 

Sleeping Bags 

Sleeping Pads 

Camp Stoves 

Snowshoes
The Joffre Lakes trail is rough and tricky in some parts, but not terribly difficult. It is also short compared to Whistler area trails at just 5.5 kilometres(one way).  Hiking at a moderate pace, give yourself 1.5 - 2 hours to get to the third lake and campsites. Lots of trail construction work has been done in the past few years as a new trail has replaced much of the old trail. The old boulder section between the lower and middle lakes has now been covered with a new dirt trail.  Joffre Lakes Provincial Park is centred around the three Joffre Lakes. All of them are beautiful on their own and each more beautiful than the last. The amazing turquoise colours of the lakes are caused by light reflecting off of the particles of glacial silt suspended in the water. On the trail you will immediately catch glimpses of the massive glaciers that feed these gorgeous lakes.
In the winter, with the lakes frozen and the trees weighed down with snow, Joffre Lakes takes on a serene beauty, with the low sun cutting through the trees and the forest brightly reflecting. The third Joffre Lake ends in a U-shaped valley where you will find the far side of the lake towering with glaciers relentlessly crushing down on the lake.  The sun fills the valley and the silence is wonderful.  At the upper, or third Joffre Lake, there are several nice, though rugged places to camp. In a hilly, lightly forested section of paradise in between the impossibly turquoise Joffre Lake and the abruptly monstrous Matier Glacier descending from Mount Matier beyond. A waterfall cascades near the camping area. The campsite has one nice and well maintained outhouse.
You will notice several clearings for tents in the gravel and boulder strewn landscape(see the map below). Each one barely enough room for a tent, but the ruggedness adds to the beauty of Joffre Lakes. The park is wonderfully untouched by people. With the exception of the trail, some signs, outhouse and bridges, Joffre Lakes Provincial Park is beautifully wild and picturesque. There is also a prominent helicopter pad close by as a reminder of how many injuries occur on the trail and the accessible mountains and glaciers around. There are in fact four distinct glaciers close by, Matier, Anniversary, Stonecrop and Tszil. Beyond Mount Matier there are two more, Twin One and Hartzell.  The Joffre Lakes trail is surprisingly busy most of the summer, which is a testament to how extraordinarily beautiful the lakes are, and how relatively easy the hike is. Unlike Wedgemount Lake, Black Tusk or Cirque Lake, which are to difficult for many hikers, Joffre Lakes is comparatively easy and certainly relaxing. Many hikes in the nearby Garibaldi Park are not family friendly and easy, but Joffre Lakes is.  Certainly the scenic drive to the trailhead from Whistler is part of the fun.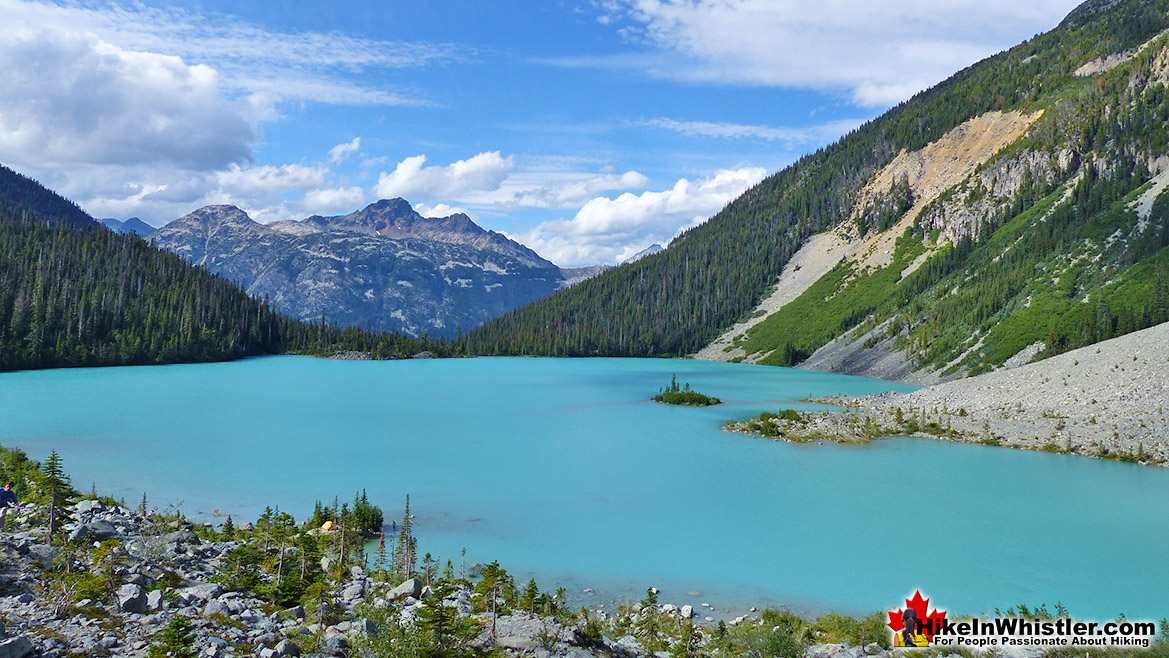 More info for Joffre Lakes Provincial Park...

Whistler & Garibaldi Park Hiking Gear Rental

Buying hiking gear is expensive, time consuming and confusing. Let us do the work for you. We have the best quality and highest rated hiking gear on the market, and bring it to you at unbeatable prices. We rent individual items or complete hiking and camping kits. Our complete kits for one or two people consist of everything you need to hike in Whistler except clothes, food and water! Reserve today and hike into paradise! Whether you are short one backpack for your group or need to fully outfit everyone, we have you covered. We rent all the best, highest rated hiking gear you will need to enjoy hiking in and around Whistler and Garibaldi Provincial Park. We are proud to offer the best gear at the best prices. Fully equip yourself with backpack, tent, sleeping bag, sleeping pad, sleeping pillow, complete MSR Windburner cooking stove system(stove, fuel, pot, cup, fork, spoon and coffee press), first aid kit, camp towel, knife and trekking poles. All you have to bring is food, water and clothes! We put all the fun back into hiking and remove the boring and expensive parts. We will deliver your full set of hiking gear, packed and ready to hike. You then hit the trail into paradise for a night.. or two.. or more, call us when you get home and we will pick up everything. You don't have to worry about figuring out what to pack or buying expensive equipment.

We bring the best to you and at bargain prices. Why? Because we love Whistler, love hiking, love camping and we are passionate about hiking in Whistler. We will do everything in our power to make you have the most amazing hiking and camping trip of your life. And it starts with getting you the best gear, prepacked and delivered to you, without you having to spend a fortune buying gear. You can rent individual items or entire hiking/camping kits. Whatever your need, we have what you need to get you on the trail! Have a look at what we have to rent here!

We Rent Complete Kits 

We Rent Backpacks 

We Rent MSR Tents 

We Rent Sleeping Bags 

We Rent Sleeping Pads 

We Rent Camp Stoves 

We Rent Snowshoes
Hike in Whistler & Garibaldi Park

Alexander Falls  

Ancient Cedars  

Black Tusk  

Blackcomb Mountain  

Brandywine Falls  

Brandywine Meadows  

Brew Lake  

Callaghan Lake  

Cheakamus Lake  

Cheakamus River  

Cirque Lake  

Garibaldi Lake 

Garibaldi Park 

Helm Creek 

Joffre Lakes  

Keyhole Hot Springs  

Logger's Lake  

Madeley Lake  

Meager Hot Springs 

Nairn Falls  

Newt Lake 

Panorama Ridge  

Parkhurst Ghost Town  

Rainbow Falls  

Rainbow Lake  

Ring Lake  

Russet Lake  

Sea to Sky Trail 

Skookumchuck Hot Springs  

Sloquet Hot Springs  

Sproatt  

Taylor Meadows  

Train Wreck  

Wedgemount Lake  

Whistler Mountain

January  

February  

March  

April  

May  

June  

July  

August  

September  

October  

November  

December
Whistler Hiking Glossary

Ablation Zone 

Accumulation Zone  

Adit Lakes 

Aiguille 

Alpine Zone  

Arête  

ARRTI 

Armchair Glacier 

The Barrier  

Battleship Islands 

Bears  

Bench  

Bergschrund 

Bivouac  

Bungee Bridge 

Cairn/Inukshuk  

Carter,Neal 

Chimney 

Cirque 

Cloudraker  

Coast Douglas-fir 

Coast Mountains  

Col  

Columnar Jointing 

Cordilleran 

Cornice  

Corrie Lake 

Crevasse  

Dalgleish,Alec 

Deadfall  

Emerald Forest 

Erratic 

The Fissile  

Fitzsimmons Creek 

Fitzsimmons Range  

Fyles,Tom 

Garibaldi Ranges 

Garibaldi Volcanic Belt 

Gemel  

Glacier Window 

Green Lake 

Hoary Marmot 

Krummholz  

Lithophyte  

Lodgepole Pine 

Moraine 

Mt Garibaldi 

Mt James Turner  

Mountain Hemlock 

Northair Mine  

North Arm 

Nunatuk  

Nurse Stump 

Overlord  

Pacific Yew 

Paper Birch 

Peak 2 Peak  

Rainbow Lodge 

Roundhouse 

Rubble Creek  

Scree 

Spearhead Range 

Tarn 

The Table  

Townsend,Charles 

Usnea  

Waterbar  

Western Hemlock 

Western Redcedar  

Whistler Spruce 

Winram,Mills