Nairn Falls is a wonderful, crashing and chaotic waterfall that surrounds you from the deluxe viewing platform that allows you to safely watch it from above.  The beautiful, green water rushes through the deep and angular channels of rock. Nairn Falls Provincial Park is centred around a very large campground and the short, 1.2 kilometre trail to the falls.
Very nice trail along the river to the falls
Informative signs at the falls explaining how it formed
Accessible year-round, even during snowy days
Campground is elaborate and well laid out
Easy, family friendly hiking trail

Very dog friendly trails

Campsites are crowded together
Not too much to see except the falls

Campground gets very busy

Fun to swim near the campsite, but cold!

Whistler & Garibaldi Park

Alexander Falls  

Ancient Cedars  

Black Tusk  

Blackcomb Mountain  

Brandywine Falls  

Brandywine Meadows  

Brew Lake  

Callaghan Lake  

Cheakamus Lake  

Cheakamus River  

Cirque Lake  

Garibaldi Lake 

Garibaldi Park 

Helm Creek 

Joffre Lakes  

Keyhole Hot Springs  

Logger's Lake  

Madeley Lake  

Meager Hot Springs 

Nairn Falls  

Newt Lake 

Panorama Ridge  

Parkhurst Ghost Town  

Rainbow Falls  

Rainbow Lake  

Ring Lake  

Russet Lake  

Sea to Sky Trail 

Skookumchuck Hot Springs  

Sloquet Hot Springs  

Sproatt  

Taylor Meadows  

Train Wreck  

Wedgemount Lake  

Whistler Mountain

January 

February 

March 

April 

May 

June 

July 

August 

September 

October 

November 

December
Hiking Gear Rental

Complete Kits 

Backpacks 

MSR Tents 

Sleeping Bags 

Sleeping Pads 

Camp Stoves 

Snowshoes
Though the BC Parks website describes Nairn Falls as 60 metres high, the description is a bit misleading. You won't find a marvellously abrupt drop into a deep chasm like to see with Brandywine Falls. Nairn Falls has a very different shape to it, but is every bit as interesting and scenic. More so, in fact, due to the interesting geological information you find at the main viewpoint over the falls.  Nairn Falls crash through various narrow and wide areas, and though the cumulative drop is 60 metres, what you see is a series of 10 to 20 metre falls through a deep, zig-zagging canyon. There are very nicely constructed railings, fences and viewing areas as well as a walkway that guides you to the best views.  With such abruptly steep rock all around, the area would be potentially dangerous. Evidently there have been deaths here before. A cross, reverently placed across the chasm from the viewing platform, indicates of some tragic event. Nairn Falls Provincial Park is located just a short 20 to 30 minute drive north of Whistler.  From the large parking lot the well marked trail runs along the Green River for 1.2k to Nairn Falls.  The trail is very easy and is hike-able year-round.  Though considerable snow falls in the winter months here, the popular trail remains easy to follow, and snowshoes are usually not needed.
Most visitors to Nairn Falls Provincial Park just see Nairn Falls, however, to the left, beyond the campsites the Green River is beautiful.  A short trail takes you down to a wide bend in the river and you find yourself in what looks like a large beach. It is a hidden bit of paradise with the crystal clear, green water flowing over polished rocks. The whole are is in almost constant sunlight despite being in the middle of the forest. On warm, summer days you will find people swimming, sipping beers on the rock cliffs across the river and generally having an amazing time in this usually forgotten corner of the park.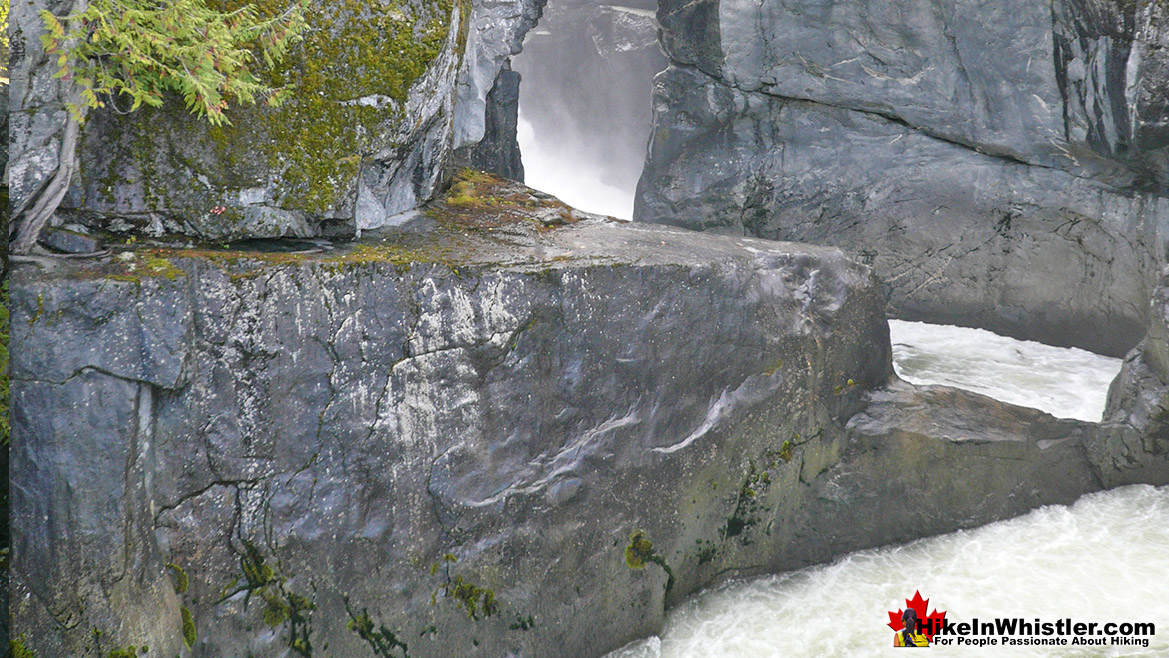 More hiking info & maps for Nairn Falls...

Whistler & Garibaldi Park Hiking Gear Rental

Buying hiking gear is expensive, time consuming and confusing. Let us do the work for you. We have the best quality and highest rated hiking gear on the market, and bring it to you at unbeatable prices. We rent individual items or complete hiking and camping kits. Our complete kits for one or two people consist of everything you need to hike in Whistler except clothes, food and water! Reserve today and hike into paradise! Whether you are short one backpack for your group or need to fully outfit everyone, we have you covered. We rent all the best, highest rated hiking gear you will need to enjoy hiking in and around Whistler and Garibaldi Provincial Park. We are proud to offer the best gear at the best prices. Fully equip yourself with backpack, tent, sleeping bag, sleeping pad, sleeping pillow, complete MSR Windburner cooking stove system(stove, fuel, pot, cup, fork, spoon and coffee press), first aid kit, camp towel, knife and trekking poles. All you have to bring is food, water and clothes! We put all the fun back into hiking and remove the boring and expensive parts. We will deliver your full set of hiking gear, packed and ready to hike. You then hit the trail into paradise for a night.. or two.. or more, call us when you get home and we will pick up everything. You don't have to worry about figuring out what to pack or buying expensive equipment.

We bring the best to you and at bargain prices. Why? Because we love Whistler, love hiking, love camping and we are passionate about hiking in Whistler. We will do everything in our power to make you have the most amazing hiking and camping trip of your life. And it starts with getting you the best gear, prepacked and delivered to you, without you having to spend a fortune buying gear. You can rent individual items or entire hiking/camping kits. Whatever your need, we have what you need to get you on the trail! Have a look at what we have to rent here!

We Rent Complete Kits 

We Rent Backpacks 

We Rent MSR Tents 

We Rent Sleeping Bags 

We Rent Sleeping Pads 

We Rent Camp Stoves 

We Rent Snowshoes
Hike in Whistler & Garibaldi Park

Alexander Falls  

Ancient Cedars  

Black Tusk  

Blackcomb Mountain  

Brandywine Falls  

Brandywine Meadows  

Brew Lake  

Callaghan Lake  

Cheakamus Lake  

Cheakamus River  

Cirque Lake  

Garibaldi Lake 

Garibaldi Park 

Helm Creek 

Joffre Lakes  

Keyhole Hot Springs  

Logger's Lake  

Madeley Lake  

Meager Hot Springs 

Nairn Falls  

Newt Lake 

Panorama Ridge  

Parkhurst Ghost Town  

Rainbow Falls  

Rainbow Lake  

Ring Lake  

Russet Lake  

Sea to Sky Trail 

Skookumchuck Hot Springs  

Sloquet Hot Springs  

Sproatt  

Taylor Meadows  

Train Wreck  

Wedgemount Lake  

Whistler Mountain

January  

February  

March  

April  

May  

June  

July  

August  

September  

October  

November  

December

The Barrier 

Bears  

Cloudraker Skybridge 

Coast Mountains 

Erratic 

The Fissile 

Fitzsimmons Range 

Garibaldi Ranges  

Garibaldi Volcanic Belt 

Green Lake  

Hoary Marmot 

Krummholz 

Mount Garibaldi  

Northair Mine 

Overlord  

Peak2Peak 

Roundhouse 

Rubble Creek 

Spearhead Range