Skookumchuck Hot Springs, located two hours north of Whistler along the edge of the huge Lillooet River. The name Skookumchuck means "strong water" in the language of the Chinook people of the Pacific Northwest. The name is associated with the hot springs because of the nearby First Nation community of Skatin, which was once called Skookumchuck.
Very scenic drive along Lillooet Lake
Stunning campsites along the river
Sleep 1 minute away from the springs
Drive in campsites are very convenient
Helpful volunteer caretaker resides there
Drive in campsites are very convenient
Skookumchuck has an interesting history

Rules & fees increasing with new owners
Very busy on weekends in summer

On first glance the tubs looks shabby

Whistler & Garibaldi Park

Alexander Falls  

Ancient Cedars  

Black Tusk  

Blackcomb Mountain  

Brandywine Falls  

Brandywine Meadows  

Brew Lake  

Callaghan Lake  

Cheakamus Lake  

Cheakamus River  

Cirque Lake  

Garibaldi Lake 

Garibaldi Park 

Helm Creek 

Joffre Lakes  

Keyhole Hot Springs  

Logger's Lake  

Madeley Lake  

Meager Hot Springs 

Nairn Falls  

Newt Lake 

Panorama Ridge  

Parkhurst Ghost Town  

Rainbow Falls  

Rainbow Lake  

Ring Lake  

Russet Lake  

Sea to Sky Trail 

Skookumchuck Hot Springs  

Sloquet Hot Springs  

Sproatt  

Taylor Meadows  

Train Wreck  

Wedgemount Lake  

Whistler Mountain

January 

February 

March 

April 

May 

June 

July 

August 

September 

October 

November 

December
Hiking Gear Rental

Complete Kits 

Backpacks 

MSR Tents 

Sleeping Bags 

Sleeping Pads 

Camp Stoves 

Snowshoes
The Skookumchuck Hot Springs were also once known as St. Agnes Well during the days of the Fraser Canyon Gold Rush, but that name has fallen into disuse. They are also known locally by the Skatin name as the T'sek Hot Springs.  Just 20 minutes north of Whistler you pass Nairn Falls Provincial Park. This is a great pit-stop on your way to Skookumchuck. Whether you hike the short, 1.2 kilometre trail to Nairn Falls or just check out the river viewpoint near the parking lot. Back on the highway, Pemberton is just 5 minutes north of Nairn Falls. This little town is your last chance for gas, food, alcohol, ect, as you will shortly be leaving civilization and entering the wilderness around Lillooet Lake. As you drive through Pemberton, just before Mount Currie you will see North Arm Farm on your right. Keep your eye out about 5 minutes past the McDonalds/Petrocan intersection and you will see it. This is a great place to see and wander around the beautiful farm grounds, visit the interesting farm animals and marvel at the amazing view of Mount Currie. The farm is free to visit and open weekends in the winter and everyday the rest of the year. They have a fantastic cafe with all sorts of baked goods and lunch items as well as various farm fresh produce for sale as well. Also, a great place for your last coffee before entering the wilderness.
Another 10 minutes on the highway further and you come to the turnoff to the In-Shuck-Ch Forest Service Road(see directions below) and begin the long and beautiful drive along Lillooet Lake. There are several excellent Lillooet Lake and Lillooet River viewpoints to stop and see along the way. From the obvious and frequent viewpoints along the road to the numerous and inviting campsites along the way. These campsites are great places to stop and see Lillooet Lake, have a beer, swim, or all three.  Depending on the season, Lillooet Lake can be emerald, though cloudy green or muddy brown. This is all dependent on the spring runoff and especially the silty brown, Lillooet River that flows into Lillooet Lake from Pemberton.  Lillooet Lake flows into the rushing and crashing Lillooet River and Skookumchuck sits at the edge of this beautiful river. Once you see the end of the lake and start driving along the river you are getting close to the hot springs.  More information on Skookumchuck Hot Springs...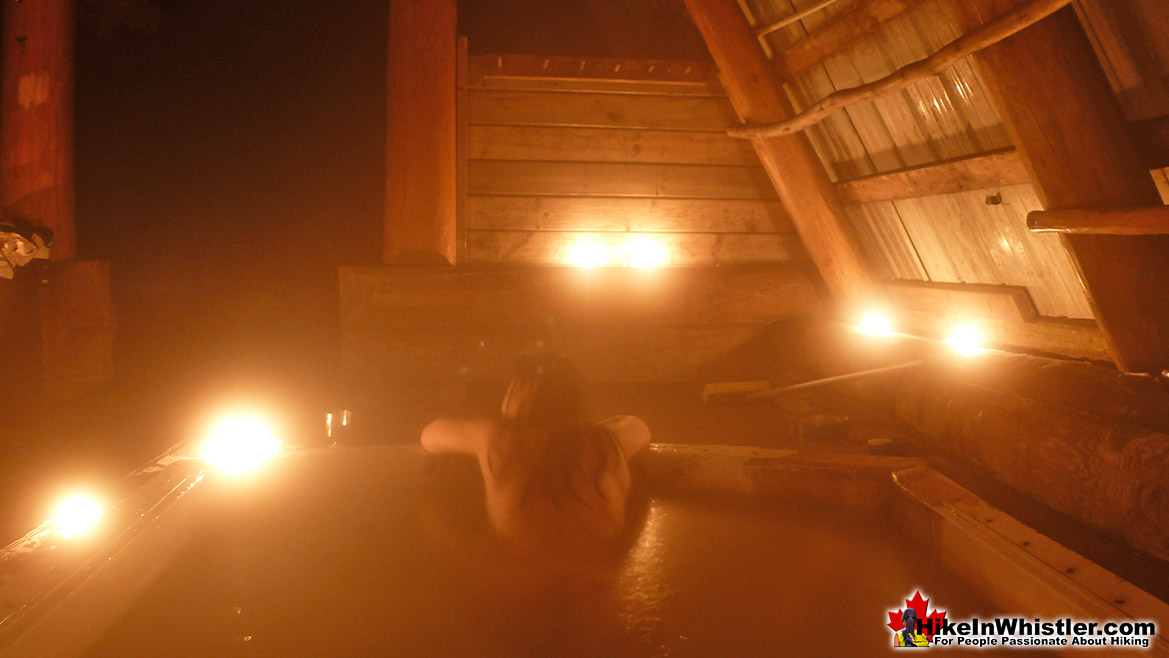 More Great Hiking Around Skookumchuck

Keyhole Hot Springs, just a few kilometres up from the old turnoff to Meager, are in an amazingly beautiful setting.  There are two cemented tubs into the rock perched on the edge of Lillooet River.  These are the most beautiful, however there are several more possible springs to be had close by.  There is a fabulous sandy area between the cliff and the river where hot spring water bubbles from the sand.  There is a shovel here to dig yourself a beautiful pool and channel river water in as needed to moderate the temperature.  There is also a small fire pit as well as several log seats.  Keyhole Hot Springs are very popular which can be seen by the elaborate hot springs layout as well as the huge campground area in the deep forest, high above the hot springs about a 10 minute walk away.  Signs of semi-permanent dwellings can be seen in stages of ruin, but overall the campsite area is amazing.
Sloquet Hot Springs is a wonderfully wild set of shallow, man-made pools fed by a small, all natural, and very hot, waterfall.  The pools stretch from the waterfall to the large and crashing Sloquet River. The large, spread out campsite for the hot springs lies a short 5 minute walk from the springs.  You have to follow a dark and quickly descending trail toward the crashing river. As you near, you can smell the unusual, but kind of nice hot springs scent, and you see steam rising all around you, some steam rising, bizarrely, out of the grass clearing on the edge of the river. On your left a rising cliff, on your right the crashing river.
Meager Creek Hot Springs is located 93k northwest of Whistler, was beautifully developed into gorgeous pools, with a caretaker and usage charge.  At its height of popularity, Meager Creek Hot Springs had 30,000 yearly visitors.  Unfortunately, due to two recent avalanches it seems unlikely to ever officially reopen. After several years of being closed, access reopened on 2009 with a nice, expensive, new bridge. Only to be dramatically obliterated from another slide in 2010.  The access bridge over the Upper Lillooet River which cost nearly a million dollars was wrecked in seconds in 2010.  There was considerable wrangling and negotiating to get it built in in 2009, however nothing came of it.  For the foreseeable future Meager Creek Hot Springs will only be visited by the brave and determined via the new Harrison Hut Trail.  This involves following the new Harrison Hut Trail for 6 kilometres then following an old logging road for 3.5k down to the springs.  It is a pretty long route.  From the time you leave Whistler to soaking in the hot springs, you are looking at about 5 hours!  Still the Harrison Hut Trail is pretty amazing.  There is an incredible viewpoint a couple kilometres in that gives you an amazing glimpse of the devastation route.

Whistler & Garibaldi Park Hiking Gear Rental

Buying hiking gear is expensive, time consuming and confusing. Let us do the work for you. We have the best quality and highest rated hiking gear on the market, and bring it to you at unbeatable prices. We rent individual items or complete hiking and camping kits. Our complete kits for one or two people consist of everything you need to hike in Whistler except clothes, food and water! Reserve today and hike into paradise! Whether you are short one backpack for your group or need to fully outfit everyone, we have you covered. We rent all the best, highest rated hiking gear you will need to enjoy hiking in and around Whistler and Garibaldi Provincial Park. We are proud to offer the best gear at the best prices. Fully equip yourself with backpack, tent, sleeping bag, sleeping pad, sleeping pillow, complete MSR Windburner cooking stove system(stove, fuel, pot, cup, fork, spoon and coffee press), first aid kit, camp towel, knife and trekking poles. All you have to bring is food, water and clothes! We put all the fun back into hiking and remove the boring and expensive parts. We will deliver your full set of hiking gear, packed and ready to hike. You then hit the trail into paradise for a night.. or two.. or more, call us when you get home and we will pick up everything. You don't have to worry about figuring out what to pack or buying expensive equipment.

We bring the best to you and at bargain prices. Why? Because we love Whistler, love hiking, love camping and we are passionate about hiking in Whistler. We will do everything in our power to make you have the most amazing hiking and camping trip of your life. And it starts with getting you the best gear, prepacked and delivered to you, without you having to spend a fortune buying gear. You can rent individual items or entire hiking/camping kits. Whatever your need, we have what you need to get you on the trail! Have a look at what we have to rent here!

We Rent Complete Kits 

We Rent Backpacks 

We Rent MSR Tents 

We Rent Sleeping Bags 

We Rent Sleeping Pads 

We Rent Camp Stoves 

We Rent Snowshoes
Hike in Whistler & Garibaldi Park

Alexander Falls  

Ancient Cedars  

Black Tusk  

Blackcomb Mountain  

Brandywine Falls  

Brandywine Meadows  

Brew Lake  

Callaghan Lake  

Cheakamus Lake  

Cheakamus River  

Cirque Lake  

Garibaldi Lake 

Garibaldi Park 

Helm Creek 

Joffre Lakes  

Keyhole Hot Springs  

Logger's Lake  

Madeley Lake  

Meager Hot Springs 

Nairn Falls  

Newt Lake 

Panorama Ridge  

Parkhurst Ghost Town  

Rainbow Falls  

Rainbow Lake  

Ring Lake  

Russet Lake  

Sea to Sky Trail 

Skookumchuck Hot Springs  

Sloquet Hot Springs  

Sproatt  

Taylor Meadows  

Train Wreck  

Wedgemount Lake  

Whistler Mountain

January  

February  

March  

April  

May  

June  

July  

August  

September  

October  

November  

December

The Barrier 

Bears  

Cloudraker Skybridge 

Coast Mountains 

Erratic 

The Fissile 

Fitzsimmons Range 

Garibaldi Ranges  

Garibaldi Volcanic Belt 

Green Lake  

Hoary Marmot 

Krummholz 

Mount Garibaldi  

Northair Mine 

Overlord  

Peak2Peak 

Roundhouse 

Rubble Creek 

Spearhead Range