We rent Two Person Complete Multi-Day Hiking & Camping Kits: The kit comes with a choice of Osprey Atmos AG or Aura AG 65 backpack, a Hubba Hubba NX tent, two Rab Ascent 700 -12c/10f down sleeping bags, two Therm-a-Rest NeoAir XTherm MAX sleeping pads.

Also in our Two Person Complete Kit you will get two MEC Deluxe sleeping pillows and NeoAir Micro Pumps! For cooking you will get the amazing MSR WindBurner Stove System, which includes a stove, pot, bowl/cup and coffee press and fuel. A complete, ultralight and compact mess kit for two,​ which includes one plate, one plate/bowl, two spork originals plus ground coffee, tea, sugar and cream​. Also included are two Petzl TIKKA+ headlights, two first aid kit​s, two camp towels, two soaps and two knives. MSR Evo Ascent snowshoes and/or Cascade Mountain twist lock poles can be added at no extra charge if needed, depending on the season and conditions.
We Do All the Work!
Relax and let us do all the work for you! All you need to bring is food, water and clothes! We rent all the best, highest rated hiking gear you will need to enjoy hiking and camping around Whistler and in Garibaldi Provincial Park. We put all the fun back into hiking and remove the boring and expensive parts. We will deliver your full set of hiking gear, packed and ready to hike. You then hit the trail into paradise for a night.. or two.. or more, call us when you get home and we will pick up everything. You don't have to worry about figuring out what to pack or buying expensive equipment. When we deliver to your door your Two Person Complete Kit, each pack will weigh less than 7 kilograms or 15.4 pounds! We have a wide range of pack sizes to fit any hiker, of any height. To ensure the best fit possible, our packs are male and female specific and even have further adjustments to ensure a perfect, comfortable fit.
We Make Renting Easy!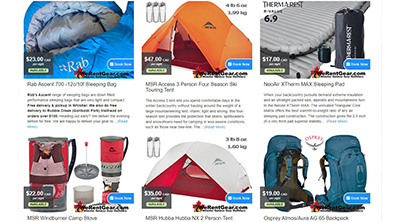 1. Reserve Online
Figure out the gear you would like and book through our reservation system. We will send you a confirmation of the booking and make sure we know where to deliver your gear for you when you get to Whistler. We have the largest inventory of high quality rental hiking and camping gear from Vancouver to Whistler. Our booking page is easy to use and our cancellation policy is amazing. Free cancellations anytime for any reason as long as you let us know more than 24 hours before delivery. If you need to change your delivery or pick up time or location, we don't mind. 
2. Gear Arrives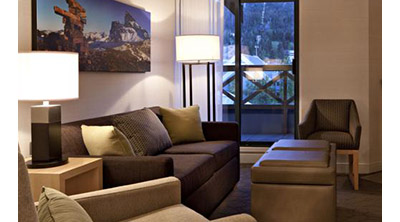 We deliver right to your door anywhere in Whistler and to all Garibaldi Park trailheads except Diamond Head in Squamish. We will be waiting for you at the trailhead when you arrive or if you are already in Whistler at a house, hotel, condo, etc we will deliver and pick up right to your door. We are happy to deliver to your hotel's Front Desk or Bell Desk before your arrival to make your vacation even more worry free! If you would like the gear delivered the day before so you can pack and prepare, let us know when you book and we will make it happen! Prefer to pick up? We have a 24 hour pick up and drop off location 3 minutes from Whistler Village!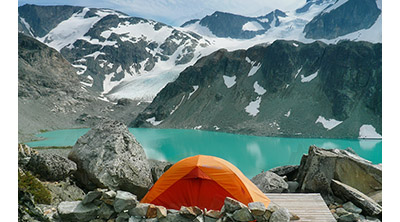 3. Camp in Paradise
 Hike into paradise and camp in beautiful Whistler and incredible Garibaldi Park. With the best quality and highest rated hiking gear money can buy, you will have the trip of a lifetime. We do all the work and you have all the fun!  We rent the best quality and highest rated gear on the market. MSR tents, Osprey backpacks, MSR WindBurner Stove Systems, Rab Ascent 700 sleeping bags, Therm-a-Rest XTherm MAX sleeping pads, MSR Evo Ascent snowshoes and more. We also rent complete hiking gear kits. We can equip one person, couples or large groups with everything you need except food and water! We are proud to be Whistler's best source for rental hiking gear. We have the best gear, the best prices and best service!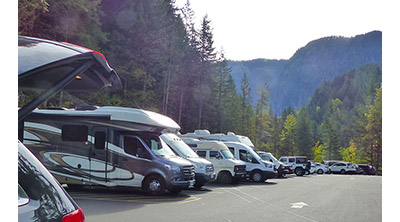 4. Easy Returns
 When you return from your hike, let us know where and when you'd like us to drop by and pick up the gear. Staying at a hotel? Leave the gear with the Bell Desk or Front Desk. Living in Whistler or staying in an AirBnB, just leave the gear outside your door and text us. We will pick it up and you don't need to wait around. We deliver it to you perfectly clean and don't mind if you return it a mess. We have a precise and methodical cleaning and maintenance process and we go to great lengths to ensure the gear you get is like new. Though we don't have a retail location in Whistler, we do have a convenient 24 hour pick up and drop off location near Whistler Village!
Two Person Complete Kit - What's Included? 
Osprey Atmos AG 65 and/or Aura AG 65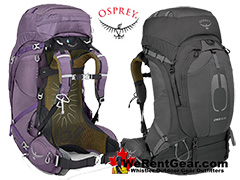 Our Two Person Complete Kits come with two packs, your choice of Osprey Atmos AG 65 or Aura AG 65. These 65 litre packs are widely regarded as the best and most innovative packs in the world. Perfect for overnight expeditions in the mountains around Whistler and in Garibaldi Provincial Park. They have Osprey's innovative Anti-Gravity™ suspension system which contours to your body providing seamless comfort and excellent mobility. The mesh back separates your back from the pack which allows ventilation and phenomenal comfort. They are designed for a load range of 30-50 pounds or 13-23 kilograms. Some of the features include: Internal compression - Adjustable harness - Internal reservoir sleeve - Compression straps, removable floating top lid, dual zippered front pockets, removable pad straps, Fit-on-the-Fly™ hipbelt, Stow-on-the-Go™trekking pole attachment, FlapJacket™, tool attachment and quite a lot more. We have packs in sizes ranging from large to extra small. Reserve here..
Hubba Hubba NX 2 Person Tent
Our Two Person Complete Kit comes with a Hubba Hubba NX 2 person tent. One of the highest rated, lightweight, compact and versatile tents on the market. Perfect for overnight expeditions in Whistler and Garibaldi Provincial Park. Designed for backpackers who need a tent that can do it all while still being compact and lightweight, MSR Hubba Hubba 2 person tent feels as light and efficient to use as it does to carry.  From its optimized, symmetrical geometry and non-tapered floor that maximize space, down to its integrated, adjustable stake-out loops that speed setup, this tent redefines lightweight liveability. Ultralight: Very lightweight at just 1.60 kg or 3 lb 8 oz. Maximum Space: Head and elbow room throughout tent; two large side-entry vestibules to store gear. Liveable: Two large StayDry™ doors with built-in rain gutters; adaptable, cross-ventilating rainfly. Easy Setup & Packing: Unified hub-and-pole system with color-coded clips; ultra-compact compression stuff sack. The MSR Hubba Hubba NX is one of the most liveable tents for its weight. The two door design and airy ventilation make it feel like you have tons of space. Reserve here..
Rab Ascent -12c Down Sleeping Bags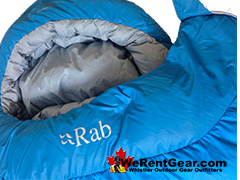 Our Two Person Complete Kit comes with two Rab Ascent 700 -12C/10F down filled sleeping bags. With the revolutionary Rab® fluorocarbon free Hydrophobic Down developed in conjunction with Nikwax®, this sleeping bag repels moisture. Water is the bane of down sleeping bags, but with Hydrophobic Down, you get the same amazing warmth and a remarkably solid barrier to wet weather. The alpine hiking trails in Whistler can get very cold, so we rent these amazing bags so you won't have to worry about the weather! Made using durable and lightweight Pertex Microlight fabrics, they give you durable build and construction, with very effective warmth for bags of such low weight. Rab® fluorocarbon free Hydrophobic Down.  Pertex® Microlight inner and outer fabric. 650FP European Duck Down. Proportionally assigned differential cut. Internal YKK 3 coil zipped stash pocket. Wide foot area for extended comfort. Anti snag zipper webbing tape. Our sleeping bags also come with liners as well as a MEC Deluxe Pillows so you are sure to have a warm and comfortably sleep in the mountains! Reserve here..

XTherm MAX Sleeping Pads + NeoAir Micro Pumps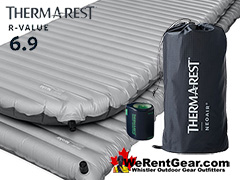 Our Two Person Complete Kit comes with two of the best sleeping pads on the market today, the incredible Therm-a-Rest NeoAir XTherm MAX. When your backcountry pursuits demand extreme insulation and an ultralight packed size, alpinists and mountaineers turn to the NeoAir XTherm MAX. The unrivalled Triangular Core Matrix offers the best warmth-to-weight ratio of any air sleeping pad construction. The construction gives the 2.5 inch (6.4 cm) thick pad superior stability, boasting the most inches of weld for maximum camp comfort. The packable pad boasts a 6.9 R-value, allowing users to take it into the most extreme conditions. With the classic XTherm construction in a rectangular shape, the XTherm MAX features the high-performance WingLock valve, allowing the pad to inflate three times faster thanks to a larger opening and one-way inflation. Our XTherm MAX sleeping pads come with the breath saving Therm-a-Rest NeoAir Micro Pump to make inflating it effortless! All this packs down into a very small and very lightweight bag that takes up little room in your pack. Reserve here..
MSR WindBurner Stove + Coffee Press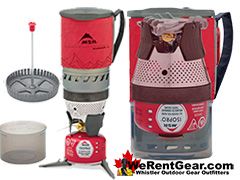 Our Two Person Complete Kit comes with a WindBurner Stove System. Its radiant burner and enclosed, windproof design allow the stove to boil water fast and operate in weather that leaves conventional burners in the cold. The all-in-one system nests inside its pot for easy packing and assembly. Integrated System: Compact, all-in-one stove and cookware solution features a secure-locking pot/personal eat-and-drink mug with cozy. Maximum Efficiency: Radiant burner and heat exchanger deliver faster boil times and more fuel efficiency than conventional stoves that use convective heat only. Windproof Performance: 100% primary air combustion, enclosed design & internal pressure regulator work together to make stove virtually impervious to outside conditions. Compact Design: Conveniently packs the stove burner, 4 oz. (110g) IsoPro™ fuel canister(included with rental), folding canister stand inside the 1.0L Pot. Extra full-sized bowl snaps onto the outside. The WindBurner Coffee Press turn your WindBurner Stove into a rapid, windproof French Press coffee brewing machine! Of course we include ground Coffee/Tea, cream & sugar with our Two Person Complete Kits! Reserve here..
Petzl TIKKA+ 160 Lumens Headlights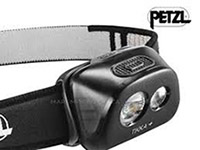 Our Two Person Complete Kit comes with two Petzl TIKKA+ headlights. The TIKKA+ has 160 lumen brightness in boost mode. It is ideal for outdoor activities that require rapid movement. Featuring Constant Lighting technology to ensure constant brightness over time, and a mixed beam (wide, focused or red for discretion). Specifications: Weight: 85 g, Beam pattern: mixed, Energy: 3 AAA/LR03 batteries (included), Watertightness: IP X4 (weather resistant). Brightness does not decrease gradually as the batteries are drained. Several lighting modes suitable for different situations, from proximity lighting to rapid movement. Boost mode for temporary access to maximum brightness automatically switches to reserve mode when batteries are running low and then to red lighting when the batteries are nearly empty. Red light combining visual comfort and discretion, red strobe light. Easy to use: push-button is easy to use, even with gloves washable headband, designed for dynamic activities, secure and absorbent. Reserve here..
Light My Fire Mess Kit + Coffee, Tea, Cream & Sugar

Our Two Person Complete Kit comes with a Light My Fire mess kit designed for two people. The lightweight and compact mess kit comes with a camp towel, one lid/plate, one plate/bowl and two sporks, which are a combination of spoon, fork and knife. Inside the mess kit you will also find two cups, two tea bags, ground coffee, cream and sugar. You will be able to make yourself coffee with your WindBurner Stove and Coffee Press! Reserve here..
First Aid Kits
Our Two Person Complete Kit comes with two first aid kits. Inside each first aid kit you will find duct tape (for blisters & repair), a knife, various size bandages, scissors, matches, tweezers, sewing kit and spare batteries for the Petzl TIKKA+ headlight.
Towel and Soap
Finally, our Two Person Complete Kit comes with two hand towels and two small bars of soap.
MSR Evo Ascent Snowshoes & Poles (Optional)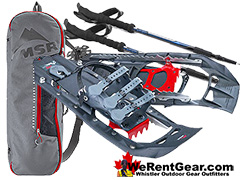 Our Two Person Complete Kit can also include MSR Evo Ascent snowshoes and poles if requested. Let us know when you make the booking, so we will know to bring them along with your kit! Steel traction rails and brake bars are molded directly into snowshoe decks for a secure grip. 3-strap bindings deliver ample, freeze-resistant and glove-friendly security, easily accommodating a wide range of footwear. Injection-molded plastic deck withstands abusive conditions, plus adds unique torsional flex for a deep purchase. Heel lifts give your calves a break on steep terrain. Backcountry-Ready Kit: All-terrain snowshoes and pack-friendly poles make this kit ideal for winter hikers exploring Whistler and Garibaldi Park. Confident Foot Control: Evo Ascent snowshoes feature our secure TriFit™ bindings, edge-to-edge traction, and our Televator™ heel lifts for conserving energy on the steeps. Cascade Mountain Twist Lock Poles: Strong, three-section poles pack down easily and feature extended EVA foam grips, anti-shock and lightweight. Reserve here..

Reserve a Two Person Complete Kit Here!
How we work... and other frequently asked questions
Q: What else do I need to bring if I rent one of your complete camping kits?
A: Your clothes, food and water. We have thought of everything for you so you don't have to worry about anything but having the time of your life! Make sure you bring warm clothes for the cool alpine weather and a water bottle to fill from the glacier fed streams!
Q: How good is the quality of your rental gear?
A: Our gear is specially selected from the highest rated, best quality and newest gear on the market. The difference between a cheap backpack and our backpacks is astounding. Your comfort and enjoyment are drastically reduced by cheap, old and worn gear. Our gear is the best of the best on the market!
Q: What happens if I damage or lose something?
A: We are very forgiving on reasonable damage and wear and tear, however beyond that we will charge for replacement cost or repair cost. Our gear is very durable and high quality, so with normal use and care it is very difficult to damage. Just let us know what happened and can likely sort it out with a minimum cost.
Q: We want to hit the trail at 5am, do you deliver that early?
A: We deliver anytime and anywhere in Whistler. In most cases we can drop off your gear to your hotel the night before you go so you can play with and pack your gear beforehand.
Q: Your gear is pretty high-tech, will we have trouble using it?
A: We include user guides to any tricky-to-use gear. For example, when you open our compact stove system you will see the instruction for use. If you would like a preview of our gear check out the Youtube links above for user reviews and get excited!
Q: Do you offer a locals discount?
A: Of course! In our reservation system under Book Now, click Apply Promo or Voucher and enter: local. If you miss this step, don't worry as we will likely catch it and add it for you.

Please treat our gear well. If you keep it in great condition, we can keep renting it out at budget rates. If you bring it back on time, clean, and in good condition, you may find that you get a bigger and bigger discount every time you rent from us. Have fun in paradise!
Explore Whistler Hiking Trails!
Explore BC Hiking Trails!