August 5th, 2020: We are celebrating Garibaldi Park reopening for camping!  All summer long take 20% off all gear rentals with the discount code SUMMER2020.  We rent the best hiking gear at the best prices and with the best service.  We deliver and pick up anywhere in Whistler for free.  If you are driving up from Vancouver to hike in Garibaldi Provincial Park, we deliver/pickup to the Rubble Creek trailhead for free as well!(on rental bookings over $100). 
Whistler Hiking Glossary

Ablation Zone 

Accumulation Zone  

Adit Lakes 

Aiguille 

Alpine Zone  

Arête  

ARRTI 

Armchair Glacier 

The Barrier  

Battleship Islands 

Bears  

Bench  

Bergschrund 

Bivouac  

Bungee Bridge 

Cairn/Inukshuk  

Carter,Neal 

Chimney 

Cirque 

Cloudraker  

Coast Douglas-fir 

Coast Mountains  

Col  

Columnar Jointing 

Cordilleran 

Cornice  

Corrie Lake 

Crevasse  

Dalgleish,Alec 

Deadfall  

Emerald Forest 

Erratic 

The Fissile  

Fitzsimmons Creek 

Fitzsimmons Range  

Fyles,Tom 

Garibaldi Ranges 

Garibaldi Volcanic Belt 

Gemel  

Glacier Window 

Green Lake 

Hoary Marmot 

Krummholz  

Lithophyte  

Lodgepole Pine 

Moraine 

Mt Garibaldi 

Mt James Turner  

Mountain Hemlock 

Northair Mine  

North Arm 

Nunatuk  

Nurse Stump 

Overlord  

Pacific Yew 

Paper Birch 

Peak 2 Peak  

Rainbow Lodge 

Roundhouse 

Rubble Creek  

Scree 

Spearhead Range 

Tarn 

The Table  

Townsend,Charles 

Usnea  

Waterbar  

Western Hemlock 

Western Redcedar  

Whistler Spruce 

Winram,Mills
Let us do all the gear planning, maintenance and cleanup for you!  Pick up your gear at the trailhead and we will pick it up when you are done! We rent everything you could possibly need to hike in Whistler and beyond. We Rent complete hiking kits, so all you need is to bring clothes, food and drinks. All our hiking gear is top quality, ultralight and very expensive.. but not for you. We rent our top quality gear at bargain prices and all summer long we are taking 20% off our already amazingly low prices!  We don't want you to miss out on hiking in Whistler and Garibaldi Provincial Park!  We rent individual items as well as our complete 1 person hiking kits and complete 2 person hiking kits. We rent the best gear, we deliver it to you anywhere in Whistler for free, we pick it up anywhere in Whistler for free.  We love Whistler and love getting you out in the amazing Canadian wilderness in and around Whistler!

Searching Availability...

Wedgemount Lake is absolutely spectacular in August.  Pick a couple days where clear skies are expected and sleep under the stars on one of the many perfect tent platforms.  Wooden tent platforms are scattered in the huge boulder field that fills much of the hillside next to the lake.  High above the lake, the views are sensational.  In the dead of night, the stars are magnificent.  Just bring a warm sleeping bag for an extraordinary night in the mountains you won't soon forget.  There are plenty of tent platforms in the boulder field and several more on gravel clearings down along the shore of Wedgemount Lake.  Every tent by the lake has a million dollar view of Wedge Glacier.  The water in Wedgemount Lake is close to freezing even during a sizzling summer day, so you have to be brave or bold to jump in.  Though on a hot and sunny of hiking you don't have to be too brave.  Wedge Mountain is the highest mountain in the Garibaldi Ranges, the mountain range that surrounds Whistler and stretches from Pemberton to Vancouver.  More hiking and camping info for Wedgemount Lake click here.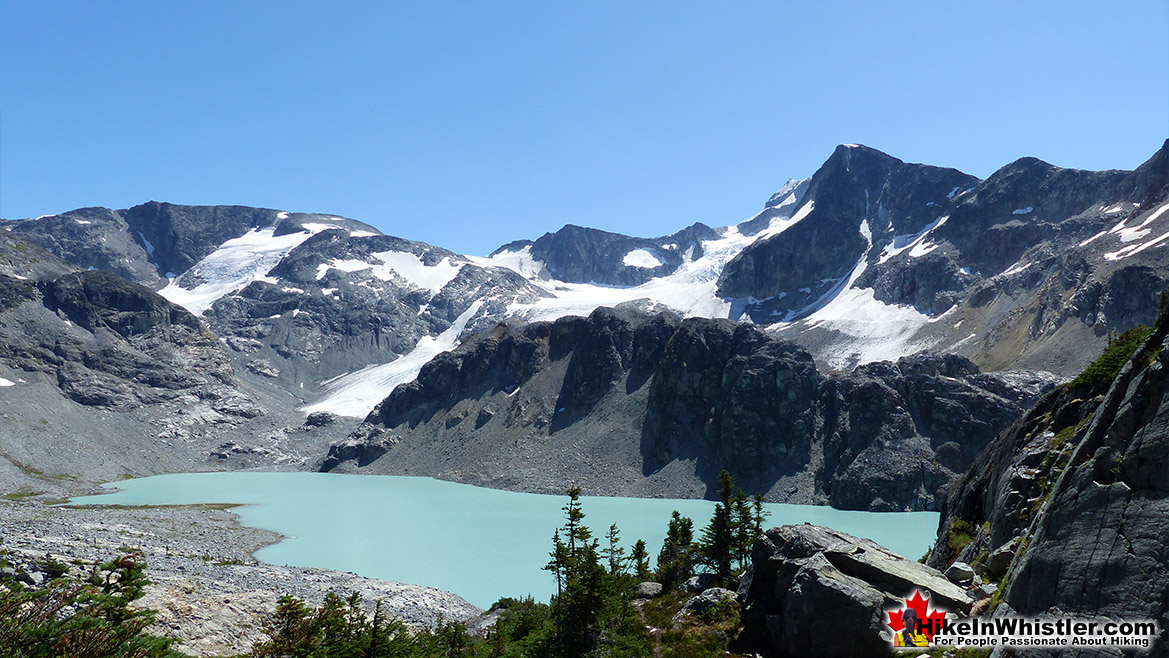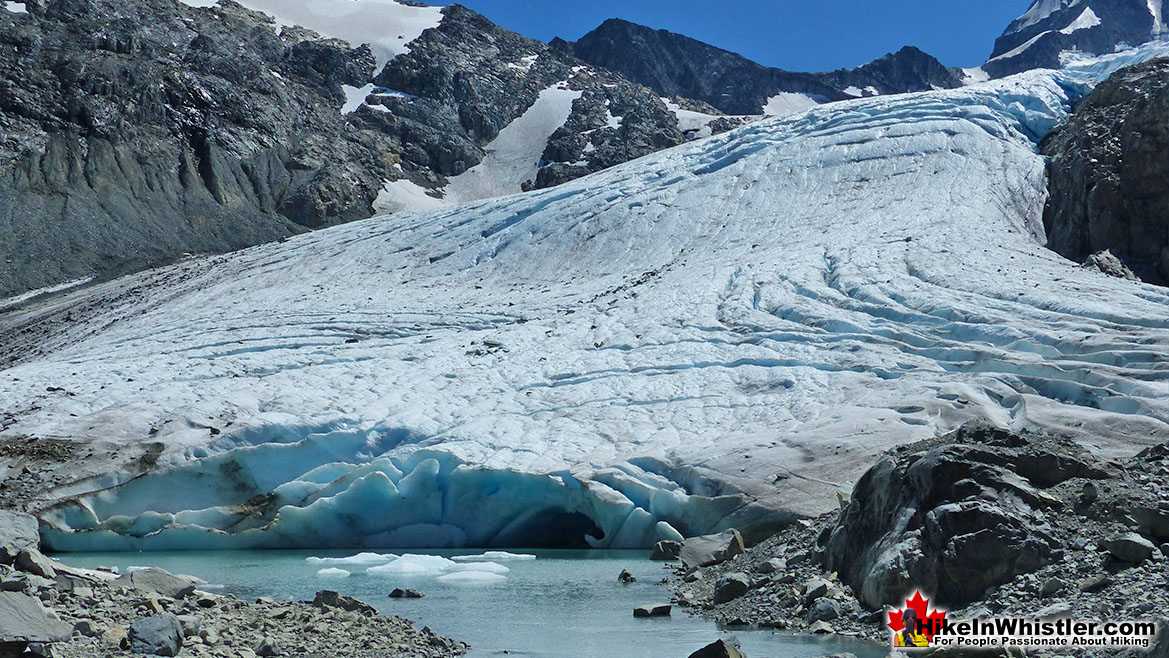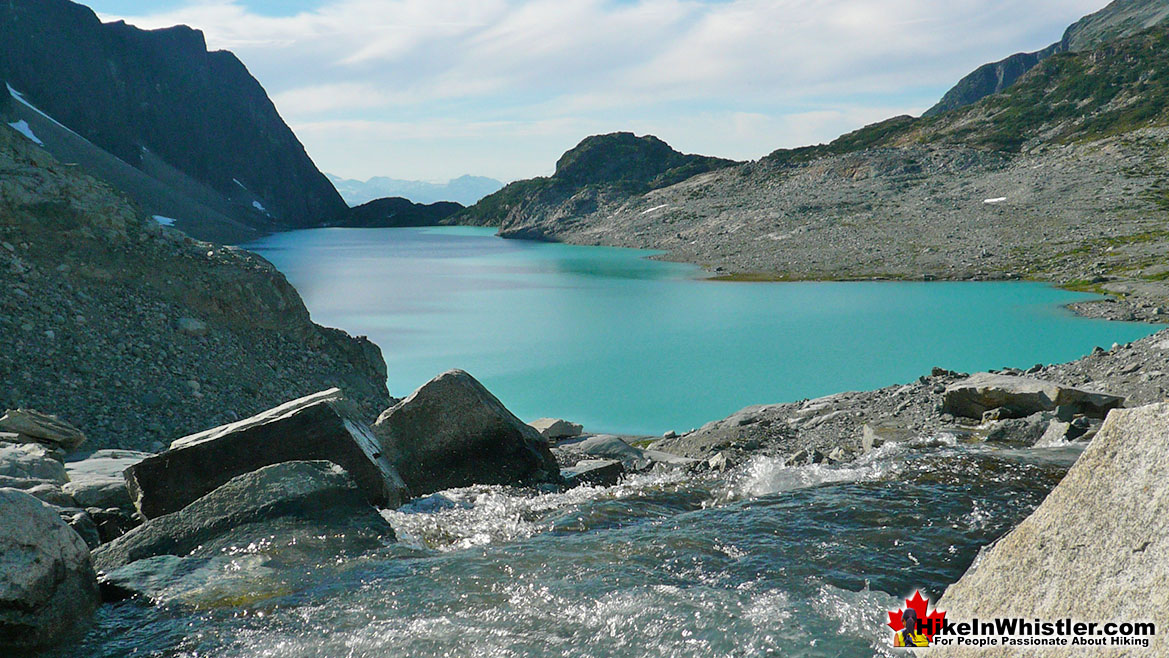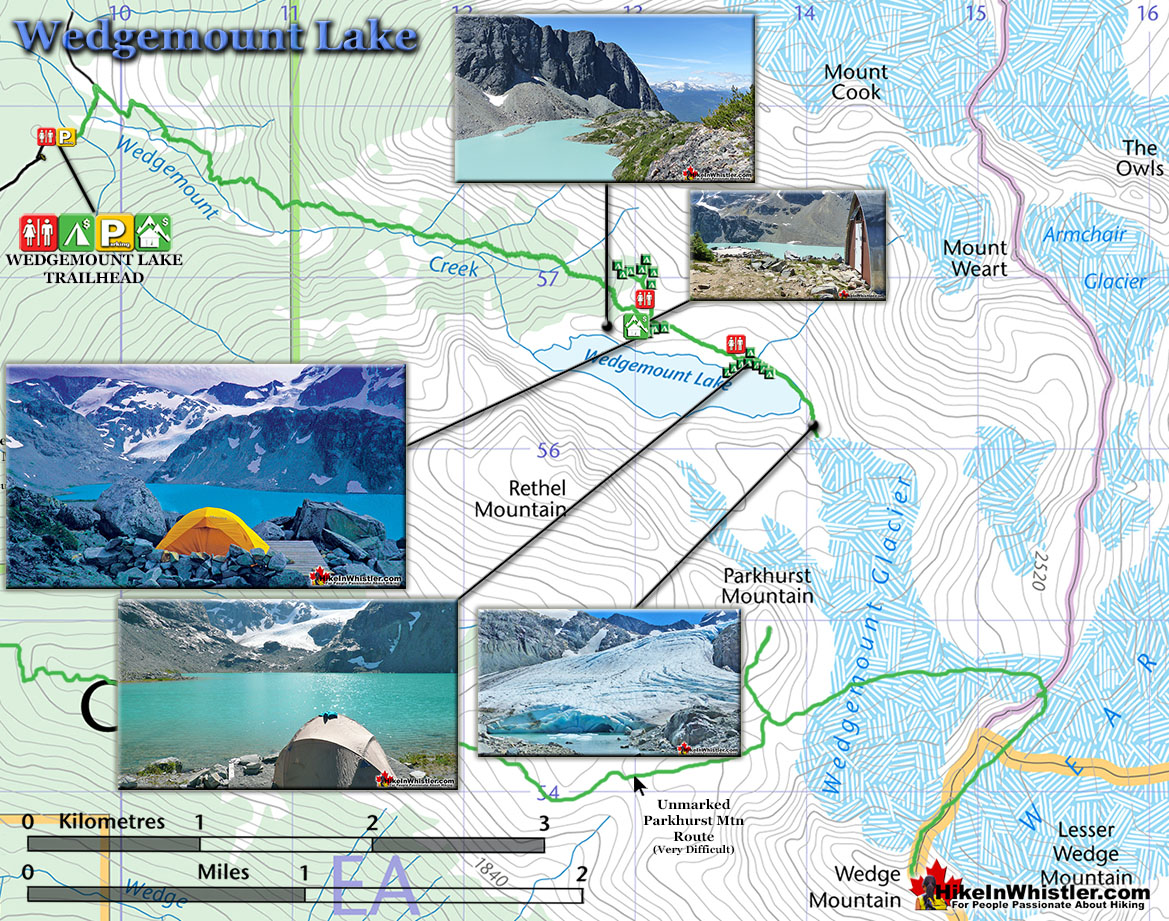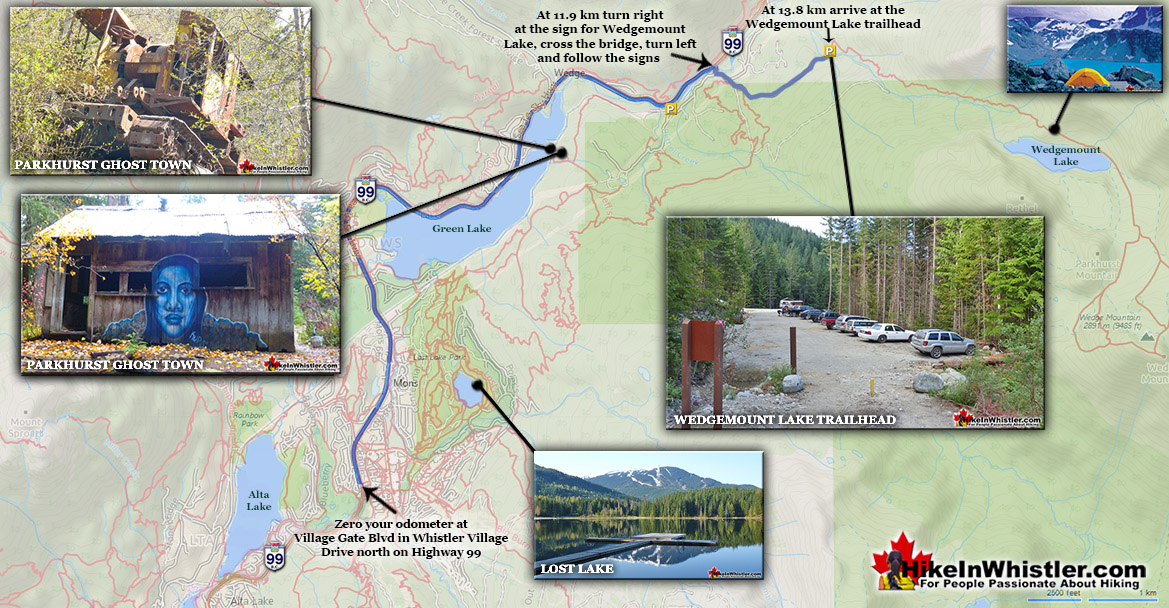 In short, if you were to design a paradise in the mountains, Wedgemount Lake would be the standard to which all others would pale.  The sheltered valley, beautiful turquoise lake, wonderfully huge glacier across the valley and brutally jagged mountains all around all contribute to making Wedgemount Lake something special.  It's challenging and exhausting to hike to and an absolute paradise to relax in. Down by the lakeside you can actually find two recliner chairs, built out of the rocks by the lake.  Such a perfect way to enjoy the sun rising over the not-so-distant glacier across the lake.  More hiking information for Wedgemount Lake click here..

Brandywine Meadows is a nice, relatively short hike to a massive flower filled valley high up in Callaghan Valley. Located 40 minutes south of Whistler, this tough and sometimes muddy trail gains a huge 550 metres of elevation in just 3 kilometres(1.9 miles), trailhead to meadows.  The trailhead is tricky to find and involves a fairly long gravel road journey that is passable without a 4x4, but barely.  Not that the road is potholed, which it is, but that it is at times very steep and strewn with loose boulders.  Brandywine Meadows is used mainly for snowmobiling in the winter months and the bumpy ex-logging road to the trailhead is in poor condition in the summer.  The Brandywine Meadows trail and access roads to it are for snowmobiles & ski touring only in the winter months. No free public access until the snow melts and the snowmobiling season comes to an end, usually in mid May.  You will know it is open just a couple minutes after you turn off the highway onto Callaghan Road.  Take your first left and drive past the treatment plant and quickly come to an enormous gravel parking lot. This is the snowmobile parking lot and the toll booth will be there and manned if the season is still on. If not, and the parking lot is deserted and with no snow, you may be able to continue. Keep in mind that snow can persist well into May, sometimes June, on the Brandywine Meadows access road. So avoid Brandywine Meadows until June to avoid disappointment.  If you have a dog, you will find that Brandywine Meadows is one of the few really nice, dog friendly hiking trails in and around Whistler. Garibaldi Provincial Park prohibits dogs, as well as both Whistler Mountain and Blackcomb Mountain. Here you won't be bothered by anyone and find no signs of humanity beyond some leftover remnants of the snowmobile season.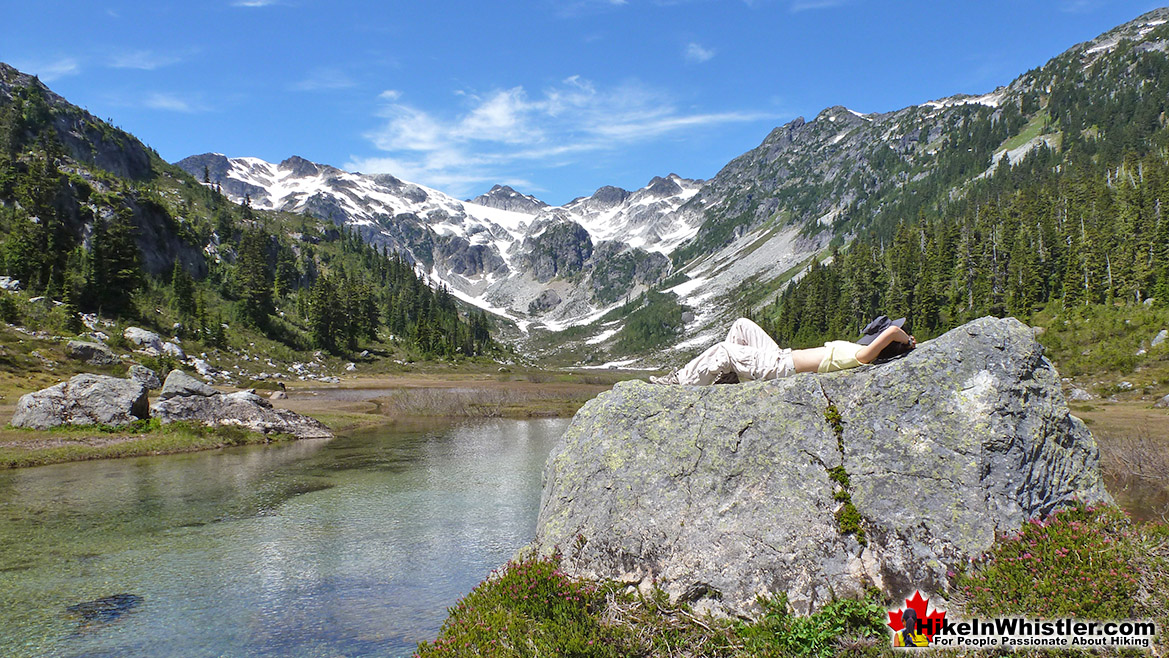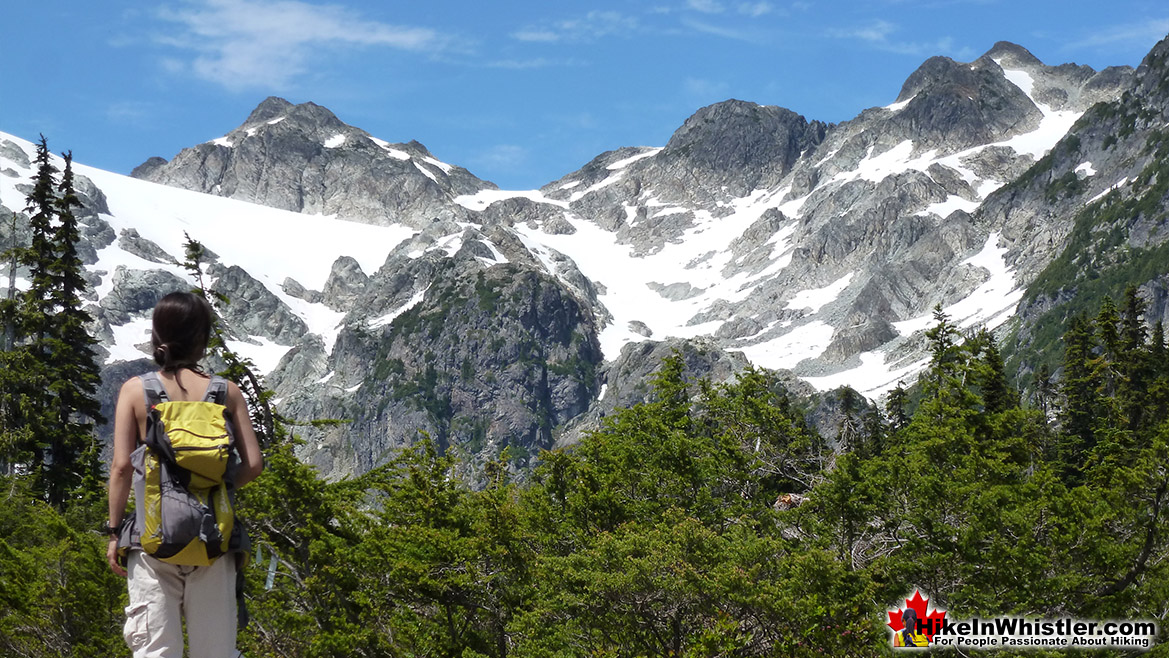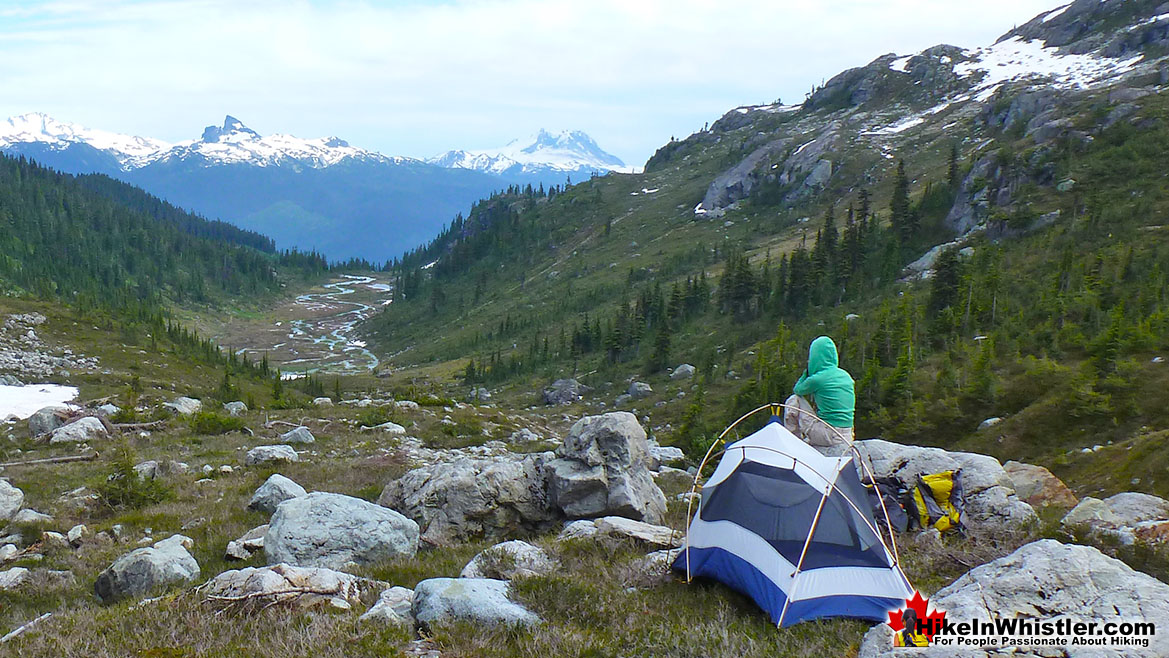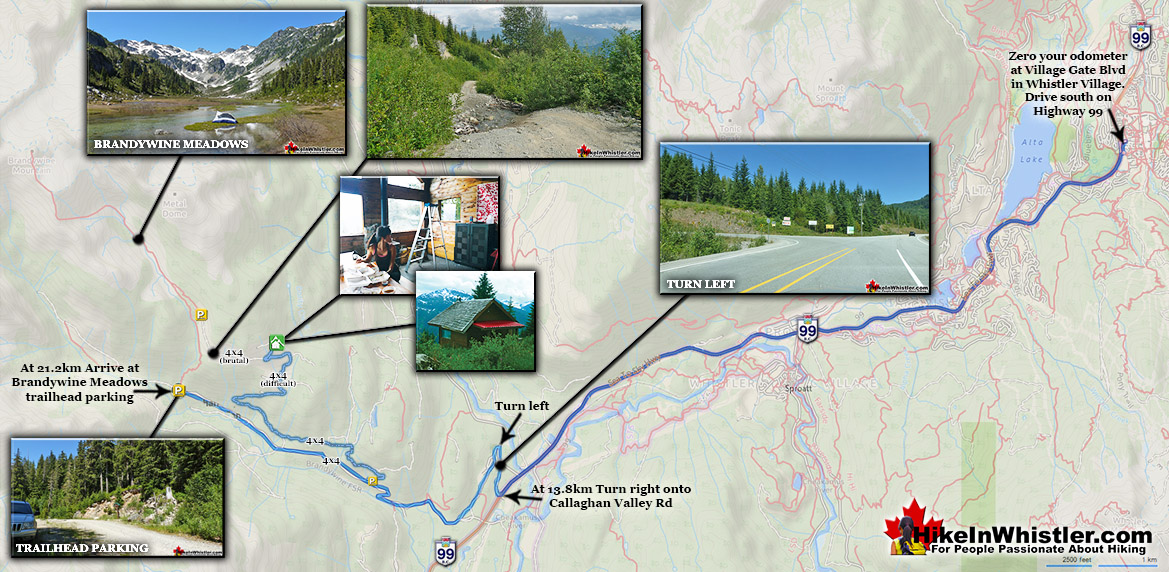 Bundles of orange poles for marking the snowmobile route are sometimes left behind or lost in the snow. Occasionally you stumble across a very out of place looking piece of snowmobile. Lost months before when the ground was below several metres of powder snow. The hike is consistently very steep for the first two kilometres. It is at times scenic though, despite being in very deep forest. The trail runs parallel to Brandywine Creek, which is steeply flowing, very loud and quite beautiful at various vantage points. After two kilometres on the Brandywine Meadows trail, the elevation gain levels off and you catch several alpine mountain peaks through the trees. And finally reaching the meadows, the amazing valley stretches into the distance, ending at the formidable mountains. In that grey and white mass of mountain peaks in the distance you will see Brandywine Mountain.
More info for Brandywine Meadows...

The trail to Whistler Train Wreck is an easy, yet varied route through deep forest, across a great suspension bridge over Cheakamus River, to a stunning array of wrecked train cars. The trail from your car to the wrecks only takes about 15 minutes, however once you reach one wreck, you see another, then another. There are seven wrecks in total that are spread over an area about 400 metres long.  Along with the surreal train wrecks painted with stunning murals, you find yourself in a thick forest that runs along Cheakamus River. Cheakamus River is a beautiful, wild and crashing river that snakes past the train wrecks. Numerous side trails take you to some marvellous viewpoints, several metres above the rushing water below.  If you follow a trail past the wrecks(heading north or in the direction of Whistler Village) you will emerge at the train tracks. If you are adventurous you will then walk along, beside the tracks for a couple hundred metres and some truly breathtaking views of Cheakamus River.  Keep in mind that skirting the train tracks is illegal, so you must never do this if a train is in the vicinity. If you plan to bivouac under the stars, this area is a great choice. Multiple beautiful rock outcrops along and above the river and you may not get disturbed as most hikers don't risk violating the law. Camping is technically prohibited within Whistler's municipal boundary, which Train Wreck is within, yet a sleeping bag under the stars will almost certainly go unnoticed. If bivouacking or stealth camping is what you are after, you will find quite a lot to choose from as you hike in along the Train Wreck trail.  More hiking information for Whistler Train Wreck click here..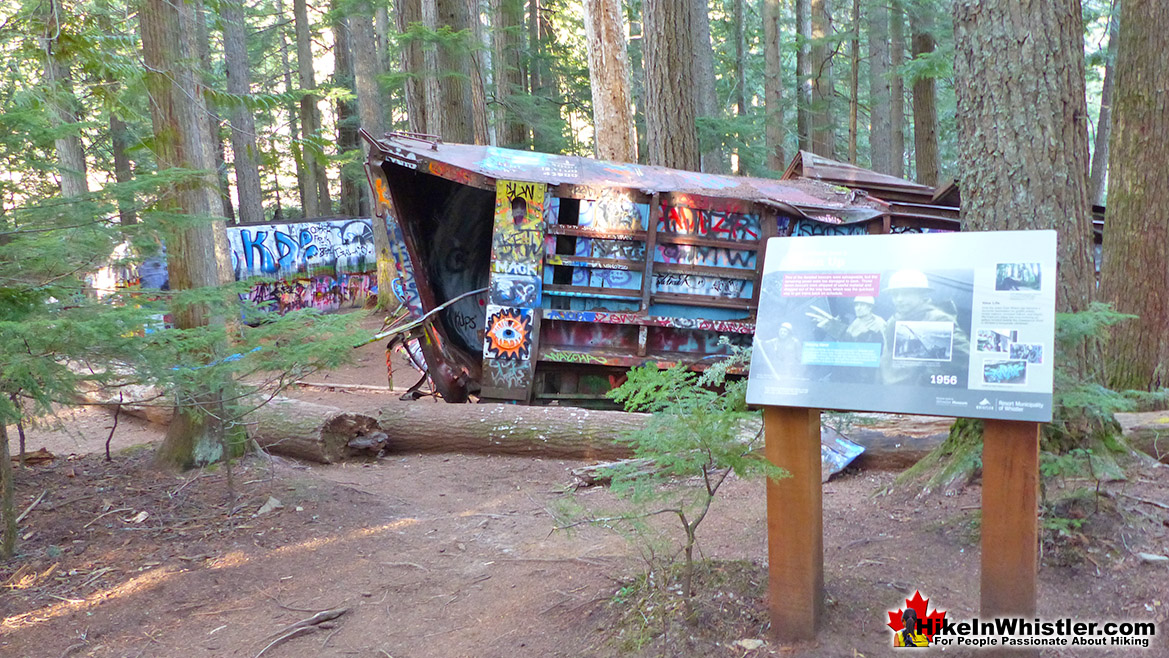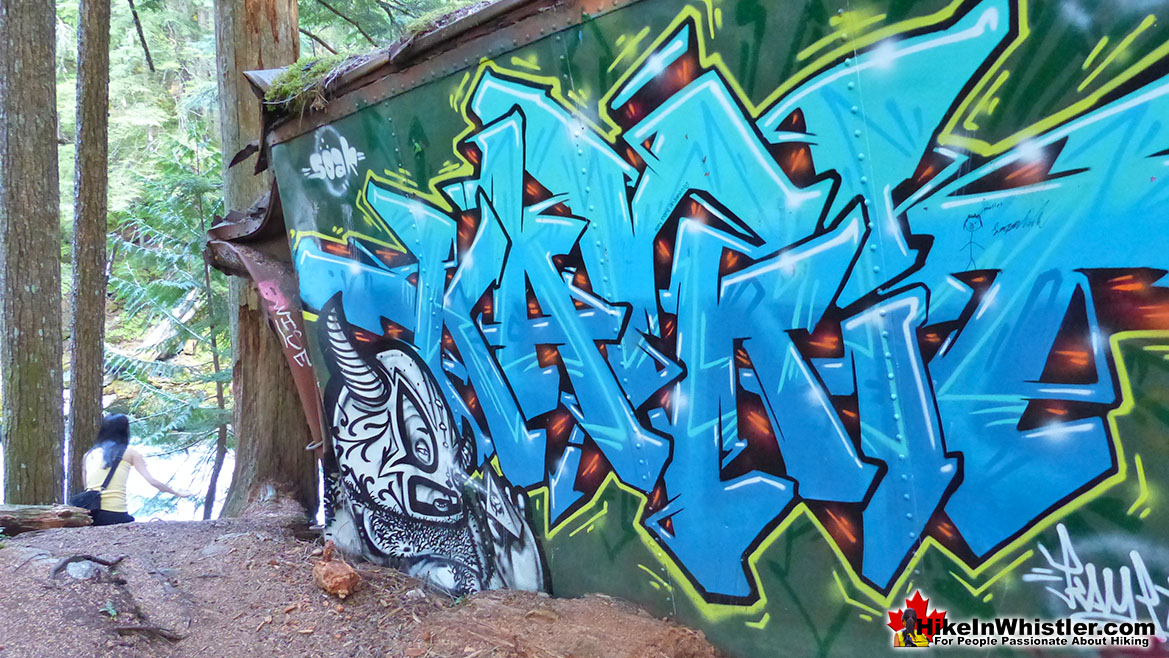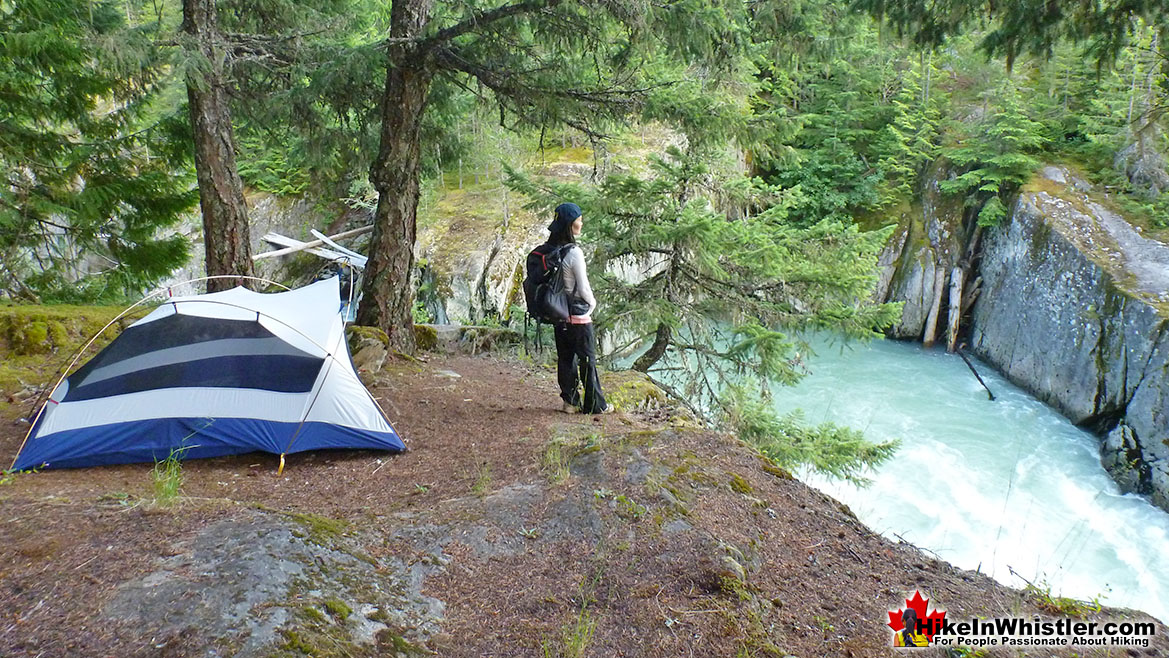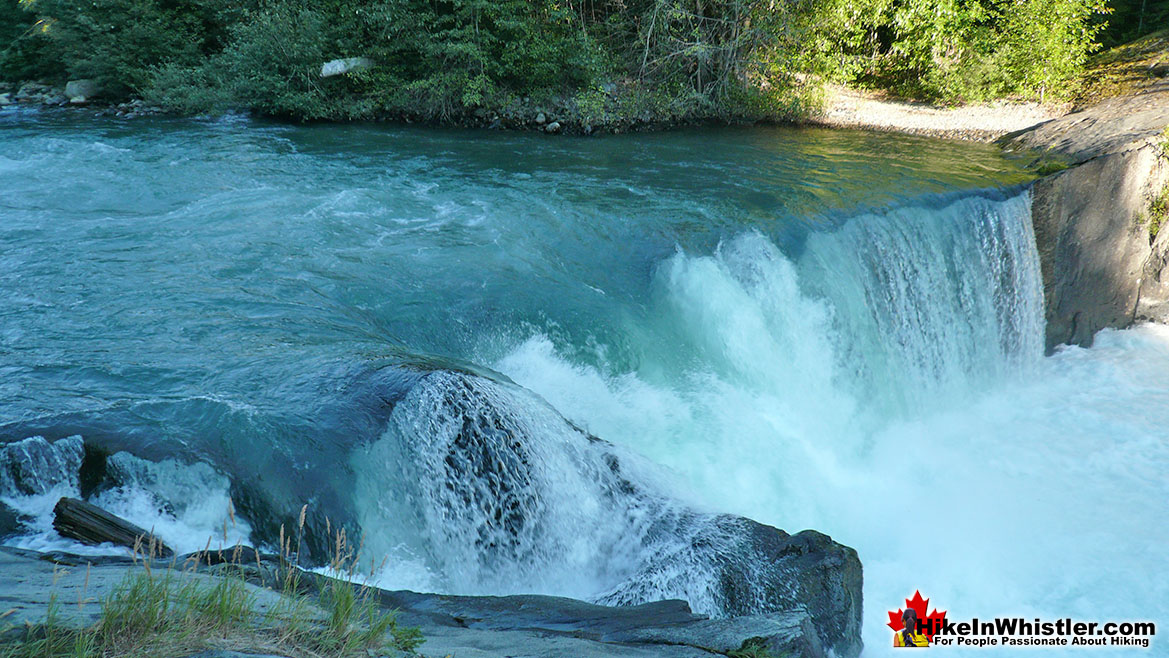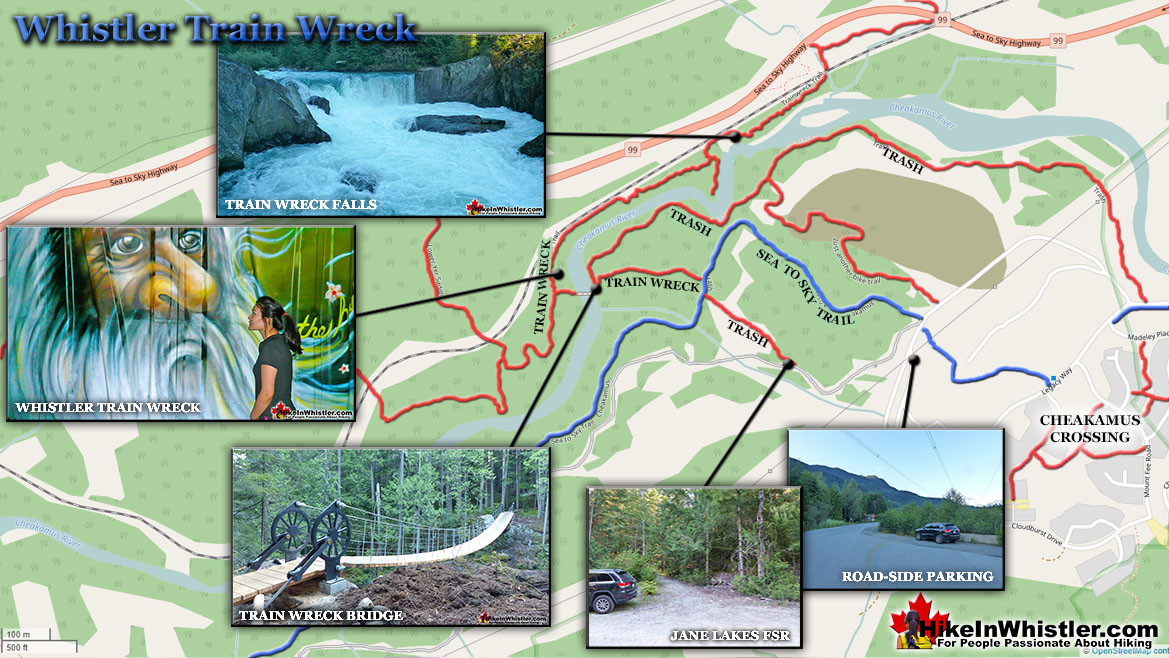 Click here for more info for Whistler Train Wreck

Panorama Ridge is easily one of the most amazing hikes in Garibaldi Provincial Park.  The 15 kilometre hike from the trailhead at Rubble Creek to Panorama Ridge takes you through beautiful and deep forests, across countless idyllic streams, through meadows filled with flowers, and past dozens of jaw dropping viewpoints.  Panorama Ridge is a view that is nothing short of spectacular.  The amazing views start once you reach Taylor Meadows and get even more spectacular as the trail progresses.  Once you arrive at Panorama Ridge and its phenomenal vantage point, high above Garibaldi Park, you will stare in wonder. Mesmerized first by Garibaldi Lake, far below you and looking unnaturally blue, the lake looks amazing surrounded by green, untouched wilderness and snow capped mountains.  The Table, the massive and unusual looking mountain with its bizarre flat top lays across the lake with the enormous Mount Garibaldi just beyond.  In the distance, where Garibaldi Lake ends, a massive glacier rises out of the blue and jagged crevasses can be seen even from such a great distance.  Behind you, Black Tusk lays across the valley.  Close to the same elevation as Panorama Ridge, you get this wonderful view of it. Certainly the best and closest viewpoint to this iconic mountain.  Panorama Ridge sits, along with Black Tusk in the midst of some of the most popular and beautiful hiking trails in Garibaldi Provincial Park. There are two main trailheads for Panorama Ridge, Cheakamus Lake and Rubble Creek.  Rubble Creek is the more popular starting point as it is a bit shorter, far more scenic and allows for the inclusion of the trail to Garibaldi Lake and the beautiful Taylor Meadows as well as Black Tusk. The trail to Panorama Ridge from Rubble Creek is not so much difficult as it is long. 30 kilometres makes for a long 8-10 hour roundtrip hike.  Staying overnight, therefore is a great idea.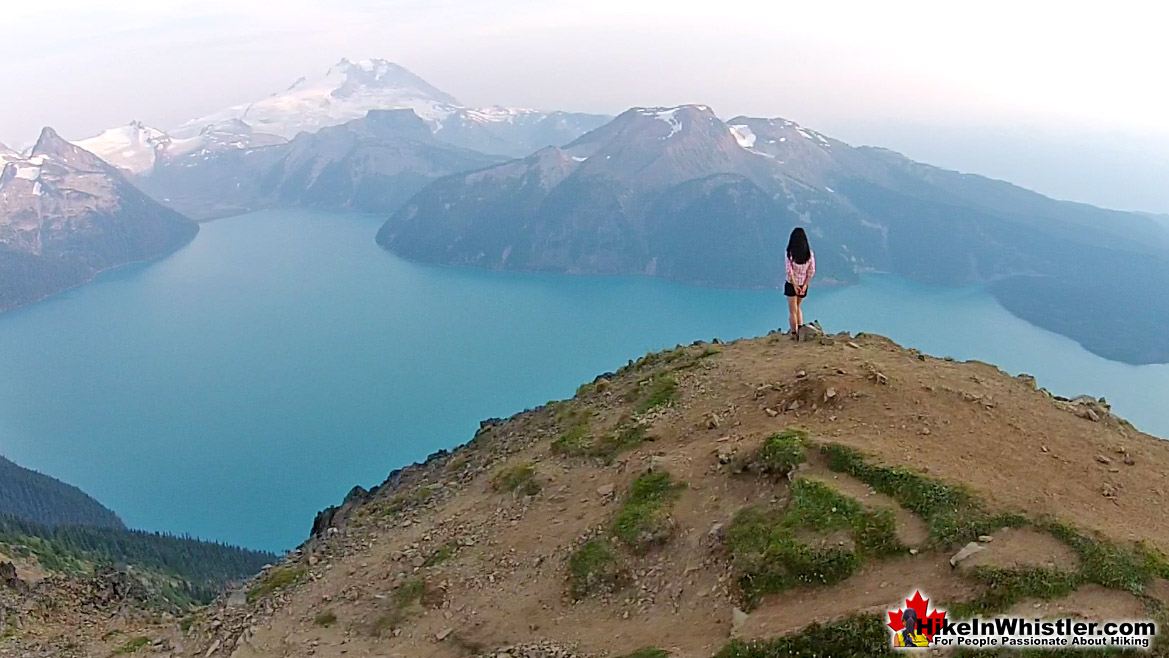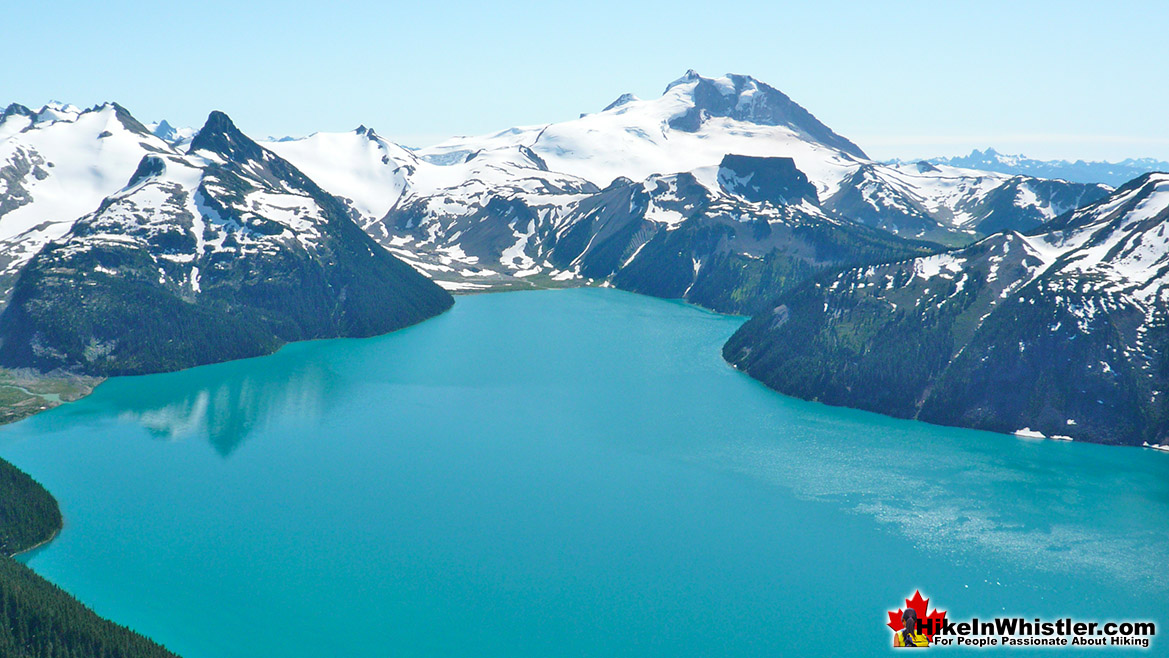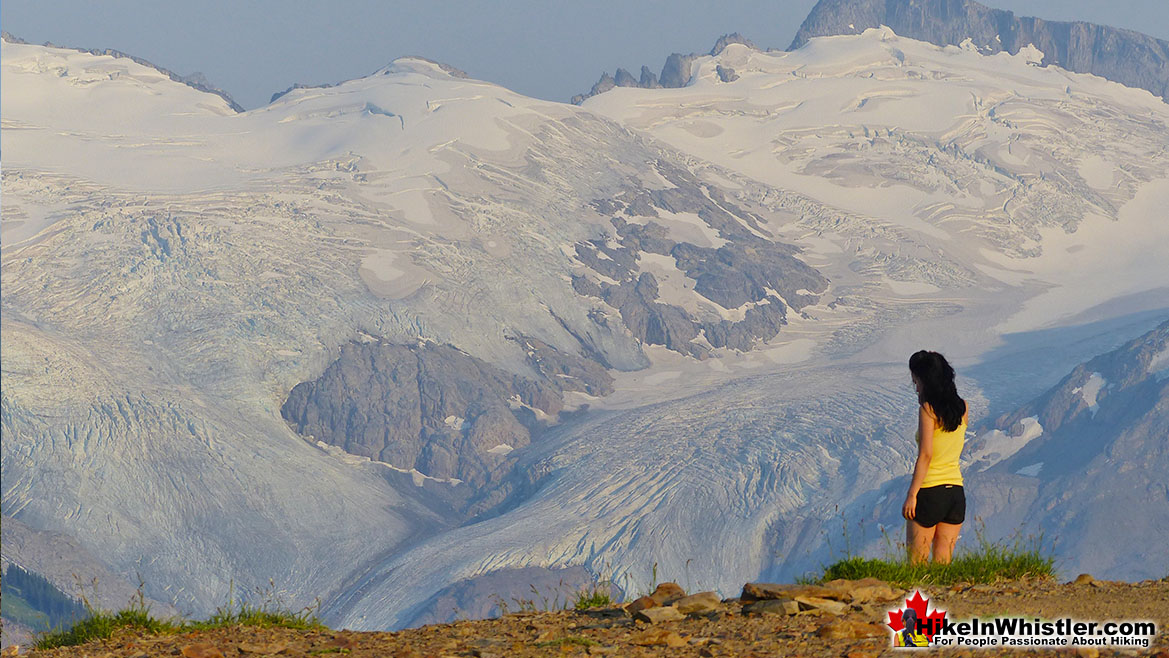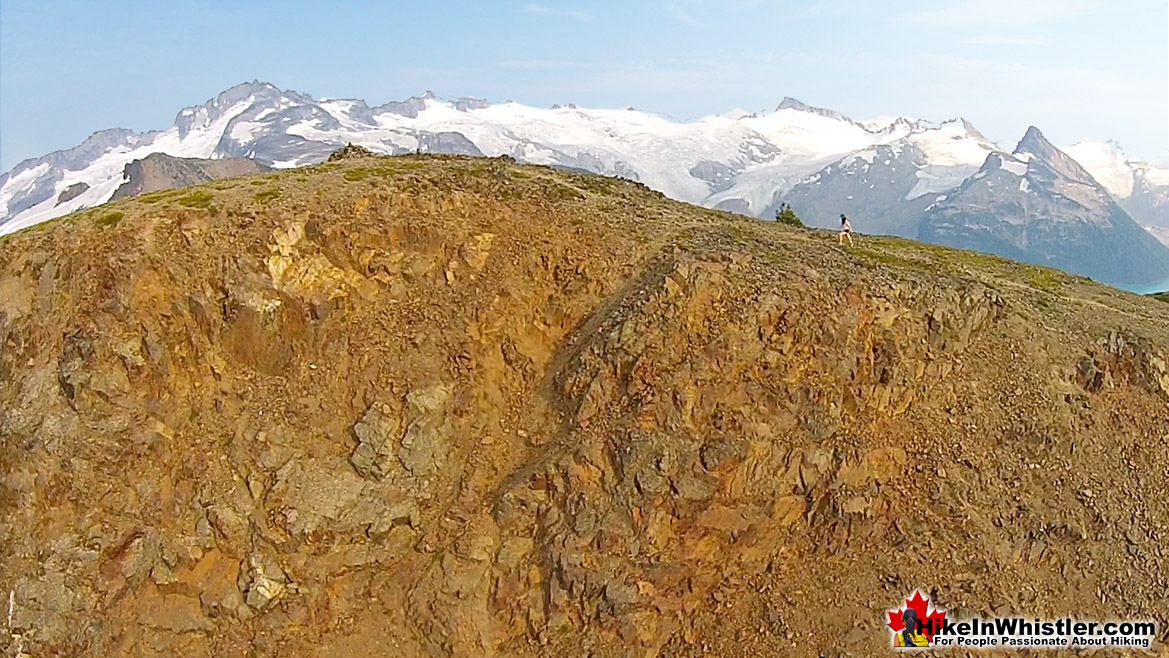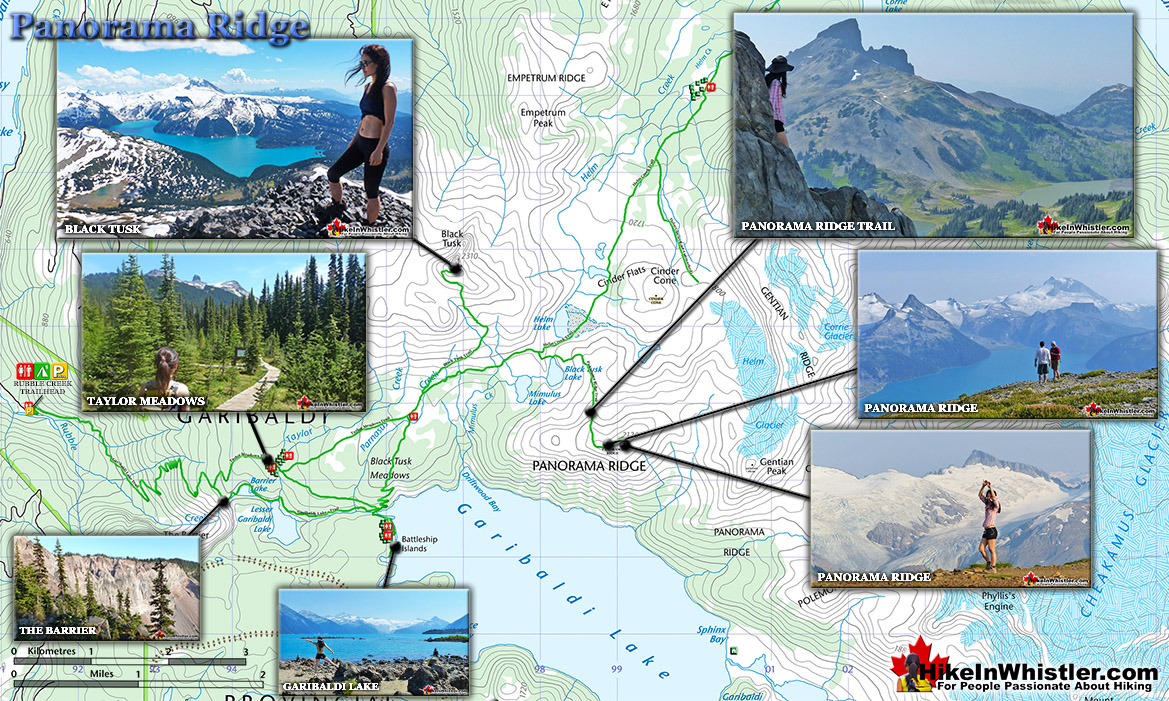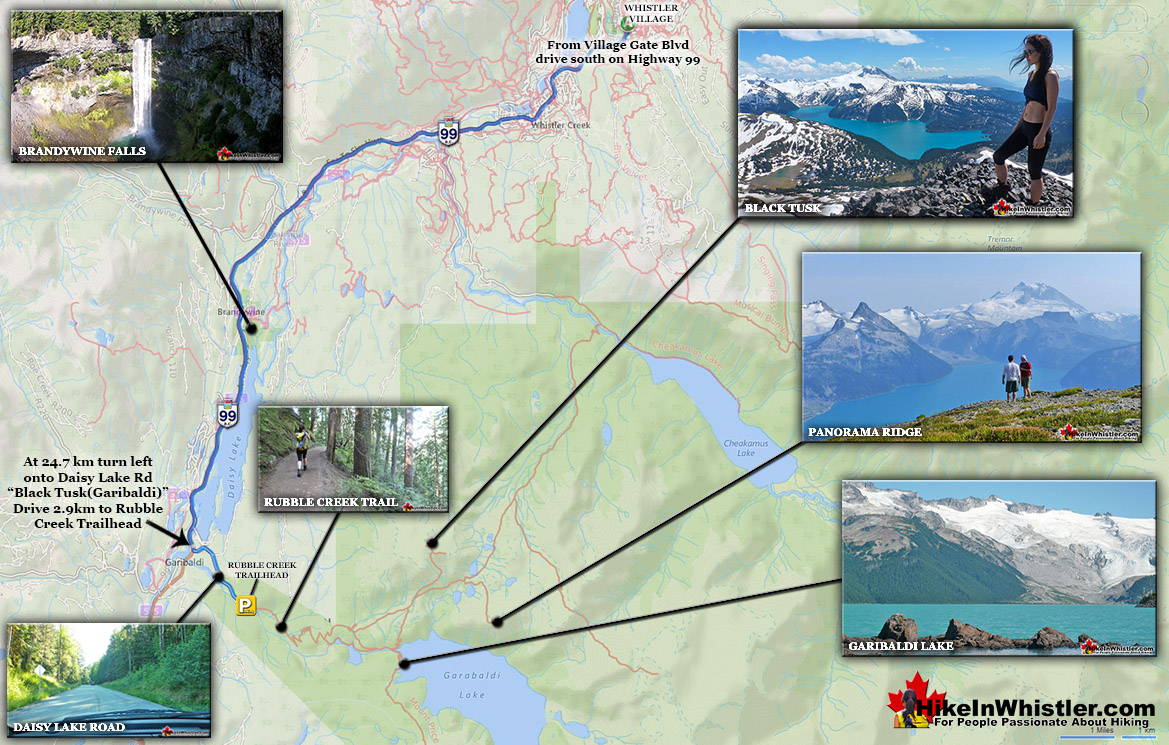 Mount Sproatt, or as it is known locally as  just Sproatt, is one of the many towering mountains visible from Whistler Village. Above and beyond Alta Lake, directly across from Whistler Mountain and Blackcomb Mountain, you will see this quiet giant. Its unremarkable appearance hides the growing network of trails that stretch through some startlingly beautiful terrain.  Next time you walk through Whistler Village and cross the pedestrian bridge(with Village Gate Boulevard below you), you will see Mount Sproatt in the distance. It is the rocky giant, abruptly steep on one end and gently sloping on the other. At its summit you may be able to make out the small weather recording structure.  What you can't see from Whistler Village is the extraordinarily beautiful alpine paradise that lays beyond it. Lakes and tarns everywhere you look. Fields of alpine flowers and wonderfully mangled, yet strikingly beautiful forests of krummholz.  Hostile looking fields of boulders and absurdly placed erratics the size of RV's. Beyond, of course, endless stunning view of distant, snowy mountains. From the towering elevation of much of the Sproatt Alpine Trail you often look across or even down on distant mountains.  Rainbow Mountain looks incredible from much of the trail. Four teeth-like, jagged grey peaks in a row that face you from Rainbow Mountain, just 5 kilometres away look enormous.  A couple kilometres closer you spot Hanging Lake and the Lord of the Rings style valley that stretches 2 kilometres from its shores to the abrupt cliffs at your feet. Several times along the trail you see the clearly defined ski runs on Whistler Mountain and Blackcomb Mountain and once in a while you can spot Alta Lake and Whistler Village.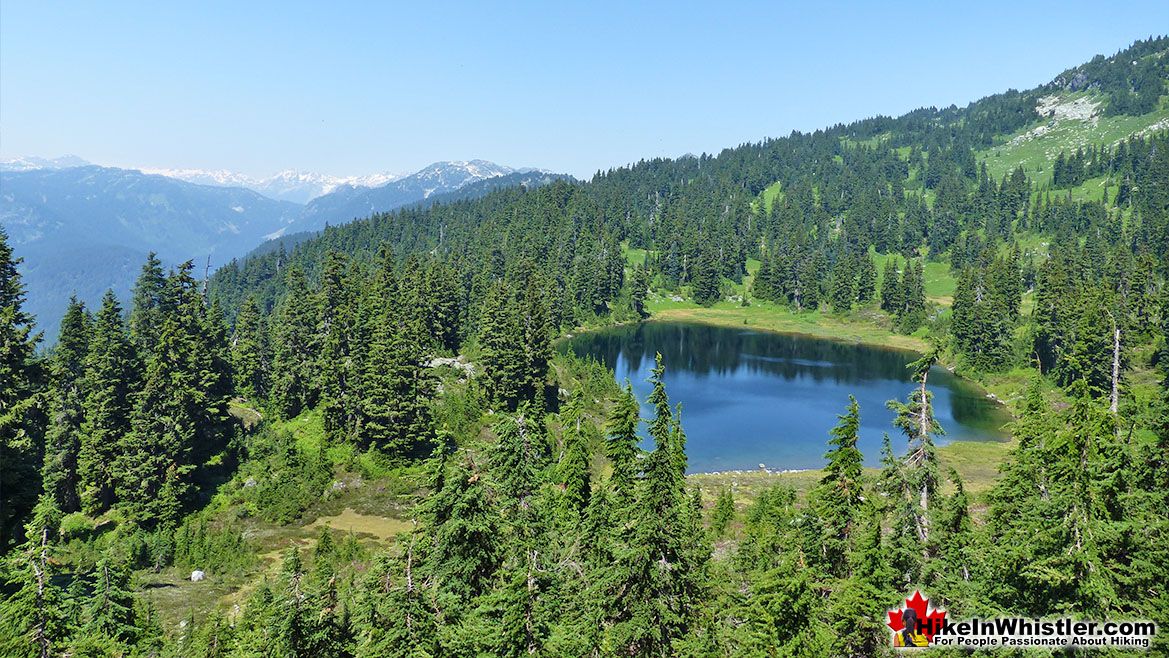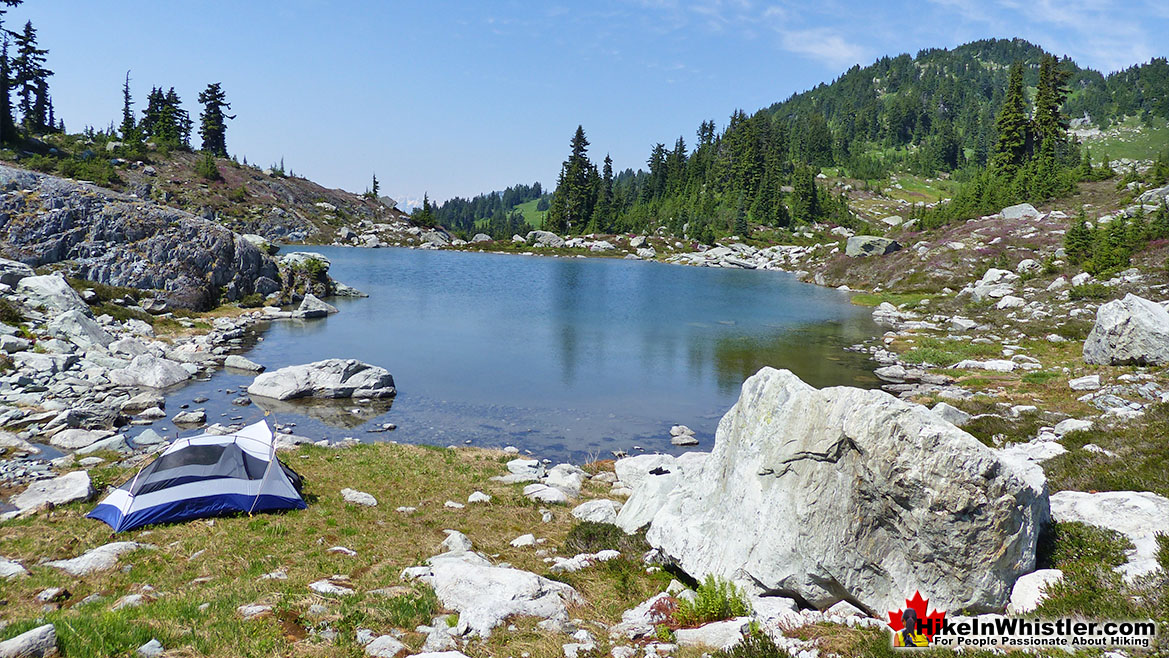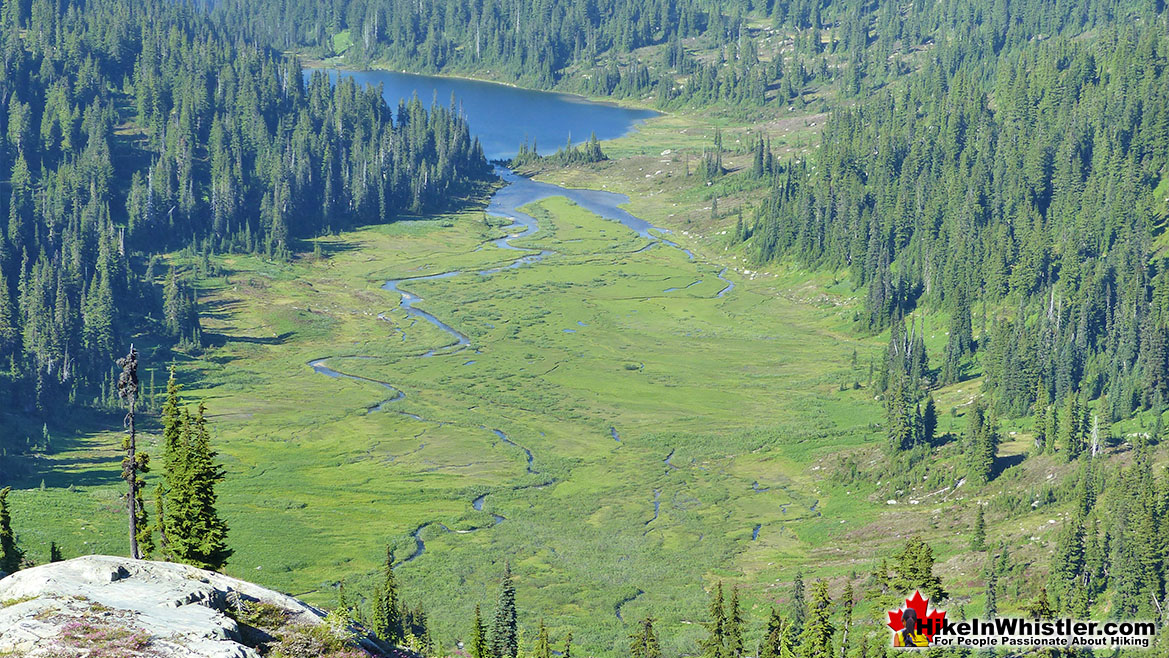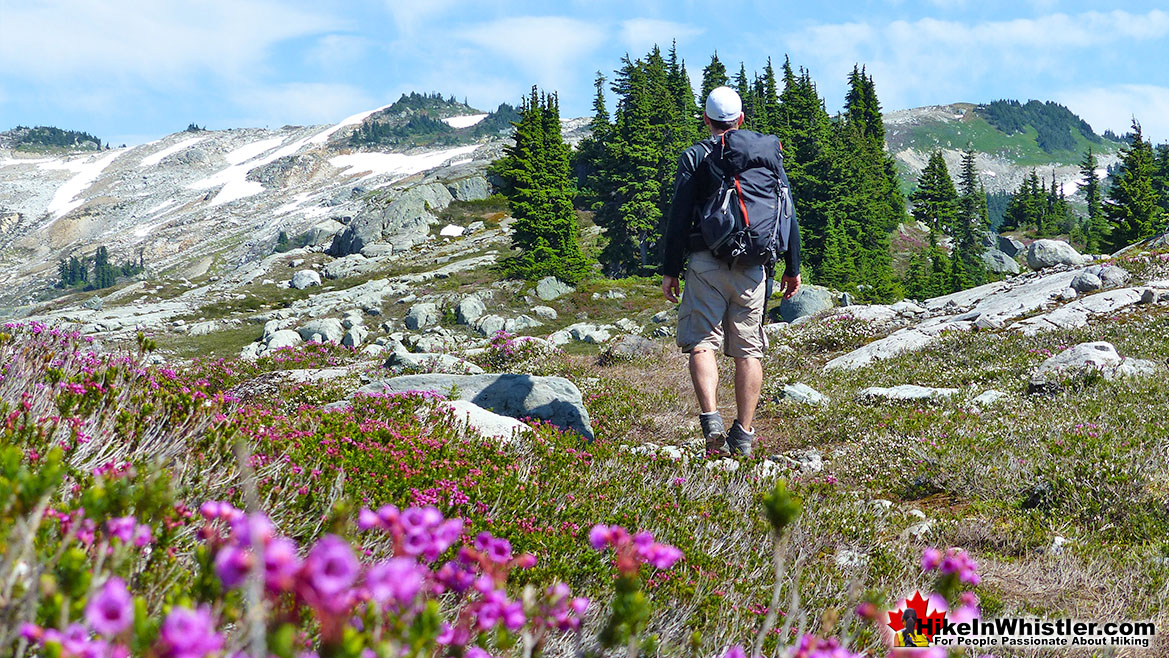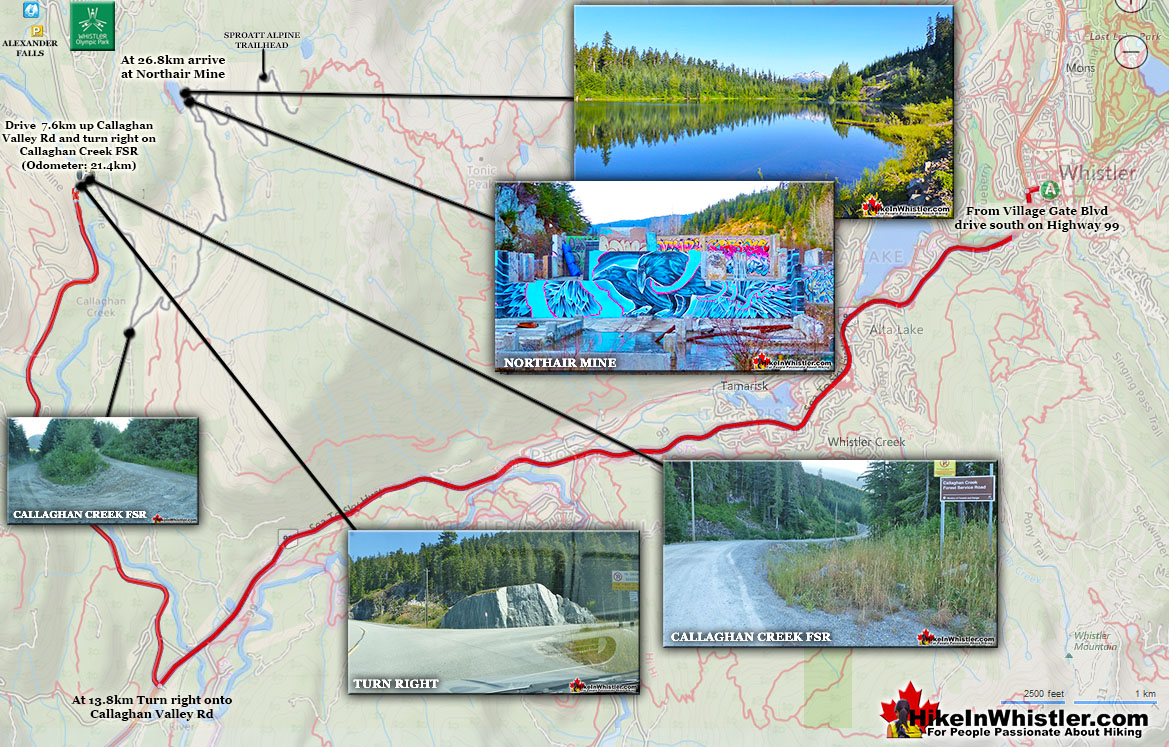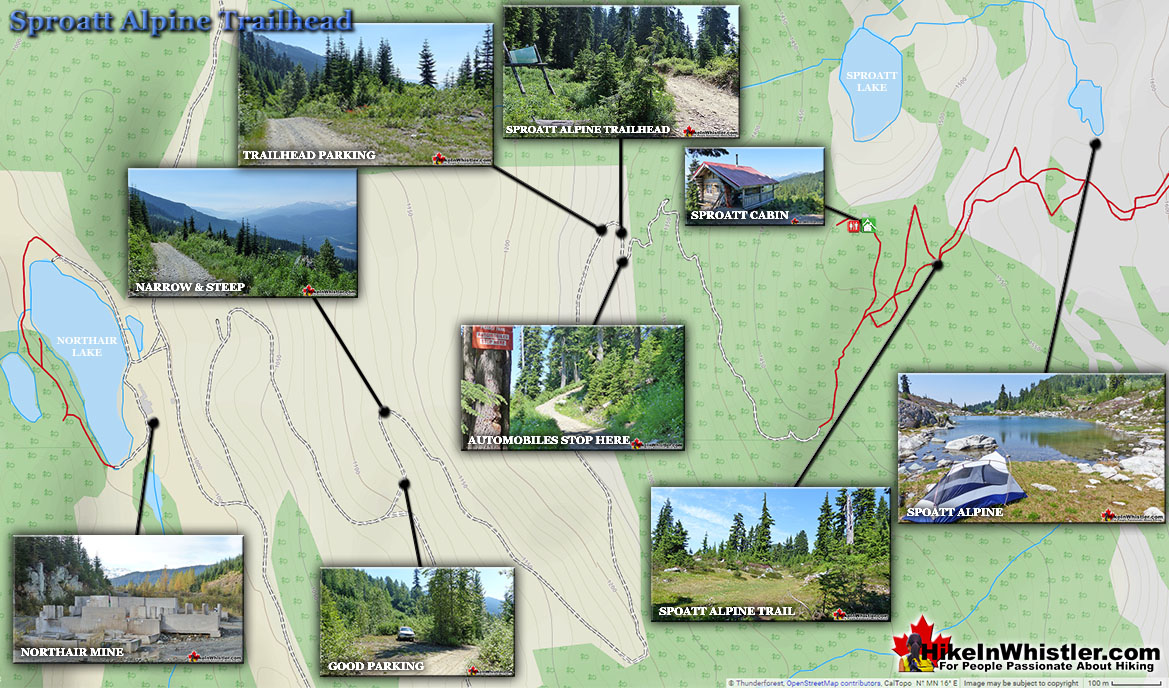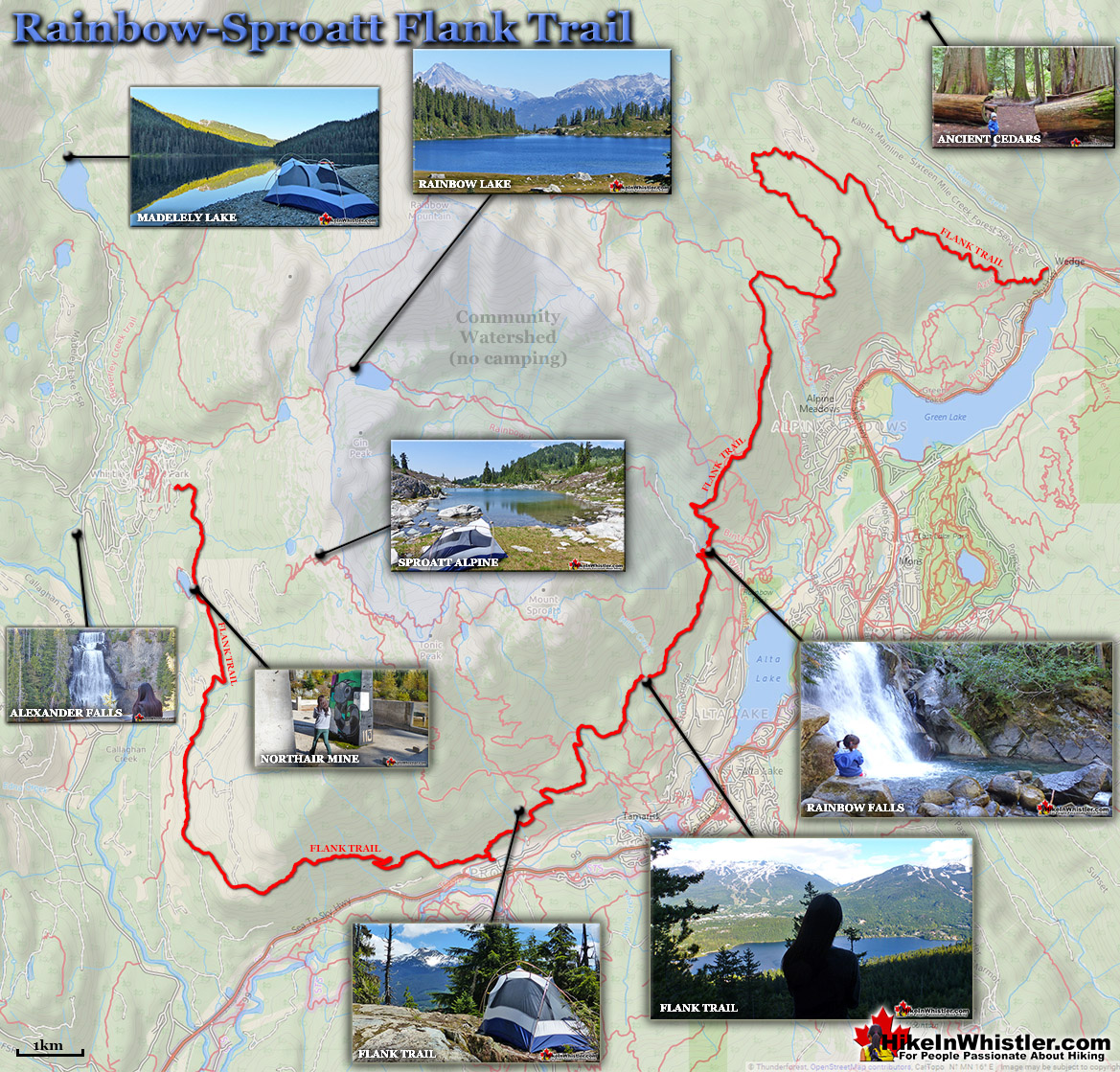 Whistler & Garibaldi Park Hiking Gear Rental

Buying hiking gear is expensive, time consuming and confusing. Let us do the work for you. We have the best quality and highest rated hiking gear on the market, and bring it to you at unbeatable prices. We rent individual items or complete hiking and camping kits. Our complete kits for one or two people consist of everything you need to hike in Whistler except clothes, food and water! Reserve today and hike into paradise! Whether you are short one backpack for your group or need to fully outfit everyone, we have you covered. We rent all the best, highest rated hiking gear you will need to enjoy hiking in and around Whistler and Garibaldi Provincial Park. We are proud to offer the best gear at the best prices. Fully equip yourself with backpack, tent, sleeping bag, sleeping pad, sleeping pillow, complete MSR Windburner cooking stove system(stove, fuel, pot, cup, fork, spoon and coffee press), first aid kit, camp towel, knife and trekking poles. All you have to bring is food, water and clothes! We put all the fun back into hiking and remove the boring and expensive parts. We will deliver your full set of hiking gear, packed and ready to hike. You then hit the trail into paradise for a night.. or two.. or more, call us when you get home and we will pick up everything. You don't have to worry about figuring out what to pack or buying expensive equipment.

We bring the best to you and at bargain prices. Why? Because we love Whistler, love hiking, love camping and we are passionate about hiking in Whistler. We will do everything in our power to make you have the most amazing hiking and camping trip of your life. And it starts with getting you the best gear, prepacked and delivered to you, without you having to spend a fortune buying gear. You can rent individual items or entire hiking/camping kits. Whatever your need, we have what you need to get you on the trail! Have a look at what we have to rent here!

We Rent Complete Kits 

We Rent Backpacks 

We Rent MSR Tents 

We Rent Sleeping Bags 

We Rent Sleeping Pads 

We Rent Camp Stoves 

We Rent Snowshoes
Hike in Whistler & Garibaldi Park

Alexander Falls  

Ancient Cedars  

Black Tusk  

Blackcomb Mountain  

Brandywine Falls  

Brandywine Meadows  

Brew Lake  

Callaghan Lake  

Cheakamus Lake  

Cheakamus River  

Cirque Lake  

Garibaldi Lake 

Garibaldi Park 

Helm Creek 

Joffre Lakes  

Keyhole Hot Springs  

Logger's Lake  

Madeley Lake  

Meager Hot Springs 

Nairn Falls  

Newt Lake 

Panorama Ridge  

Parkhurst Ghost Town  

Rainbow Falls  

Rainbow Lake  

Ring Lake  

Russet Lake  

Sea to Sky Trail 

Skookumchuck Hot Springs  

Sloquet Hot Springs  

Sproatt  

Taylor Meadows  

Train Wreck  

Wedgemount Lake  

Whistler Mountain

January  

February  

March  

April  

May  

June  

July  

August  

September  

October  

November  

December
Whistler Hiking Glossary

Ablation Zone 

Accumulation Zone  

Adit Lakes 

Aiguille 

Alpine Zone  

Arête  

ARRTI 

Armchair Glacier 

The Barrier  

Battleship Islands 

Bears  

Bench  

Bergschrund 

Bivouac  

Bungee Bridge 

Cairn/Inukshuk  

Carter,Neal 

Chimney 

Cirque 

Cloudraker  

Coast Douglas-fir 

Coast Mountains  

Col  

Columnar Jointing 

Cordilleran 

Cornice  

Corrie Lake 

Crevasse  

Dalgleish,Alec 

Deadfall  

Emerald Forest 

Erratic 

The Fissile  

Fitzsimmons Creek 

Fitzsimmons Range  

Fyles,Tom 

Garibaldi Ranges 

Garibaldi Volcanic Belt 

Gemel  

Glacier Window 

Green Lake 

Hoary Marmot 

Krummholz  

Lithophyte  

Lodgepole Pine 

Moraine 

Mt Garibaldi 

Mt James Turner  

Mountain Hemlock 

Northair Mine  

North Arm 

Nunatuk  

Nurse Stump 

Overlord  

Pacific Yew 

Paper Birch 

Peak 2 Peak  

Rainbow Lodge 

Roundhouse 

Rubble Creek  

Scree 

Spearhead Range 

Tarn 

The Table  

Townsend,Charles 

Usnea  

Waterbar  

Western Hemlock 

Western Redcedar  

Whistler Spruce 

Winram,Mills